Message from Sim S Lim, DBS Singapore

July 2012
Ladies and gentlemen,
A lot has happened since I last wrote to you. I want to take this opportunity to tell you what's happened recently and also share some exciting upcoming events and customer initiatives.
DBS Marina Regatta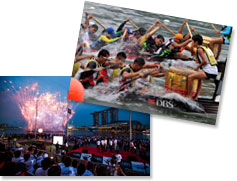 We held Singapore's first and biggest international dragon boat competition since 2000 in May. The two-day event attracted close to 100 international and local teams, with an estimated crowd of 10,000. This makes it one of the biggest international water sports festivals in Singapore. We are especially honoured that Prime Minister Lee Hsien Loong was our Guest of Honour. We are also very proud of Team Singapore, which competed fiercely and did well in many categories. As an Asian bank, DBS is excited to play a part in developing a pan-Asian sport like dragon boating. We are committed to making this an annual event that all of us can enjoy and be proud of!
Introducing the POSB PAssion Run for Kids 2012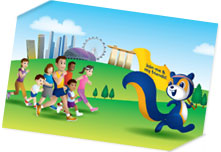 Since 2009, POSB and the People's Association have been jointly organising the POSB PAssion Run for Kids. This charity run, which is open to members of the public, is very close to our hearts because it supports the development of community programmes for underprivileged children. Children are special to POSB. Since the 1960s, POSB has been reaching out to children, and inculcating in them the value of saving. Over the last three years, the run has helped raise close to SGD 1 million for children. We hope that with your support and participation, together, we can do even more to help these less fortunate kids in our midst.
This year's run will flag off at the Marina Promontory on Sunday, 16 September 2012, against the backdrop of the transformed Marina Bay city skyline and DBS' new headquarters at Marina Bay Financial Centre Tower 3. Participants can take part in the 10km adult competitive run, 800m or 1.2km kids competitive run, or the 3.5km family walk. Please visit www.posb.com.sg/runforkids to register or find out more.
Instant rewards redemption from your phone – the 1st in Asia Pacific!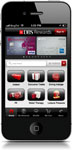 We recently launched the DBS Rewards mobile app. This gives you the convenience of redeeming your reward points instantly via your mobile phones. With the app, if you see something you like at a participating outlet, simply use your reward points to offset the cost of the purchase on the spot, right from your mobile phone! No paperwork, no form-filling and no need for rewards vouchers. To enjoy this feature, simply download the DBS Rewards mobile app from the Apple App Store.
Enhancing banking security
Since the start of the year, we have implemented a series of security measures to protect you when you use the ATM, credit or debit cards. These include sending real-time SMS alerts for ATM, debit and credit card usage and blocking overseas withdrawals to minimise the risks of unauthorised usage. Starting late June, the bank will implement additional measures to further safeguard your interests. These include enabling/disabling overseas ATM usage via iBanking, SMS alerts for AXS transactions when your DBS/POSB card is used, and activation of all new and replacement ATM, Debit and Credit cards.
For online banking, DBS will also be progressively issuing new security tokens with enhanced features such as "transaction signing". With the newer technology replacing the current, banking on the Internet or via the mobile phone will be safer.
Last but not least, we will be progressively replacing all ATM cards with chip cards. This is something the entire banking industry in Singapore is doing and will be implemented by 2014.
Thank you for your continued support over the years. We are committed to enhancing our service and product offerings to meet your changing needs as we deliver banking the Asian way.
Yours sincerely,

Sim S Lim
Singapore Country Head
DBS Bank
www.dbs.com