Overview
In situations when the receiving party does not accept cash or personal cheques, you may request for DBS to issue a Cashier's Order on your behalf. A Cashier's Order is a cheque issued by the Bank, payable to your designated recipient and you can collect the Cashier's Order at your pre-designated DBS branches.
You can now request for Cashier's Order online via DBS ibanking for FREE! Login to iBanking now.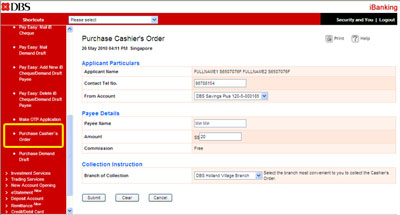 The selected DBS branches are:
DBS Bishan Branch
DBS Holland Village Branch
DBS Jurong Point Branch
DBS MBFC Branch
DBS Plaza Singapura Branch
DBS Raffles City Branch
DBS Raffles Place Branch
DBS South Bridge Branch
DBS Tampines Centre Branch
DBS Thomson Branch
Not an iBanking customer yet, click here to sign up now!
Alternatively, you may visit any of our branches or ATMs for your funds transfer.
Click here to locate a branch.