What happens
when you put it
in a savings account
with a 1% interest?
Put that money into a savings account that earns you a 1% interest and you'll have a whopping $153,580 in your account after 35 years. This means that if you're 21 right now, putting aside an amount that won't be getting you eggs benedict will give you more than $150k by the time you hit 56. That's very little effort for a lot of money.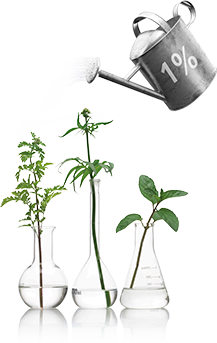 What if you invested
that same amount
in the stock market?
The Nikko AM Singapore® Straits Times Index ETF has given returns of approximately 11.24% since 2009, up till the end of February 2017. Based on this, if you had invested $3,650 in the Singapore Stock Market through the STI-ETF annually for the next 35 years, that would potentially generate a total amount of $1,466,748. Yup, you read right - $1,466,748.
| | | |
| --- | --- | --- |
| Type | Savings Account | The Nikko AM Singapore Straits Times Index ETF |
| Rates | 1% | 11.24%* |
| Total Amount | $153,580 | $1,466,748 |
© 2017 Morningstar. All Rights Reserved., Bloomberg & Nikko Asset Management Asia Limited as of 28 Feb 2017
Note that the example above does not take into account inflation.
*Past performance of the scheme is not necessarily indicative of the future performance of the scheme.
So there you have it.
The power of compounding. Now all you need to do is start saving, and let your money do the rest.
The information herein is published by DBS Bank Ltd ("DBS Bank") and is for information and general circulation only. This publication may not be reproduced, or communicated to any other person without prior written permission.
This publication does not have regard to the specific investment objectives, financial situation or particular needs of any specific person. Before entering into any transaction to purchase any product mentioned in this publication, the reader should take steps to ensure that the reader understands the transaction and has made an independent assessment of the appropriateness of the transaction in the light of the reader's own objectives and circumstances. In particular, the reader should read all relevant documentation pertaining to the product and may wish to seek advice from a financial or other professional adviser or make such independent investigations as the reader considers necessary or appropriate for such purposes. If the reader chooses not to do so, the reader should consider carefully whether any product mentioned in this publication is suitable for him.
DBS Bank does not act as adviser and does not assume liability for the information and opinions provided in this publication or for your reliance on this publication.
DBS Bank, its related companies, their directors and/ or employees may have positions or other interests in, and may effect transactions in the product(s) mentioned in this publication. DBS Bank may have alliances or other contractual agreements with the provider(s) of the product(s) to market or sell its product(s). Where DBS Bank's related company is the product provider, such related company may be receiving fees from investors. In addition, DBS Bank, its related companies, their directors and/ or employees may also perform or seek to perform broking, investment banking and other banking or financial services for these product providers.
The information herein is not intended for distribution to, or use by, any person or entity in any jurisdiction or country where such distribution or use would be contrary to law or regulation.