Premium Content
Sandwich Generation – how to manage your financial obligations while planning for the future
The sandwiched generation is indeed a stressful bunch. Having to care for and support ageing parents and young children, together with balancing work and life in Singapore can be quite a daunting experience.
Each generation comes with very different needs and expectations: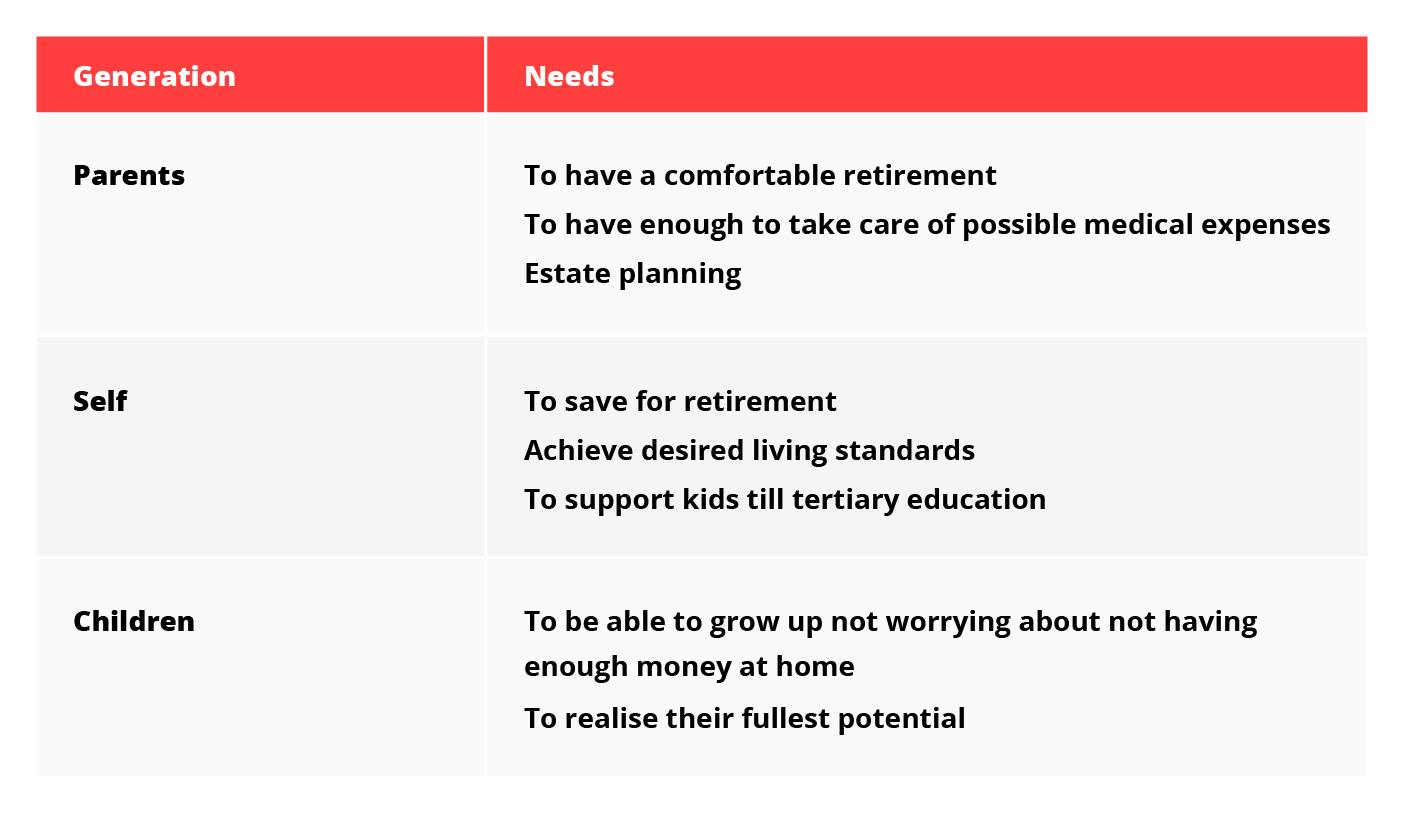 To make matters worse, the sandwich generation who are typically in their 30s and 40s, tend to incur financial commitments such as servicing a mortgage loan and forking out insurance premiums. As a member of this group, how can you manage your current financial commitments and still ensure you save for the future?
Managing financial obligations
Debts may have a bad reputation but not all debts are bad. In fact, it seems almost impossible to not take on debt, especially when you are the sandwich generation. Debts that help to increase your overall net worth or assets, such as a mortgage loan, is not considered a bad thing. The key is to reduce "bad debts" – those that only add on to your liabilities, such as credit card debts and personal loans.
One way to do this is to take note of your debt-to-income ratio. While there is no hard and fast rule to this ratio, we can take reference from the government's implementation of Total Debt Servicing Ratio (TDSR) for home loan application as an indicator. The TDSR states that only 55% of a borrower's gross monthly income may be spent on debt repayments.
Mortgage loan
It is highly likely that you are at the point of life where you are servicing your home loan. While home loans are considered "good debt", there are still ways to reduce the total amount of interest payments with these tips:
Refinance to a lower rate bank loan when you are out of the locked-in period
Pay your monthly repayments with cash instead of CPF if you can (to reduce interest accrual on your CPF account)
Make a voluntary housing refund to your CPF when you have extra cash
Insurance premiums
With 2 sets of dependants relying on you, insurance can be useful as a risk-mitigator when the unfortunate happens. However, if you are the one paying for the insurance premiums for the entire family, you'd need to be wise about which type of insurance to get. Striking a balance between getting the right protection and sticking to your budget is key.
Consider term insurance to cover death and permanent disability since it might come in handy for your dependants. Term insurance premiums are more affordable compared to whole life insurance
A basic hospitalisation plan for all members of the family to cover medical fees
Critical illness plans are good to have for you to cover medical treatment fees and loss in income should you decide to stop work while undergoing treatment
Read more about the different types of insurance for different life stages.
Avoid the credit trap
It is easier to avoid getting into debt than to get out of debt, so the best way is prevention. If you're disciplined in managing your money while saving up for possible emergencies, you'll be well equipped to avoid the credit trap.
While there are many different reasons why people get into debt, one way to avoid getting into the same predicament is to make sure you can service the loan before applying for it. Do make sure you are applying for a suitable loan package with lower interest as well.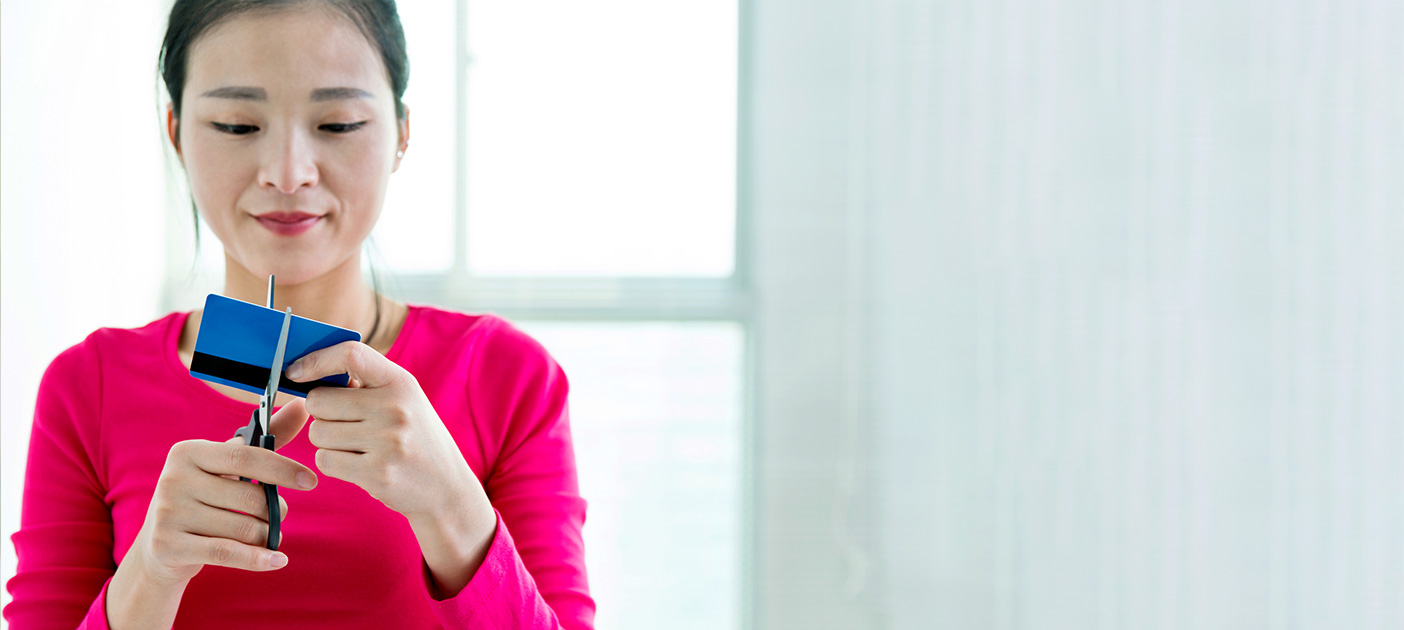 It sounds boring but it is necessary to track your monthly expenses to get a grip of your finances. This gives you a good idea of your spending habits and patterns. That way, you will know exactly where your money is going, and what you should be cutting back on. You can use DBS NAV Planner tool to track your expenses along with how well you are saving.
Read on to find out about what you can do when in heavy debt.
Planning for the future
Putting aside at least 10% of your monthly salary into a savings account is a good way to save for the future, but is it enough? We all know that the interest earned from savings account is rather minimal – in fact, inflation will likely eat away some of your money's value, which makes investing key to preserving wealth.
Choosing the right investments
If you are new to investing, you can consider a regular savings plan such as the DBS Invest Saver so that you can invest a small sum regularly without having to monitor the market all the time.
The digiPortfolio is another great way for new investors to get started. It is a hassle-free platform with ready-made investment portfolios, that offers the best of human expertise and robo-technology. With it, you have an instant, cost-effective way to grow and protect your wealth through regional or global diversification. It is specially designed for those who want to invest simply and confidently with the help of experts to nurture your investments.
To make sure that your money is working hard for you, ensure that you have at least 50% of your invested assets to net worth in investments. And do ensure that your investments are well-diversified to spread out the risks.
Saving for your children's future
All parents want the best for their children and one of your top concerns would be the ability to afford their tertiary education. With Singaporeans generally having children in their late 20s to 30s, the time when your child would be in higher education could coincide with your preparation for retirement. This could mean a shortage of funds for their education or a lower standard of living during your golden years.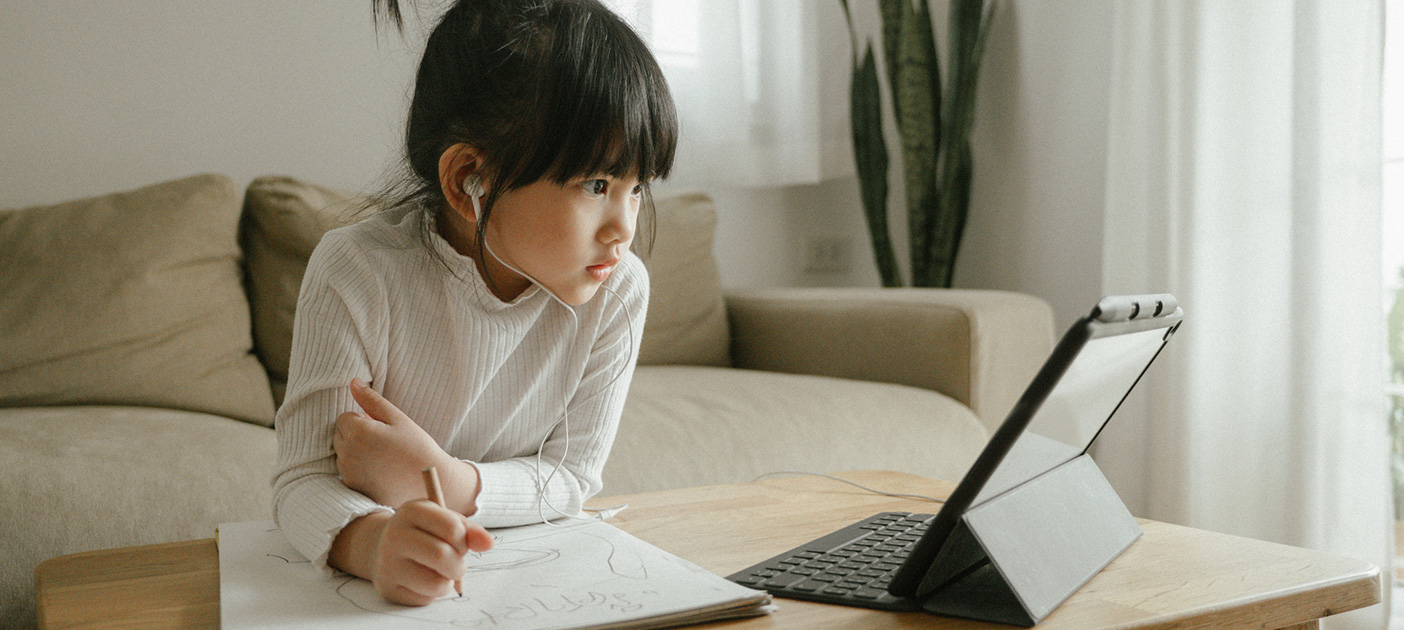 You can consider saving for their future now so that you have time on your side. Even a simple savings plan can help to mitigate the effects of inflation, and help you grow your funds exponentially due to the magic of compounding. Your choice of investments will depend on your risk profile and investing time horizon.
You can also consider endowment policies with guaranteed returns – these are short term plans which are generally lump sum investments with a holding period of up to 3 years, or longer term ones (e.g. 10 years) which comes with a yearly premium and a mix of guaranteed and variable returns.
If your child's university education and/or your retirement is many years away, you have the time to weather the market ups and downs. Depending on your financial knowledge and risk profile, you may consider a 100% equity strategy if you can stay invested 10 years or more. An alternative is the Barbell approach which splits your portfolio into growth securities and income-generating assets like dividend stocks, Reits and bonds.
Saving for your retirement
With competing demands for your limited financial resources, many parents end up prioritising their children and neglect saving for their own retirement. To make up for the trade-off, you may end up working longer, lower your retirement lifestyle expectations or turn to your kids to fund your future expenses. In the process, your children become the next sandwich generation and the cycle continues.
To flip the perspective, taking care of your own retirement is in fact, an act of love for your children. It relieves them of the financial burden to take care of you in your own age, allowing them to fulfil their own dreams and live out their life goals.
Thus, it makes sense for you to set up a retirement plan early so that you get to accumulate your savings, invest to grow your wealth and optimise government schemes such as CPF and SRS to help you accumulate your nest egg.
Read here to find out how you can set up your own retirement plan.
Helping your parents plan for their retirement
It is crucial that your parents have a comprehensive financial plan in place to enjoy their desired retirement lifestyle. However, they may still be juggling ongoing financial obligations, such as your younger sibling's education and their mortgage loan. For some, they may be saddled with the responsibility of their parents' retirement.
Your parents may find themselves having to save for their nest egg and lack the knowledge of building passive income streams to support them when they are no longer working.
If you worrying about your parent's retirement and will like to help them plan, here are some useful tips to get them started:
Top up their CPF accounts to help them compound interest savings
Advise them to invest excess cash
Review their insurance policies - Some of our parents may still hold life insurance policies that they no longer need since they have no more dependants
If they are still paying their home loan, refinancing can be a way to lower their monthly repayments
Explore the various schemes to monetise their homes for retirement
It can be a delicate balance between fulfilling current financial obligations and saving for the future – start by examining your monthly expenditures and how you can reduce discretionary spend. This will help free up resources to fund your retirement as well as save up for your loved ones.
Check out DBS NAV Planner to analyse your real-time financial health. The best part is, it's fuss-free – we automatically work out your money flows and provide money tips.



Disclaimers and Important Notice
This article is meant for information only and should not be relied upon as financial advice. Before making any decision to buy, sell or hold any investment or insurance product, you should seek advice from a financial adviser regarding its suitability
Purchase our content package to unlock this article and more premium resources: