Premium Content
My parents did not plan for their retirement" – How can I help them?
As a member of the sandwich generation, you may have often felt financially stretched, having to support your ageing parents and your young children simultaneously. At the same time, you realise the need to start saving for your own retirement as well.
The good news is that there are several tips you can heed to take care of your financial health, as well as help your parents if they have not done much for their retirement plans.
Is the CPF enough for retirement?
Many Singaporeans would have some form of retirement savings via their CPF accounts. While the financially-savvy would probably have their insurance planned out, built multiple passive income streams and even set up a sound estate plan, there are others who believe that they can rely entirely on their CPF retirement savings. However, if a CPF member only sets aside the Basic Retirement Sum (BRS) in his/her CPF Retirement Account (CPF RA) to fund his/her golden years from age 65, will the monthly payouts from the national annuity CPF LIFE scheme be sufficient?
Aligning expectations
A good place to start is to get a clear understanding of your parents' retirement expectations. Your assumptions about what your parents will do or continue doing in their golden years and how they plan to maintain their lifestyle financially can be quite different from what they have in mind. Having this discussion can avoid unnecessary misunderstanding. If you have siblings, it is also be a good idea to gather them together for this discussion since this is a shared responsibility.
Help your parents understand how much they need for their retirement
To determine the amount needed for retirement, you can use their current monthly expenses as a guide. For instance, if they currently spend about $1,000 monthly on necessities like food, grocery, and transport, that will add up to $12,000 a year. You can then use the figure to adjust for a 3% inflation rate per year and multiply it by the number of years of retirement.
Once you have the number, you can help them to work backwards and set up a savings goal.
Ways to smoothen the retirement journey
Here are 6 steps your parents can take to start building up their retirement savings:
1. Reduce outstanding debt
Bear in mind that unpaid debt will continue eating into your parents' retirement savings when they retire. Thus, getting rid of debts would help to eliminate interest payments that would negatively impact their retirement plans.
One strategy to pay down debt is to list any outstanding debts, then prioritise and pay off those with the highest interest rates first. This avoids the situation where the effect of compounding at a higher interest rate causes their debt to snowball and they end up paying more in interest payments than covering the principal payment.
Another strategy would be to focus on paying off smaller outstanding debts first. This would likely help them gain confidence in managing and clearing off debt.
Staying protected with insurance
Having the right protection is important during retirement since health tends to deteriorate with age. Ensuring that your parents have adequate health insurance is key, as medical costs can get costly as they age. Consider purchasing additional health insurance coverage that can cover the bulk of their medical bills if they are hospitalised. Having a basic hospitalisation plan, a critical illness plan and/or long-term care plan (such as Elder Shield/Care Shield or a supplementary plan) may help to tide the family through financially should there be a need to pay for medical fees, nursing home care and/or engaging a helper.
Furthermore, as insurance needs evolve with age and life stage, help your parents review their insurance policies to ensure that they are still relevant. Some of our parents may still hold life insurance policies that they no longer need if they have no more dependants. They should then consider if they still need these policies, since they may need to continue paying premiums even when they are not working to keep up the coverage.
3. Investing for retirement
It is important to build sustainable passive income streams to fund their golden years. If your parents have already set aside some savings or have multiple streams of passive income to cover their necessary expenses, then you would have less to worry about. If they do not, you might need to help them draw up a plan to fund their retirement lifestyle and goals by setting aside a certain sum of money on a monthly basis.
While this sum could include their savings, as well as money from you and your siblings, you can also help to invest to grow their money.
Investing excess cash can help your parents to continue growing their retirement savings beyond the inflation rate.
Here are some common ways to save or invest based on different risk appetites:
Conservative Risk / Low Returns: Savings Accounts, Fixed Deposits, Money Market Funds, Government Bonds
Moderate Risk / Medium Returns: Corporate Bonds, Unit Trusts, Index Funds and Exchange-Traded funds, Real Estate
High Risk / High Returns: Equities, Futures, Options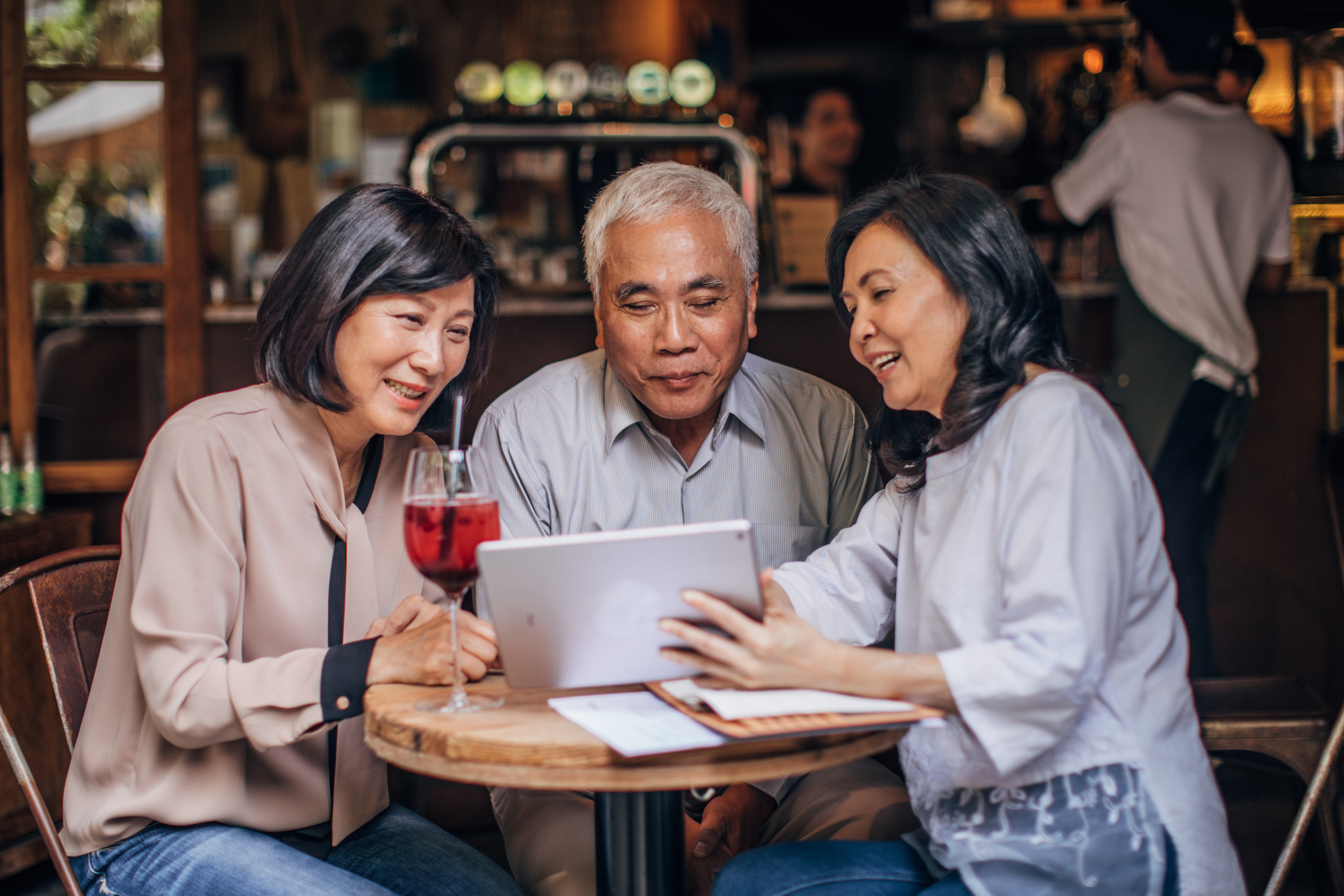 The actual risk of the investment can vary greatly based on the individual fund or stock you purchase. It's best for your parents to seek out a financial advisor or wealth planning manager to ensure they understand the risks of their investment decisions and to help structure a retirement plan that works best for them.
4. Topping up CPF accounts
Topping up our loved ones' CPF accounts is a simple way to help increase their monthly payouts for their retirement.
If your parents are 55 and above, they can earn an interest of up to 6% pa on the first $30,000 of their combined CPF savings and 5% on the next $30,000. The interest earned and compounded over time will go a long way to help them achieve higher annuity CPF LIFE payouts later.
Furthermore, you get to enjoy tax benefits of up to $8,000 per year when you top up the CPF account of your family members. Conditions apply.
5. Estate Planning
Some of us may have the perception that estate planning which includes writing a will is only for the rich. It can also be a taboo subject to talk about, especially with your parents. However, you can help your parents change that perception by convincing them that they might feel better knowing that they have done what they can to ensure that their loved ones will be cared for when they are no longer around.
Estate planning is about setting out how we want our assets to be managed and transferred after we pass away. For a start, you can guide them towards making a CPF nomination if they have not done so.
Having an updated will also help us distribute our estate the way we see fit among our loved ones. Most importantly, it avoids having one's assets being tied up in legal proceedings. You can read more about the various ways you can help your parents with estate planning here.
Besides a will and CPF Nomination, encourage your parents to make a Lasting Power of Attorney (LPA). It is a legal tool to appoint one or more persons to make decisions and act on your parents' behalf (in personal welfare and financial matters) should they lose mental capacity one day.
6. Monetise property
Your parent's property is an important asset that they can monetise for retirement. There are a few ways in which they can monetise their property for their golden years. These include government schemes such as the Lease Buyback scheme (LBS) and rightsizing using the Silver Housing Bonus (SHB).
The LBS aims to help retirees monetise their flat to receive a monthly income in their retirement years while continuing to live their own flat.
The scheme allows a HDB flat owner to sell a portion of his flat's lease to HDB and receive an LBS bonus. The proceeds from the sale of the flat's lease will be used to top up his CPF RA. The CPF RA savings will then be used to join CPF LIFE, which will provide the retiree with a monthly retirement income for life.
On the other hand, rightsizing one's property with the SHB is a scheme that helps lower-income elderly supplement their retirement income by using a cash bonus of up to $20,000 as an incentive.
This encourages senior households to downsize to a smaller HDB flat by purchasing from either HDB or the resale market while putting a specific sum of their cash proceeds from the sales of their existing flat into their CPF RA.
If your parents are not aware of these schemes, you might want to help them find out more about the schemes here.
Tips for you
Being part of the sandwiched generation can be challenging as you have to often juggle the finances for yourself, your offspring, and your parents. By using the tips above, you'd be able to assist your parents.
If you are the sole provider for your parents, you will need to consider your options to provide them with financial security should you die prematurely or become permanently disabled. One way is to purchase a whole life insurance plan on your life which provides death and permanent disability benefits to fund your parents' lifestyle should something untoward happen to you.
However, premiums for whole life insurance plans are often higher, whereas term life insurance plans will provide coverage for a fixed period, with lower premiums. The latter provides a more cost-efficient alternative to life insurance.
You can also consider disability income insurance, which offers payouts to cover your financial commitments if an accident or illness should happen to you and cause you to be unfit for work. The policy helps to partially ease your financial loss due to the temporary or permanent inability to perform in your job. However, it is important to note that it will not completely replace your income before the accident or illness.
Critical illness (CI) insurance is another type of plan that can offer financial support if you are unable to work because of an illness. A CI plan provides a lump sum payout when the insured is diagnosed with a critical illness and this amount is a form of financial cushioning for the individual and family to cover costs that are not usually included under a traditional health insurance plan such as hospitalisation.
Lastly, any extra savings that you can set aside will lighten your financial load when unexpected events occur. Although insurance can help to cover medical expenses, such unexpected events may require additional living costs or may result in a loss of income. Hence keeping an emergency fund aside "for a rainy day" should also be one of your financial priorities. You can keep the emergency savings in higher interest savings account like the Multiplier account, or keep them in liquid investments, such as the Singapore Savings Bonds.
For excess cash that you have, investing is key in helping you grow your wealth. Whether you are new to investing or looking for investment ideas, you'd find many helpful articles here.
The pointers provided above are some ways to help you and your parents to continue funding their retirement. Take your pick from the many different tips to help them with building up their retirement funds, depending on how well they have planned and saved for their retirement so far. At the same time, remember to plan for your own retirement as well!
Check out DBS NAV Planner to analyse your real-time financial health. The best part is, it's fuss-free – we automatically work out your money flows and provide money tips.



Disclaimers and Important Notice
This article is meant for information only and should not be relied upon as financial advice. Before making any decision to buy, sell or hold any investment or insurance product, you should seek advice from a financial adviser regarding its suitability.

All investments come with risks and you can lose money on your investment. Invest only if you understand and can monitor your investment. Diversify your investments and avoid investing a large portion of your money in a single product issuer.
Purchase our content package to unlock this article and more premium resources: