Best deals in your pocket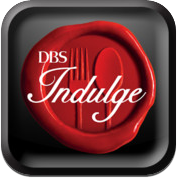 DBS Indulge
Tap to download
Dine for Free with DBS Indulge and enjoy up to 50% off dining islandwide!

DBS Shopper
Tap to download
Shopaholic's Galore! Enjoy exciting new deals with our DBS Shopper mobile coupons! Download and receive exclusive offers every week!

DBS Rewards
Tap to download
Real Rewards. Real Value. Be spoilt for choice with an amazing variety of rewards from as little as 500 DBS Points. Download and redeem INSTANT Rewards!

DBS Woman's
Tap to download
Exclusive shopping and 1-for-1 dining deals, including priority bookings with Comfort & CityCab. Because you deserve a Card that knows what women want.