Time is now the biggest risk, as the UK moves closer to the original Brexit deadline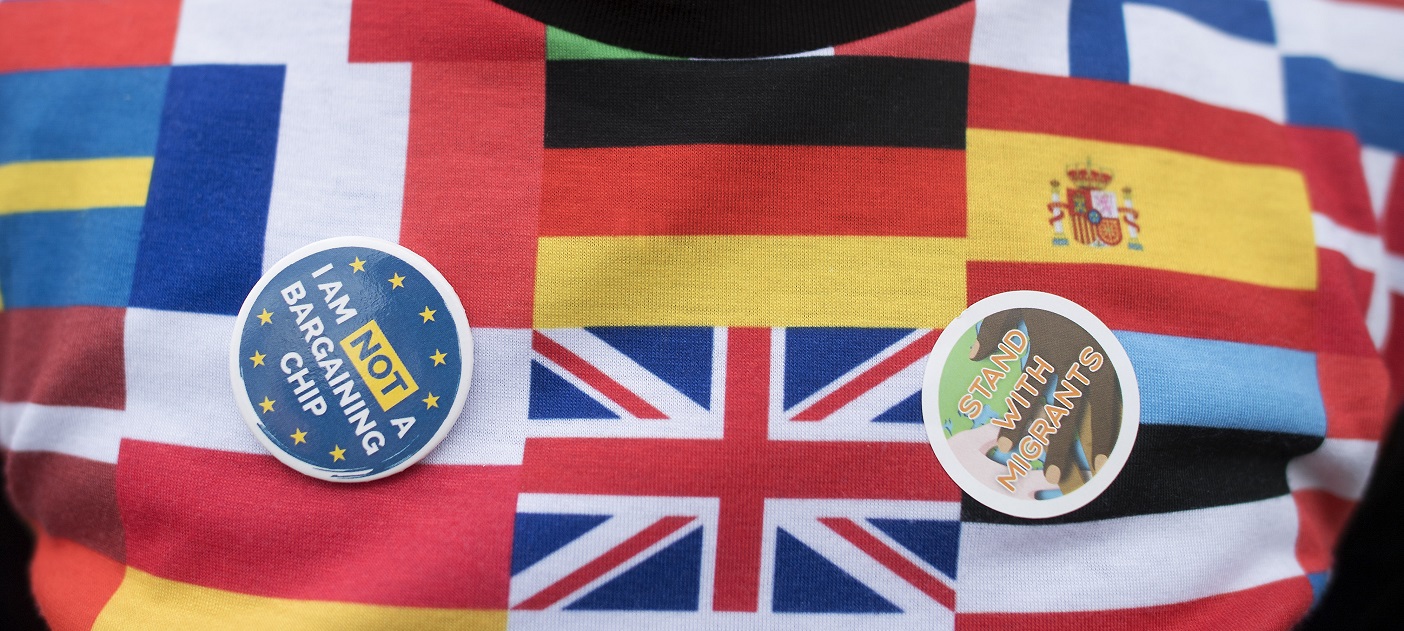 Photo credit: AFP Photo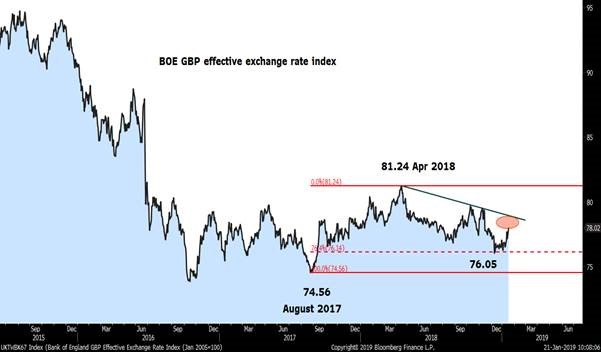 Used with permission from Bloomberg Finance LP, as of 21 January 2019.
The Bank of England's (BOE) GBP effective exchange rate shows a nice bounce once the currency ratcheted to the 76.4% Fibonacci retracement support of the August 2017's to April 2018's price extremes of 74.56 to 81.24.
Effectively, GBP, on a trade-weighted index (TWI) basis, is nearing a key resistance test of 78.25 (so far reaching a high of 78.02). A break of the said level leaves more wiggle room for the upside (as indicated by the red oval) as it heads closer to the dropped-down resistance line drawn from the 81.24 peak.
A few options are now on the table:
Acceptance of a "Plan B". This is accompanied by an extension of Article 50 for a few months (Article 50 of the Treaty of Lisbon gives any EU member state the right to quit unilaterally, and must adhere to a two-year timeline – this has been invoked and hence the 29 March deadline).
Calling a fresh referendum on Brexit. This initiative is backed by the Scottish National Party (SNP), the Liberal Democrats, Wale's Plaid Cymru, and a smattering of both Conservative and Labour ministers of parliament (MPs). However, it does not have broad support.
No Brexit or a "hard" Brexit – should any of these happen, the UK economy and its related assets markets would be severely impacted. There would also be a three-to-six month period of heightened uncertainty.
A "Norway-plus" deal that would require the assent of all four members of the European Free Trade Association (EFTA). Under "Norway Plus", the UK would depart the EU and embrace the EFTA to become the 31st member of the European Economic Area (EEA). The Norway-plus option allows the UK to retain full access to the single market and, most significantly, its policy approach to the services sector (that accounts for approximately 80% of the UK economy). This is the least "damaging" Brexit option.
Click here to download the PDF
Disclaimers and Important Notices
The information published by DBS Bank Ltd. (company registration no.: 196800306E) ("DBS") is for information only. It is based on information or opinions obtained from sources believed to be reliable (but which have not been independently verified by DBS, its related companies and affiliates ("DBS Group")) and to the maximum extent permitted by law, DBS Group does not make any representation or warranty (express or implied) as to its accuracy, completeness, timeliness or correctness for any particular purpose. Opinions and estimates are subject to change without notice. The publication and distribution of the information does not constitute nor does it imply any form of endorsement by DBS Group of any person, entity, services or products described or appearing in the information. Any past performance, projection, forecast or simulation of results is not necessarily indicative of the future or likely performance of any investment or securities. Foreign exchange transactions involve risks. You should note that fluctuations in foreign exchange rates may result in losses. You may wish to seek your own independent financial, tax, or legal advice or make such independent investigations as you consider necessary or appropriate.
The information published is not and does not constitute or form part of any offer, recommendation, invitation or solicitation to subscribe to or to enter into any transaction; nor is it calculated to invite, nor does it permit the making of offers to the public to subscribe to or enter into any transaction in any jurisdiction or country in which such offer, recommendation, invitation or solicitation is not authorised or to any person to whom it is unlawful to make such offer, recommendation, invitation or solicitation or where such offer, recommendation, invitation or solicitation would be contrary to law or regulation or which would subject DBS Group to any registration requirement within such jurisdiction or country, and should not be viewed as such. Without prejudice to the generality of the foregoing, the information, services or products described or appearing in the information are not specifically intended for or specifically targeted at the public in any specific jurisdiction.
The information is the property of DBS and is protected by applicable intellectual property laws. No reproduction, transmission, sale, distribution, publication, broadcast, circulation, modification, dissemination, or commercial exploitation such information in any manner (including electronic, print or other media now known or hereafter developed) is permitted.
DBS Group and its respective directors, officers and/or employees may have positions or other interests in, and may effect transactions in securities mentioned and may also perform or seek to perform broking, investment banking and other banking or financial services to any persons or entities mentioned.
To the maximum extent permitted by law, DBS Group accepts no liability for any losses or damages (including direct, special, indirect, consequential, incidental or loss of profits) of any kind arising from or in connection with any reliance and/or use of the information (including any error, omission or misstatement, negligent or otherwise) or further communication, even if DBS Group has been advised of the possibility thereof.
The information is not intended for distribution to, or use by, any person or entity in any jurisdiction or country where such distribution or use would be contrary to law or regulation. The information is distributed (a) in Singapore, by DBS Bank Ltd.; (b) in China, by DBS Bank (China) Ltd; (c) in Hong Kong, by DBS Bank (Hong Kong) Limited; (d) in Taiwan, by DBS Bank (Taiwan) Ltd; (e) in Indonesia, by PT DBS Indonesia; and (f) in India, by DBS Bank Ltd, Mumbai Branch.