The global pickup in growth has pulled up Asia strongly; we should nonetheless be aware of potential pitfalls if rates keep rising and the US dollar rallies.

Photo credit: AFP Photo
The global pickup in growth has pulled up Asia strongly. China, having decelerated in recent years, is presently characterised by flat momentum, with strong trade offsetting liquidity tightening and pollution curbs. Asia's open, trade-oriented economies continue to report robust exports, while even those not substantially reliant on trade are enjoying positive spillovers. One exception is India, which has run into a series of difficulties lately, with fiscal slippage, widening trade deficit, and bank governance problems dominating headlines. We do not see any quick-fixes to these problems, unfortunately.

The persistence of a broadly weak dollar and stable rates can largely neutralise the significant drag stemming from equity markets, in our view. So far in this cycle, the US dollar's weakness has been a source of support for Emerging Markets (EM).

Typically, a US rate-hike cycle is accompanied by flows heading back to US-dollar assets, causing funding problems and foreign exchange (FX) pressures on EM, but this time has been different, with sentiment on EM remaining positive, with no funding problems so far.

We should nonetheless be aware of potential pitfalls if rates keep rising and the US dollar rallies. This scenario could cause stress in several economies and markets, as per our analysis. We approach this issue from the perspective of external funding needs in Asia.

Analysing the potential for funding problems runs into some difficulties as most Asian countries only report short-term debt data on original maturity basis. What one preferably wants to know is how much external foreign debt is falling due in a year, which would entail adding both short-term debt and long-term debt on a residual maturity basis. We have residual maturity debt data from national authorities of India, Indonesia, and the Philippines. Among the rest of Asian economies, we would ideally have the same for China and Malaysia in particular, both of which have shown potential for capital outflow and funding stress in recent years.

One way to get around this problem is to track the limited, original maturity debt data over time to discern potential lumpiness of payments due, which may mimic the larger set of residual debt. With this caveat in mind, we have estimated the 2018 external financing needs of seven key Asian economies. To do this, we add the current account balance with the debt due figures for the year. If a country is projected to run a current account surplus, it enters the aggregation as a negative entry, reducing the gross external funding needs. A useful way to compare financing needs across countries is to scale them in relation to central bank FX reserves. This underscores the buffer in place to deal with any potential tightening of external funding.
Figure 5 summarises our analysis. For the seven selected countries, we look at reserves to gross external financing in 2013 (actual) and 2018 (projected).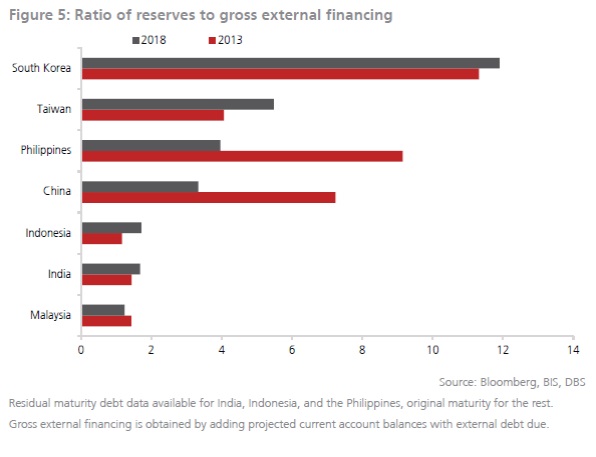 The findings are instructive. First, the estimates show that economies with ample current account surpluses and reserves, such as South Korea and Taiwan, can handle their large funding needs readily. Indeed, the funding cover of these two economies have improved, from an already comfortable position, over the last half a decade.
Second, China has considerable reserves and still runs a current account surplus, yet its funding needs are also formidable, and the cover has worsened since 2013. The decline in the reserves to external financing ratio during this period reflects the 2014/2015 phase when the People's Bank of China (PBOC) incurred a reserves loss of about USD1t. Since then, the FX reserves position has recovered somewhat, but the current account surplus has gone down from 3% of GDP to below 1.5% of GDP. Coupled with the fact that in recent years Chinese companies have borrowed heavily in external markets, it would follow that the next episode of dollar funding crunch could be problematic for some of them, which in turn would raise pressure on the PBOC to intervene in the markets (which in turn will come with added complications and distortions).
Third, two economies that were hurt by the last dollar rally episode, India and Indonesia, will not be out of the woods this time either. While both countries' central banks have diligently improved their reserves base in recent years, the funding cover has improved only marginally, especially in comparison with the large surplus economies in the neighbourhood.
Fourth, if oil prices remain high, then Malaysia, despite its large external funding needs, could perhaps ride out a potential dollar crunch. But commodity markets could readily correct with EM economies, affecting Malaysia as well. We therefore think that India, Indonesia, and Malaysia's fixed income and exchange rate markets will face the brunt of adjustment if dollar funding conditions were to tighten during this year.
Disclaimers and Important Notices
The information herein is published by DBS Bank Ltd and PT Bank DBS Indonesia (collectively, the "DBS Group"). It is based on information obtained from sources believed to be reliable, but the Group does not make any representation or warranty, express or implied, as to its accuracy, completeness, timeliness or correctness for any particular purpose. Opinions expressed are subject to change without notice. Any recommendation contained herein does not have regard to the specific investment objectives, financial situation & the particular needs of any specific addressee. The information herein is published for the information of addressees only & is not to be taken in substitution for the exercise of judgement by addressees, who should obtain separate legal or financial advice. The Group, or any of its related companies or any individuals connected with the group accepts no liability for any direct, special, indirect, consequential, incidental damages or any other loss or damages of any kind arising from any use of the information herein (including any error, omission or misstatement herein, negligent or otherwise) or further communication thereof, even if the Group or any other person has been advised of the possibility thereof. The information herein is not to be construed as an offer or a solicitation of an offer to buy or sell any securities, futures, options or other financial instruments or to provide any investment advice or services. The Group & its associates, their directors, officers and/or employees may have positions or other interests in, & may effect transactions in securities mentioned herein & may also perform or seek to perform broking, investment banking & other banking or finan­cial services for these companies. The information herein is not intended for distribution to, or use by, any person or entity in any jurisdiction or country where such distribution or use would be contrary to law or regulation. Sources for all charts & tables are CEIC & Bloomberg unless otherwise specified.
DBS Bank Ltd., 12 Marina Blvd, Marina Bay Financial Center Tower 3, Singapore 018982. Tel: 65-6878-8888. Company Registration No. 196800306E. DBS Bank Ltd., Hong Kong Branch, a company incorporated in Singapore with limited liability. 18th Floor, The Center, 99 Queen's Road Central, Central, Hong Kong.
PT Bank DBS Indonesia, DBS Bank Tower, 33rd floor, Ciputra World 1, Jalan Prof. Dr. Satrio Kav 3-5, Jakarta, 12940, Indonesia. Tel: 62-21-2988-4000. Company Registration No. 09.03.1.64.96422