DBS's CIO shares why he tells clients to adopt a Barbell Strategy in their portfolios. Read a snippet of his Straits Times op-ed here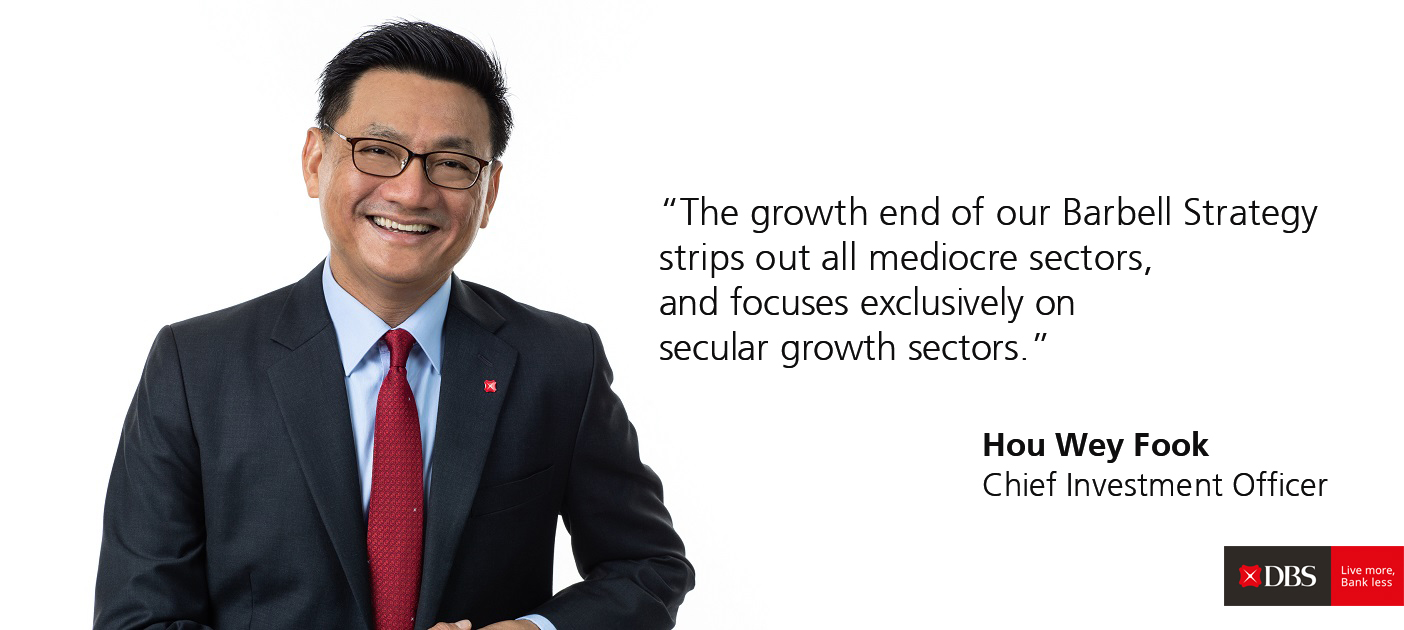 Photo credit: AFP Photo
What is a Barbell Strategy?
Simply put, a Barbell Strategy cuts your investment portfolio in two: With growth assets on one end, and income assets on the other.
On the growth side, go all-in only on companies that will benefit from long-term, irreversible growth trends. Some of these trends are digitalisation, ageing, the growth of Asia's middle class, and the rise of millennial spending. These stocks will give you superior returns, precisely because they are tapped into sectors that profit from a changing world.
But as we all know, there's no such thing as reward without risk – so these high-growth stocks will inevitably face quite volatile price movements.
That's where the other side of the barbell comes in, to help dampen this volatility. On the income side, stock up on bonds and dividend stocks – assets that pay you while you hold them. These will give your portfolio resilience, so that you won't give in to fear when times get rough.
On bonds, I like unit trusts that have a tilt toward BBB/BB-rated corporate bonds with some emerging market focus, as they are currently providing a reasonable level of yield. Bear in mind that the 'hunt for yield' is only going to intensify given the Fed's policy reversal, alongside central banks of Europe and Japan continuing their ultra-easy policies. It is astounding to note that in the past month, Louis Vuitton issued a bond that was six times oversubscribed – at negative yield! In effect, investors are paying for the privilege of lending to the company. This is just one indication that there's no let-up to this low interest rate environment – and a mark of the berserk world investors now live in.
On dividend-yielding stocks, I like specifically Singapore REITs. At an average yield of 5.8%, it is among the highest compared to global peers. Our channel checks show continued dividend per unit growth, thus pointing to the sustainability of this level of yield. We prefer suburban retail and industrial REITs, as they are more resilient to economic changes.
How is DBS's Barbell Strategy different from a Balanced Portfolio?
At this point, you may be wondering: How is our Barbell Strategy different from a balanced portfolio?
There is a single, differentiating factor: The growth end of our Barbell Strategy strips out all mediocre sectors, and focuses exclusively on secular growth sectors.
This is unlike regular balanced portfolios, which buy a diverse range of stocks that are represented in the benchmark or market indices – even if their growth prospects are ordinary. To that we say: Strip out the entire middle, lacklustre layer! You already have superior safety, thanks to the income end of the Barbell Strategy – so charge ahead with high-growth winners.
How has the Barbell Strategy performed in times of crisis?
To validate that our Barbell Strategy is resilient, we've gone back to past periods of heightened volatility, to see how our approach has stood the test of time.
As part of our analysis, we subjected our model portfolio through various market cycles. Let's zoom in on 2008's Great Financial Crisis.
While all stock portfolios bled during the September 2008 to February 2009 period, it's undeniable that the Barbell portfolio suffered far less. Even as the benchmark equity index plummeted 43%, the Barbell portfolio fell just 14% – a drop most of us can stomach.
But the Barbell Strategy doesn't just provide resilience; it also delivers superior returns. That's if, of course, investors can steel themselves to avoid selling off when markets look rough.
Case in point: End-2018, where equity indices posted their worst December since the Great Depression. US Technology and Consumer Discretionary – which form part of the "growth" exposures of the Barbell portfolio – lost an average of 9% during the month. But in the ensuing first quarter of 2019, these sectors not only clawed back all they had lost in December; they actually registered average gains of 17%!
So instead of giving in to fear and pulling out at the worst possible time, the Barbell Strategy gives investors confidence to stay in the game for the recovery ahead.
Ultimately, that's all any investor needs to do: Stay calm, sit tight, and reap the benefits.


Click here to read the full op-ed in The Straits Times, which was originally published on 28 April 2019.
Disclaimers and Important Notices
The information published by DBS Bank Ltd. (company registration no.: 196800306E) ("DBS") is for information only. It is based on information or opinions obtained from sources believed to be reliable (but which have not been independently verified by DBS, its related companies and affiliates ("DBS Group")) and to the maximum extent permitted by law, DBS Group does not make any representation or warranty (express or implied) as to its accuracy, completeness, timeliness or correctness for any particular purpose. Opinions and estimates are subject to change without notice. The publication and distribution of the information does not constitute nor does it imply any form of endorsement by DBS Group of any person, entity, services or products described or appearing in the information. Any past performance, projection, forecast or simulation of results is not necessarily indicative of the future or likely performance of any investment or securities. Foreign exchange transactions involve risks. You should note that fluctuations in foreign exchange rates may result in losses. You may wish to seek your own independent financial, tax, or legal advice or make such independent investigations as you consider necessary or appropriate.
The information published is not and does not constitute or form part of any offer, recommendation, invitation or solicitation to subscribe to or to enter into any transaction; nor is it calculated to invite, nor does it permit the making of offers to the public to subscribe to or enter into any transaction in any jurisdiction or country in which such offer, recommendation, invitation or solicitation is not authorised or to any person to whom it is unlawful to make such offer, recommendation, invitation or solicitation or where such offer, recommendation, invitation or solicitation would be contrary to law or regulation or which would subject DBS Group to any registration requirement within such jurisdiction or country, and should not be viewed as such. Without prejudice to the generality of the foregoing, the information, services or products described or appearing in the information are not specifically intended for or specifically targeted at the public in any specific jurisdiction.
The information is the property of DBS and is protected by applicable intellectual property laws. No reproduction, transmission, sale, distribution, publication, broadcast, circulation, modification, dissemination, or commercial exploitation such information in any manner (including electronic, print or other media now known or hereafter developed) is permitted.
DBS Group and its respective directors, officers and/or employees may have positions or other interests in, and may effect transactions in securities mentioned and may also perform or seek to perform broking, investment banking and other banking or financial services to any persons or entities mentioned.
To the maximum extent permitted by law, DBS Group accepts no liability for any losses or damages (including direct, special, indirect, consequential, incidental or loss of profits) of any kind arising from or in connection with any reliance and/or use of the information (including any error, omission or misstatement, negligent or otherwise) or further communication, even if DBS Group has been advised of the possibility thereof.
The information is not intended for distribution to, or use by, any person or entity in any jurisdiction or country where such distribution or use would be contrary to law or regulation. The information is distributed (a) in Singapore, by DBS Bank Ltd.; (b) in China, by DBS Bank (China) Ltd; (c) in Hong Kong, by DBS Bank (Hong Kong) Limited; (d) in Taiwan, by DBS Bank (Taiwan) Ltd; (e) in Indonesia, by PT DBS Indonesia; and (f) in India, by DBS Bank Ltd, Mumbai Branch.