A tougher economic backdrop is likely to bring political differences to the fore
Photo credit: AFP Photo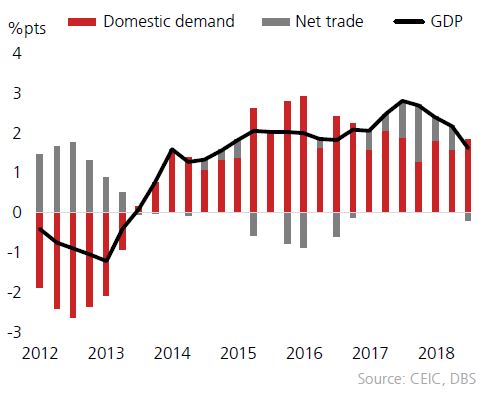 The EC joined the IMF and OECD in dialling down growth expectations for the Eurozone and EU. Growth has retreated for five successive quarters, from a peak of 2.8% y/y in 3Q17 to 1.2% in 4Q18. Apart from cyclical forces, seeds of the current slowdown were largely domestic catalysts i.e. stricter regulations on the auto industry and simmering political challenges.
Concurrently, global trade entered a correction phase, compounded by uncertainty regarding trade policies, particularly US-China tariff-exchanges, slowing global manufacturing activity, and loss of momentum in China/US/Asia growth. The overhang of Brexit-driven uncertainty has been an additional headwind.
High-frequency data mirror this cautious view. Survey indicators, including PMIs, have been slowing for several months, with real data playing catch-up since 2H18. With the US stepping up tariff action with its key trading partners, including China and the EU, manufacturing and trade activity have weakened since late-2018, led by a downturn in the core economies.
Even as we expect consumption (helped by low sub-8% unemployment rates and better wage growth) and investments to pick up part of the slack, the underlying loss in momentum has tilted the bias for weakness, as spillover effects are likely. We lower our 2019 growth forecast to 1.2% y/y and 2020 to 1.5% (vs 1.8% previously).
Inflation risks have subsided with a moderation in global energy prices. Headline inflation is expected to ease to 1.3-1.4% y/y in 1Q19 vs ECB's target of 2%, and a peak of 2.1% in 3Q18. Core inflation has flatlined, while markets-based inflation expectations drift down.
We dial down our forecasts to 1.2% for 2019 vs 2018's 1.7%, and 1.3% for 2020 (vs 1.4% previously).
The ECB withdrew from QE purchases since this year but assured that the practice of rolling over existing bonds it holds will continue. Apart from putting rate hikes on hold for the rest of the year, a fresh tranche of two-year TLTROs has been announced, which will help preserve favourable lending conditions and jumpstart policy transmission.
ECB President Mario Draghi will step down this year, with markets likely to monitor remarks of key contenders for the post, with the Banque de France head Francois Villeroy de Galhau and Governor of the Dutch central bank Klass Knot, reportedly in the running. Both officials have called on the ECB to maintain an accommodative policy considering the deteriorating growth outlook.
A tougher economic backdrop is likely to bring political differences to the core. Alongside Germany that is facing problems of its own, Italy has reached a fragile truce with the EC over its fiscal targets, just as French President Emmanuel Macron faces mounting pressure to renege on key reforms in recent months in the face of strong protests. Spain remains stuck in a cycle of political instability, but a disorderly Brexit is the elephant in the room for Europe.
Rate differentials between the US and Eurozone (also reflected in balance-sheet direction in the accompanying chart), will weigh on EUR/USD. Beyond safe-haven flows, a dovish ECB might be a signal for investors to add risk and yield, and see interest return to the likes of Italian bonds.
Click here to read the full Global Macroeconomics report.
Click here to watch our 2Q19 outlook video.
Click here for the latest CIO Insights publication.
Note: All views expressed are current as at the stated date of publication

GENERAL DISCLOSURE/DISCLAIMER
This information herein is published by DBS Bank Ltd. ("DBS Bank") and is for information only. This publication is intended for DBS Bank and its subsidiaries or affiliates (collectively "DBS") and clients to whom it has been delivered and may not be reproduced, transmitted or communicated to any other person without the prior written permission of DBS Bank.
This publication is not and does not constitute or form part of any offer, recommendation, invitation or solicitation to you to subscribe to or to enter into any transaction as described, nor is it calculated to invite or permit the making of offers to the public to subscribe to or enter into any transaction for cash or other consideration and should not be viewed as such.
The information herein may be incomplete or condensed and it may not include a number of terms and provisions nor does it identify or define all or any of the risks associated to any actual transaction. Any terms, conditions and opinions contained herein may have been obtained from various sources and neither DBS nor any of their respective directors or employees (collectively the "DBS Group") make any warranty, expressed or implied, as to its accuracy or completeness and thus assume no responsibility of it. The information herein may be subject to further revision, verification and updating and DBS Group undertakes no responsibility thereof.
All figures and amounts stated are for illustration purposes only and shall not bind DBS Group. This publication does not have regard to the specific investment objectives, financial situation or particular needs of any specific person. Before entering into any transaction to purchase any product mentioned in this publication, you should take steps to ensure that you understand the transaction and has made an independent assessment of the appropriateness of the transaction in light of your own objectives and circumstances. In particular, you should read all the relevant documentation pertaining to the product and may wish to seek advice from a financial or other professional adviser or make such independent investigations as you consider necessary or appropriate for such purposes. If you choose not to do so, you should consider carefully whether any product mentioned in this publication is suitable for you. DBS Group does not act as an adviser and assumes no fiduciary responsibility or liability for any consequences, financial or otherwise, arising from any arrangement or entrance into any transaction in reliance on the information contained herein. In order to build your own independent analysis of any transaction and its consequences, you should consult your own independent financial, accounting, tax, legal or other competent professional advisors as you deem appropriate to ensure that any assessment you make is suitable for you in light of your own financial, accounting, tax, and legal constraints and objectives without relying in any way on DBS Group or any position which DBS Group might have expressed in this document or orally to you in the discussion.
If this publication has been distributed by electronic transmission, such as e-mail, then such transmission cannot be guaranteed to be secure or error-free as information could be intercepted, corrupted, lost, destroyed, arrive late or incomplete, or contain viruses. The sender therefore does not accept liability for any errors or omissions in the contents of the Information, which may arise as a result of electronic transmission. If verification is required, please request for a hard-copy version.
This publication is not directed to, or intended for distribution to or use by, any person or entity who is a citizen or resident of or located in any locality, state, country or other jurisdiction where such distribution, publication, availability or use would be contrary to law or regulation.

Singapore: This publication is distributed by DBS Bank Ltd (Company Regn. No. 196800306E) ("DBS") which is an Exempt Financial Adviser as defined in the Financial Advisers Act and regulated by the Monetary Authority of Singapore (the "MAS").