Moutai Group's new chairman is seeking to refocus the company back on its cash cow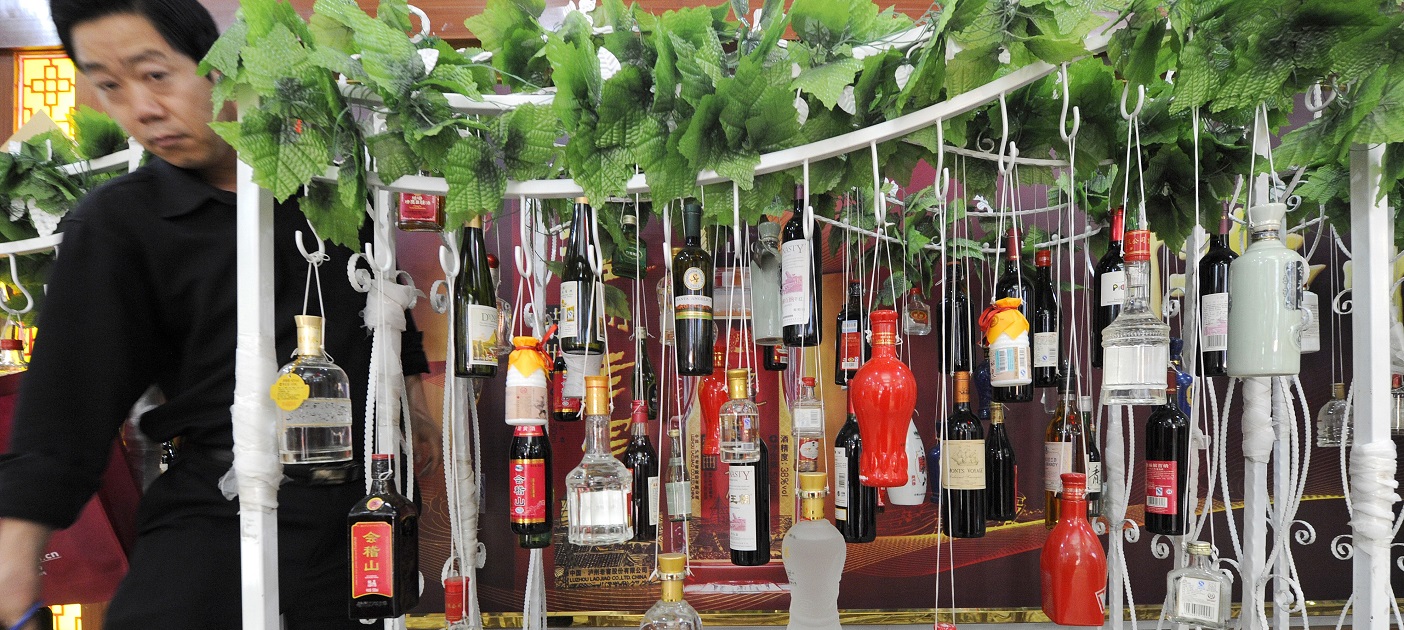 Photo credit: AFP Photo
CHINA & HONG KONG
China's love of a fiery grain liquor made Kweichow Moutai Co Ltd the world's most valuable alcohol distiller, and the company's approach has been to milk that demand for all it is worth.
But now a change in leadership is bringing a U-turn in Moutai's strategy. Li Baofang, the new chairman of parent Kweichow Moutai Group, is rolling back the efforts of his predecessor, Yuan Renguo, who quietly departed the company last May after 18 years at the helm and was removed on Sunday (5 May) from a key political position in the company's home province.
Li is seeking to refocus the Moutai Group back on its cash cow: the Shanghai-listed arm that sells an ultra-premium line of baijiu – China's national drink – embraced by the elite and increasingly coveted by the country's rising middle class.
A customisation business is being halted, and subsidiaries that make alcohol for non-premium brands are being shut down to channel production resources to the listed arm, according to people familiar with the matter.
The parent group is also trying to sell directly to customers through the establishment of its own sales office, while cutting down the listed company's 3,000-strong network of distributors.
Suspicion that a system of kickbacks had developed between liquor distributors and some of these units helped trigger the shift, say the people, who did not want to be identified discussing internal company matters.
The changes are creating a stir among investors. The Shanghai Stock Exchange has asked the company's controlling shareholder to explain the reason for setting up a new direct sales company, along with its business model and plans, according to a company filing late Tuesday (7 May).
Kweichow Moutai Co Ltd has more than doubled in value over the past two years, after leapfrogging Diageo Co Ltd – the maker of Johnnie Walker whiskey and Smirnoff vodka – in 2017. Thanks to soaring demand for Feitian—the king of baijuis – Moutai's gross profit margin has held around 90% for more than a decade, and the listed arm contributed 78% of the wider group's revenue of CNY40.8b (USD6b) in 2014. That is expected to rise to 86% of the projected CNY100b in sales this year.
Moutai's stock has lost as much as 12% this week (ending 10 May) amid concerns the new structure shifts power and sales to the parent group, away from the listed body. The shares fell 0.6% on Wednesday amid the global market selloff. – Bloomberg News.
The Shanghai Composite Index declined 1.12% to 2,893.76 and the Hang Seng Index tumbled 1.23% to 29,003.20 on Wednesday (8 May).
REST OF ASIA
New Zealand's central bank cut interest rates to a fresh record low and hinted at the chance of a further reduction if necessary, becoming the first among developed-world economies to ease policy this cycle.
Governor Adrian Orr and his newly-formed Monetary Policy Committee decided that recent unexpected weakness in inflation and hiring warranted the Reserve Bank of New Zealand's (RBNZ) first rate cut since November 2016. New Zealand's dollar fell.
The move was in contrast to decisions by central banks in the US and Australia, which opted to look through weakening inflation. The pioneer of inflation-targeting is taking a more activist approach: In late March, Orr flagged prospects for a reduction and economic data have been soft since, with the inflation rate falling to 1.5% and hiring declining.
The RBNZ's projections show the average OCR dropping to 1.48% by the end of this year and 1.36% by the third quarter of 2020. Asked at a press conference whether the RBNZ still has an easing bias, Orr said: "We think we're in a good position to be able to observe the data as it unfolds. Our forecast track is a slightly lower path than just one cut, but the uncertainties around that path are large.''
New Zealand's economy has cooled, with annual growth slowing to 2.3% last year from 3.4% in 2017. Subdued business confidence and renewed fears of the impact of a trade war between the US and China on global growth are clouding the near-term outlook.
The RBNZ also cut its forecasts for economic growth on Wednesday, saying it now expects gross domestic product to increase 2.2% in the year through March 2019 compared to 2.9% previously. It sees growth rebounding to 3.2% in 2020. – Bloomberg News.
Australia's S&P/ASX 200 Index was little changed on Thursday (9 May) morning at 6,268.80 after falling 0.42% to 6,269.15 on Wednesday.
South Korea's Kospi Index was 0.67% lower to 2,153.52 in early-Thursday trading, extending Wednesday's 0.41% loss to 2,168.01.
The Taiwan Stock Exchange Weighted Index (Taiex) shed 0.58% to 10,923.71.
Note: All views expressed are current as at the stated date of publication

GENERAL DISCLOSURE/DISCLAIMER
This information herein is published by DBS Bank Ltd. ("DBS Bank") and is for information only. This publication is intended for DBS Bank and its subsidiaries or affiliates (collectively "DBS") and clients to whom it has been delivered and may not be reproduced, transmitted or communicated to any other person without the prior written permission of DBS Bank.
This publication is not and does not constitute or form part of any offer, recommendation, invitation or solicitation to you to subscribe to or to enter into any transaction as described, nor is it calculated to invite or permit the making of offers to the public to subscribe to or enter into any transaction for cash or other consideration and should not be viewed as such.
The information herein may be incomplete or condensed and it may not include a number of terms and provisions nor does it identify or define all or any of the risks associated to any actual transaction. Any terms, conditions and opinions contained herein may have been obtained from various sources and neither DBS nor any of their respective directors or employees (collectively the "DBS Group") make any warranty, expressed or implied, as to its accuracy or completeness and thus assume no responsibility of it. The information herein may be subject to further revision, verification and updating and DBS Group undertakes no responsibility thereof.
All figures and amounts stated are for illustration purposes only and shall not bind DBS Group. This publication does not have regard to the specific investment objectives, financial situation or particular needs of any specific person. Before entering into any transaction to purchase any product mentioned in this publication, you should take steps to ensure that you understand the transaction and has made an independent assessment of the appropriateness of the transaction in light of your own objectives and circumstances. In particular, you should read all the relevant documentation pertaining to the product and may wish to seek advice from a financial or other professional adviser or make such independent investigations as you consider necessary or appropriate for such purposes. If you choose not to do so, you should consider carefully whether any product mentioned in this publication is suitable for you. DBS Group does not act as an adviser and assumes no fiduciary responsibility or liability for any consequences, financial or otherwise, arising from any arrangement or entrance into any transaction in reliance on the information contained herein. In order to build your own independent analysis of any transaction and its consequences, you should consult your own independent financial, accounting, tax, legal or other competent professional advisors as you deem appropriate to ensure that any assessment you make is suitable for you in light of your own financial, accounting, tax, and legal constraints and objectives without relying in any way on DBS Group or any position which DBS Group might have expressed in this document or orally to you in the discussion.
If this publication has been distributed by electronic transmission, such as e-mail, then such transmission cannot be guaranteed to be secure or error-free as information could be intercepted, corrupted, lost, destroyed, arrive late or incomplete, or contain viruses. The sender therefore does not accept liability for any errors or omissions in the contents of the Information, which may arise as a result of electronic transmission. If verification is required, please request for a hard-copy version.
This publication is not directed to, or intended for distribution to or use by, any person or entity who is a citizen or resident of or located in any locality, state, country or other jurisdiction where such distribution, publication, availability or use would be contrary to law or regulation.

Singapore: This publication is distributed by DBS Bank Ltd (Company Regn. No. 196800306E) ("DBS") which is an Exempt Financial Adviser as defined in the Financial Advisers Act and regulated by the Monetary Authority of Singapore (the "MAS").