Still, stock flows are back to "America first" stance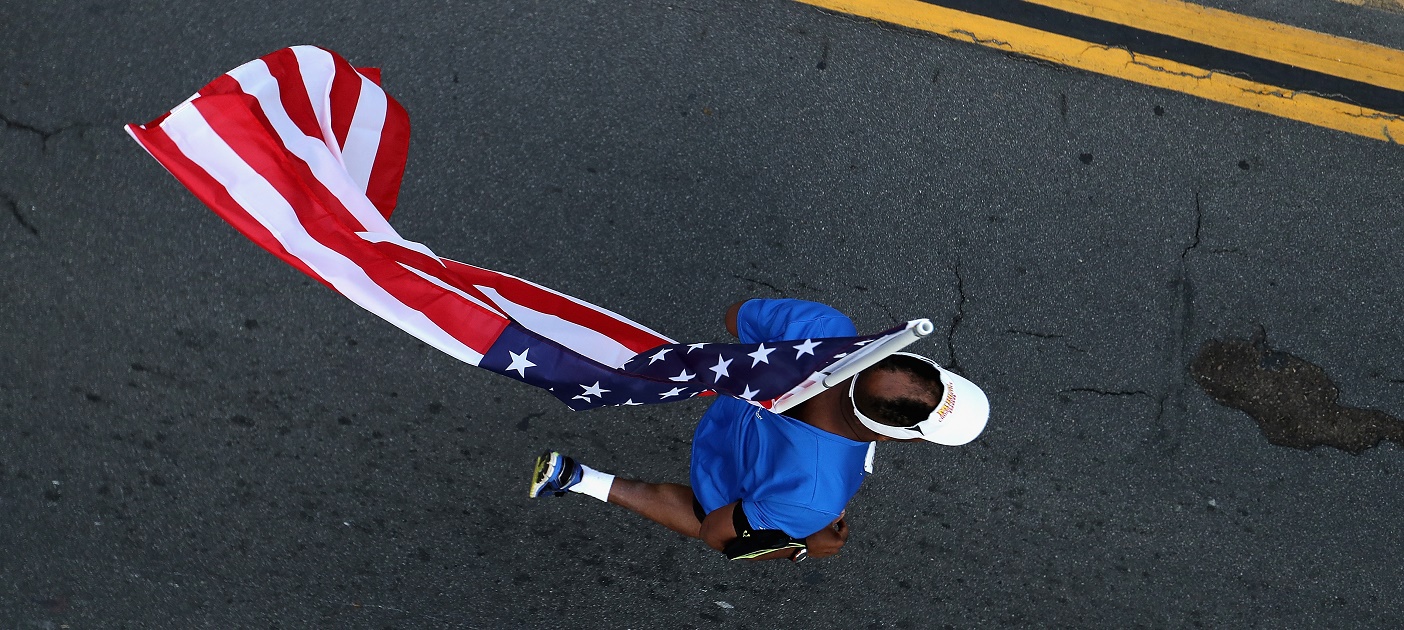 Photo credit: AFP Photo
US
US stocks fell on the final day of a week that included the US-North Korea summit, major central bank meetings, and escalating trade tensions between Washington and Beijing. The S&P 500 Index shed 0.10% to 2,779.66.
The S&P 500 Index declined in heavy trading on a quadruple-witching Friday (15 June), a quarterly event when futures and options contracts on indices and individual stocks expire. The US and China spent the day exchanging tariff threats, which drove down tech and industrial stocks, while a drop in the price of oil hit energy shares. Consumer staples and telecoms advanced, offsetting some of the drop, and the index finished with a weekly gain, if only barely.
The US and China moved to the brink of a trade war on Friday (15 June), after the Trump Administration announced tariffs on Chinese imports would take effect in three weeks and pledged additional investment restrictions – prompting an immediate vow of retaliation from Beijing.
Trump pledged more tariffs if China follows through on the retaliation threats, without specifying an amount. In April, he asked officials to consider an additional USD100b in levies. Meanwhile, US Trade Representative Robert Lighthizer said an announcement on US investment restrictions on China will follow in the next two weeks.
Clinging to their own version of "America First," global investors are tilting further away from European and Asian assets.
Fresh money poured into US equity and bond funds during the week ended 13 June, extending the longest net inflow streak for the country's stocks since the aftermath of US President Donald Trump's election victory in 2016, according to a report from EPFR Global. The findings strike a similar note as survey from an American bank in June, which showed fund managers overweight US stocks for the first time in 15 months.
Investors are tantalised by the S&P 500 Index's 2.9% return this month, when the average equity gauge globally is up less than 1%. After an on-again, off-again recovery following February's decline, US equity markets have proven relatively resilient. The US benchmark had its best May performance since 2009, as corporate America's earnings trajectory outperforms peers in the developed world.
US bond funds also absorbed cash, with flows reaching the highest level since early April. Meanwhile, European stock funds lengthened an outflow streak that has seen investors pull more than USD35b since early-March, the research company said in a report. – Bloomberg News.
EUROPE
Italian debt led a rally in European bonds, which was triggered a day earlier by the European Central Bank (ECB) ruling out a rise in interest rates until the second half of 2019. The Stoxx 600 Europe Index fell 0.99% to 389.13, as all but two segments (consumer staples, up 0.32% and real estate, up 0.37%) posted declines. The largest drag came from financials, which fell 1.66%. Energy tumbled 2.43%.
The previous day, ECB President Mario Draghi pulled off the rare feat of proving both hawkish and dovish. He announced that the ECB would end its crisis-fighting quantitative easing programme in December, yet also said it expects interest rates to remain unchanged at least through the summer of 2019.
US President Donald Trump called on the European Union (EU) to enter into negotiations to reduce trade barriers during a telephone call with French President Emmanuel Macron on Friday (15 June), as the world's largest economy is already moving to the brink of a trade war with China. Trump and Macron discussed North Korea, Syria, and Iran as well, according to an emailed statement from the White House Press Office. On the French side, the Elysee put out a statement saying that a call had taken place and that trade was discussed amid other topics.
UK Prime Minister Theresa May has been warned that rebels inside her own party could bring down her government if they do not like the final Brexit deal she negotiates with the EU. Pro-EU former attorney general Dominic Grieve said he had sleepless nights worrying about the choice facing Parliament when May reaches an agreement with the bloc on terms of the divorce. He said he and other Conservatives will not support a plan that's bad for the country and urged May to give them options when she puts the Brexit deal to Parliament for approval.
May says the House of Commons will get a straight choice between accepting the accord or rejecting it, possibly forcing the UK to crash out of the EU with no deal. She is locked in a battle with Grieve, who wants Parliament to have the option of sending her back to the negotiating table if the terms of the final agreement are not good enough.
Meanwhile, Germany's crisis over migration policy enters a critical phase this week (ending 22 June) with Chancellor Angela Merkel's political future on the line and the ripples already being felt across Europe. Merkel met with senior members of her Christian Democratic Union at party headquarters in Berlin late Sunday (17 June) to plan the response to an ultimatum set by her interior minister, Horst Seehofer, to order migrants turned away from Germany's border in direct contradiction of the chancellor.
Seehofer's party, one of three in Merkel's coalition, is poised to hand Merkel a two-week deadline to get a European deal facilitating the return of migrants to countries in which they were first registered. The demand will be endorsed at a meeting of the Christian Social Union's executive in Munich on Monday (18 June), according to Bild newspaper. Merkel must meanwhile decide whether to sack Seehofer for insubordination and risk a rift with her Bavarian sister party. – Bloomberg News.
JAPAN
Shares in Tokyo slipped at the open on Monday (18 June) with the Nikkei 225 Index down 0.39% to 22,763.53. The equity benchmark rose 0.50% to 22,851.75 on Friday (15 June) as the yen's strength abated and as markets awaited the Bank of Japan's (BOJ) monetary policy decision.
The gap between Japan's central bank and its global peers widened on Friday. The BOJ maintained its aggressive asset-purchase and yield-curve targets less than 24 hours after the European Central Bank mapped out an exit from its crisis-era policies, and just days after the US Federal Reserve again raised interest rates.
Underscoring the divide, the BOJ downgraded its assessment of inflation while Governor Haruhiko Kuroda repeated his pledge to continue with stimulus until Japan reaches its 2% inflation target.
"It is appropriate for Japan to continue current powerful monetary easing persistently," Kuroda told reporters. He cited an entrenched "deflationary mindset" that has beset Japan for decades but "does not exist in the US or Europe".
Kuroda said Friday that a stronger yen and cheaper accommodation prices had weighed on inflation. Yet he said momentum is intact and that the BOJ's current policy is sustainable.
Economists, who were unanimous in forecasts for policy to remain unchanged, said there is little chance that the BOJ will consider an exit strategy in the near term. While Kuroda insisted that the longer-term price trend is positive, the BOJ said inflation is currently sitting in a range of 0.5-1%, weaker than around 1% earlier this year. – Bloomberg News.
Disclaimers and Important Notices
The information published by DBS Bank Ltd. (company registration no.: 196800306E) ("DBS") is for information only. It is based on information or opinions obtained from sources believed to be reliable (but which have not been independently verified by DBS, its related companies and affiliates ("DBS Group")) and to the maximum extent permitted by law, DBS Group does not make any representation or warranty (express or implied) as to its accuracy, completeness, timeliness or correctness for any particular purpose. Opinions and estimates are subject to change without notice. The publication and distribution of the information does not constitute nor does it imply any form of endorsement by DBS Group of any person, entity, services or products described or appearing in the information. Any past performance, projection, forecast or simulation of results is not necessarily indicative of the future or likely performance of any investment or securities. Foreign exchange transactions involve risks. You should note that fluctuations in foreign exchange rates may result in losses. You may wish to seek your own independent financial, tax, or legal advice or make such independent investigations as you consider necessary or appropriate.
The information published is not and does not constitute or form part of any offer, recommendation, invitation or solicitation to subscribe to or to enter into any transaction; nor is it calculated to invite, nor does it permit the making of offers to the public to subscribe to or enter into any transaction in any jurisdiction or country in which such offer, recommendation, invitation or solicitation is not authorised or to any person to whom it is unlawful to make such offer, recommendation, invitation or solicitation or where such offer, recommendation, invitation or solicitation would be contrary to law or regulation or which would subject DBS Group to any registration requirement within such jurisdiction or country, and should not be viewed as such. Without prejudice to the generality of the foregoing, the information, services or products described or appearing in the information are not specifically intended for or specifically targeted at the public in any specific jurisdiction.
The information is the property of DBS and is protected by applicable intellectual property laws. No reproduction, transmission, sale, distribution, publication, broadcast, circulation, modification, dissemination, or commercial exploitation such information in any manner (including electronic, print or other media now known or hereafter developed) is permitted.
DBS Group and its respective directors, officers and/or employees may have positions or other interests in, and may effect transactions in securities mentioned and may also perform or seek to perform broking, investment banking and other banking or financial services to any persons or entities mentioned.
To the maximum extent permitted by law, DBS Group accepts no liability for any losses or damages (including direct, special, indirect, consequential, incidental or loss of profits) of any kind arising from or in connection with any reliance and/or use of the information (including any error, omission or misstatement, negligent or otherwise) or further communication, even if DBS Group has been advised of the possibility thereof.
The information is not intended for distribution to, or use by, any person or entity in any jurisdiction or country where such distribution or use would be contrary to law or regulation. The information is distributed (a) in Singapore, by DBS Bank Ltd.; (b) in China, by DBS Bank (China) Ltd; (c) in Hong Kong, by DBS Bank (Hong Kong) Limited; (d) in Taiwan, by DBS Bank (Taiwan) Ltd; (e) in Indonesia, by PT DBS Indonesia; and (f) in India, by DBS Bank Ltd, Mumbai Branch.