The nation is grappling with a historic flood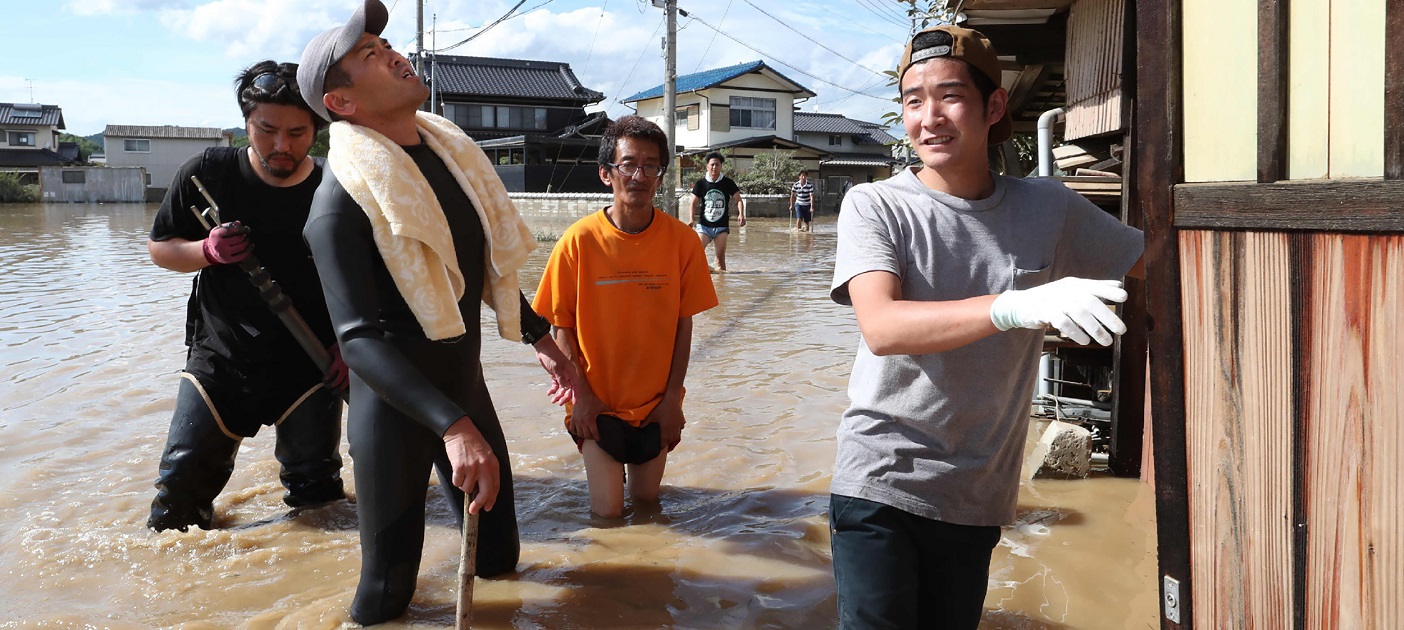 Photo credit: AFP Photo
JAPAN
Flooding and landslides throughout western Japan have killed at least 66 people, forced thousands from their homes, knocked out electricity, and halted operations at companies ranging from Panasonic Corporation to Amazon.com Inc.
The death toll from what is described as "historical rainfall" nearly tripled Sunday (8 July) from Saturday (7 July), with local television showing overflowing rivers, submerged vehicles, collapsed roads, and homes crushed under landslides. More than 40 people were missing, while evacuation orders remained in place for 4.3m people, according to Kyodo News. The government maintained flood warnings on Sunday as rain continued to fall. More than 1,000 people were stranded and awaiting rescue in Kurashiki, Okayama, a popular tourist town known, NHK reported. Casualties in Hiroshima prefecture were heaviest with 28, followed by Aichi prefecture at 18, according to Kyodo.
Power outages knocked out connectivity for NTT Docomo Inc users in areas from Kyoto to Hiroshima, the carrier said in a statement. Amazon stopped work at a distribution centre in Okayama prefecture on Saturday. Operations restarted early Sunday after truck passages were cleared, according to a company spokesman.
Panasonic halted production of video cameras at a plant in Okayama city, the Nikkei reported. Mitsubishi Motors Corporation halted operations at its Okayama plant as it was unable to procure parts, while Daihatsu Motor Co Ltd, a mini-vehicle making unit of Toyota Motor Corporation, said it had suspended production at two plants in Osaka and Kyoto for the same reason, Kyoto reported. Mazda Motor Corporation halted weekend production at a factory in Hiroshima, a company representative said on Sunday.
Kyushu Electric Power Co Ltd's Sendai No 1 nuclear reactor was operating normally, according to the company's website. Calls to the company were not answered outside normal hours.
Sony Corporation reported no damage across the company, including at plants that produce smartphone camera chips for Apple Inc, according to a company spokesman.
A total of 208 convenience stores or supermarkets were not operating throughout western Japan, the country's trade ministry said early Sunday. – Bloomberg News.
The country's benchmark Nikkei 225 Index rose 0.33% at the open on Monday (9 July). The index climbed 1.12% to 21,788.14 on Friday, spurred by a rise in US markets overnight even though US tariffs against China kicked in.
Click here to read DBS's 3Q18 outlook for Japan Equities.
Click here to read DBS's 3Q18 outlook for the Japan Economy.
EUROPE
Europe stocks edged lower after China said it's retaliating to US President Donald Trump's trade tariffs that kicked in Friday (6 July). Carmakers and miners declined as the Stoxx Europe 600 Index inched 0.20% higher to 382.36, while defensive stocks including utilities and food companies were among the gainers, underscoring the cautious mood. Deutsche Bank AG rose on speculation of takeover bids.
UK Brexit Secretary David Davis and his deputy Steve Baker quit the government on Sunday (8 July) in what threatens to be a major blow to Prime Minister Theresa May's authority.
The resignations come just two days after May secured the backing of her cabinet for a plan to keep close ties to the European Union (EU) after leaving the bloc. Davis and Baker, both longstanding eurosceptics, decided they could not support the policy, a person familiar with the matter said. May's office confirmed that Davis had resigned but had no comment yet on the reasons.
The pound weakened slightly on the news. – Bloomberg News.


Click here to read DBS's 3Q18 outlook for Europe Equities.
Click here to read DBS's 3Q18 outlook for the Europe Economy.
US
Technology beat the trade war, for a day at least. US stocks rose in light trading Friday (6 July) as biotech shares drove gains following a report that Biogen Inc's Alzheimer's drug showed positive results in a large clinical trial. The dollar extended losses and Treasuries climbed as investors assessed a mixed jobs report and the impact of an escalating trade rift with China.
All major US equity benchmarks were higher. The S&P 500 Index rose 0.85% to 2,759.82 on Friday to clinch its biggest weekly increase in a month, following the release of the employment report, which showed US hiring topped forecasts in June. The Nasdaq Composite Index jumped 1.34% to 7,688.39 with biotech firms, chipmakers, and software and tech hardware companies leading the way. The Dow Jones Industrial Average added 0.41% to 24,456.48.
Volume was soft, with trading in S&P 500 stocks 23% below normal and Dow Jones Industrial Average shares 32% off their daily average. The dollar was lower and Treasuries rose as traders tried to determine how the Federal Reserve will react to the jobs report showing wage increases slowing. – Bloomberg News.
Click here to read DBS's 3Q18 outlook for US Equities.
Disclaimers and Important Notices
The information published by DBS Bank Ltd. (company registration no.: 196800306E) ("DBS") is for information only. It is based on information or opinions obtained from sources believed to be reliable (but which have not been independently verified by DBS, its related companies and affiliates ("DBS Group")) and to the maximum extent permitted by law, DBS Group does not make any representation or warranty (express or implied) as to its accuracy, completeness, timeliness or correctness for any particular purpose. Opinions and estimates are subject to change without notice. The publication and distribution of the information does not constitute nor does it imply any form of endorsement by DBS Group of any person, entity, services or products described or appearing in the information. Any past performance, projection, forecast or simulation of results is not necessarily indicative of the future or likely performance of any investment or securities. Foreign exchange transactions involve risks. You should note that fluctuations in foreign exchange rates may result in losses. You may wish to seek your own independent financial, tax, or legal advice or make such independent investigations as you consider necessary or appropriate.
The information published is not and does not constitute or form part of any offer, recommendation, invitation or solicitation to subscribe to or to enter into any transaction; nor is it calculated to invite, nor does it permit the making of offers to the public to subscribe to or enter into any transaction in any jurisdiction or country in which such offer, recommendation, invitation or solicitation is not authorised or to any person to whom it is unlawful to make such offer, recommendation, invitation or solicitation or where such offer, recommendation, invitation or solicitation would be contrary to law or regulation or which would subject DBS Group to any registration requirement within such jurisdiction or country, and should not be viewed as such. Without prejudice to the generality of the foregoing, the information, services or products described or appearing in the information are not specifically intended for or specifically targeted at the public in any specific jurisdiction.
The information is the property of DBS and is protected by applicable intellectual property laws. No reproduction, transmission, sale, distribution, publication, broadcast, circulation, modification, dissemination, or commercial exploitation such information in any manner (including electronic, print or other media now known or hereafter developed) is permitted.
DBS Group and its respective directors, officers and/or employees may have positions or other interests in, and may effect transactions in securities mentioned and may also perform or seek to perform broking, investment banking and other banking or financial services to any persons or entities mentioned.
To the maximum extent permitted by law, DBS Group accepts no liability for any losses or damages (including direct, special, indirect, consequential, incidental or loss of profits) of any kind arising from or in connection with any reliance and/or use of the information (including any error, omission or misstatement, negligent or otherwise) or further communication, even if DBS Group has been advised of the possibility thereof.
The information is not intended for distribution to, or use by, any person or entity in any jurisdiction or country where such distribution or use would be contrary to law or regulation. The information is distributed (a) in Singapore, by DBS Bank Ltd.; (b) in China, by DBS Bank (China) Ltd; (c) in Hong Kong, by DBS Bank (Hong Kong) Limited; (d) in Taiwan, by DBS Bank (Taiwan) Ltd; (e) in Indonesia, by PT DBS Indonesia; and (f) in India, by DBS Bank Ltd, Mumbai Branch.