Markets shut for the first time in almost two years, adding drama to the city's protests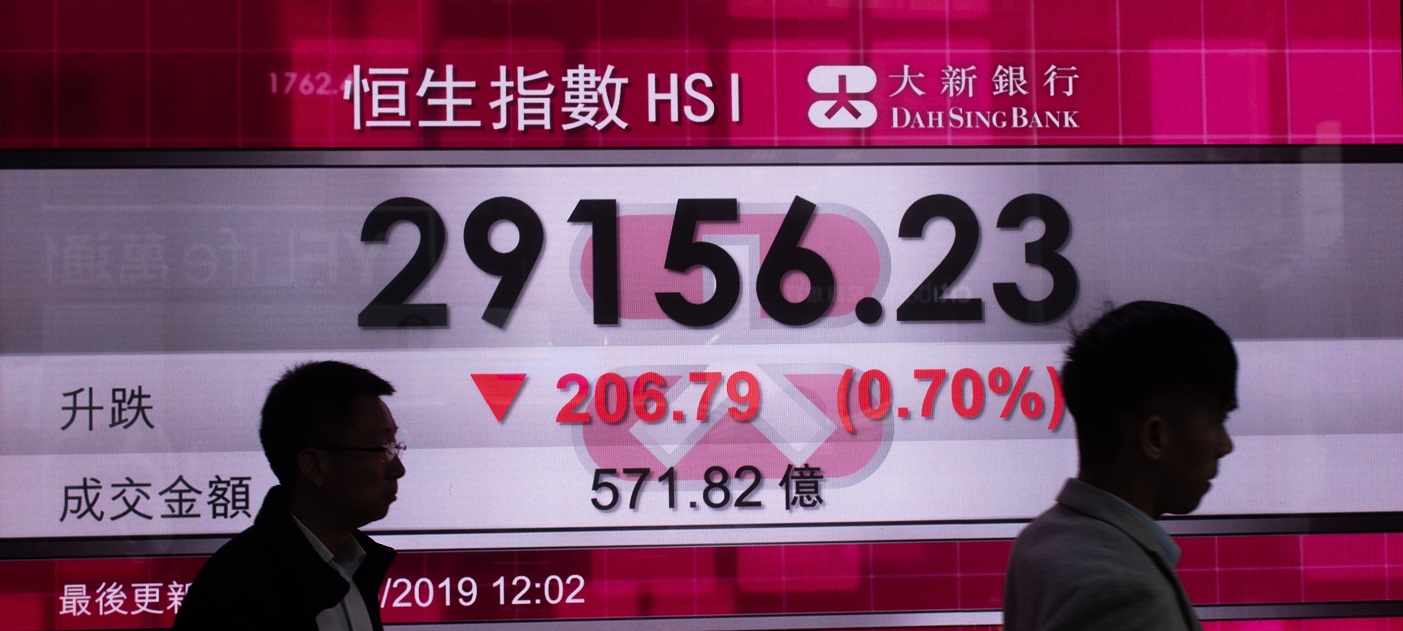 Photo credit: AFP Photo
CHINA & HONG KONG
A tropical storm shut Hong Kong's financial markets on Wednesday (31 July) for the first time in almost two years, adding extra drama to a city that has been wracked by protests for weeks.
The Hong Kong Observatory raised the storm signal to eight at 1:40 pm local time, the third highest number on its scale. That prompted the city's stock exchange to suspend trading 15 minutes later, as required by its rules. The Hang Seng Index, which normally closes after 4 pm, ended the session 1.3% lower. Nearly 600 flights have been cancelled or delayed.
As of 8 pm local time, 16 people had sought treatment at public hospitals, the government said, adding that it had received 10 reports of fallen trees and one each of landslides and flooding. The city's airport authority said 25 flights had been cancelled and another 562 delayed. People rushed to get on trains before the suspension of bus and ferry services, while roads were jammed with traffic as workers sought to get home early.
Train services continue and trains on the Island line, which cuts through the city's financial centre, are running at four-minute intervals, MTR Corp said. The Hong Kong-Macau ferry terminal in Sheung Wan was temporarily closed. Most stores in Hong Kong's central district shut by early afternoon, with many employees seen taping their windows.
Preliminary data Wednesday showed the city's economic expanded just 0.6% in the second quarter from a year earlier, less than half the pace forecast by economists. Hong Kong Chief Executive Carrie Lam had said earlier this week there is "no room for optimism for the second quarter and the entire year", according to a government statement citing her remarks at a luncheon.
Wednesday's weather disruption comes at a particularly bad time for Hong Kong. Eight consecutive weekends of unrest in the city have driven away tourists and forced retailers to close some stores in the city's busiest areas, hitting sales of jewellery and cosmetics. It has also affected landlords' ability to raise rents.
The stock declines reflect growing frustration over Hong Kong's political impasse. Investors on Monday sold the city's shares at the fastest rate in more than six weeks, after protesters clashed with police for an eighth weekend. Traders are worried the violence will disrupt the local economy, and a rare press briefing by Beijing did little to ease their concerns.
The MSCI Hong Kong Index fell for a sixth day on Wednesday, the longest losing streak in more than a year. It has fallen 3% this month as protests intensified. – Bloomberg News.
The Shanghai Composite Index fell 0.67% to 2,932.51 on Wednesday and the Hang Seng Index dipped 1.31% to 27,777.75.
REST OF ASIA
Samsung Electronics Co Ltd shares slid after South Korea's most important company reported sharply lower profit amid global trade tensions and a wireless industry slump.
Net income fell 54% from a year earlier to KRW5.06t (USD4.3b) for the three months ended June, the Suwon, South Korea-based company said in a statement, while revenue dropped 4% to KRW56.1t. Shares slid as much as 3.3%.
The world's largest maker of memory chips and smartphones has been hammered by geopolitical tensions and a wireless slump. The US-China trade war has rattled the global tech supply chain and weighed down the price of memory chips used in phones and data centres. In addition, Japan restricted the export of materials used in chips and displays to Korea, raising concern over potential disruptions at Samsung and SK Hynix Inc.
Samsung had planned to announce its three-year shareholder return policy Wednesday (31 July), but put off the announcement until early next year, citing significant new challenges.
Its stock originally traded higher and then dropped lower during an investor call as Samsung said it is facing uncertainty due to growing macroeconomic issues. Beyond the US-China dispute, Japan may announce further export curbs against South Korea this week (ending 2 August). – Bloomberg News.
South Korea's Kospi Index lost 0.55% to 2,013.41 early Thursday morning. It tumbled 0.69% to 2,024.55 on Wednesday.
Shares in Sydney declined on Thursday with the S&P/ASX 200 Index losing 0.39% to 6,785.80 at the open. The index weakened 0.48% to 6,812.56 in the previous session.
The Taiwan Stock Exchange Weighted Index slid 0.07% to 10,823.81 on Wednesday.