US stock indices end the day where they started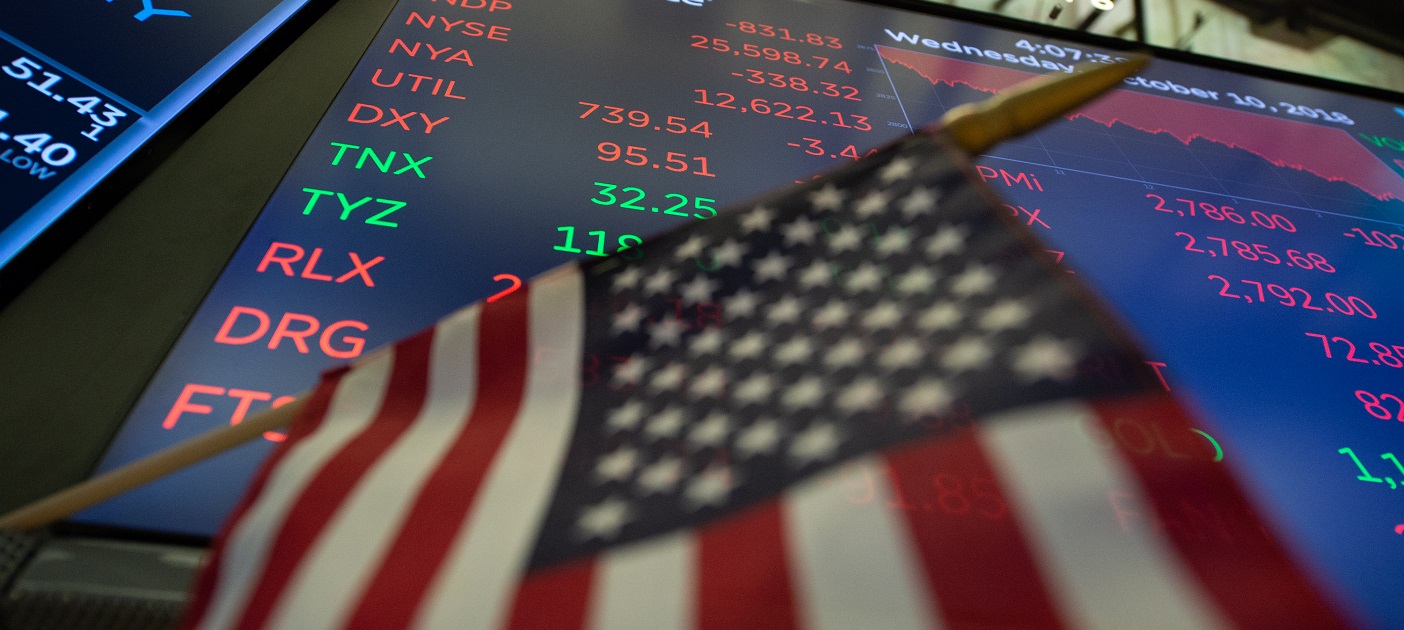 Photo credit: AFP Photo
Market news selected by the DBS Chief Investment Office
US
US equities ended Thursday (19 September) near where they started as investors failed to find a catalyst to lift the benchmark stock index to an all-time high. The dollar sank and Treasuries rose amid a slew of fresh monetary policy decisions.
The S&P 500 Index closed little changed at 3,006.79, within 1% of a record, as gains in software companies offset losses for carmakers. After getting a boost from positive comments on trade by White House economic adviser Larry Kudlow early in the day, equities took a leg down after a report about a US official threatening steeper tariffs against China.
The slate of monetary policy decisions, hot on the heels of the Federal Reserve's interest rate cut Wednesday, comes just as the Organisation for Economic Co-operation and Development cut its world growth forecast to 2.9% from 3.2%, as intensifying trade conflicts take a toll on confidence. Investors continue to focus on the outlook for negotiations between the US and China as trade deputies from both nations meet.
Trade negotiators from both countries resumed face-to-face talks in Washington, as the Trump administration said a Chinese delegation will visit American farmlands next week (ending 27 September).
The burst of diplomacy follows two months of ratcheting up of the trade war after senior officials last met in Shanghai in late July. Frustrated by the lack of progress after that meeting, US President Donald Trump announced an increase in planned tariffs on an additional batch of USD300b of Chinese goods to 15% from 10%, which he began imposing on 1 September. Tariffs on some goods was delayed to 15 December. Trump later announced a two-week delay on increasing existing tariffs on USD250b of Chinese goods to 30% from 25%, which is now set for 15 October.
China has targeted US exports including agriculture products with retaliatory tariffs, hitting farmers who are also dealing with unpredictable weather and low commodity prices. – Bloomberg News.
The Dow Jones Industrial Average dipped 0.19% to 27,094.79 and the Nasdaq Composite Index inched 0.07% higher to 8,182.88.
EUROPE
After three consecutive days of losses, banks got some relief Thursday (19 September) and lead share gains in Europe.
The Stoxx 600 Banks Index rose 1.8% as of 11:27 am in London, as US Federal Reserve Chairman Jerome Powell signalled there might not be further rate cuts after the central bank lowered the main interest rate Wednesday for a second time this year. The Fed also said it will intervene again in money market rates if needed, as it did earlier this week.
Spanish lender Bankia SA is the largest gainer, advancing as much as 7.4%, most since early September. Irish lenders Bank of Ireland Group Plc and Allied Irish Banks Group Plc, as well as Germany's Commerzbank AG are also among the best performers.
European banks took up EUR3.4b (USD3.8b) in free long-term loans from the European Central Bank's (ECB) Targeted Longer-Term Refinancing Operations (TLTRO) Thursday. Demand from the 28 banks that took part was lower than expected, well below predictions of EUR20-100b.
The loans are part of a stimulus package by the ECB president, Mario Draghi to boost economic growth and inflation. But European lenders have little trouble accessing funds following years of loose monetary policy and some are even keen to turn away deposits to avoid charges from the ECB's negative interest rates, which Draghi pushed even further below zero this month. – Bloomberg News.
The Stoxx Europe 600 Index gained 0.61% to 391.80 on Thursday.
JAPAN
The head of Japan's main bank lobby group welcomed the central bank's decision to keep interest rates unchanged on Thursday (19 September), while warning that any future cuts may be ineffective.
The Bank of Japan (BOJ) probably does not have any measures available to offset the detrimental impact on lenders of lowering rates further, Japanese Bankers Association Chairman Makoto Takashima said at a news briefing in Tokyo.
While leaving monetary stimulus unchanged, the BOJ said it will re-examine prices and the economy at its next meeting in October, fuelling speculation it may ease policy then. Japanese banks have long warned that deepening negative rates could further dent loan profitability and even reduce their incentive to lend.
Banks' roles as financial intermediaries would diminish if their soundness deteriorates, said Takashima, who is also president of Sumitomo Mitsui Financial Group Inc's main lending unit. He said the remarks were his personal view and not necessarily those of the lobby group.
Earlier, BOJ Governor Haruhiko Kuroda told reporters that his board was more positive toward adding stimulus than at its previous meeting, but price momentum is not being lost and there is no need for big changes to its policy framework now. Adjusting the negative rate is one option for additional easing, he said.
While only a small portion of banks' reserves incur the 0.1% negative rate, the policy introduced in 2016 has driven down interest rates on loans, eating into their lending income. A cut to -0.3% would decrease banks' combined net income by JPY500b (USD4.6b) in the first year, with regional lenders affected the most, estimates show. – Bloomberg News.
The Nikkei 225 Index was 0.20% higher at 22,088.66 on Friday morning. The benchmark rose 0.38% to 22,044.45 the previous session.
Note: All views expressed are current as at the stated date of publication

GENERAL DISCLOSURE/DISCLAIMER
This information herein is published by DBS Bank Ltd. ("DBS Bank") and is for information only. This publication is intended for DBS Bank and its subsidiaries or affiliates (collectively "DBS") and clients to whom it has been delivered and may not be reproduced, transmitted or communicated to any other person without the prior written permission of DBS Bank.
This publication is not and does not constitute or form part of any offer, recommendation, invitation or solicitation to you to subscribe to or to enter into any transaction as described, nor is it calculated to invite or permit the making of offers to the public to subscribe to or enter into any transaction for cash or other consideration and should not be viewed as such.
The information herein may be incomplete or condensed and it may not include a number of terms and provisions nor does it identify or define all or any of the risks associated to any actual transaction. Any terms, conditions and opinions contained herein may have been obtained from various sources and neither DBS nor any of their respective directors or employees (collectively the "DBS Group") make any warranty, expressed or implied, as to its accuracy or completeness and thus assume no responsibility of it. The information herein may be subject to further revision, verification and updating and DBS Group undertakes no responsibility thereof.
All figures and amounts stated are for illustration purposes only and shall not bind DBS Group. This publication does not have regard to the specific investment objectives, financial situation or particular needs of any specific person. Before entering into any transaction to purchase any product mentioned in this publication, you should take steps to ensure that you understand the transaction and has made an independent assessment of the appropriateness of the transaction in light of your own objectives and circumstances. In particular, you should read all the relevant documentation pertaining to the product and may wish to seek advice from a financial or other professional adviser or make such independent investigations as you consider necessary or appropriate for such purposes. If you choose not to do so, you should consider carefully whether any product mentioned in this publication is suitable for you. DBS Group does not act as an adviser and assumes no fiduciary responsibility or liability for any consequences, financial or otherwise, arising from any arrangement or entrance into any transaction in reliance on the information contained herein. In order to build your own independent analysis of any transaction and its consequences, you should consult your own independent financial, accounting, tax, legal or other competent professional advisors as you deem appropriate to ensure that any assessment you make is suitable for you in light of your own financial, accounting, tax, and legal constraints and objectives without relying in any way on DBS Group or any position which DBS Group might have expressed in this document or orally to you in the discussion.
If this publication has been distributed by electronic transmission, such as e-mail, then such transmission cannot be guaranteed to be secure or error-free as information could be intercepted, corrupted, lost, destroyed, arrive late or incomplete, or contain viruses. The sender therefore does not accept liability for any errors or omissions in the contents of the Information, which may arise as a result of electronic transmission. If verification is required, please request for a hard-copy version.
This publication is not directed to, or intended for distribution to or use by, any person or entity who is a citizen or resident of or located in any locality, state, country or other jurisdiction where such distribution, publication, availability or use would be contrary to law or regulation.

Singapore: This publication is distributed by DBS Bank Ltd (Company Regn. No. 196800306E) ("DBS") which is an Exempt Financial Adviser as defined in the Financial Advisers Act and regulated by the Monetary Authority of Singapore (the "MAS").