Pandemic resurgence versus US monetary policy normalisation are the two big themes for early 2022. On track inflation and labour market goals are paving the way for the latter.
Omicron has spread at a pace unmatched by any of its predecessors

This is interrupting considerably the re-opening dynamic that was in the making

Assuming the fallout remains manageable, the markets' focus would be Fed policy lift-off

We think the first hike in Fed Funds rate to be in March, with 150bps in rate increases in 22-23

Some difficulty in EM debt service is inevitable against this backdrop
Photo credit: AFP Photo (Jerome Powell)
Commentary: Year of higher rates
The new year has stayed with the contrasting theme that marked end-21. Omicron, the latest variant of concern in the pandemic, has spread at a pace unmatched by any of its predecessors, interrupting the re-opening dynamic that was in the making. As schools and workplaces have second thoughts about increasing in-person presence, and travel plans and public events are postponed, the pandemic's damage is extended. Only saving grace is the apparent mildness of the vast growing infection rates worldwide. We are keeping our fingers crossed.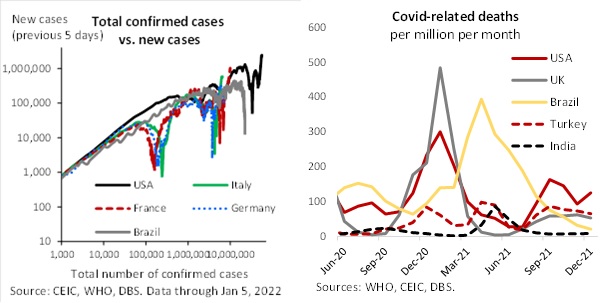 The strategy to deal with this latest wave is informed by relatively high rates of vaccination, which ought to keep a lid on serious illness and deaths. However, massive infection outbreaks (which will likely include many cases of breakthrough infection on the vaccinated) would still cause workplace absence that would exacerbate the shortage of frontline workers and stress healthcare systems.
Many countries are re-introducing lockdowns and mobility stringencies of various types, but it is clear that tolerance for renewed restrictions has reached its limit in most societies. Caught between the need to prevent hospitals from reaching capacity and unacceptance of full lockdowns, the middle ground of vaccine and booster mandates, along with strict mask wearing, is the scenario likely to be embraced by most policy makers.
The pandemic is going to delay resumption of international tourism and events, on the next chapter of the global economic cycle, two trends have emerged. First is the normalization of US Federal Reserve's monetary policy stance. Second is the sustained effort by the Chinese authorities to support their economy from slumping. On the second theme, the issues at hand for China are clear, but risky nonetheless. Looser monetary and fiscal policy, support for banks and local governments likely to suffer from exposure to a weakening property market, safeguarding consumers from asset market stress, property market volatility, and pandemic measures, and finally, reduce the wide range of uncertainties stemming for recent regulatory crackdowns. The more pressing issue for the global economy is however the first theme flagged above.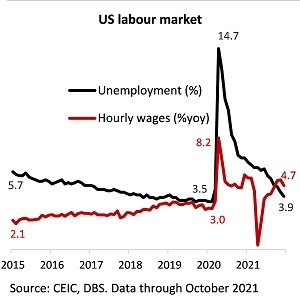 A buoyant housing market, elevated fuel prices, and the risk of a tight labour market feeding into higher wages are outshining the concerns stemming from the pandemic's latest wave in the US, pushing Fed policy makers to turn increasingly hawkish. We think asset purchases would end this quarter and the first hike in Fed Funds rate will take place in March, given that labour and jobs market objectives are well within the Fed's reach.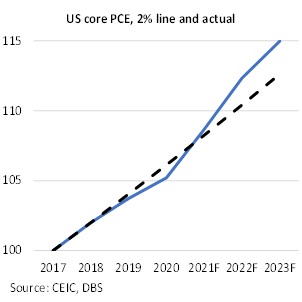 What kind of a hike cycle is ahead? We think no more than 150bps over the next two years as the supply side would expand and demand would moderate. Would this be tremendously negative for the global economy and markets? There the answer is mixed, as the ability to absorb even a moderate rise in interest rate is limited in some parts of emerging markets. Also, asset prices, as frothy as they are, will likely see corrections as safe asset returns rise. What could undo the tightening narrative? We can think of three scenarios—a major pandemic setback; global asset market correction; and disorderly slowdown in China.
To read the full report, click here to
Download the PDF
.
Subscribe
here
to receive our economics & macro strategy materials.
To unsubscribe, please click
here
.
Disclaimers and Important Notices
GENERAL DISCLOSURE/ DISCLAIMER (For Macroeconomics, Currencies, Interest Rates)

The information herein is published by DBS Bank Ltd and/or DBS Bank (Hong Kong) Limited (each and/or collectively, the "Company"). This report is intended for "Accredited Investors" and "Institutional Investors" (defined under the Financial Advisers Act and Securities and Futures Act of Singapore, and their subsidiary legislation), as well as "Professional Investors" (defined under the Securities and Futures Ordinance of Hong Kong) only. It is based on information obtained from sources believed to be reliable, but the Company does not make any representation or warranty, express or implied, as to its accuracy, completeness, timeliness or correctness for any particular purpose. Opinions expressed are subject to change without notice. This research is prepared for general circulation. Any recommendation contained herein does not have regard to the specific investment objectives, financial situation and the particular needs of any specific addressee. The information herein is published for the information of addressees only and is not to be taken in substitution for the exercise of judgement by addressees, who should obtain separate legal or financial advice. The Company, or any of its related companies or any individuals connected with the group accepts no liability for any direct, special, indirect, consequential, incidental damages or any other loss or damages of any kind arising from any use of the information herein (including any error, omission or misstatement herein, negligent or otherwise) or further communication thereof, even if the Company or any other person has been advised of the possibility thereof. The information herein is not to be construed as an offer or a solicitation of an offer to buy or sell any securities, futures, options or other financial instruments or to provide any investment advice or services. The Company and its associates, their directors, officers and/or employees may have positions or other interests in, and may effect transactions in securities mentioned herein and may also perform or seek to perform broking, investment banking and other banking or financial services for these companies. The information herein is not directed to, or intended for distribution to or use by, any person or entity that is a citizen or resident of or located in any locality, state, country, or other jurisdiction (including but not limited to citizens or residents of the United States of America) where such distribution, publication, availability or use would be contrary to law or regulation. The information is not an offer to sell or the solicitation of an offer to buy any security in any jurisdiction (including but not limited to the United States of America) where such an offer or solicitation would be contrary to law or regulation.

This report is distributed in Singapore by DBS Bank Ltd (Company Regn. No. 196800306E) which is Exempt Financial Advisers as defined in the Financial Advisers Act and regulated by the Monetary Authority of Singapore. DBS Bank Ltd may distribute reports produced by its respective foreign entities, affiliates or other foreign research houses pursuant to an arrangement under Regulation 32C of the Financial Advisers Regulations. Singapore recipients should contact DBS Bank Ltd at 65-6878-8888 for matters arising from, or in connection with the report.

This report has been prepared by a personnel of DBS Bank Ltd who is not licensed by the Hong Kong Securities and Futures Commission to carry on the regulated activity of advising on securities in Hong Kong pursuant to the Securities and Futures Ordinance (Chapter 571 of the Laws of Hong Kong). This report is being distributed in Hong Kong by DBS Bank Ltd, DBS Bank (Hong Kong) Limited and DBS Vickers (Hong Kong) Limited.

DBS Bank Ltd., 12 Marina Boulevard, Marina Bay Financial Centre Tower 3, Singapore 018982. Tel: 65-6878-8888. Company Registration No. 196800306E.

DBS Bank Ltd., Hong Kong Branch, a company incorporated in Singapore with limited liability. 18th Floor, The Center, 99 Queen's Road Central, Central, Hong Kong SAR.

DBS Bank (Hong Kong) Limited, a company incorporated in Hong Kong with limited liability. 11th Floor, The Center, 99 Queen's Road Central, Central, Hong Kong SAR.

Virtual currencies are highly speculative digital "virtual commodities", and are not currencies. It is not a financial product approved by the Taiwan Financial Supervisory Commission, and the safeguards of the existing investor protection regime does not apply. The prices of virtual currencies may fluctuate greatly, and the investment risk is high. Before engaging in such transactions, the investor should carefully assess the risks, and seek its own independent advice.