We re-assess Thailand's economic prospects following China's earlier-than-expected international border reopening.
Returning Chinese visitors will drive the next leg of tourism recovery in 2023 and 2024

China is a major source of Thai tourism, accounting for ~30% of arrivals and spending pre-pandemic

A stronger tourism upturn is a tailwind for Thai growth and macro stability

We expect real GDP growth to hit at least 4% in 2023 and 2024

Economic fundamentals will be bolstered by a return to current account surplus starting from 2023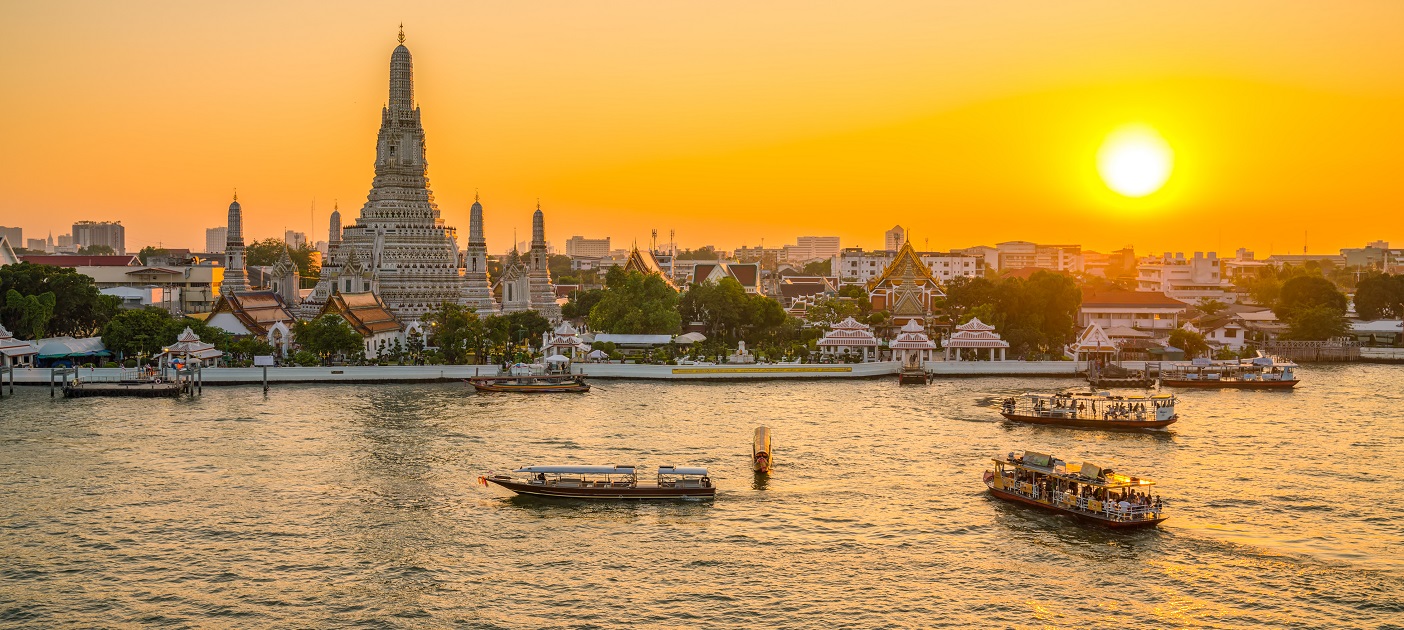 Photo credit: Adobe Stock Photo
Below is a summary; For full report with charts and tables, please download the PDF

We expect Thailand to be a major beneficiary of China's earlier-than-expected international border reopening and removal of quarantine requirements from January 8, 2023. In our view, the resumption of China's outbound travel and the return of Chinese tourists after three years of pandemic isolation is a positive tailwind for Thailand's economy from the growth and macro stability perspectives.

Thailand is highly dependent on tourism and Chinese visitors. The travel and tourism sector accounted for ~20% of GDP pre-pandemic in 2019, according to the World Travel and Tourism Council. The kingdom was the top destination for mainland Chinese tourists before the covid-19 virus hit, excluding Hong Kong and Macau special administrative regions.

Chinese interest to visit Thailand remains high. Thailand has been eyed as the top few travel destinations for Chinese visitors, based on a December 2022 survey by Dragon Trail International, a travel and mice marketing company in China. Search interest for outbound flights from China to Thailand also jumped significantly (176% increase in the 11 days after the announcement in late-December vs 14 days before), according to news reports citing Trip.com data.

It also remains relatively easy for visitors, including those from China, to enter Thailand. No covid-19 tests are needed to visit the kingdom, while the Thai authorities had u-turned on an earlier decision on January 7 requiring proof of vaccination for all arrivals. However, covid-19 health insurance amounting to USD10k is required for the period of stay in Thailand plus additional seven days, if the visitor is arriving from or travelling to a country that requires a negative PCR test, which includes China.

Positive outlook for tourism arrivals

We are positive on Thailand's tourism prospects in 2023 and 2024. The Tourism Authority of Thailand (TAT) raised its 2023 inbound tourist arrivals target to 25 mn (at least five mn from China) from 20mn and vs around 11.5mn for 2022, following China's reopening news. The authorities expect a gradual restart of ~300k Chinese visitors in 1Q23, above 220k in the first 11 months of 2022, and a pick-up thereafter. It will take some time for flights between China and Thailand to rise from the current 15 flights/week vs 400 pre-pandemic, but discussions are already underway. In 2024, we see potential for foreign arrivals to fully recover to pre-pandemic figures of 40mn.

The Thai economy is likely to see a visible positive impact from the upcoming revival of Chinese inbound spending, as China accounted for close to 30% of total tourist arrivals and receipts pre-pandemic in 2019. We estimate that a complete return of Chinese tourists to 11mn could cumulatively add ~3% to Thai nominal GDP. 2022's foreign tourism rebound was largely supported by ASEAN and Europe, with the next leg to be propelled higher by China. While China and ASEAN arrivals were quite comparable in 2019, tourism spending per Chinese arrival was ~50% higher than ASEAN.

Growth upturn and above-trend expansion

We believe the ongoing tourism recovery spurred by returning Chinese and continued normalisation of other visitors will be a tailwind and boost to Thai economic growth and macro stability over the next two years.

We expect real GDP growth to hit at least 4% in both 2023 and 2024 (2023: 4.0%, 2024: 4.4%; vs 3.8% and 3.6% previously), notwithstanding the challenging global external environment this year. The Thai economy is set to expand above its pre-pandemic growth trend (3.4% average in the five years from 2015 to 2019), and buck the regional ASEAN slowdown this year, barring any unexpected shocks from China's virus spread.

The tourism upswing is likely to support growth in two areas – services exports and private consumption, from a GDP by expenditure perspective. From a sector lens, tourism-dependent sectors such as retail, accommodation & food services, transport, and arts, entertainment & recreation would receive additional tailwinds. These sectors accounted for ~30% of total employment and GDP pre-pandemic in 2019, and was hard hit by various pandemic restrictions in 2020 and 2021.

Macro stability to be boosted by the return of current account surplus

Thailand's macroeconomic fundamentals will be bolstered by a return to a current account (CA) surplus in 2023 and further improvement in 2024, after deteriorating significantly to deficits in 2021 and 2022. We are forecasting CA surplus of 1.4% in 2023 and 4.6% in 2024, from a deficit of 3.6% of GDP in 2022.

We expect the improvement in the travel segment of the services account to be the key driver of Thailand's CA turnaround. This would be the reversal of the decline in travel receipts that caused the CA to drop significantly through the pandemic. The net travel services surplus fell from 8.7% of GDP in 2019 to just 0.3% in 2021, as foreign tourist revenues evaporated amid a complete shutdown of international borders and travel. Other CA tailwinds in the coming months would also come from narrower net transport services deficit due to lower freight payments amid improved global supply chain pressures, and terms of trade gains to the goods trade surplus from the downward correction in energy prices, though somewhat offset by slowing exports.

We are likely to observe a recovery in Thai travel receipts in 2023 and 2024. International arrivals would continue to normalise towards pre-pandemic levels as passenger demand recovers further alongside improving airline capacity, while Chinese tourists make a comeback and might 'revenge travel' in the latter part of 2023 and perhaps into 2024.

Other than the number of foreign arrivals, travel spending per arrival would impact the recovery of Thailand's net travel services surplus and consequently the current account balance. Travel receipts were mainly hit by diminishing arrivals during the pandemic. Yet, receipts per arrival surged in 2021, possibly explained by Phuket's reopening from July 2021 that attracted premium travellers. Receipts per arrival would normalise lower as Thailand attracts and receives a mix of travellers.

To better gauge the impact on our 2023 Thai CA forecast from foreign travel, we ran a sensitivity analysis of the two variables: international arrivals and travel receipt per international arrival, while keeping other estimates of CA unchanged. For the analysis, we set a 3mn range above and below TAT's 25mn target for the number of foreign arrivals, while tweaking the travel receipt per international arrival by increments/declines of 1.4% (five-year average growth between 2015 to 2019) from our base case of USD1,550 for 2023.

Takeaways from our sensitivity analysis:

First, in the event foreign tourist arrivals surprise to the downside at 22mn (still a doubling from 2022 figures and 55% of 2019 levels) while travel receipt per international arrival comes in lower and close to 2018's number, the current account could still see a significant turnaround to a modest surplus of 0.3% of GDP in 2023 from a deep deficit in 2022.

Second, the pace of recovery in the number of tourist arrivals is the more critical metric to monitor to gauge Thailand's CA upturn. Higher-than-expected tourist arrivals to 28mn (70% of 2019 levels) could see the CA surplus pick up to above 2% of GDP in 2023. The impact of changes in travel receipt per international arrival appears marginal unless there are significant shifts to the tune of ±10% from our baseline. The bottom line is that Thailand's economic prospects are brightening especially considering its significant beta to China from tourism linkages.

To read the full report, click here to Download the PDF.
GENERAL DISCLOSURE/ DISCLAIMER (For Macroeconomics, Currencies, Interest Rates)
The information herein is published by DBS Bank Ltd and/or DBS Bank (Hong Kong) Limited (each and/or collectively, the "Company"). This report is intended for "Accredited Investors" and "Institutional Investors" (defined under the Financial Advisers Act and Securities and Futures Act of Singapore, and their subsidiary legislation), as well as "Professional Investors" (defined under the Securities and Futures Ordinance of Hong Kong) only. It is based on information obtained from sources believed to be reliable, but the Company does not make any representation or warranty, express or implied, as to its accuracy, completeness, timeliness or correctness for any particular purpose. Opinions expressed are subject to change without notice. This research is prepared for general circulation. Any recommendation contained herein does not have regard to the specific investment objectives, financial situation and the particular needs of any specific addressee. The information herein is published for the information of addressees only and is not to be taken in substitution for the exercise of judgement by addressees, who should obtain separate legal or financial advice. The Company, or any of its related companies or any individuals connected with the group accepts no liability for any direct, special, indirect, consequential, incidental damages or any other loss or damages of any kind arising from any use of the information herein (including any error, omission or misstatement herein, negligent or otherwise) or further communication thereof, even if the Company or any other person has been advised of the possibility thereof. The information herein is not to be construed as an offer or a solicitation of an offer to buy or sell any securities, futures, options or other financial instruments or to provide any investment advice or services. The Company and its associates, their directors, officers and/or employees may have positions or other interests in, and may effect transactions in securities mentioned herein and may also perform or seek to perform broking, investment banking and other banking or financial services for these companies. The information herein is not directed to, or intended for distribution to or use by, any person or entity that is a citizen or resident of or located in any locality, state, country, or other jurisdiction (including but not limited to citizens or residents of the United States of America) where such distribution, publication, availability or use would be contrary to law or regulation. The information is not an offer to sell or the solicitation of an offer to buy any security in any jurisdiction (including but not limited to the United States of America) where such an offer or solicitation would be contrary to law or regulation.

This report is distributed in Singapore by DBS Bank Ltd (Company Regn. No. 196800306E) which is Exempt Financial Advisers as defined in the Financial Advisers Act and regulated by the Monetary Authority of Singapore. DBS Bank Ltd may distribute reports produced by its respective foreign entities, affiliates or other foreign research houses pursuant to an arrangement under Regulation 32C of the Financial Advisers Regulations. Singapore recipients should contact DBS Bank Ltd at 65-6878-8888 for matters arising from, or in connection with the report.

DBS Bank Ltd., 12 Marina Boulevard, Marina Bay Financial Centre Tower 3, Singapore 018982. Tel: 65-6878-8888. Company Registration No. 196800306E.

DBS Bank Ltd., Hong Kong Branch, a company incorporated in Singapore with limited liability. 18th Floor, The Center, 99 Queen's Road Central, Central, Hong Kong SAR.

DBS Bank (Hong Kong) Limited, a company incorporated in Hong Kong with limited liability. 13th Floor One Island East, 18 Westlands Road, Quarry Bay, Hong Kong SAR

Virtual currencies are highly speculative digital "virtual commodities", and are not currencies. It is not a financial product approved by the Taiwan Financial Supervisory Commission, and the safeguards of the existing investor protection regime does not apply. The prices of virtual currencies may fluctuate greatly, and the investment risk is high. Before engaging in such transactions, the investor should carefully assess the risks, and seek its own independent advice.