The Philippines heads to the elections in early-May to select its new leaders. We analyse the election impact on the economy and markets through an event study.
The Philippines will hold elections in May to choose its leaders to steer the post-COVID economy

A degree of policy continuity is likely

We analyse the election impact on the economy via an event study

Growth on average rose and peaked a quarter before elections, trending lower after the polls

Net investment flows were broadly stronger after the polls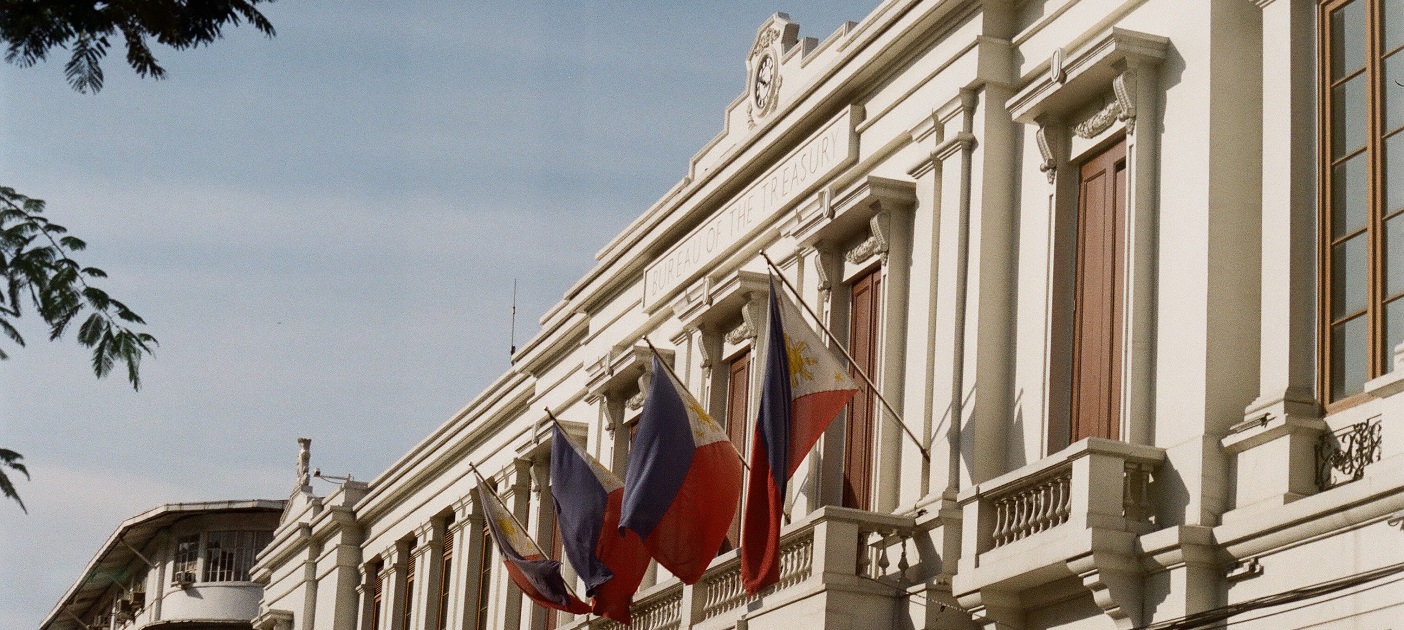 Photo credit:Unsplash
Below is a summary; for the detailed and full report, please download the PDF

The Philippines heads to elections on May 9. The president and vice-president positions, alongside a large number of congress seats, will be selected. The elections come at a critical juncture for the Philippine economy, which has suffered significantly from the COVID-19 pandemic towards the tail end of Duterte's six-year administration. Incumbent president Rodrigo Duterte is not eligible for re-election due to a single term limit set by the constitution.

The selected leaders will be responsible for steering the Philippine economic recovery in the post-pandemic environment, but contend with a higher fiscal deficit, larger government debt, and wider current account deficit.




Voters choose the posts of president and vice president separately. Candidates however have tended to form strong partnerships to shore up their election prospects. Amid the large slate of candidates, Ferdinand Marcos Jr (Bongbong) - son of former President Marcos Sr, and Sara Duterte - daughter of the incumbent president - (also known as UniTeam) are frontrunners by a significant margin based on the Pulse Asia opinion poll.

We think that a decent degree of policy continuity is likely for the Philippines. The UniTeam has committed to the current administration's 'Build, Build, Build' infrastructure program, improving digital infrastructure, combating corruption, and rooting out illegal drugs. The pair's stance on public finances is however unclear. Leni Robredo, who is the incumbent vice president but trailing Bong Bong in the opinion polls, is widely perceived to be market friendly. She favours transparency and accountability. She also champions the 'Build, Build, Build' program but with an emphasis on private-public partnership. On public finances, she has acknowledged the country's high borrowings driven by pandemic, suggesting an intention to ensure debt sustainability, if she secures victory.

We stick to analysing Philippine's economy and market performances surrounding the elections, without predicting the outcome. The results can shift in the final hour due to the personality-driven contest. We specifically look at the trajectory of growth, fiscal, inflation, investment flows, and market performances - equities and the currency - in the quarters before and after the elections to identify potential cycles.

We evaluate five elections from 1992 in this event study. It considers the polls held under the constitution where the six-year term limits were implemented. The elections occurred under varying domestic and external conditions. We average the economic and market variables and consider the volatility around the data's average to tease out trends that occurred during election seasons.

Real GDP growth

Philippines domestically driven economic growth picked up on average prior to the elections. Growth was boosted by consumption enhancing measures and government election-related spending. The expansion rose and peaked a quarter pre-elections, before trending lower and bottoming out two quarters after the polls.

Fiscal dynamics

We looked closer at fiscal expenditures surrounding the elections, which appeared to reflect election spending before the votes that boosted economic growth. Government spending growth picked up on average until two quarters before the elections, before trending to slower increases post elections.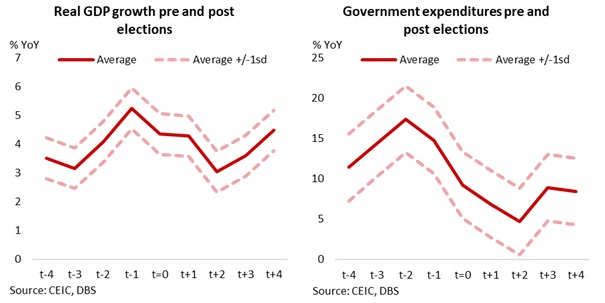 Inflation trends

Past cycles showed that Philippines' headline YoY consumer price inflation cooled before elections and picked up thereafter. In our view, inflation trends are likely influenced by factors outside the election cycle. Our analysis in ASEAN-5: Evaluating key inflation drivers decomposed headline inflation drivers for the region, revealing that Philippines' top-line inflation fluctuations have come at the mercy of global drivers and international price developments such as global crude oil prices and domestic developments.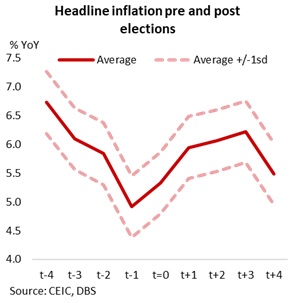 Foreign investment flows

We looked at investor confidence in the Philippines around elections through two forms of foreign investment flows: 1) more volatile portfolio flows that could be driven by global risk appetite and domestic developments, beyond the election cycle; 2) relatively stable direct investments (DI) that are influenced by structural factors such as the business environment, long-term growth prospects, and the government's policy agenda. We look at the flows in net terms as a share of nominal GDP from the BOP account.

Net portfolio investment flows: Net portfolio flows hovered around the zero-mark until one quarter after the elections on average, with one standard deviation of ~0.7% of GDP around the mean. These were followed by an improvement in the next couple of quarters, possibly as uncertainty eased.

Net direct investment (DI) flows: Net DI inflows were on average higher post-elections than pre-elections. New investments typically cooled ahead of the elections amid heightened unpredictability over policy continuity, while greater clarity over the new government drew new investments after the polls.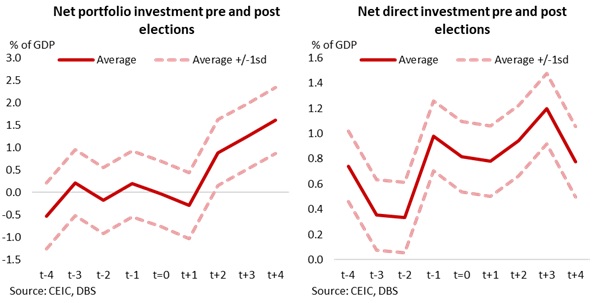 Financial market performances

We track financial market performances in the Philippines around elections through equities (the benchmark Philippine Stock Exchange Composite Index) and the currency (spot Philippine peso against the US dollar), both in YoY terms.

Equities: Philippines' equities performed well on average around election seasons. The pace of increases picked up and peaked two quarters prior to the election quarter, before stabilising into the elections and up to four quarters after the votes.

Currency: The Philippine peso depreciated against the US dollar by almost 7% YoY on average up to four quarters prior to the elections. The currency's weakness moderated following the polls, before appreciating on average after around three to four quarters post elections.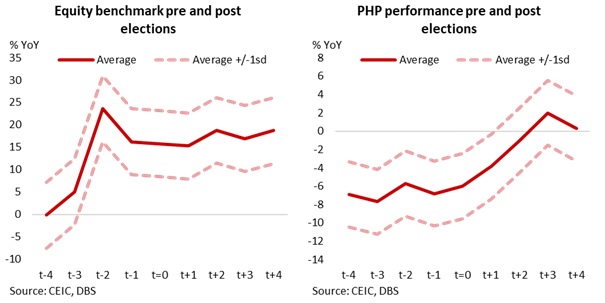 To read the full report, click here to Download the PDF.


To unsubscribe, please click
here
.
GENERAL DISCLOSURE/ DISCLAIMER (For Macroeconomics, Currencies, Interest Rates)
The information herein is published by DBS Bank Ltd and/or DBS Bank (Hong Kong) Limited (each and/or collectively, the "Company"). This report is intended for "Accredited Investors" and "Institutional Investors" (defined under the Financial Advisers Act and Securities and Futures Act of Singapore, and their subsidiary legislation), as well as "Professional Investors" (defined under the Securities and Futures Ordinance of Hong Kong) only. It is based on information obtained from sources believed to be reliable, but the Company does not make any representation or warranty, express or implied, as to its accuracy, completeness, timeliness or correctness for any particular purpose. Opinions expressed are subject to change without notice. This research is prepared for general circulation. Any recommendation contained herein does not have regard to the specific investment objectives, financial situation and the particular needs of any specific addressee. The information herein is published for the information of addressees only and is not to be taken in substitution for the exercise of judgement by addressees, who should obtain separate legal or financial advice. The Company, or any of its related companies or any individuals connected with the group accepts no liability for any direct, special, indirect, consequential, incidental damages or any other loss or damages of any kind arising from any use of the information herein (including any error, omission or misstatement herein, negligent or otherwise) or further communication thereof, even if the Company or any other person has been advised of the possibility thereof. The information herein is not to be construed as an offer or a solicitation of an offer to buy or sell any securities, futures, options or other financial instruments or to provide any investment advice or services. The Company and its associates, their directors, officers and/or employees may have positions or other interests in, and may effect transactions in securities mentioned herein and may also perform or seek to perform broking, investment banking and other banking or financial services for these companies. The information herein is not directed to, or intended for distribution to or use by, any person or entity that is a citizen or resident of or located in any locality, state, country, or other jurisdiction (including but not limited to citizens or residents of the United States of America) where such distribution, publication, availability or use would be contrary to law or regulation. The information is not an offer to sell or the solicitation of an offer to buy any security in any jurisdiction (including but not limited to the United States of America) where such an offer or solicitation would be contrary to law or regulation.

This report is distributed in Singapore by DBS Bank Ltd (Company Regn. No. 196800306E) which is Exempt Financial Advisers as defined in the Financial Advisers Act and regulated by the Monetary Authority of Singapore. DBS Bank Ltd may distribute reports produced by its respective foreign entities, affiliates or other foreign research houses pursuant to an arrangement under Regulation 32C of the Financial Advisers Regulations. Singapore recipients should contact DBS Bank Ltd at 65-6878-8888 for matters arising from, or in connection with the report.

DBS Bank Ltd., 12 Marina Boulevard, Marina Bay Financial Centre Tower 3, Singapore 018982. Tel: 65-6878-8888. Company Registration No. 196800306E.

DBS Bank Ltd., Hong Kong Branch, a company incorporated in Singapore with limited liability. 18th Floor, The Center, 99 Queen's Road Central, Central, Hong Kong SAR.

DBS Bank (Hong Kong) Limited, a company incorporated in Hong Kong with limited liability. 13th Floor One Island East, 18 Westlands Road, Quarry Bay, Hong Kong SAR

Virtual currencies are highly speculative digital "virtual commodities", and are not currencies. It is not a financial product approved by the Taiwan Financial Supervisory Commission, and the safeguards of the existing investor protection regime does not apply. The prices of virtual currencies may fluctuate greatly, and the investment risk is high. Before engaging in such transactions, the investor should carefully assess the risks, and seek its own independent advice.