In contrast to the ultra-easy fiscal and monetary policy stance in the G3, China's policy has shifted to neutral, with a bias toward tightening.
Key concerns are management of capital inflows, excessive credit growth…

…soaring real estate prices, and fading traction of monetary policy

Relentless RMB appreciation and rising foreign holdings to Chinese assets have their downsides too

Orderly outward FDI and portfolio diversification of Chinese asset owners are warranted
Photo credit: AFP Photo
Commentary: Is PBoC ahead of the curve?
Hints of inflation here and pandemic normalisation there so far this year have not caused G3 central banks to communicate a re-thinking of their ultra-accommodating policy stance. Labour marker recovery is too nascent, pandemic risks too present, and economic fragility still substantial, goes the line of reasoning to justify keeping in place the crisis-fighting tools, at least through the rest of 2021. Hence G3 central banks keep injecting liquidity, maintaining interest rates at their floor, while record fiscal support measures continue.
But beyond the central banks of the US, EU, and Japan, a notable exception has emerged. Although China's economy is yet to fire on all cylinders (domestic retail sales have been subdued, for instance), the PBoC has sufficient markers of economic strength presently that warrant a degree of caution with respect of interest rates and liquidity. These markers include strong industrial output and investment growth, buoyed by strong exports. Add to that a hot property market, and the monetary concerns become well justified.
To be clear, the PBoC's key concerns do not involve inflation, even though soaring commodity prices have driven up the PPI in recent months. The link between PPI and CPI look weak (severe competition at the retail level) and transitory (measures have been taken to curb commodity speculation). On the drivers and implications of price rises, central bank officials in China appear to be on the same page as their US counterparts, which is to look through ongoing developments and not jump the gun with respect to inflation risks.
The broader concerns are with regards to easy liquidity causing a lending boom, which can lead to asset misallocation, excessive (and ultimately wasteful) investments, and a property price bubble (causes inequality and raises financial stability risks).
In sharp contrast to other major central banks, PBoC has begun to act to rein in credit. As a result, there has already been a marked slowdown in the credit impulse. April's total social financing growth weakened the second consecutive month to 11.7%yoy, as shadow financing contracted, and corporate bond financing as well as bank loans slowed. Broad money (M2) growth eased to 8.1%yoy in April from as high as 11.1% in mid-2020.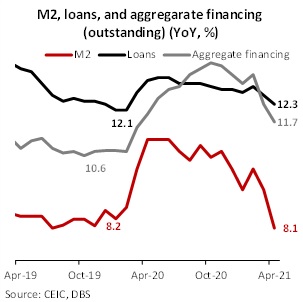 Targeted macro prudential policies to tackle the debt situation are here to stay, in our view, unless a negative growth shock hits the economy. The prevailing contrast between China's macro policies and those in the G3 point toward RMB appreciation and rising foreign holdings of Chinese assets (both driven by positive yield differentials and the relative growth narrative in China's favour). Managing the inflows is already proving to be challenging; China's external account policy imperative remains to encourage orderly capital outflows, both in the form of outward FDI and portfolio diversification of Chinese asset owners.
To read the full report, click here to
Download the PDF
.
Subscribe
here
to receive our economics & macro strategy materials.
To unsubscribe, please click
here
.
GENERAL DISCLOSURE/ DISCLAIMER (For Macroeconomics, Currencies, Interest Rates)
The information herein is published by DBS Bank Ltd and/or DBS Bank (Hong Kong) Limited (each and/or collectively, the "Company"). This report is intended for "Accredited Investors" and "Institutional Investors" (defined under the Financial Advisers Act and Securities and Futures Act of Singapore, and their subsidiary legislation), as well as "Professional Investors" (defined under the Securities and Futures Ordinance of Hong Kong) only. It is based on information obtained from sources believed to be reliable, but the Company does not make any representation or warranty, express or implied, as to its accuracy, completeness, timeliness or correctness for any particular purpose. Opinions expressed are subject to change without notice. This research is prepared for general circulation. Any recommendation contained herein does not have regard to the specific investment objectives, financial situation and the particular needs of any specific addressee. The information herein is published for the information of addressees only and is not to be taken in substitution for the exercise of judgement by addressees, who should obtain separate legal or financial advice. The Company, or any of its related companies or any individuals connected with the group accepts no liability for any direct, special, indirect, consequential, incidental damages or any other loss or damages of any kind arising from any use of the information herein (including any error, omission or misstatement herein, negligent or otherwise) or further communication thereof, even if the Company or any other person has been advised of the possibility thereof. The information herein is not to be construed as an offer or a solicitation of an offer to buy or sell any securities, futures, options or other financial instruments or to provide any investment advice or services. The Company and its associates, their directors, officers and/or employees may have positions or other interests in, and may effect transactions in securities mentioned herein and may also perform or seek to perform broking, investment banking and other banking or financial services for these companies. The information herein is not directed to, or intended for distribution to or use by, any person or entity that is a citizen or resident of or located in any locality, state, country, or other jurisdiction (including but not limited to citizens or residents of the United States of America) where such distribution, publication, availability or use would be contrary to law or regulation. The information is not an offer to sell or the solicitation of an offer to buy any security in any jurisdiction (including but not limited to the United States of America) where such an offer or solicitation would be contrary to law or regulation.

This report is distributed in Singapore by DBS Bank Ltd (Company Regn. No. 196800306E) which is Exempt Financial Advisers as defined in the Financial Advisers Act and regulated by the Monetary Authority of Singapore. DBS Bank Ltd may distribute reports produced by its respective foreign entities, affiliates or other foreign research houses pursuant to an arrangement under Regulation 32C of the Financial Advisers Regulations. Singapore recipients should contact DBS Bank Ltd at 65-6878-8888 for matters arising from, or in connection with the report.

DBS Bank Ltd., 12 Marina Boulevard, Marina Bay Financial Centre Tower 3, Singapore 018982. Tel: 65-6878-8888. Company Registration No. 196800306E.

DBS Bank Ltd., Hong Kong Branch, a company incorporated in Singapore with limited liability. 18th Floor, The Center, 99 Queen's Road Central, Central, Hong Kong SAR.

DBS Bank (Hong Kong) Limited, a company incorporated in Hong Kong with limited liability. 13th Floor One Island East, 18 Westlands Road, Quarry Bay, Hong Kong SAR

Virtual currencies are highly speculative digital "virtual commodities", and are not currencies. It is not a financial product approved by the Taiwan Financial Supervisory Commission, and the safeguards of the existing investor protection regime does not apply. The prices of virtual currencies may fluctuate greatly, and the investment risk is high. Before engaging in such transactions, the investor should carefully assess the risks, and seek its own independent advice.