We construct an aggregate Financial Conditions Index (FCI) to arrive at an unified signal for the underlying financial conditions in the economy.
We construct an aggregate Financial Conditions Index (FCI) …

… to arrive at an unified signal for the underlying financial conditions in the economy

Linkage to global markets is reinforced by comparing our India's FCI and its US counterpart

We will closely track the FCI in 2H21 as the likelihood of policy normalisation rises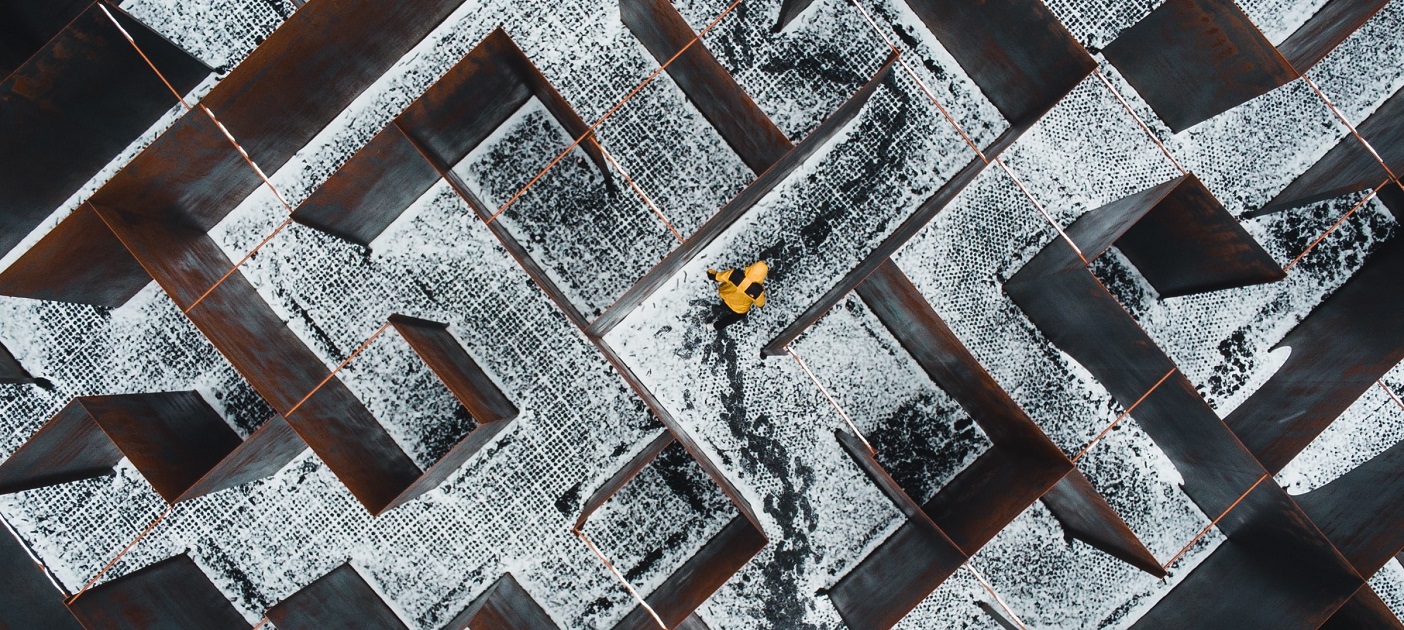 Photo credit: Unsplash
Introducing India's Financial Conditions Index
Indian financial markets, along with the global counterparts, endured an across the board sell-off in March-April 2020 as the pandemic spread across countries. Strong and swift policy response by global monetary authorities, and the RBI in particular, helped stabilise markets.
Against this backdrop, we map the economy's financial plumbing via our new Financial Conditions Index (FCI), which captures monthly movements across different asset markets – money, bonds, currency, and equity markets, to arrive at an unified measure. To provide more colour, our FCI+ gauge incorporates bank lending growth to get a pulse on real economy implications.
Purpose:
Financial markets are the backbone for any economy. Past crises, particularly the global financial crisis (GFC) have shown that even when there is macroeconomic stability, financial instability can still be a risk, which in turn could hurt the real economy with a lag. This increases the need to incorporate a pool of indicators across various segments to evaluate evolving conditions on a continuous basis. Often, this measure also becomes crucial in determining whether on-the-ground realities track or run counter to the central bank's stated objectives.
Interpretation:
We describe the methodology in the appendix. The chart above carries the aggregate FCI measure, where readings above the baseline (zero) indicate incipient stress/ tightness, whilst readings below, imply conditions are conducive.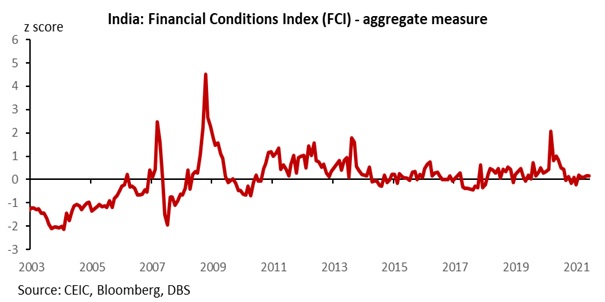 Key takeaways
•
Back-testing:
The FCI picks up past episodes of stress, which were either driven by global drivers or domestic developments. Besides the deterioration in conditions during the global financial crisis, the 2013 taper tantrum squeeze and subsequently, a relatively smaller knock-on impact from the demonetisation exercise. More recently, the IL&FS default in 2018 had led to a mild uptick, which had also witnessed a combination of global headwinds by way of rising US rates and higher oil prices, which resulted in RBI's rate hikes.
Last year, markets endured a risk-off squeeze in Mar-Apr20 owing to the pandemic, but conditions turned conducive thereafter amidst dovish overtures by the RBI.
•
FCI+:
We overlay total bank lending data over the four market segments to arrive at the FCI+ measure. The collated index has retreated from the Mar-Apr20 squeeze but remains elevated reflecting slower bank lending growth, which extended its weak run into the pandemic and has yet to materially improve. From an average of 13.6% y/y rise in FY19, loans rose by 5.9% in FY21 and continues to flatline into FY22.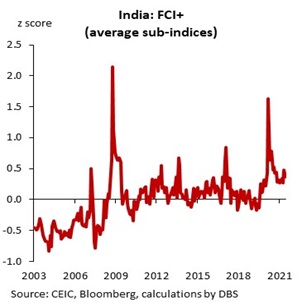 Softer credit growth is viewed as a demand (cautious borrowers) as well as supply (wary banks) problem, as stress in the banks' books is set to rise due to the pandemic fallout. Notably, the share of retail loans has been progressively rising, closing in on loans to the industry (see chart). Part of this shift is due to a) weak financing demand by corporates in the midst of high leverage and higher due diligence by banks; b) expanding digital reach of retail borrowers, availability of credit scores, and faster authentication systems etc.
While the fallout of the pandemic on banks' overall NPA situation is under watch (RBI's baseline is at 9.8% by Mar22), few financial institutions have reported an increase in retail NPAs in recent releases, despite the central bank extending a recast facility to retail consumers and SMEs. The recent Financial Stability Report revealed that whilst NPA levels for agriculture and industry declined in FY21, that of personal loan sector rose. While it is still lowest amongst the sub-segments, the ratio ticked up to 2.1% in Mar21 vs 1.8% in Sep20.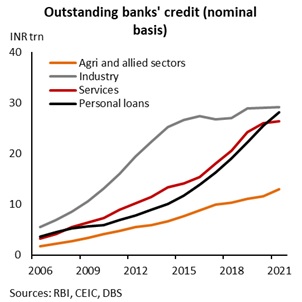 Credit to MSMEs have also risen, largely spurred by credit guarantees extended by the government. Risks of a deterioration in the stressed assets situation could turn banks risk-averse, delaying a sharp improvement in the credit cycle this year.
•
How did the FCI fare in the midst of the pandemic?
The pandemic led to a broad-based sell-off in March last year, which was reflected in a spike in the FCI measure in the midst of FPI outflows, sharp rupee depreciation, and drop in the equity indices. Nerves settled thereafter as the RBI responded with liquidity infusion, rate cuts, Operation Twists, Targeted LTROs, addressing financial sector stability by extension of moratoriums, and recast windows etc. Equity markets have also proved to be resilient, particularly benefiting from an accelerated formalisation process, better margins due to cost rationalisation and strong earnings expectations. Aggregate financial conditions remained accommodative last year and into early 2021.
Since 2Q21, the FCI is a shade higher, reflecting a bounce in INR bond yields and depreciating rupee in the wake of global catalysts (US inflation risks and shift in Fed's dot plot). After notching strong gains so far this year – Nifty 50 up by +12.4% on local currency and +10% in US$ basis YTD – the index is stagnating at highs as foreign portfolio investors turn cautious.
•
Is there any link with financial conditions in the US?
We map India's FCI with the Chicago Fed National Financial Conditions Index. We observe that during instances of global volatility or risk events, the stress in the US indicator is also mirrored in India's gauge, with the GFC and pandemic-led episodes as cases in point. Granger causality tests of the two indicators also reveal a small P-value, suggesting that the null hypothesis of US FCI does not Granger cause India's FCI is rejected, implying that the US FCI does influence India's. Asian financial markets (ex-China) are likely to influence India's to a lesser extent given their relatively smaller size.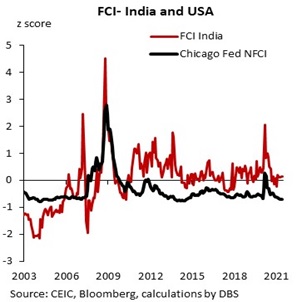 •
FCI vs real economy:
To establish the linkage between financial market stress and its lagged impact on the real economy, we map the FCI index against industrial production data. We take lagged values (-2) of FCI and IIP growth, with higher stress resulting in lower IIP reading, making it evident that stress emanating in financial markets is transmitted into the real economy and FCI can act a leading indicator to identify pockets of stress for the real economy.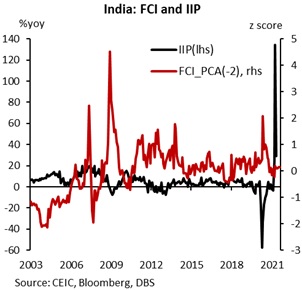 As the policy normalisation debate heats up...
Sticky retail inflation continues to make a case for the RBI to consider policy normalisation later this year (
India: Vaccination and policy normalisation
and
India: RBI unlikely to rock the (policy) boat
). This assumes that the economy manages to skirt risks of a third wave or that the onset of one does not materially derail the recovery process. Communication will be key to ensure financial tightness doesn't front-run the intended speed of normalising policy. As this debate heats up in the coming months, we will closely track the FCI in 2H21 to pick early signals.
To read the full report, click here to
Download the PDF
.
Subscribe
here
to receive our economics & macro strategy materials.
To unsubscribe, please click
here
.
GENERAL DISCLOSURE/ DISCLAIMER (For Macroeconomics, Currencies, Interest Rates)
The information herein is published by DBS Bank Ltd and/or DBS Bank (Hong Kong) Limited (each and/or collectively, the "Company"). This report is intended for "Accredited Investors" and "Institutional Investors" (defined under the Financial Advisers Act and Securities and Futures Act of Singapore, and their subsidiary legislation), as well as "Professional Investors" (defined under the Securities and Futures Ordinance of Hong Kong) only. It is based on information obtained from sources believed to be reliable, but the Company does not make any representation or warranty, express or implied, as to its accuracy, completeness, timeliness or correctness for any particular purpose. Opinions expressed are subject to change without notice. This research is prepared for general circulation. Any recommendation contained herein does not have regard to the specific investment objectives, financial situation and the particular needs of any specific addressee. The information herein is published for the information of addressees only and is not to be taken in substitution for the exercise of judgement by addressees, who should obtain separate legal or financial advice. The Company, or any of its related companies or any individuals connected with the group accepts no liability for any direct, special, indirect, consequential, incidental damages or any other loss or damages of any kind arising from any use of the information herein (including any error, omission or misstatement herein, negligent or otherwise) or further communication thereof, even if the Company or any other person has been advised of the possibility thereof. The information herein is not to be construed as an offer or a solicitation of an offer to buy or sell any securities, futures, options or other financial instruments or to provide any investment advice or services. The Company and its associates, their directors, officers and/or employees may have positions or other interests in, and may effect transactions in securities mentioned herein and may also perform or seek to perform broking, investment banking and other banking or financial services for these companies. The information herein is not directed to, or intended for distribution to or use by, any person or entity that is a citizen or resident of or located in any locality, state, country, or other jurisdiction (including but not limited to citizens or residents of the United States of America) where such distribution, publication, availability or use would be contrary to law or regulation. The information is not an offer to sell or the solicitation of an offer to buy any security in any jurisdiction (including but not limited to the United States of America) where such an offer or solicitation would be contrary to law or regulation.

This report is distributed in Singapore by DBS Bank Ltd (Company Regn. No. 196800306E) which is Exempt Financial Advisers as defined in the Financial Advisers Act and regulated by the Monetary Authority of Singapore. DBS Bank Ltd may distribute reports produced by its respective foreign entities, affiliates or other foreign research houses pursuant to an arrangement under Regulation 32C of the Financial Advisers Regulations. Singapore recipients should contact DBS Bank Ltd at 65-6878-8888 for matters arising from, or in connection with the report.

DBS Bank Ltd., 12 Marina Boulevard, Marina Bay Financial Centre Tower 3, Singapore 018982. Tel: 65-6878-8888. Company Registration No. 196800306E.

DBS Bank Ltd., Hong Kong Branch, a company incorporated in Singapore with limited liability. 18th Floor, The Center, 99 Queen's Road Central, Central, Hong Kong SAR.

DBS Bank (Hong Kong) Limited, a company incorporated in Hong Kong with limited liability. 13th Floor One Island East, 18 Westlands Road, Quarry Bay, Hong Kong SAR

Virtual currencies are highly speculative digital "virtual commodities", and are not currencies. It is not a financial product approved by the Taiwan Financial Supervisory Commission, and the safeguards of the existing investor protection regime does not apply. The prices of virtual currencies may fluctuate greatly, and the investment risk is high. Before engaging in such transactions, the investor should carefully assess the risks, and seek its own independent advice.