Malaysia is held back in the near-term by strict virus restrictions, with political developments under a close watch. Economic reopening would bode well for the recovery into 2022.
Stringent virus containment measures are likely to weigh on growth in 3Q

Political developments are also under a close watch

Economic reopening, helped by vaccinations, bode well for the recovery into 2022

Implication for our forecasts: We maintain our growth forecasts of 4.0% for 2021 and 5.0% for 2022

Implication for investors: MYR has entered a weaker range of 4.20-4.40 per USD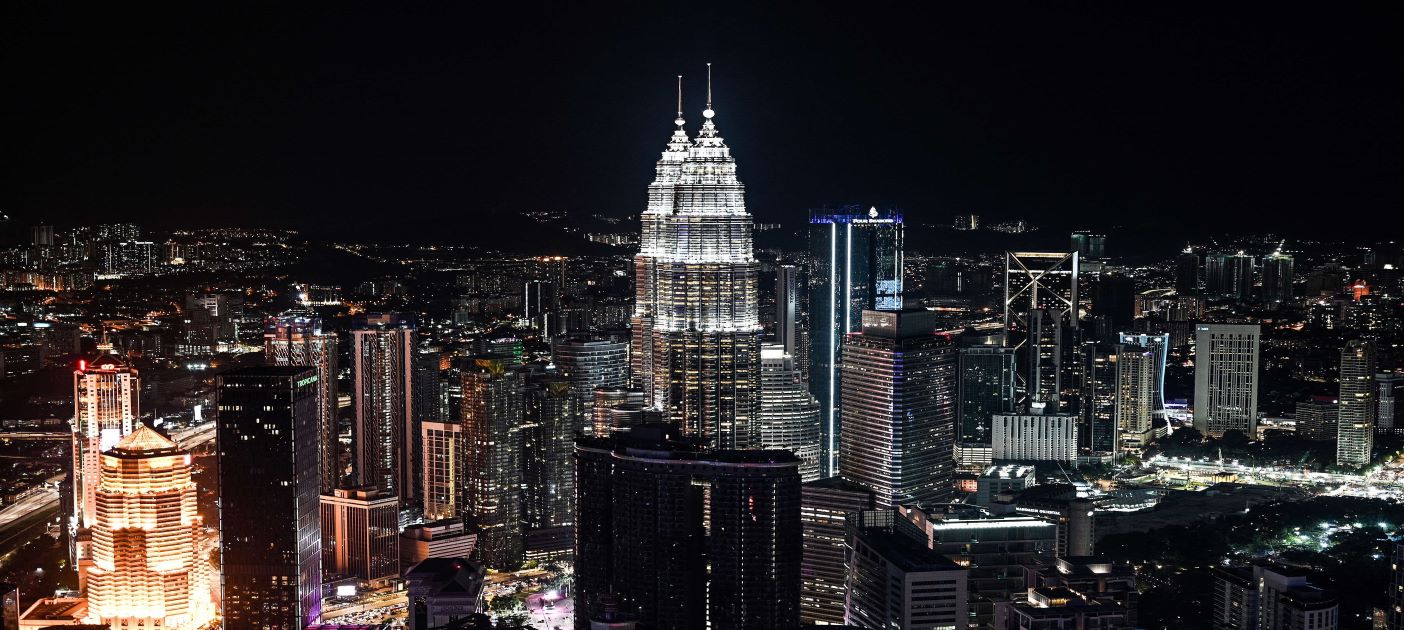 Photo credit: AFP Photo
Malaysia's economy is held back by the prolonged lockdown for the time being but is well-placed to benefit from a vaccine-led reopening.
Like other Southeast Asian peers, Malaysia has suffered a resurgence in new COVID-19 cases, sparked by the more contagious Delta variant. Strict movement restrictions to curb infections since June resulted in sequential economic contraction of 2% QoQ seasonally adjusted (sa) in 2Q. 3Q economic activity remains under pressure, as much of the economy is still under severe curbs.
With vaccinations ramping up, Malaysia is gearing up for domestic economic reopening towards the latter part of 2H21. A rise in political uncertainty due to the impending transition of the country's leadership is under watch to gauge the material impact, if any, on policy or reform direction.
Better vaccination rates, together with the still favourable external demand environment and supportive economic policies, should bode well for growth prospects going into 2022. We maintain our growth forecasts of 4.0% for 2021 and 5.0% for 2022.
Harsh restrictions hurt 3Q activity
Stringent lockdowns have been lengthened by the current stronger COVID-19 wave, weighing heavily on Malaysia's economic activity.
Daily new infections have been hitting fresh highs of around 20k, despite the strict Full Movement Control Order (FMCO) since June. The duration of FMCO has been longer than the previous two MCOs earlier in January 2021 and March 2020. Bank Negara Malaysia (BNM) has lowered its 2021 growth forecast range to 3.0 - 4.0% (6.0 - 7.5% previously), accounting for the nationwide containment measures. The government meanwhile estimates daily losses of MYR1.1bn under FMCO, much lower compared with MYR2.4bn under MCO1.0. Even with FMCO's longer duration, the losses are so far smaller than last year's MCO1.0. The economic impact has been mitigated due to increased adaptability to the pandemic from digitalisation and remote working, while sectors are allowed to operate at a lower capacity (vs a total shutdown last year).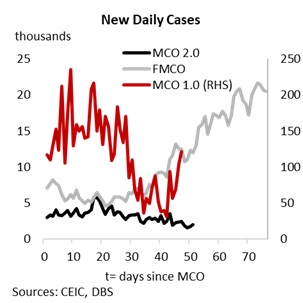 The government introduced the National Recovery Plan (NRP) on June 15, aimed at exiting from the pandemic. The NRP has four phases, with varying movement restrictions (see pdf for table), and transition based on stipulated indicators (more details below). As of mid-August, six states (Penang, Perak, Terengganu, Kelantan, Pahang, and Sabah) have transitioned into Phase Two, while two states (Perlis and Sarawak) and one federal territory (Labuan) are under Phase Three. The rest, including Klang Valley (Selangor, Kuala Lumpur, and Putrajaya – accounting for around 43% of the economy), remains under the first phase. Retail and recreation mobility has been slowly improving since the launch of the NRP, but is still sharply below pre-pandemic levels, as much of the economy (around 60%) remain under harsh Phase One restrictions.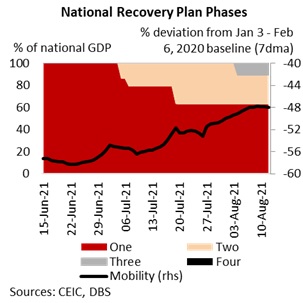 Vaccinations push to aid reopening
Malaysia's domestic vaccination push is likely to provide impetus to restart and safely reopen its economy.
Except for Singapore, we estimate that Malaysia is closest in ASEAN to possibly exceed 80% full vaccination rate for its entire population by October 2021. Malaysia managed to secure more than sufficient supplies from multiple providers. It has fully vaccinated 33% of its population, and has partially inoculated around 20% as of mid-August.
For states in Phase One of the NRP, the government is looking at a number of indicators, including full vaccination rates of 50% of the adult population. Vaccinations are taken into consideration together with daily symptomatic hospital admission cases (under categories three, four, and five) of 6.1 per 100k population, and moderate ICU capacity utilisation.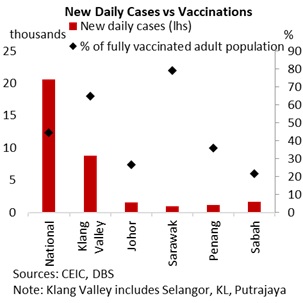 Economically important Klang Valley has exceeded 50% full vaccination rate for its adult population, helped by the federal government's 'Operation Surge Capacity'. At the national level, daily symptomatic infections (under categories three, four and five) account for around 2% of new daily cases. Assuming that the ratio holds at the state level, it would be matter of time before Klang Valley moves into Phase Two, followed by other states. For transition to Phase Two to Three, the threshold value for daily symptomatic hospital admission cases is 3.0 cases per 100k population, while Phase Three to Four is 1.3. ICU capacities are required to be at adequate levels in Phases Three and Four.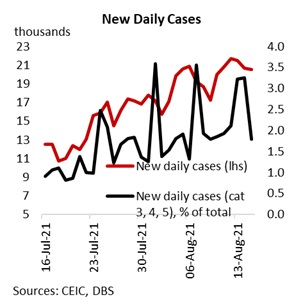 BNM's baseline expectation is for all states to transit to Phase Three by October 2021 and Phase Four by November 2021. The government meanwhile has eased various restrictions for states and federal territories for the first three phases of the NRP, effective from August 16. Non-essential activities in manufacturing, construction, mining, and quarrying would be allowed to operate at varying capacities, depending on vaccination rates of the workers. Separately, 11 economic activities will be allowed to reopen for those under Phase One (22 for Phase Two), provided that 50% of the adult population has been fully vaccinated.
Pent-up domestic demand and favourable external demand
Domestic demand should gradually improve as containment measures are relaxed, while external demand is favourable.
An improvement in retail and recreation mobility is likely to progressively translate to better consumer and business sentiment. We would see household spending pick up, partly driven by pent-up demand for high-contact services, such as retail and food. Labour market conditions should also start to improve.
The economic recovery has so far been uneven, with the bright spot seen in external demand. This has boded well for the export-oriented manufacturing sector. Exports were the fastest growing category in 2Q, expanding by 5% QoQ sa, while domestic demand indicators shrank.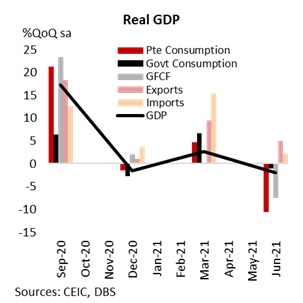 The benign external demand environment should aid in the growth recovery going into 2022. Exports have been led by the US so far in 2021, with the US leading developed economies out of the deep contraction in 2020. Broad-based expansion is seen across products. BNM in particular is positive about the outlook for electrical and electronics (E&E) exports and production. BNM said in its 2Q GDP release that order books are full until year-end, while there is capacity expansion for industry 4.0 technologies. That said, with Malaysia plugged into regional supply chains, China could be a source of near-term uncertainty, due to the temporary shutdown of a shipping terminal from COVID.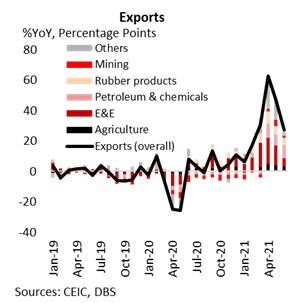 Economic policies to remain accommodative
We expect economic policies to remain accommodative, considering the still-highly uncertain environment.
The backdrop is driven by the pandemic and the evolving political leadership situation. In our view, the synchronous financial, monetary, and fiscal policy response is likely to provide continued support to economic activity. The authorities are likely to continue to rely on non-fiscal targeted measures to aid businesses and households. This comes at a time when fiscal space is limited, while monetary policy is likely to play a complementary role, in our view.
The government has announced eight economic stimulus packages, worth MYR530bn (~37% of GDP) since the start of the pandemic. More than 80% of the measures so far however have been non-fiscal, involving the likes of loan moratorium and pension fund withdrawals. For instance, a large part of the MYR150bn (~10% of GDP) "PEMULIH" aid package announced in late-June consisted of an opt-in six-month loan moratorium on all retail and SME loans, and withdrawals from the Employee Provident Fund. They accounted for approximately 5.6% and 2.1% of GDP, respectively. With banks coming into the crisis with sizeable buffers, the loan moratorium should provide some financial relief to hard-hit consumers and small businesses. Loan repayment assistance is likely to be more targeted when the current opt-in program expires by end-2021, as signalled by BNM.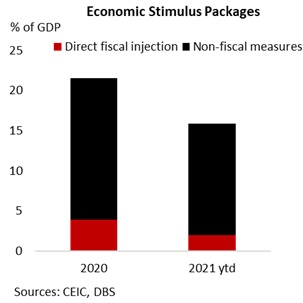 The government has limited fiscal policy space to manoeuvre, and measures from direct fiscal injection are likely to remain more limited. Malaysia's Finance Minister hinted on July 29 that the government is looking to raise the statutory debt ceiling from the current 60% of GDP in the next parliamentary sitting session (could be in September). We think a possible new limit level is around 65% of GDP, which should provide modest room to implement supportive fiscal initiatives.
We expect BNM to maintain its overnight policy rate at 1.75% for the rest of 2021. The central bank considers the monetary policy stance as 'appropriate and accommodative' in its July meeting. Even though it left the door open for more easing, it mentioned that fiscal and financial measures will continue to cushion the economy. In the 2Q GDP release, BNM expects the reopening of the economy from the relaxation of containment measures, higher global growth, and policy support to underpin the gradual recovery in 4Q and 2022. This suggests that BNM is likely to hang on to its bullets for the time being, viewing monetary policy as a complementary policy.
MYR Exchange Rate: Wading into a weaker 4.20-4.40 range
We have downgraded our MYR forecasts.
Technically, MYR has, since 2015, followed through with more depreciation to 4.40 per USD every time it weakened past 4.20. There are fundamental reasons why this is likely to happen again.
First, economic growth is set to slow significantly in 2H21 on the third wave of Covid-19 infections from 7.1% yoy in 1H21. BNM downgraded its 2021 GDP growth forecast to 3% to 4% from its earlier projection of 6.0% to 7.5%.
Second, the government plans to widen the budget deficit to 6.5-7.0% of GDP from its initial estimate of 6.0%. This will require an increase in the statutory debt limit from 60% of GDP. Investors will be vigilant of future debt rating downgrades because of the political leadership crisis. Last December, Fitch axed the country's long-term foreign currency debt rating by one notch to BBB+. In June, S&P affirmed Malaysia's foreign currency and local currency long-term issuer ratings at A- and A, respectively, with a negative outlook.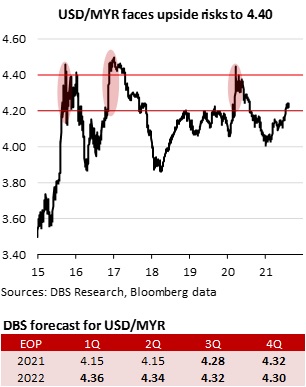 To read the full report, click here to
Download the PDF
.
Subscribe
here
to receive our economics & macro strategy materials.
To unsubscribe, please click
here
.
GENERAL DISCLOSURE/ DISCLAIMER (For Macroeconomics, Currencies, Interest Rates)
The information herein is published by DBS Bank Ltd and/or DBS Bank (Hong Kong) Limited (each and/or collectively, the "Company"). This report is intended for "Accredited Investors" and "Institutional Investors" (defined under the Financial Advisers Act and Securities and Futures Act of Singapore, and their subsidiary legislation), as well as "Professional Investors" (defined under the Securities and Futures Ordinance of Hong Kong) only. It is based on information obtained from sources believed to be reliable, but the Company does not make any representation or warranty, express or implied, as to its accuracy, completeness, timeliness or correctness for any particular purpose. Opinions expressed are subject to change without notice. This research is prepared for general circulation. Any recommendation contained herein does not have regard to the specific investment objectives, financial situation and the particular needs of any specific addressee. The information herein is published for the information of addressees only and is not to be taken in substitution for the exercise of judgement by addressees, who should obtain separate legal or financial advice. The Company, or any of its related companies or any individuals connected with the group accepts no liability for any direct, special, indirect, consequential, incidental damages or any other loss or damages of any kind arising from any use of the information herein (including any error, omission or misstatement herein, negligent or otherwise) or further communication thereof, even if the Company or any other person has been advised of the possibility thereof. The information herein is not to be construed as an offer or a solicitation of an offer to buy or sell any securities, futures, options or other financial instruments or to provide any investment advice or services. The Company and its associates, their directors, officers and/or employees may have positions or other interests in, and may effect transactions in securities mentioned herein and may also perform or seek to perform broking, investment banking and other banking or financial services for these companies. The information herein is not directed to, or intended for distribution to or use by, any person or entity that is a citizen or resident of or located in any locality, state, country, or other jurisdiction (including but not limited to citizens or residents of the United States of America) where such distribution, publication, availability or use would be contrary to law or regulation. The information is not an offer to sell or the solicitation of an offer to buy any security in any jurisdiction (including but not limited to the United States of America) where such an offer or solicitation would be contrary to law or regulation.

This report is distributed in Singapore by DBS Bank Ltd (Company Regn. No. 196800306E) which is Exempt Financial Advisers as defined in the Financial Advisers Act and regulated by the Monetary Authority of Singapore. DBS Bank Ltd may distribute reports produced by its respective foreign entities, affiliates or other foreign research houses pursuant to an arrangement under Regulation 32C of the Financial Advisers Regulations. Singapore recipients should contact DBS Bank Ltd at 65-6878-8888 for matters arising from, or in connection with the report.

DBS Bank Ltd., 12 Marina Boulevard, Marina Bay Financial Centre Tower 3, Singapore 018982. Tel: 65-6878-8888. Company Registration No. 196800306E.

DBS Bank Ltd., Hong Kong Branch, a company incorporated in Singapore with limited liability. 18th Floor, The Center, 99 Queen's Road Central, Central, Hong Kong SAR.

DBS Bank (Hong Kong) Limited, a company incorporated in Hong Kong with limited liability. 13th Floor One Island East, 18 Westlands Road, Quarry Bay, Hong Kong SAR

Virtual currencies are highly speculative digital "virtual commodities", and are not currencies. It is not a financial product approved by the Taiwan Financial Supervisory Commission, and the safeguards of the existing investor protection regime does not apply. The prices of virtual currencies may fluctuate greatly, and the investment risk is high. Before engaging in such transactions, the investor should carefully assess the risks, and seek its own independent advice.