India's 2Q21 (1QFY22) GDP growth due late-August is likely to register a growth spurt.
Base effects and less severe economic fallout from the second Covid wave will prop 2Q21 growth

Public capex, farm output and industry are likely to emerge as key positives

… whilst consumption and contact-intensive services lag

Cyclical tailwinds will help 2H21 growth, as base effects fade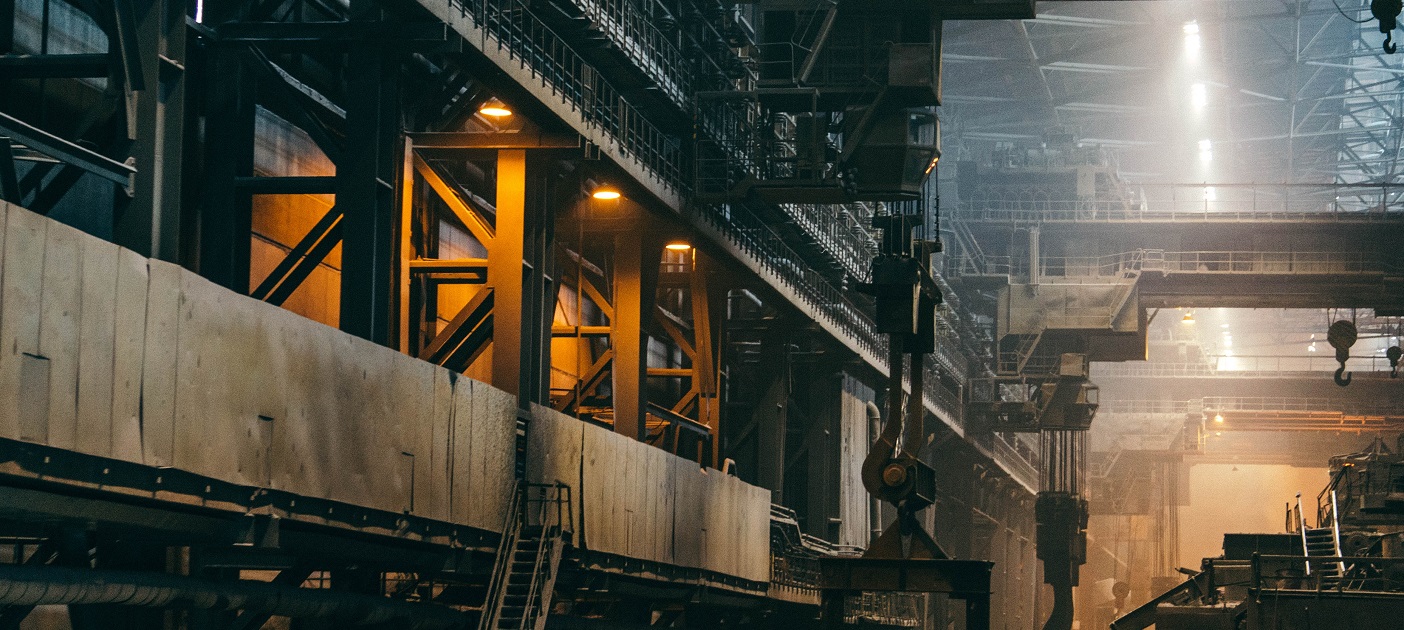 Photo credit: Unsplash
Strong rebound in 2Q21 GDP on the cards
India's 2Q21 (1QFY22) GDP growth due late-August is likely to register a growth spurt. We expect real GDP growth to rise 21% y/y, propped by a low base (2Q20 -24.4% y/y) as well as shallower impact of the second Covid wave. Output is expected to contract on sequential basis, but by a third of the rate recorded during the first wave in 2Q20. Street forecasts are in a wide range, as evidenced by the RBI's professional survey of forecasters (11.5 to 29.4% y/y) as well as a
leading local daily
(14% to 23.3% y/y), underscoring the extent of uncertainty over the fallout of the pandemic. On the supply-end, we peg Gross Value Added (GVA) at 20% y/y. Nominal GDP growth rates are likely to benefit from high deflators (~6-7%) churning growth rates of 26-27% in the June 2021 quarter.
Base effects and shallower impact from second wave to prop growth
Activity had recovered notably after the first wave until the Mar21 quarter, but the trend was punctuated in the Jun21 quarter by the onset of the severe second wave. A sharp rise in daily Covid cases peaked in early part of May at ~400k, before receding to 45-50k in late-June. Humanitarian costs of the health crisis were immense, but the economic impact was less severe than the first wave and activity rebounded faster, as shown by our DBS WAG (weekly activity gauge).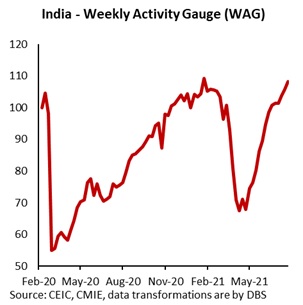 Our GDP Nowcast model which factors in statistically significant variables to gauge forward-looking GDP captures a sharp jump in 2Q21, before settling lower in 3Q21 when base effects recede.
Our
monthly Financial Conditions Index (FCI)
for India remains at favourable levels in first half of 2021, besides reflecting a marginal uptick in INR risk-free yields and a softer rupee, but is offset by a buoyant equity market price action.
Under the hood
Agricultural output was resilient, with the kharif sowing covering about half of the total acreage by late quarter. Domestic tractor sales recovered in June on easing restrictions and better monsoon prospects. Rural wages benefited from the record procurement of cereals, high food prices and employment support schemes, but diverged from non-farm wage growth, which likely felt the heat from slower industrial and service activity, given deep linkages with the urban areas which was adversely impacted by the second Covid wave.
Less stringent localised restrictions during the second Covid wave likely impacted industrial activity less severely than the first wave.
Industrial production rose 59% y/y in the June quarter vs 6.8% in Jan-Mar21, benefiting from base effects, whilst q/q growth declined. PMI manufacturing slipped into contractionary terrain in June before recovering in July.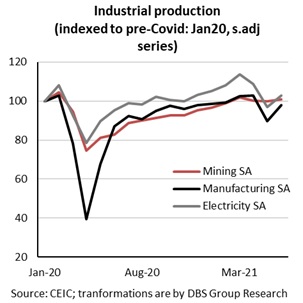 Interim financials of the Nifty50 companies in the June quarter points to higher income (y/y) but accompanied by higher expenses owing to sharp increase in raw materials and staff costs.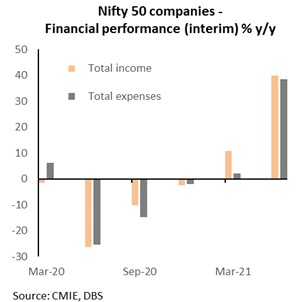 Lastly, construction activity, which suffered during the first wave, remained partly operational during the second Covid wave, as evidenced by higher steel and cement output (buoyed by base effects), as well as relatively stable employment in the sector through the second wave, according to data from CMIE.
Services will be a mixed bag
, more adverse for contact intensive sectors, but the overall impact is expected to be less severe than during the first wave e.g., retail & recreation mobility, transport, retail, and wholesale trade which is also reflected in higher e-way bill generation and GST collections. Entertainment sectors i.e., hotels, communications, however, likely contracted from quarter (q/q) before due to the restrictions even if the y/y growth benefits from base effects. Services employment was impacted during the second wave, more adversely in contact intensive segments (chart).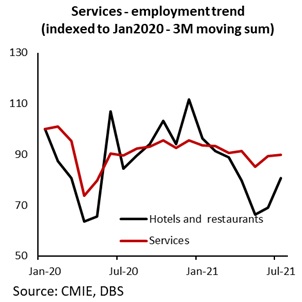 On aggregate basis, a 3% y/y growth in farm output, 40% industrial growth (including construction) and 17% rise in service sector performance is likely behind the 20% rise we anticipate in the real GVA gauge.
On the expenditure end, aggregate demand
was likely affected in the early part of the quarter on a rising virus count and imposition of localised curbs. The trend improved later in the quarter as vaccination progressed and the positivity rate ebbed. Indicators (chart below) point to a drop and then improvement across durables output, vehicle sales as well as power consumption. Whilst unemployment rates jumped during the quarter, it eased by late June in urban, as restrictions were lifted across states and kharif sowing provided more employment opportunities in the farm-rural areas, also reflected in lower demand for work under MGNREGS.
Notably, savings/ deposit growth did not witness a spurt during the second wave as it did during the first, as an increase in precautionary savings were also accompanied by higher expenditure towards health and medical needs.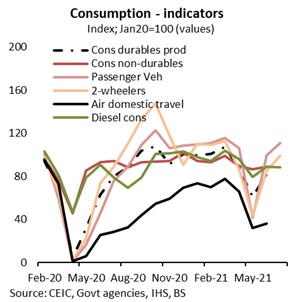 A full recovery in consumption is likely to take time given pressured balance sheets going into the pandemic and additional labour market scarring during Covid, which will impact trend growth beyond the initial boost from pent-up demand. Higher inflation was an additional burden on purchasing power. Government consumption was modest as fiscal spending rose 0.7% y/y in 2Q21 vs 13% rise same time last year, when spending was ramped up to support growth in midst of the nationwide lockdown.
Investment growth is expected to benefit from higher public capex spending
in the Jun21 quarter, up 26% from Jun20-Q and a strong 77% compared to the pre-pandemic Jun19 quarter. A fifth of the full year capex allocations has already been disbursed, led by the road, railway, and rural development. Capex data from 15 states also reflects higher disbursements (
report
). Private capex participation is relatively muted as new private projects eased, aggregate capacity utilisation rate remains below 70%, and demand outlook was muddied by the pandemic. Nonetheless, corporates have benefited from cost rationalisation, deleveraging and better margin cushion vs pre-pandemic times due to accelerated formalisation, lifting profits, even as rising costs chip away at some of those margins.
Merchandise exports surged in the June quarter on nominal terms (up 90% y/y in INR terms) but was accompanied by a widening in the imports bill which left the trade balance in a deeper deficit. Net exports are likely to emerge as a drag on the headline growth, after a positive contribution between Jun20 to Dec20 when the current account had swung to a surplus (Jun-Sep20) due to compressed demand during the first wave and gradual recovery thereafter.
Public capex, farm output and industry are likely to emerge as key positives for 2Q21 (1QFY22) growth, whilst contact-intensive services lag.
We are mindful of risks on the horizon
GDP growth numbers are likely to peak in 2Q21 (1QFY22) before moderating around 4.5-7% y/y in rest of the three quarters. Keeping our quarterly profile in place, we maintain our FY22 forecast at 9.5% from -7.3% in FY21. Cyclical tailwinds by way of stronger global growth (vs 2020), approaching festive season, supportive financing conditions, recent dearness allowance adjustments and an improving vaccination pace are expected to help the 2HFY22 trajectory. We are nonetheless also watching out for evolving risks.
a) Risks of a potential third Covid wave as most states progressively lift restrictions, when ~10% of the total population is fully vaccinated (14% of eligible adults) and 34% have received at least one dose. Encouragingly the daily vaccination rollout rate continues to improve.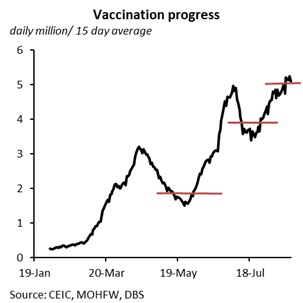 The nationwide serological survey by the ICMR showed that 67.6% of the population (6Y+) have antibodies, narrowing down the size of the susceptible population. Add to this, international experience suggests that, barring a severe and sharp increase in cases which might necessitate a complete lockdown, most countries have better managed the return in Covid waves due to localised responses, prepared medical systems, firm formal sector performance and easy financial conditions. It remains imperative for national/local authorities to stay vigilant to ensure that higher mobility does not coincide with an increase in cases.
b) Renewed risks to the global growth outlook, especially in the US and China, as the delta variant pushes up case counts, apart from China's regulatory clampdown and shortage of key parts including semi-conductors and rising input cost pressures. Financial markets, meanwhile, look for clarity on the US Fed's policy normalisation plans
To read the full report, click here to
Download the PDF
.
Subscribe
here
to receive our economics & macro strategy materials.
To unsubscribe, please click
here
.
GENERAL DISCLOSURE/ DISCLAIMER (For Macroeconomics, Currencies, Interest Rates)
The information herein is published by DBS Bank Ltd and/or DBS Bank (Hong Kong) Limited (each and/or collectively, the "Company"). This report is intended for "Accredited Investors" and "Institutional Investors" (defined under the Financial Advisers Act and Securities and Futures Act of Singapore, and their subsidiary legislation), as well as "Professional Investors" (defined under the Securities and Futures Ordinance of Hong Kong) only. It is based on information obtained from sources believed to be reliable, but the Company does not make any representation or warranty, express or implied, as to its accuracy, completeness, timeliness or correctness for any particular purpose. Opinions expressed are subject to change without notice. This research is prepared for general circulation. Any recommendation contained herein does not have regard to the specific investment objectives, financial situation and the particular needs of any specific addressee. The information herein is published for the information of addressees only and is not to be taken in substitution for the exercise of judgement by addressees, who should obtain separate legal or financial advice. The Company, or any of its related companies or any individuals connected with the group accepts no liability for any direct, special, indirect, consequential, incidental damages or any other loss or damages of any kind arising from any use of the information herein (including any error, omission or misstatement herein, negligent or otherwise) or further communication thereof, even if the Company or any other person has been advised of the possibility thereof. The information herein is not to be construed as an offer or a solicitation of an offer to buy or sell any securities, futures, options or other financial instruments or to provide any investment advice or services. The Company and its associates, their directors, officers and/or employees may have positions or other interests in, and may effect transactions in securities mentioned herein and may also perform or seek to perform broking, investment banking and other banking or financial services for these companies. The information herein is not directed to, or intended for distribution to or use by, any person or entity that is a citizen or resident of or located in any locality, state, country, or other jurisdiction (including but not limited to citizens or residents of the United States of America) where such distribution, publication, availability or use would be contrary to law or regulation. The information is not an offer to sell or the solicitation of an offer to buy any security in any jurisdiction (including but not limited to the United States of America) where such an offer or solicitation would be contrary to law or regulation.

This report is distributed in Singapore by DBS Bank Ltd (Company Regn. No. 196800306E) which is Exempt Financial Advisers as defined in the Financial Advisers Act and regulated by the Monetary Authority of Singapore. DBS Bank Ltd may distribute reports produced by its respective foreign entities, affiliates or other foreign research houses pursuant to an arrangement under Regulation 32C of the Financial Advisers Regulations. Singapore recipients should contact DBS Bank Ltd at 65-6878-8888 for matters arising from, or in connection with the report.

DBS Bank Ltd., 12 Marina Boulevard, Marina Bay Financial Centre Tower 3, Singapore 018982. Tel: 65-6878-8888. Company Registration No. 196800306E.

DBS Bank Ltd., Hong Kong Branch, a company incorporated in Singapore with limited liability. 18th Floor, The Center, 99 Queen's Road Central, Central, Hong Kong SAR.

DBS Bank (Hong Kong) Limited, a company incorporated in Hong Kong with limited liability. 13th Floor One Island East, 18 Westlands Road, Quarry Bay, Hong Kong SAR

Virtual currencies are highly speculative digital "virtual commodities", and are not currencies. It is not a financial product approved by the Taiwan Financial Supervisory Commission, and the safeguards of the existing investor protection regime does not apply. The prices of virtual currencies may fluctuate greatly, and the investment risk is high. Before engaging in such transactions, the investor should carefully assess the risks, and seek its own independent advice.