Third wave risks under watch, but there is greater shock absorption capacity. INR is expected to stay defensive in its 72-77 Covid-19 range through 2022.
Economics: Third wave risks under watch, but there is greater shock absorption capacity

Reopening gains are adding to the positive narrative

Fiscal math is on track to meet (and perhaps beat) targets

FX view: INR to stay defensive in its 72-77 Covid-19 range through 2022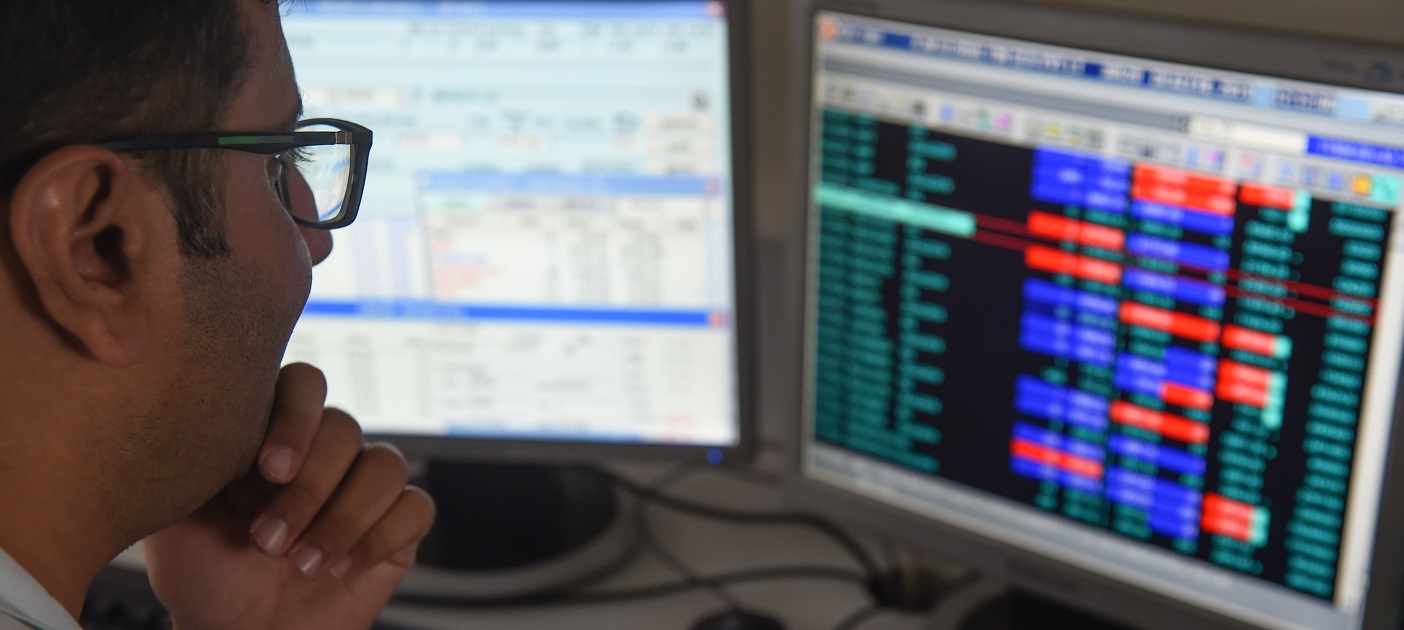 Photo credit: AFP Photo
Third wave risks under watch, but there is better shock absorption capacity
With Covid cases at less than a tenth of the peak during the second wave in May-Jun21, the narrative out of India is optimistic.
There is underlying caution over a potential third wave as the country heads to major festivals from September to December. However, barring new variants, onset of a third wave is expected to be less fatal, given:
a) More than half of the eligible adult population can be covered with both doses, by end-year vs 24% presently, if the current daily vaccination rate for second doses is sustained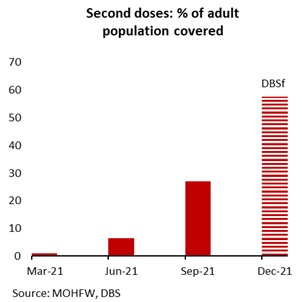 b) seroprevalence studies signal that 70-80% of the population have antibodies providing natural immunity
c) after rolling out a cumulative 856mn to date, vaccination supply is expected to improve by a pickup in Covishield (>80% of the supply mix) supply to 220mn/ month from October vs 60-70mn in Apr21, besides Covaxin and Russia's Sputnik. Export of vaccines, including towards the global Covax platform, is also expected to resume after being stalled since April.
d) better administrative preparedness by a ramp up in the medical oxygen supply to 15k tonnes, up 50% than the maximum output during the peak during the second wave. Add to this, hospital beds/ICU facilities are being stepped up.
Our Weekly activity gauge
(which captures employment, power consumption, mobility indicators etc.) reached pre-pandemic levels, benefitting from lower curbs, but is levelling off at highs into September. After a sharp improvement from the second wave, consumption and investment indicators are expected to plateau into 3Q21 before benefiting at the margin by festivals/ holidays.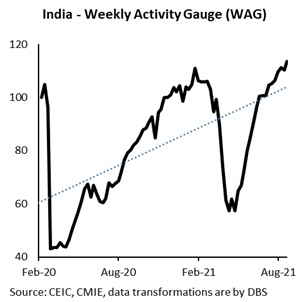 As the US Fed sets the stage to kickstart taper in late-2021,
we maintain that India's financial markets/ rupee are no longer a part of the fragile five pack of economies
(
Indian rupee's overvaluation and ample buffers
).
Recent narrative has been positive
on account of strong external buffers, domestic equity outperformance (Nifty50 +24% gains in US$ terms in CY21), improving fiscal math and reform fine tuning. We address the latter two in this note.
Fiscal run-rate surprises
India's fiscal performance has surprised this year,
with the central government's deficit target set at 6.8% of GDP vs 9.2% of GDP in FY21, still higher than the pre-pandemic 4.6% in FY20. The evolving run-rate has been encouraging as revenue collections are running above budgeted estimates, while expenditure lags. The math is benefiting from:
•
Fiscal deficit has reached only 21.3% of the budgeted estimate in Apr-Jul21, lower than 103% in Apr-Jul20 and average 85.6% during FY18-FY20.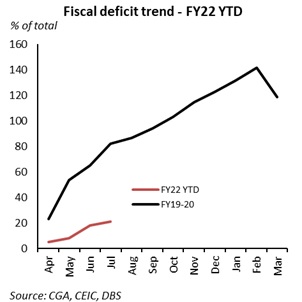 Revenues are outpacing expenditure, with net tax revenues at 34% (vs 12.4% same time last year) of the annual estimate and non-tax revenues at 58% (vs 6.4%). The FYTD averages are better than FY18-FY20 trends as well, where expenditure is routinely frontloaded and revenues lag, straining in the deficit situation.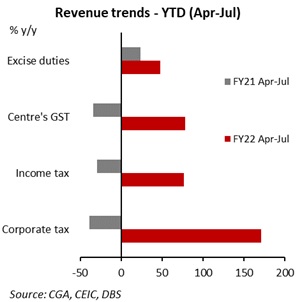 • Advance estimates for net direct tax collections for Apr-mid-Sep rose 74% yoy, likely due to higher collection efficiency, increasing formalisation and higher usage of technology. Besides strong direct tax collections (see chart), fuel excise duties are expected to amongst the best faring, amidst indications that the government is unlikely to cut taxes this year. Admittedly yoy pace is partly inflated due to base effects, suggesting that yoy pace might decline in 2H as base effects turn adverse.
• Add to this, dividends, and profits, which are a crucial input for
non-tax revenues
, have nearly met the full-year estimate. The RBI has announced INR991.2bn dividend to the government earlier in the year, which is 95% of INR1.035trn (0.5% of GDP) budgeted as total dividends nearly double of the INR535bn estimated from the central bank.
• Divestment progress has been lacklustre with 11% of the budgeted estimate met. Progress on the IPO of nation's largest public sector insurer and long-awaited sale of the state's airliner provide some hope, depending on how the proceeds are treated. Prima facie, ability to meet the ambitious target of INR1.75trn (0.8% of GDP) might be an uphill task but the buoyancy on the tax front might help offset the miss here. The National Asset Monetisation program targets to raise ~INR880bn this year, 15% of the five-year proceeds. Upside here will be an additional plus for revenues.
• Expenditure compression in first four months of FY22 (28% of budgeted estimate) weighed on the Jun21 quarter growth and is likely to play a smaller role in boosting growth this year if precedence is given to consolidation goals.
We expect spending to play catch-up as authorities grow confident on revenues.
This month, for instance, the Budget division reportedly lifted spending curbs on multiple ministries, which had sought overall expenditure to be kept within 20% of the 3Q21 BE allocation. Higher expenditure outlays, especially on capex will be necessary to draw in private sector players.
• Owing to a sharp increase in WPI inflation (and deflators by extension), nominal GDP growth is likely to exceed the budgeted 14.4% nominal GDP growth at ~16-17%, easing fiscal and debt ratios, given a larger denominator. This also bodes well for tax revenue collections, suggesting the targeted 14.9% yoy is well-within reach and possibly leaves room for state transfers in lieu of the compensation cess.
• Our base case is for the FY22 fiscal deficit target of -6.8% of GDP to be met. We also acknowledge that there are factors that could yield a smaller deficit (30-50bps reduction) than targeted, if for instance a) nominal GDP rises faster than we envisage; b) GST and direct tax revenues continue to benefit by reopening gains; c) Higher dividends from RBI/ PSUs
Sovereign ratings are likely to be on status quo.
The strong external balance buffer (courtesy FX reserves and narrow CAD), double-digit nominal GDP growth expectation, swift economic rebound from the second wave and better FY22 fiscal run-rate are key strengths for the current rating. For further adjustments, the agencies will seek a durable lowering of the consolidated fiscal deficit (centre and state) as well as public debt levels, which are in excess of the other rating and regional peers.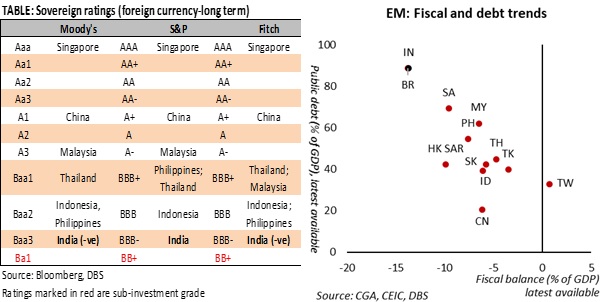 Reform fine-tuning continues
Notwithstanding the pandemic, reform fine-tuning has continued:
•
Details of the bad bank aka National Asset Reconstruction Company Limited (NARCL)
were announced, formation of which was outlined in February's Budget as we discussed in
India and Indonesia: Strengthening the institutional backbone
. The National Asset Reconstruction Company (NARCL), of which 51% will be owned by state owned banks and 49% by debt management companies or financial institutions, is expected to acquire nearly INR 2trn worth stressed assets from banks over the next few years, of which INR900bn will be in the first phase.
NARCL will acquire bad loans from banks and in return pay 15% by cash (of net value after a haircut) and rest 85% as security receipts (SRs). As provisions have been made against these loans, the cash collected upfront will be used to reverse the debt write-down whilst SRs will be redeemed when the NARCL resolves or liquidates the bad debt. The SRs worth INR306bn will be guaranteed by the central government, to provide credibility and provide a contingency buffer, intended to cover any gap between the value of the SRs and realisation of the bad loan. Concurrently, the India Debt Resolution Company Ltd (IDRCL) is also being formed, an operational entity to manage these assets and draw in market professionals and turnaround experts.
Assessment:
The government's guarantee will not impact this year's fiscal outgo, instead will be in the form of 'contingent liability', to be invoked only at a shortfall upon resolution/ liquidation of the asset. For banks, this transfer will free up their capital for growth and lending purposes. Hiccups on price discovery are likely to be addressed by the bad assets being bought at net book value, with other strengths of this entity including a single body to address these stressed accounts as well as a likely experienced and professional overlooking the operations.
On the other hand, gross NPAs are likely to correct to the scale transferred, whilst net NPAs will be little changed. We also note that through the pandemic, corporates have been deleveraging by refinancing banks loans with cheaper markets-based funding or by asset sales. Whilst loan growth to corporates is stagnating, banks' aggregate retail book has surpassed that of loans to the industry.
•
Support for the manufacturing sector:
As we highlighted in
Understanding India: Growing footprint in electronics
and
Understanding India: Manufacturing push – a reset
, the government's is in midst of releasing details on the Production Linked Incentive (PLI) announced for 13 sectors last year.
A budgetary outlay of INR261bn (US$3.6bn) has been allocated to the auto, auto components and drone industries last week, for existing as well as new investors. Subject to eligibility criteria, the scheme for auto and components sector will have two components: a) Champion OEM Incentive Scheme which is a 'sales value linked' scheme, and will be applicable on Battery Electric Vehicles and Hydrogen Fuel Cell Vehicles of all segments; b) Component Champion Incentive Scheme is also a 'sales value linked' scheme but applicable on Advanced Automotive Technology components of vehicles, Completely Knocked Down (CKD)/ Semi Knocked Down (SKD) kits, Vehicle aggregates of 2-Wheelers, 3-Wheelers, passenger vehicles, commercial vehicles and tractors etc.
•
Steps were taken to liberalise the telecom sector,
which includes allowing 100% FDI in telecom companies through the automatic route vs previous 49%. Any increase in the foreign ownership of the top three telecom companies i.e., Bharti Airtel, Reliance Jio and Vodafone Idea (already higher ownership compared to the other two), would imply incremental FDI flows into the economy, a tailwind for the BOP balance.
•
The Indian government announced a National Monetisation Pipeline
worth INR 6trn (2.7% of GDP; US$81bn), intending to monetise brownfield infrastructure assets to fund new/ greenfield projects. The top 5 sectors (by estimated value) make up ~83% of the aggregate pipeline value. These top 5 sectors include: Roads (27%) followed by Railways (25%), Power (15%), oil & gas pipelines (8%) and Telecom (6%). The intended proceeds are to be spread over the next four years, with INR882bn to be accrued this year.
Assessment:
The NMP will be co-terminus with the remaining four years of the National Infrastructure Pipeline (NIP), with the latter aiming to spend INR111trn over five years to FY25. More details on the leasing and program terms are awaited, particularly as the appetite of the private sector will hinge on finer details and operational aspects such as duration of the lease and associated concessions, tax implications, dispute resolution framework, legal obligations, amongst others.
INR to stay defensive in a range into 2022
We expect the INR to hold its Covid-19 range of 72-77 per USD into 2022.
All things considered, INR has been stable between 72.5 and 75.5 this year despite a deadly Covid wave in 2Q, Moody's downgrade in India's sovereign debt rating on 1 June, and a hawkish Fed tilt in June. Although India was the second most infected country in the world, it also boasted a record high stock market. Despite the downgrades in its growth forecasts, India remained the fastest growing economy in Asia including China in 2021.
Given the likelihood of the Fed to taper asset purchases by end 2021 or early 2022, we expect the USD to remain strong into 1Q22. For the rest 2022, the greenback is expected to return
some
of its gains unless a more synchronized global recovery, especially Asia, fails to materialize next year.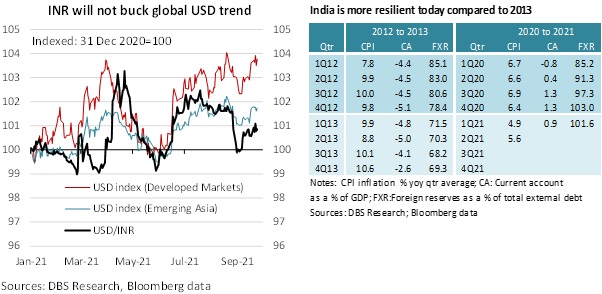 Compared to 2013, INR will be more resilient when the Fed tapers asset purchases this time around.
Unlike 2013, the INR today is not vulnerable to wide current deficits of more than 4% of GDP, and high CPI inflation of 8-11%. In fact, one positive development out of 2013 was the official adoption of inflation targeting as the monetary policy framework for the Indian economy in 2016. As a percentage of GDP, India's reserves have increased from 16% to 22% since 2013. More importantly, foreign reserves covered more than 100% of total external debt today compared to 70% in 2013.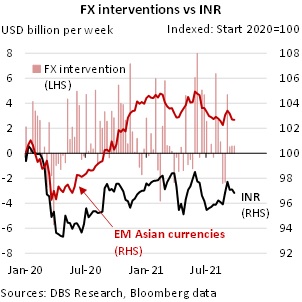 All said, more upside surprises in the USD cannot be totally ruled out in 2022.
At its FOMC meeting on 22 September, the Fed signalled that if the US economy achieves "substantial significant progress", it could complete the taper by mid-2022 and hike rates earlier in late 2022. After the Fed taper tantrums in 2013, USD remained strong in 2014-2015 from more JPY weakness due to Abenomics, the EUR's collapse from mid-2015 into its first QE in March 2015, China's one-off CNY devaluation in August 2015 and the first Fed hike in December 2015. Against this backdrop, RBI's desire for a large foreign reserves war chest to buffer against future exchange rate volatility from capital outflows is understandable.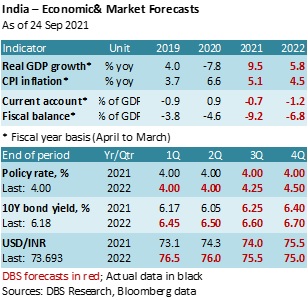 To read the full report, click here to
Download the PDF
.
Subscribe
here
to receive our economics & macro strategy materials.
To unsubscribe, please click
here
.
GENERAL DISCLOSURE/ DISCLAIMER (For Macroeconomics, Currencies, Interest Rates)
The information herein is published by DBS Bank Ltd and/or DBS Bank (Hong Kong) Limited (each and/or collectively, the "Company"). This report is intended for "Accredited Investors" and "Institutional Investors" (defined under the Financial Advisers Act and Securities and Futures Act of Singapore, and their subsidiary legislation), as well as "Professional Investors" (defined under the Securities and Futures Ordinance of Hong Kong) only. It is based on information obtained from sources believed to be reliable, but the Company does not make any representation or warranty, express or implied, as to its accuracy, completeness, timeliness or correctness for any particular purpose. Opinions expressed are subject to change without notice. This research is prepared for general circulation. Any recommendation contained herein does not have regard to the specific investment objectives, financial situation and the particular needs of any specific addressee. The information herein is published for the information of addressees only and is not to be taken in substitution for the exercise of judgement by addressees, who should obtain separate legal or financial advice. The Company, or any of its related companies or any individuals connected with the group accepts no liability for any direct, special, indirect, consequential, incidental damages or any other loss or damages of any kind arising from any use of the information herein (including any error, omission or misstatement herein, negligent or otherwise) or further communication thereof, even if the Company or any other person has been advised of the possibility thereof. The information herein is not to be construed as an offer or a solicitation of an offer to buy or sell any securities, futures, options or other financial instruments or to provide any investment advice or services. The Company and its associates, their directors, officers and/or employees may have positions or other interests in, and may effect transactions in securities mentioned herein and may also perform or seek to perform broking, investment banking and other banking or financial services for these companies. The information herein is not directed to, or intended for distribution to or use by, any person or entity that is a citizen or resident of or located in any locality, state, country, or other jurisdiction (including but not limited to citizens or residents of the United States of America) where such distribution, publication, availability or use would be contrary to law or regulation. The information is not an offer to sell or the solicitation of an offer to buy any security in any jurisdiction (including but not limited to the United States of America) where such an offer or solicitation would be contrary to law or regulation.

This report is distributed in Singapore by DBS Bank Ltd (Company Regn. No. 196800306E) which is Exempt Financial Advisers as defined in the Financial Advisers Act and regulated by the Monetary Authority of Singapore. DBS Bank Ltd may distribute reports produced by its respective foreign entities, affiliates or other foreign research houses pursuant to an arrangement under Regulation 32C of the Financial Advisers Regulations. Singapore recipients should contact DBS Bank Ltd at 65-6878-8888 for matters arising from, or in connection with the report.

DBS Bank Ltd., 12 Marina Boulevard, Marina Bay Financial Centre Tower 3, Singapore 018982. Tel: 65-6878-8888. Company Registration No. 196800306E.

DBS Bank Ltd., Hong Kong Branch, a company incorporated in Singapore with limited liability. 18th Floor, The Center, 99 Queen's Road Central, Central, Hong Kong SAR.

DBS Bank (Hong Kong) Limited, a company incorporated in Hong Kong with limited liability. 13th Floor One Island East, 18 Westlands Road, Quarry Bay, Hong Kong SAR

Virtual currencies are highly speculative digital "virtual commodities", and are not currencies. It is not a financial product approved by the Taiwan Financial Supervisory Commission, and the safeguards of the existing investor protection regime does not apply. The prices of virtual currencies may fluctuate greatly, and the investment risk is high. Before engaging in such transactions, the investor should carefully assess the risks, and seek its own independent advice.