We look at how the DBS Aggregate Credit Spread (DACS) indices can be used to track market developments and infer policy finetuning in China credit.
Reading the state of China credit has become important given seismic real estate developments

DACS indices offer a singular, unambiguous assessment of macro and sectoral risks in China credit

Our benign China DACS read explains why policy easing had been more modest than aggressive so far

Sectoral divergence is seen in the real estate DACS, underscoring a need for targeted measures

DACS can identify credit contagion effectively, supporting analysis on policy calibration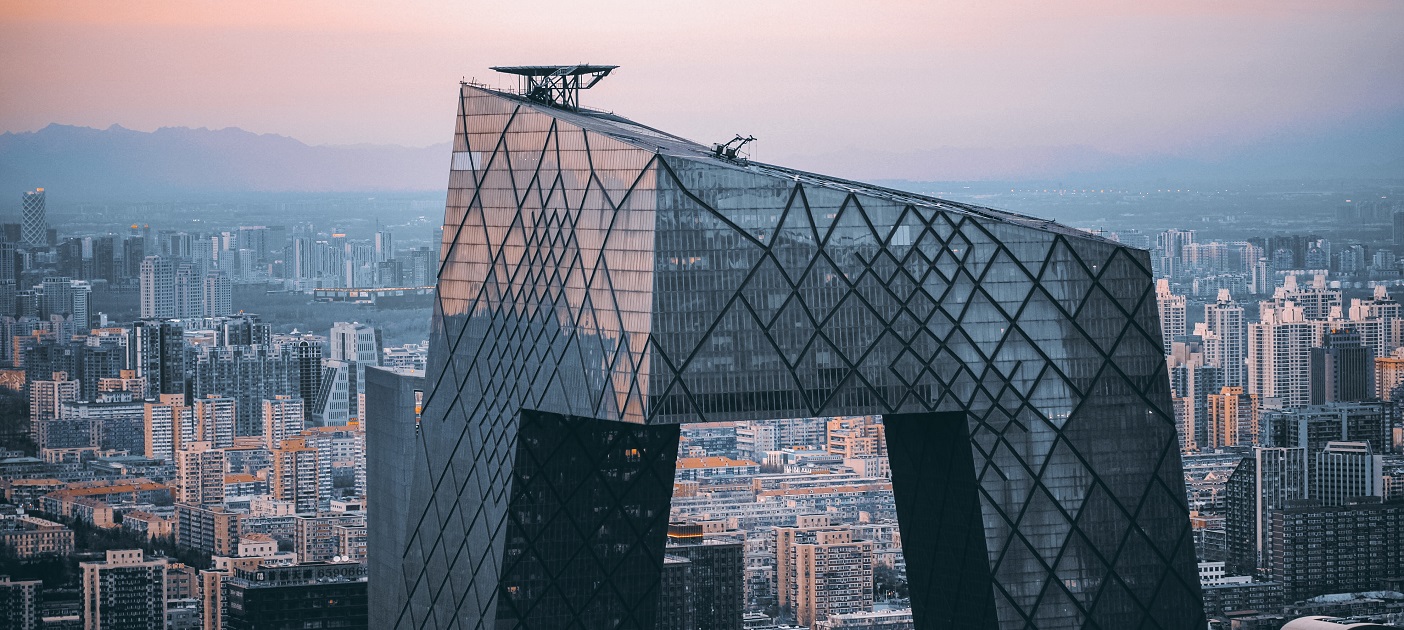 Photo credit: Unsplash
Seismic shifts in China USD credit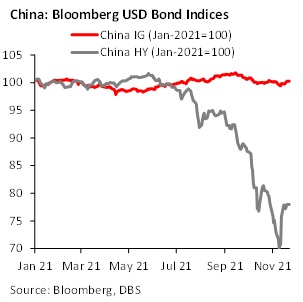 China's credit markets had a torrid 2021, marked by liquidity stress amid regulatory policy tightening for the real estate sector.
(see
DBS Focus: Systemic risk in China property?
, 29 Sep 2021). HY credit was the worst hit—Bloomberg China HY USD bond index lost over 30% from its May peak till 9 Nov, double the magnitude of its sell-off during the worst of the COVID19 crisis last year.
Given sustained losses in China USD credit, what does this imply for the cost of credit, state of financial conditions, and consequential impetus for policy calibration? We turn to our DBS Aggregate Credit Spread or DACS index for China USD credit to address these questions, with China's offshore credit markets being the epicentre of current stresses. We shall show how the DACS can prove useful in navigating the current credit uncertainty in China.
DACS offers singular view on China USD credit
The most cited benchmarks for China USD credit is the Bloomberg China USD bond IG and HY indices, and their respective average option-adjusted spreads (OAS). But the current credit turmoil has prompted a significant divergence unlike the COVID19 sell-off. The HY index OAS surged to a record high of around 20%, while the IG index OAS was completely placid at 1.50%.
Such divergence creates analytical difficulty in judging the extent of tightening in China's credit conditions.
The plurality of bond indices means investors are prone to focus solely on the index that is reported most prominently in the media, namely the volatile HY index. Markets could consequently
over-estimate policymakers' predisposition towards policy easing.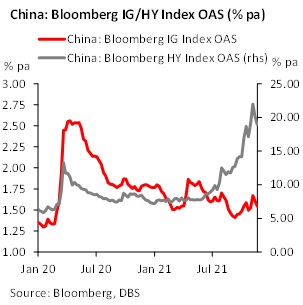 There is no subjective judgement of choice for our
China DACS index, which is a singular yet comprehensive metric.
The DACS incorporate both IG and HY credit, with weights optimized to portray a proportionate change in total market capitalization. Consequently, one can correctly infer that aggregate credit conditions across the China USD credit market had stayed quite healthy by looking at the DACS alone.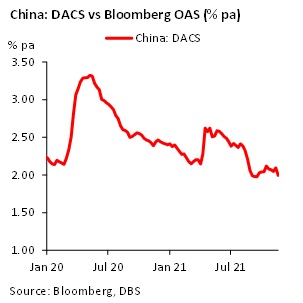 Our China DACS index being near year-to-date lows has led to some confusion on whether it reflects spread or price, since this is at odds with media narratives of a catastrophic tumble in China credit. We assure that DACS is a correct depiction of spreads, supporting our judgement that spillovers from China's real estate credit to the broader market are contained.
With broad financial conditions still relatively loose, this also explains why policymakers has not moved aggressively to broad based easing,
instead favouring smaller liquidity injections.
A caveat is that the DACS indices do not include every single outstanding USD bond, as its qualifying criteria deliberately exclude bonds with call or put features, and bonds with remaining maturity of under 1 year. Many of China's riskiest bonds are excluded as they offer a call for issuers, giving an option to reissue at lower coupons. Thus, our DACS indices may underrepresent the riskiest HY credit compared to other benchmarks—but its basket of credit is still sufficiently diverse to give a quantitively accurate assessment of the market.
DACS facilitates read of real estate conditions
With liquidity stress across China real estate credit being elevated, our China DACS index is likely not sufficient to gauge the need for targeted policy shifts to support real estate.
Investors and policymakers alike require a focussed read on credit conditions for the real estate sector specifically.
The good news is that DACS can be easily refined to provide just such a read. China's DACS index can be further subdivided into individual sectoral DACS. All these subindices face no loss of meaning for the inference of market conditions, as DACS is an invariant measure of credit costs.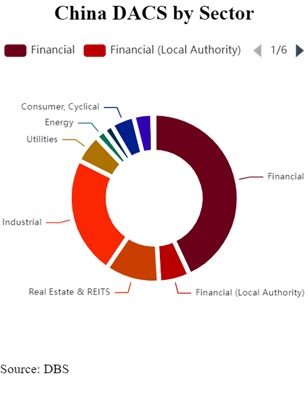 Our Nov 2021 China DACS basket comprises of ten sectoral groups—the real estate and REITS sector accounts for around 10% of total notional outstanding. Given such a small weight, it hints that our China country DACS index may not be reflecting the volatility of moves in the real estate credit segment.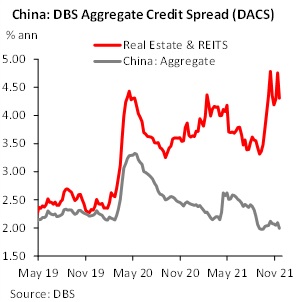 Indeed, the DACS subindex for real estate shows not only a material divergence from the broad easing trend in the aggregate DACS, but it also exhibited greater volatility.
Surprisingly, our real estate DACS subindex had been easing from Feb 2021 to August, even after Evergrande USD bonds plunged in July on the back of emerging liquidity concerns (see
DBS Macro Strategy – Credit: Evergrande and systemic risk
, 23 Jul 2021). Despite the shockwaves in highly leveraged credit,
it was clears from our DACS metric that the market was still not pricing in broad liquidity risks as late as early September.
Given the benign credit conditions for real estate as indicated by the DACS subindex then, any turn in China's regulatory policy tightening looks unlikely, while stress was beginning to surface in equity and credit markets by late July (see
DBS Flash – China: Quick thoughts on the sell-off in equities
, 28 July 2021).
Our read of credit conditions from the DACS thus enabled us to call for caution in the leveraged credit space in July,
with relaxed credit pricing being at odds with the high likelihood of continued clampdown on real estate credit.
Assessing the need for calibration with the DACS
Sustained credit tightening by regulators eventually put paid to the benign real estate credit conditions in September. Investors finally paid closer attention to risks from the potential fallout of wider defaults, leading to a 140bps surge in our real estate DACS subindex from the start of September to mid-October.
Our DACS subindex was able to pin-point the time that contagion started in the real estate sector,
motivating us to call for policy co-ordination in end-September. In contrast, the Bloomberg China HY OAS did not clearly mark out the start of contagion, with the index spread continuously widening since May.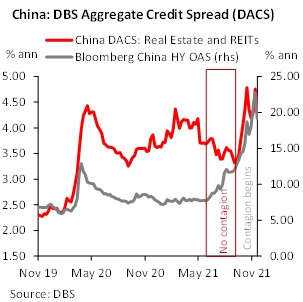 The continuous lurch higher in the DACS real estate subindex underscored the urgent need for policy calibration to keep spillovers in check. By mid-October, policy rhetoric from top officials was turning to soothe sentiment, with the pledging of support for project resumption and guidance for accelerated mortgage and loan disbursals in Q4 (see
DBS Macro Strategy – Credit: Relief in China amid reassurances
, 22 Oct 2021).
Keeping tabs on country credit with the DACS
In conclusion, our DACS indices are capable of illuminating unambiguous facts about China's macro-credit and financial conditions, as well as providing deeper sectoral reads in the presence of idiosyncratic sector risks, such as for the real estate sector. It could also complement other tools for investors to pinpoint when spillovers and contagion are developing in Chinese USD credit markets. While China has been and remains the point of focus for credit and equity investors, we should mention that our DACS indices are available on Bloomberg for several other economies besides China.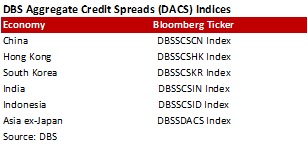 By making our DACS indices publicly available, we aim to help analysts, policymakers, and investors keep track of Chinese and Asian credit markets, on top of identifying pressure points for policy finetuning. In future, we shall also make available our sectoral DACS subindices via the web, to facilitate interactive usage and enhance user experience.
To read the full report, click here to
Download the PDF
.
Subscribe
here
to receive our economics & macro strategy materials.
To unsubscribe, please click
here
.
GENERAL DISCLOSURE/ DISCLAIMER (For Macroeconomics, Currencies, Interest Rates)
The information herein is published by DBS Bank Ltd and/or DBS Bank (Hong Kong) Limited (each and/or collectively, the "Company"). This report is intended for "Accredited Investors" and "Institutional Investors" (defined under the Financial Advisers Act and Securities and Futures Act of Singapore, and their subsidiary legislation), as well as "Professional Investors" (defined under the Securities and Futures Ordinance of Hong Kong) only. It is based on information obtained from sources believed to be reliable, but the Company does not make any representation or warranty, express or implied, as to its accuracy, completeness, timeliness or correctness for any particular purpose. Opinions expressed are subject to change without notice. This research is prepared for general circulation. Any recommendation contained herein does not have regard to the specific investment objectives, financial situation and the particular needs of any specific addressee. The information herein is published for the information of addressees only and is not to be taken in substitution for the exercise of judgement by addressees, who should obtain separate legal or financial advice. The Company, or any of its related companies or any individuals connected with the group accepts no liability for any direct, special, indirect, consequential, incidental damages or any other loss or damages of any kind arising from any use of the information herein (including any error, omission or misstatement herein, negligent or otherwise) or further communication thereof, even if the Company or any other person has been advised of the possibility thereof. The information herein is not to be construed as an offer or a solicitation of an offer to buy or sell any securities, futures, options or other financial instruments or to provide any investment advice or services. The Company and its associates, their directors, officers and/or employees may have positions or other interests in, and may effect transactions in securities mentioned herein and may also perform or seek to perform broking, investment banking and other banking or financial services for these companies. The information herein is not directed to, or intended for distribution to or use by, any person or entity that is a citizen or resident of or located in any locality, state, country, or other jurisdiction (including but not limited to citizens or residents of the United States of America) where such distribution, publication, availability or use would be contrary to law or regulation. The information is not an offer to sell or the solicitation of an offer to buy any security in any jurisdiction (including but not limited to the United States of America) where such an offer or solicitation would be contrary to law or regulation.

This report is distributed in Singapore by DBS Bank Ltd (Company Regn. No. 196800306E) which is Exempt Financial Advisers as defined in the Financial Advisers Act and regulated by the Monetary Authority of Singapore. DBS Bank Ltd may distribute reports produced by its respective foreign entities, affiliates or other foreign research houses pursuant to an arrangement under Regulation 32C of the Financial Advisers Regulations. Singapore recipients should contact DBS Bank Ltd at 65-6878-8888 for matters arising from, or in connection with the report.

DBS Bank Ltd., 12 Marina Boulevard, Marina Bay Financial Centre Tower 3, Singapore 018982. Tel: 65-6878-8888. Company Registration No. 196800306E.

DBS Bank Ltd., Hong Kong Branch, a company incorporated in Singapore with limited liability. 18th Floor, The Center, 99 Queen's Road Central, Central, Hong Kong SAR.

DBS Bank (Hong Kong) Limited, a company incorporated in Hong Kong with limited liability. 13th Floor One Island East, 18 Westlands Road, Quarry Bay, Hong Kong SAR

Virtual currencies are highly speculative digital "virtual commodities", and are not currencies. It is not a financial product approved by the Taiwan Financial Supervisory Commission, and the safeguards of the existing investor protection regime does not apply. The prices of virtual currencies may fluctuate greatly, and the investment risk is high. Before engaging in such transactions, the investor should carefully assess the risks, and seek its own independent advice.