China has already chosen to accept slower growth to bring debt dynamics under control. Moral hazard will be taken out from formulation of economic policies.
"Common Prosperity" will be the guiding development principle for the next decade

Commitment to free trade will remain

State driven policy to rectify perceived economic excesses

China's approach has resonance from German development model

GDP growth to slow to 5.3% in 2022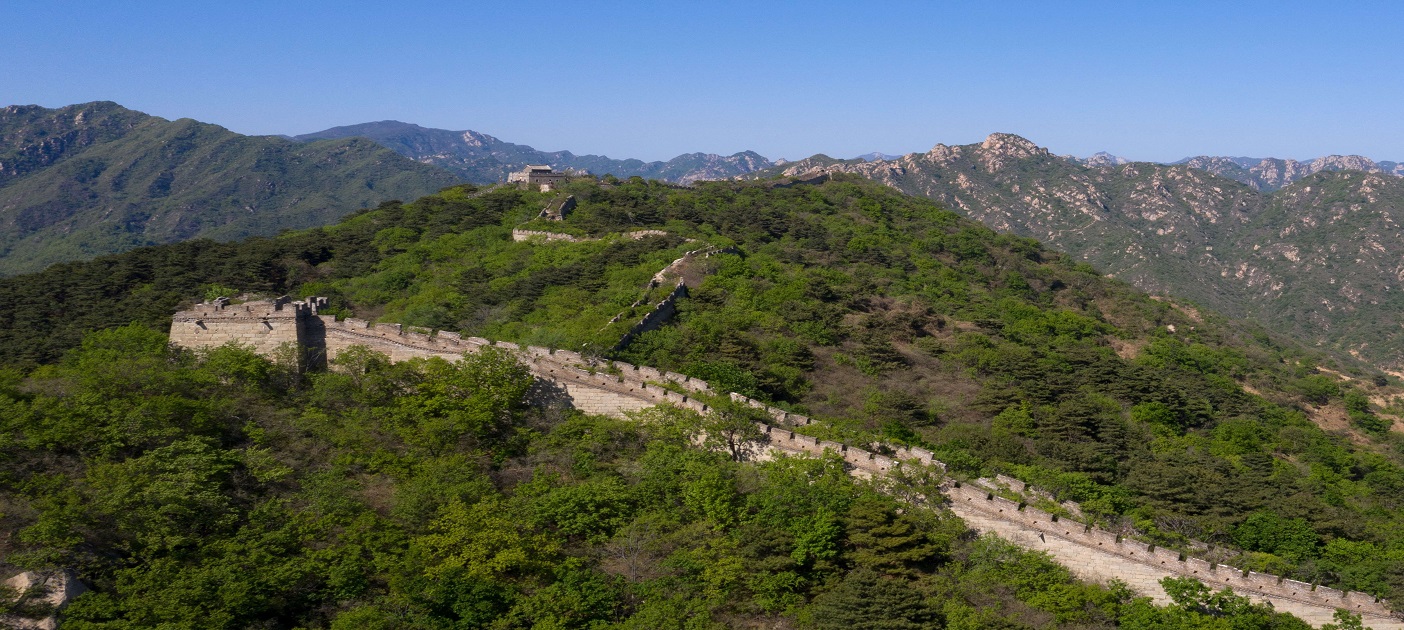 Photo credit: AFP Photo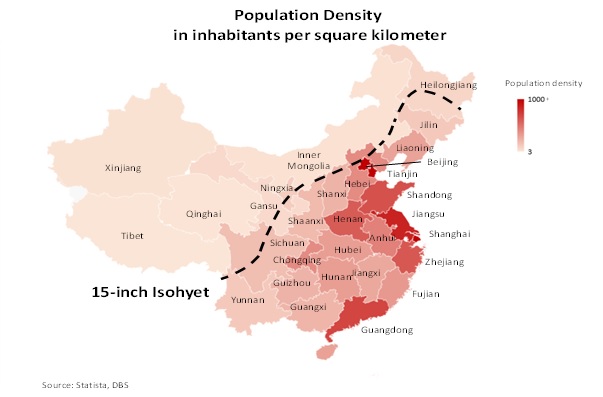 China's Long-Term outlook beyond 2022
The modern prosperous China that the world knows is mostly located in the coastal areas. The Great Bay Area plus Jiangsu, Shandong, Fujian, Zhejiang and Shanghai in the south already represent 42.7% of the nation's GDP. The disparity between east and west is even more pronounced from the perspective of population. The 15-inch isohyet, which designates a minimum annual rainfall of 15 inches for sustained agricultural production, demarcates the country roughly into half. 94% of China's population live to the east of the isohyet. The harsh geographical conditions of the west prevent core inhabitants from the east to move inward. As a result, 1.3 billion people live in half of China's land mass, whereas 6% of the population inhabit the other gigantic half which primarily consists of Xinjiang, Tibet and Inner Mongolia. These regions have been buffers that protect China from foreign aggression in the past.
Governing a country with such gigantic landmass with inherent geo-economical differences is a big feat. The authorities waged a successful war on poverty to keep the western soil stable. These have been made possible, in large part, due to huge economic successes achieved in the eastern coastal region generating sufficient wealth by opening up to trade and foreign investment.
Per capita income level of coastal provinces is often multiples of counterparts in the west. That also explains China ranked 75th in the world on the basis of per capita income in 2020. The goal of achieving a per capita income level of USD20,000 by 2035 will likely come from the Greater Bay Area and other coastal cities. Most cities within the GBA already achieved per capita income level of USD20,000 two years ago. Nashan, a rich district in Shenzhen within the Guangdong province, has already surpassed per capita income level as Hong Kong in 2019.
In recent decades, the development model consisted of free trade and a credit-fuelled property boom. It all began with accession to the WTO which subsequently amassed huge foreign reserves. That in turn rendered a long-term appreciation trend of the CNY (2005-2015), alongside an accommodative monetary policy stance most of the time after 2009, drove up property prices tremendously across the nation. Many have become riches by acquiring properties. Tech ventures also mushroomed into tech giants along the way. The grand scheme of the Belt and Road Initiatives also put China into the superpower league. However, there is a cost to pay. Outstanding debt as a share of GDP surged to an all-time high of 336.0% in 3Q20 before edging down to 330.6% in 3Q21.
In the current context of pandemic, climate change, digital technology disruption, and a complex relationship with the US, the authorities need to retain their prevailing economic strength and to reduce one-sided economic dependencies. Ultimately, a holistic strategy is needed to keep the country developing in a sustainable manner over the long haul, which in turn are ultimately shaped by population and geography.
The strategy is to apply the thought of "common prosperity" to bind the three following objectives together: (1) strong commitment to free trade always remains, (2) reduce economic excesses and (3) learn from the merits of the German model and apply those compatible with traditional Chinese cultural/moral values in the socioeconomics domain.
1. Strong commitment to free trade
China knows well from her decade-long experiences that trade generates wealth. Even though trade war with the US alerts them the importance of achieving self-sufficiency in energy, food and technology, they are not turning away from free trade. In fact, the opposite is happening as evidenced by China's application to CPTPP. China is open to negotiations on industrial subsidies, the role of state-owned enterprises, environment and digital economy in order to get in. Barriers for foreign investment under negative list will be reduced, and gradual foreign investment in telecommunications and health care related sectors are welcome. It went as far as easing rules that once bar foreign companies from participating government procurement deals, under the conditions that the products must be made in China. The absence of US alongside presence of Singapore, New Zealand and Malaysia should raise Beijing's chances of admission. After all, the exclusion of China from the CPTPP will lessen the scope and depth of business opportunities substantially. At this point, the size of it is not even half the size of RCEP. The common prosperity concept thus extends to trade partners, particularly to ASEAN economies as China's total trade with them has been expanding fast already surpassing the US and EU since 2019. China's imports from ASEAN amounted to USD301.3 billion in 2020, almost double the figure a decade earlier. Imagine the expansion in total trade value after RCEP members tear down import tariffs to zero in the next few years. China will be able to share inclusive economic benefits multilaterally with RCEP members.
2. Eliminating economic excesses – right the wrongs of capitalism
Joseph Schumpeter of Harvard University believed capitalism would be destroyed by its successes. It would spawn a large intellectual class that made its living by attacking the very bourgeois system of private property and freedom, which is necessary for the intellectual class's existence. Meanwhile, unlike Karl Marx, he did not relish the eventual destruction of capitalism. "If a doctor predicts that his patient will die at present," he wrote, "this does not mean that he desires it." China understands the limitation of capitalism well. She equally comprehends the merits of it. Being rich is not bad and in fact China wants more people to get rich too but better be done on China's own terms.
Micromanaging different sectors through state intervention may be perceived as too blunt by the market. If not, what can be done to correct market failures? It must be done by the state. China understands the importance of free market up to a certain degree but the long-term detrimental impacts of market failures create even more governance challenges in the long run, especially unrestrained ascendance of property prices. For instance, condominium prices in the affluent part of Shenzhen are now 57 times of average annual income.
Such abnormalities are often the result of moral hazard presence in the formulation of monetary policy. This is a global phenomenon ever since the Fed executed the idea of quantitative easing in 2009. Monetary policy has become a tool to protect the interest of investors without considering the negative impact of rapid ascendence of property prices on the socioeconomic aspect of a country.
Although deceleration of economic activities seen lately would normally call for steady rate/reserve requirement ratio cuts, the stance of PBOC has been restrained hitherto despite the potential collapse of Evergrande. The scale of liquidity injection to the financial systems to calm market down is not particularly large relative to previous event risks. Net injection through Open Market Operation only reached RMB550bn since late August. Such approach is vastly different from the past. From now on, investors should not assume central bank will always loose the tap to rescue whichever under all circumstances. That is not to say they will do nothing but "context" matters very much in decision making. Magnitude will likely be measured and gradual when actions are taken.
As a result, the stance of monetary policy in 2022 will likely remain neutral even though economic growth will decelerate further ahead alongside a consolidating property market (see "Capital flow" section below). M2 had been advancing slower than nominal GDP growth persistently in the past 3 quarters, with the gap between the two growth rates were 11.8%ppts in 1Q, before declining to 5.0%ppts and 1.5%ppts in 2Q and 3Q respectively. To compare, M2 was advancing faster than nominal GDP on average by 2.0% ppts in the decade before COVID. The importance of adhering to the execution of "three red lines" policy aimed squarely to lower the leverage of property developers clearly carries more weight. Monetary policy should not be run contradicting to deleveraging goal. Overall property prices will likely consolidate further next year.
The adoption of German model
There are intelligent policy/institutions designs that safeguard the long-term stability of Germany which China can learn wisely consistent with "common prosperity" ideology. Germany has not experienced any financial crisis ever since World War II. Not only did Germany successfully unified the country after the fall of the Berlin Wall in the 90s, it also did not experience any financial crisis since World War II. The economy remained resilient in the global financial crisis in 2008 and European Sovereign Debt crisis from 2010-2012. The German model is a strong contender as a guiding development model for China because it constantly achieves stability with economic prosperity.
There are reasons why the German model has strong appeals to China. First, the financial system is dominated by state banks coexistent with credit union and commercial banks. Second, manufacturing sector in Germany is much bigger than the banking/financial sector. The value-added as a share of GDP, the former is well over 20%, versus 3.7% for the latter. Third, Germany is an export-led economy similar to the Great Bay Area in Guangdong. Exports as percentage of Germany's GDP rose from 20.5% since its unification to almost 40% of late. This compares to 47.3% of Guangdong.
Based on our understanding, China increasingly views predominance of financial sector in an economy is a result of excessive expansion of capital. Since the Global Financial Crisis, the share of finance as percentage of GDP rose from 4.0% in 2006 to 8.3% in 2020. As a result, the long-term goal is to "scale down the relative importance of services sector (financial Sector in particular), and size up the economic contribution of manufacturing." In fact, the 2021 working government report pointed out the ratio of manufacturing sector in China cannot fall further from the existing level of 40.1%. This contrasts with the goal of the western model to push up the service sector as a share of GDP as high as possible to be qualified as an advanced economy.
Another observation is the conversion of Tier 3 universities in China into vocational/technical training schools beginning this year. For those students that cannot pass the Nationwide Unified Examination for Admissions to General Universities and Colleges, will automatically be enrolled in vocational training school for industrial specialist trainings. In Germany only 18% of the students pursued a university degree, whereas the rest all went to technical schools. That ensures constant supply of talents to support the heavy and advanced manufacturing industries. As far as housing policy is concerned, China has been encouraging people to rent apartments instead of purchasing them at exuberant prices. Such policy peculiarity is also present in Germany. The government there also encourages people to rent apartment in a permanent basis. There are administrative restrictions to control annual rental increment. No wonder 58% of the German people rent apartment. There are no financial burdens on housing for young people in Germany as evidenced by 77% of youngster lived in rental apartment.
That said, there are vast differences between China and Germany too. Service sector in Germany represents 69% of GDP, lower than the US' 80%, but much higher than China's 52%. Per capital income of Germany was USD52,000 given a population size of 83 million. To compare, China's per capita income is only USD11,000 with a gigantic population of 1.4 billion. There is no way to completely replicate the German model given vast differences in culture, history, and industrial structure.
The departure of Beijing from the Anglo-Saxon model has probably already begun. The market shall prepare fundamental adjustments on many fronts ahead.
Conclusions:
The involvement of the state to rectify the wrongs of free market (known unknowns) will likely go on in 2022 but it will run its course. It may take up to 2-3 years to set up new rules of engagement for different sectors. There are strong imperatives to game change the status quo as conditions such as aging, high debt to GDP ratio, socioeconomic discontent over high property prices etc suggest the old model no longer works in the interest of the leadership.
China has already chosen to accept slower growth to bring debt dynamics under control. Moral hazard will be taken out from formulation of economic policies. Commitment to free trade will be as strong as ever, if not more given the urgency to generate wealth. In this regard, China must leverage RCEP/CPTPP to open up and share inclusive economic benefits multilaterally with trade partners, ASEAN in particular. The war on poverty must continue in western china to ensure stability, which requires contributions from state/private enterprises to sustain. Meanwhile, China will work hard to normalise relationship with the US.
To read the full report, click here to
Download the PDF
.
Subscribe
here
to receive our economics & macro strategy materials.
To unsubscribe, please click
here
.
GENERAL DISCLOSURE/ DISCLAIMER (For Macroeconomics, Currencies, Interest Rates)
The information herein is published by DBS Bank Ltd and/or DBS Bank (Hong Kong) Limited (each and/or collectively, the "Company"). This report is intended for "Accredited Investors" and "Institutional Investors" (defined under the Financial Advisers Act and Securities and Futures Act of Singapore, and their subsidiary legislation), as well as "Professional Investors" (defined under the Securities and Futures Ordinance of Hong Kong) only. It is based on information obtained from sources believed to be reliable, but the Company does not make any representation or warranty, express or implied, as to its accuracy, completeness, timeliness or correctness for any particular purpose. Opinions expressed are subject to change without notice. This research is prepared for general circulation. Any recommendation contained herein does not have regard to the specific investment objectives, financial situation and the particular needs of any specific addressee. The information herein is published for the information of addressees only and is not to be taken in substitution for the exercise of judgement by addressees, who should obtain separate legal or financial advice. The Company, or any of its related companies or any individuals connected with the group accepts no liability for any direct, special, indirect, consequential, incidental damages or any other loss or damages of any kind arising from any use of the information herein (including any error, omission or misstatement herein, negligent or otherwise) or further communication thereof, even if the Company or any other person has been advised of the possibility thereof. The information herein is not to be construed as an offer or a solicitation of an offer to buy or sell any securities, futures, options or other financial instruments or to provide any investment advice or services. The Company and its associates, their directors, officers and/or employees may have positions or other interests in, and may effect transactions in securities mentioned herein and may also perform or seek to perform broking, investment banking and other banking or financial services for these companies. The information herein is not directed to, or intended for distribution to or use by, any person or entity that is a citizen or resident of or located in any locality, state, country, or other jurisdiction (including but not limited to citizens or residents of the United States of America) where such distribution, publication, availability or use would be contrary to law or regulation. The information is not an offer to sell or the solicitation of an offer to buy any security in any jurisdiction (including but not limited to the United States of America) where such an offer or solicitation would be contrary to law or regulation.

This report is distributed in Singapore by DBS Bank Ltd (Company Regn. No. 196800306E) which is Exempt Financial Advisers as defined in the Financial Advisers Act and regulated by the Monetary Authority of Singapore. DBS Bank Ltd may distribute reports produced by its respective foreign entities, affiliates or other foreign research houses pursuant to an arrangement under Regulation 32C of the Financial Advisers Regulations. Singapore recipients should contact DBS Bank Ltd at 65-6878-8888 for matters arising from, or in connection with the report.

DBS Bank Ltd., 12 Marina Boulevard, Marina Bay Financial Centre Tower 3, Singapore 018982. Tel: 65-6878-8888. Company Registration No. 196800306E.

DBS Bank Ltd., Hong Kong Branch, a company incorporated in Singapore with limited liability. 18th Floor, The Center, 99 Queen's Road Central, Central, Hong Kong SAR.

DBS Bank (Hong Kong) Limited, a company incorporated in Hong Kong with limited liability. 13th Floor One Island East, 18 Westlands Road, Quarry Bay, Hong Kong SAR

Virtual currencies are highly speculative digital "virtual commodities", and are not currencies. It is not a financial product approved by the Taiwan Financial Supervisory Commission, and the safeguards of the existing investor protection regime does not apply. The prices of virtual currencies may fluctuate greatly, and the investment risk is high. Before engaging in such transactions, the investor should carefully assess the risks, and seek its own independent advice.