Electronic Banker's Guarantee Programme
More Savings, Less Hassle
With the Electronic Banker's Guarantee Programme
Electronic Banker's Guarantee Programme
More Savings, Less Hassle
With the Electronic Banker's Guarantee Programme
Enjoy cost savings and more efficiency when you submit your banker's guarantee to Singapore Customs
DBS is a participating bank to Singapore Customs' Electronic Banker's Guarantee (eBG) Programme, where we will help submit your banker's guarantee (BG) data electronically through Singapore's Networked Trade Platform (NTP) – so that you can skip the branch, and reduce the hassle of courier arrangements and document transit time. This will also help Singapore Customs process your guarantees more efficiently.
Promotion
Enjoy 25% off your BG Issuance Commission (discount capped at S$100 per application) and a waiver of courier fees when you participate in this programme from 2 March 2020 to 31 December 2020.
How It Works?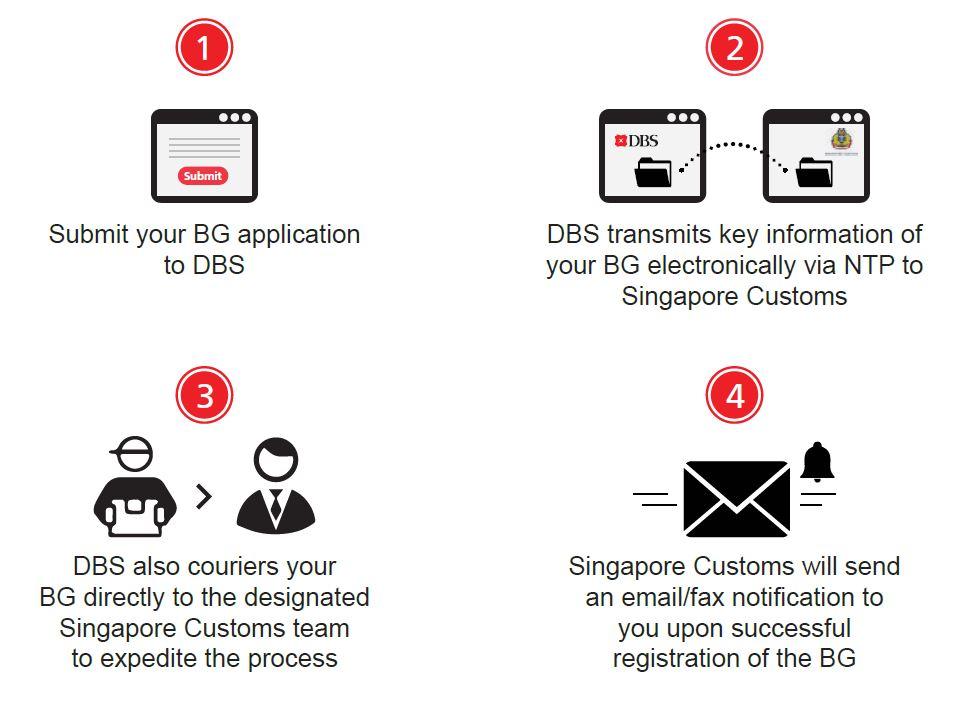 How to Participate?
1. Submit your BG application to DBS
2a. Ensure that you state "Director-General of Customs / Comptroller of Goods and Services Tax" as the beneficiary.
2b. Request for DBS to submit the BG directly to the beneficiary (under the "Delivery Instructions" or "Special Instructions" field) in your application.
3. Agree to DBS Banker's Guarantee Terms and Conditions to authorise sharing of your BG data with Singapore Customs through Singapore's NTP (Clause 25A).

Take advantage of this programme today!
Terms and Conditions
1. This eBG Programme promotion ("Promotion") is valid for new banker's guarantee applications that are submitted to the Bank from 2 Mar 2020 to 31 Dec 2020 (both dates inclusive) ("Promotion Period") and is only applicable to existing customers of the Bank (the "Customer") who have received this electronic mailer from DBS Bank Ltd (the "Bank").
2. For the purpose of this Promotion:
"eBG" refers to the Customer's new application/submission to the Bank in relation to a banker's guarantee to be issued in favour of Director-General of Customs / Comptroller of Goods and Services Tax (the "SG Customs") with the data and information relating to the banker's guarantee being transmitted to SG Customs through the Networked Trade Platform.
"Commission" refers to the commission payable by the Customer to the Bank as determined by the Bank.
"Discount" refers to 25% off the Commission, capped at S$100, per application/submission for a new eBG issuance.
"Courier Fee" refers the courier fee payable by the Customer to the Bank for the delivery of physical banker's guarantee to SG Customs. More details on the courier fee charge can be referenced at trade finance fee schedule.
3. After an eBG is successfully issued, the Discount will be deducted directly from the Commission and the Courier Fee will be waived.
4. We reserve the right to change the terms of this Promotion (including Discount, forfeiting any reward already awarded, extending or shortening the Promotion Period or withdrawing this Promotion) at any time without prior notice, reason or liability to any party.
5. Our decision on all matters relating to this Promotion (including, without limitation, any calculation or computation of the Commission or/and Discount) shall be final and conclusive and shall be binding on the Customer. No correspondence or claims will be entertained.
6. We shall not be liable for any costs, expenses, liabilities, losses or damages whatsoever and howsoever incurred or to be incurred by the Customer arising from or in connection with this Promotion.
7. The Customer can participate in this Promotion and the eBG Programme by instructing the Bank, in its application/submission form to the Bank, to courier the banker's guarantee directly to the SG Customs. The Customer must also agree and accept the Terms and Conditions set out in the banker's guarantee application/submission form.
8. By submitting a banker's guarantee application, each Customer confirms that it is lawfully providing the data for the Bank to use and disclose for the purpose of: (i) providing products or services to that Customer, whether in connection with this Promotion or its application; (ii) meeting the operational, administrative and risk management requirements of DBS Group Holdings Ltd. And its related corporations ("DBS Group"); and (iii) complying with any requirement, as DBS Group reasonably deemed necessary, under any law of any court, government authority or regulator.
These terms and conditions are governed by, and shall be construed in accordance with, the laws of Singapore.
Was this information useful?