Read on for a morning round-up of what's going on in markets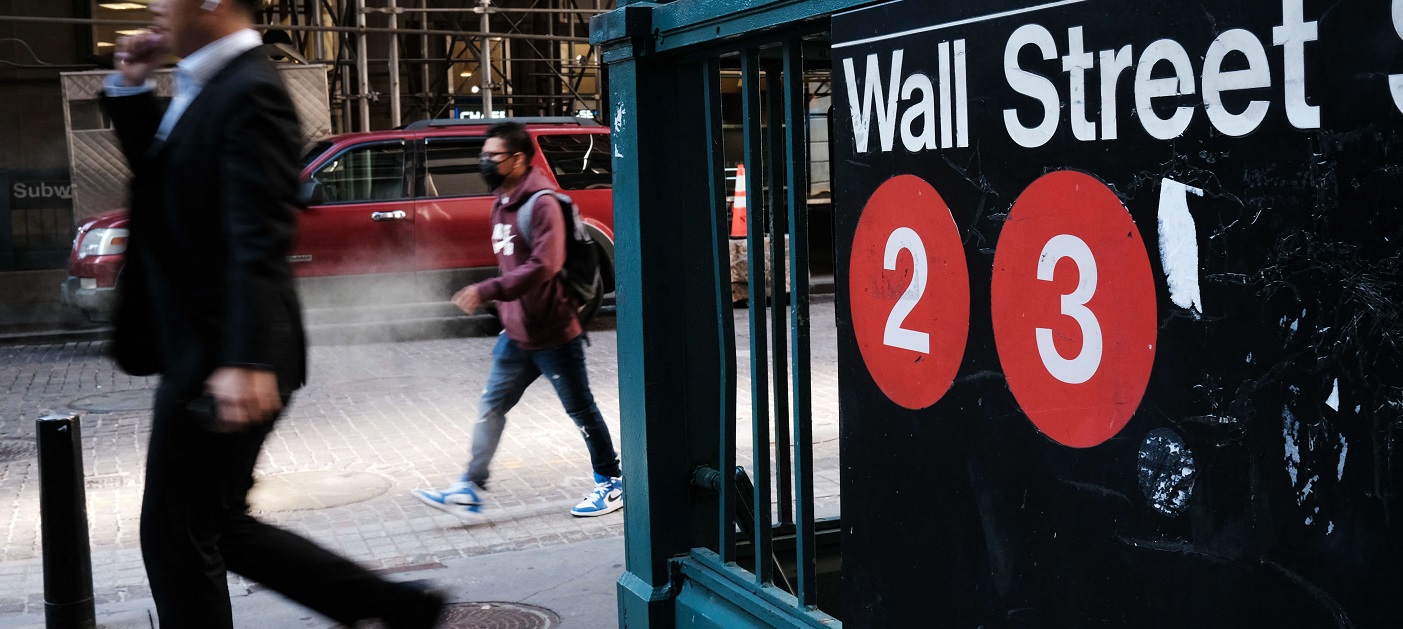 Photo credit: AFP Photo
US
US bank stocks are facing sky high expectations heading into fourth quarter earnings season as investors look for strong results to add fuel to what has been one of the hottest sectors so far this year.
The KBW Bank Index of large lenders has surged more than 12% to begin 2022, including a record first five trading days amid growing expectations that the Federal Reserve could begin raising interest rates as early as March. Adding to the frenzied buying of bank shares is the anticipation that loan growth, a problem area for lenders over much of the last year, may finally be at an inflection point.
"We believe investors should continue to overweight US banks," several analysts wrote in a note. "Loan growth is accelerating both sooner and at a faster rate than we initially projected, while expectations around rising rates have been pulled forward," they added.
Friday's (14 January) initial flurry of releases will offer investors an early look into what to expect from the rest of the sector this quarter. With the KBW Bank Index returning more than 50% since the start of 2021 – double the S&P 500 Index's gain over the same period – any signs of weakness could end up sparking a selloff. – Bloomberg News.
On Thursday, the S&P 500 Index slipped 1.42% to 4,659.03, the Dow Jones Industrial Average lost 0.49% to 36,113.62, and the Nasdaq Composite Index closed 2.51% lower at 14,806.81.
EUROPE
Britain's phone companies are preparing to roll out their biggest price increases in years, exacerbating a cost of living squeeze that has darkened the nation's economic outlook.
The nation's four mobile network operators – BT Group Plc, Virgin Media O2, Vodafone Group Plc, and Three UK – are pressing ahead with plans to raise monthly charges. The size of the pickup will vary depending on how long a customer has been with a company, but the increases could be around 10% or even more.
The increases would help phone companies recoup billions they have invested in upgrading networks to cope with a surge in data usage. It would mark a shift from the constraints of competition and regulators that have to date kept prices in check. It may also alarm government officials concerned about rising prices across the economy.
A price increase may also bolster the earnings of those companies, which have been left behind in a global surge in equity markets. The Stoxx Europe 600 Telecommunications Price Index is down around 24% in the last five years, while the wider Stoxx 600 Index gained about 35%.
The higher tariffs due in the coming months could spark a standoff with regulators, who are monitoring the impact of price pressures on consumers. Britons are already facing a squeeze from higher energy prices, and the Resolution Foundation estimates the average impact on incomes from higher energy bills will be GBP600.00 pounds (USD824.73).
Inflation is already at its highest level in more than a decade and is becoming a focus for government officials. Prime Minister Boris Johnson said Wednesday (12 January) in Parliament that "inflation is a serious risk – it is going up." The Bank of England expects the inflation rate may climb past 6% this year, triple its target. – Bloomberg News.
The Stoxx Europe 600 Index slid 0.04% to 486.05 by the close in London.
JAPAN
Fast Retailing Co Ltd, which became one of the world's biggest apparel companies by selling simple, affordable and stylish clothing at its Uniqlo stores, will probably need to raise prices, its chief financial officer (CFO) said.
"It's time to review and increase prices of some items as we face higher costs of materials, logistics, and weaker yen," CFO Takeshi Okazaki said at an earnings briefing in Tokyo Thursday (13 January). "Our baseline is trying not to raise prices as much as possible. It will be extremely limited."
Although core inflation runs well below 1% in Japan, consumer expectations for higher prices have climbed to their highest since 2008, according to a recent quarterly survey by the Bank of Japan. Higher input prices from raw materials, supply chain disruptions, and economies flush with cash are fuelling a wave of price gains across the globe, most notably in the US, where the consumer price index climbed 7% in 2021.
Earlier on Thursday, Fast Retailing reported that operating profit rose in the latest fiscal quarter ended November to JPY119b (USD1b), despite weaker sales at its Uniqlo stores in Japan and slower foot traffic. The result topped an average analyst projection for JPY99b. The retailer kept its profit forecast for the current fiscal year intact at JPY270b.
Fast Retailing will give a more thorough price review after the autumn and winter season, Okazaki said. – Bloomberg News.
The Nikkei 225 Index fell 1.21% to 28,145.00 in early-Friday trading, after tumbling 0.96% to 28,489.13 the previous session.
MAINLAND CHINA & HONG KONG
China is likely to post its weakest economic growth in more than a year when it releases quarterly data Monday (17 January) as it counts the cost of a deepening property market slump and disruptions from virus outbreaks.
Gross domestic product probably expanded 3.6% in the final three months of last year, the slowest pace since 2Q20, according to the median estimate in a Bloomberg survey of economists. December data for industrial production, retail sales, and fixed asset investment, due the same day, are also expected to be weaker.
The loss of momentum is fuelling speculation of more monetary stimulus, with attention focused on a possible interest rate cut when the central bank announces a benchmark rate Monday morning. Several economists have brought forward their forecasts for rate reductions as policymakers make it a priority this year to stabilise the economy.
The downturn in the latter part of last year is a sharp contrast to the first half, when the economy was rebounding from its pandemic slump and policymakers were paring back stimulus to curb financial risks. That early performance will likely help China post 8% growth for the full year in 2021, according to economists surveyed by Bloomberg, well above the government's target of "more than 6%."
Property Crisis
The credit crunch in China's property sector shows little signs of ending, with economists projecting property investment growth weakened to 5.2% last year, the slowest pace since a national campaign in 2015 to reduce home inventories. That slowdown, coupled with subdued infrastructure investment, could drive fixed asset investment growth lower to 4.8% for the whole year. Floor space of newly constructed homes will also be a key indicator to gauge the sector's health after drastic declines in recent months.
Recent moves by authorities to ease some of the restrictions on real-estate funding have done little to ease pressure in the market. Home loan demand stayed weak in December, with household mid and long-term loans, a proxy for mortgages, increasing by the lowest amount since February 2020, when the nation was in lockdown to control the initial Covid outbreak.
Wary Consumers
Consumer spending growth has yet to rebound to its pre-pandemic levels, as repeated outbreaks across the country dented households' sentiment. Economists see retail sales growth slowing further to 3.8% in December from a year earlier.
Sporadic outbreaks toward the end of last year triggered a lockdown in the city of Xi'an. The spread of the highly transmissible omicron variant of the virus in Tianjin and elsewhere in early 2022 is making the outlook even gloomier.
China's zero Covid strategy, while benefiting industrial production, is set to inflict more pain on consumption, especially on catering and travel. Economists anticipate Beijing to continue the policy and keep border controls in place throughout 2022 or even beyond, as the country enters a crucial political year and hosts the Winter Olympic games.
Lost Jobs and Income
While the official jobless rate likely remained unchanged at 5% in December, there are doubts about whether it is reflecting the reality on the ground. Alternative indicators and anecdotal reports suggest unemployment is worse than the official monthly figures show. The data cannot fully capture migrant workers who left cities and those who dropped out of the labour force involuntarily, economists say.
China already met its annual target for 2021 of adding more than 11m urban jobs to the economy.
Slow income growth is another factor hurting households and boosting it will be key to supporting a meaningful rebound in consumption. Growth in disposable income per capita failed to keep pace with GDP expansion throughout last year, although the gap is narrowing.
Newborn Babies
China is also expected to release key demographic data Monday, which will be keenly watched for signs the population could have shrunk in 2021, with deaths exceeding births for first time. The birth rate already hit a record low in 2020, with the number of births falling to 12m.
Interest Rate
The People's Bank of China will decide whether to cut a key policy rate and roll over CNY500b (USD79b) of maturing policy loans Monday ahead of the GDP report. – Bloomberg News.
The Shanghai Composite Index dropped 1.17% to 3,555.26 on Thursday and the Hang Seng Index climbed 0.11% to 24,429.77.
REST OF ASIA
LG Energy Solution is set to price Friday (14 January) its initial public offering (IPO) that is poised to be South Korea's largest on record, amid a frenzy for new issuance that has dominated the market over the past year.
The battery maker and its parent LG Chem are expected to raise up to KRW12.75t (USD10.7b) by selling 42.5m shares. Institutional investors have oversubscribed the offering by more than 1,500 times, the Seoul Economic Daily reported, citing unidentified people in the investment banking industry.
Even if priced at the bottom of the marketed range at KRW257,000, proceeds would exceed past annual amounts raised in South Korea, with the exception of 2021, data compiled by Bloomberg show. At the top price of KRW300,000, the size would be more than double Samsung Life Insurance Co Ltd's KRW4.9t won IPO in 2010, the nation's largest deal to date.
At that level, it would also be the world's second largest IPO over the past year, behind Rivian Automotive's USD13.7b US deal in November. Nine companies that raised at least USD500m through new share sales in Seoul since January 2021 priced them at the top of the range, Bloomberg data show.
The mega IPO provides investors with some diversity in South Korea's market, which has seen a flurry of listings in the tech and healthcare space, buoyed by strong participation from retail investors. Biopharmaceutical firm SK Bioscience was the world's top gainer last year among IPOs that raised more than USD1b.
LG Energy's market capitalisation can reach nearly KRW100t after the listing, according to a market analyst. "Given the size of the energy market in the long term, it has high growth potential."
LG Energy is slated to start trading on 27 January. – Bloomberg News.
Australia's S&P/ASX 200 Index dipped 0.87% to 7,409.20 on Friday morning after closing 0.48% higher at 7,474.40 the previous session.
South Korea's Kospi Index dropped 0.75% to 2,939.81 on Friday, following its previous decline of 0.35% to 2,962.09.
The Taiwan Stock Exchange Weighted Index gained 0.33% to 18,436.93.
COMMODITIES
Oil steadied near a two-month high as demand withstands the omicron variant and supplies come under pressure, tightening global markets.
West Texas Intermediate (WTI) closed above USD82.00 a barrel after US crude stockpiles dropped, adding to an increasingly tight supply picture caused by outages and constraints from Libya and Nigeria to Russia. Consumption has proved remarkably resilient as the new virus strain delivers only a limited setback, the International Energy Agency (IEA) said.
Since 2022 began WTI has surged almost 10%, joining other commodities in a strong start to the year, on signals that consumption outside Asia is largely recovering from the pandemic. The IEA has said demand is stronger than expected, while the US Energy Information Administration's latest outlook showed that global oil inventories are set to decline this quarter. This comes as crude stockpiles sank to the lowest level since 2018.
Analysts warn that the low level of stockpiles could make the crude market vulnerable to price spikes in the short term, said a senior market analyst. "With strong growth in the US and abroad, the oil market is going to remain fairly tight as demand will continue to outpace supply."
Nonetheless, road traffic has thinned across Asia at the start of the year as the fast spreading omicron variant sweeps through the region. Fewer vehicles have transited most capital cities so far this month than in December, according to mobility data from Apple Inc. In China, which is battling an omicron outbreak, efforts at containment are inflicting mounting economic damage.
WTI for February delivery fell 0.63% to settle at USD82.12 a barrel in New York. Brent for March settlement fell 0.24% to settle at USD84.47 a barrel.
Underlying optimism about the outlook is reflected in the market's bullish backwardated pricing structure, with near-term contracts holding above those further out.
Oil's year-to-date surge – along with gains in other raw materials – will fan inflationary pressures as central banks shift gears to battle escalating price pressures. Federal Reserve Governor Lael Brainard said tackling inflation while sustaining an inclusive recovery is the US central bank's most pressing task. – Bloomberg News.
CURRENCIES
Currency traders are starting to factor in a new trigger for the rally in the British pound: the possibility that Boris Johnson will step down.
Far from the eroding the gains that have made sterling one of the top performers vs the dollar this month, the prospect of the prime minister's resignation could give the currency a further lift, according to some strategists. That comes against the backdrop of broadly improving sentiment on the pound as traders set their sights on a Bank of England (BOE) tightening cycle and a potential shift to the endemic stage of Covid-19.
"A strong and stable leadership could set the pound on a better course, though we would have to get beyond any leadership shenanigans first," a head of foreign exchange strategy in London said. "Currencies tend to like strong leaders. The politics around Johnson right now are a distraction."
Johnson is facing growing calls to resign, both from within his own Conservative Party and among opponents, after he admitted attending a party in the gardens of No 10 Downing Street during the first pandemic lockdown, effectively flouting the government's own distancing rules.
Yet that has done little to take the edge off sterling. The pound is currently trading at its highest level vs the dollar since October as money markets bet the BOE will embark on its first series of interest-rate increases since 2017. It is near a two-year high vs the euro, after appreciating 0.6% this year.
Political developments have been a key driver for sterling for much of the past decade, with a popular vote on Scottish independence in 2014 followed by another on Brexit two years later. The latter led to years of volatility amid negotiations with the European Union (EU), and sterling is yet to recoup its pre-referendum strength.
It is a striking contrast with current sentiment, which has turned less bearish in the options market, according to short- and longer-term measures. Hedge funds and institutional asset managers alike are also scaling back wagers on the pound's decline, after they ballooned in December to the most since at least August 2020.
Johnson's departure is still far from certain. Most Conservative lawmakers interviewed by Bloomberg said they would wait for the findings of a formal probe into the Downing Street party before deciding on next steps. It would take 54 of them, or 15% of the total, to trigger a vote on Johnson's future.
Johnson upset markets by rejecting a close relationship with the EU during the Brexit negotiations, quitting the bloc's single market and customs union. That hurt the City of London and has erected new trade barriers with the EU. The prime minister has regularly stoked tension with the EU by threatening to go back on the Brexit deal, especially over Northern Ireland. Such threats have drawn condemnation from the US, denting the chances of a trade agreement with President Joe Biden's administration. It has also raised the prospect of a retaliatory trade war with the EU.
All this has weighed on the pound, which delivered a 1% loss against the greenback last year, its first since 2018. Since the UK voted to leave the EU in June 2016, price swings in sterling have exceeded those in the euro, hitting the highest in a decade at the peak of the pandemic. – Bloomberg News.
On Thursday (13 January), the US Dollar Index shed 0.13% to 94.790, the euro added 0.11% to USD1.1455, the pound crept up 0.04% to USD1.3706, and the yen strengthened 0.38% to 114.20 per dollar.
Note: All views expressed are current as at the stated date of publication

GENERAL DISCLOSURE/DISCLAIMER
This information herein is published by DBS Bank Ltd. ("DBS Bank") and is for information only. This publication is intended for DBS Bank and its subsidiaries or affiliates (collectively "DBS") and clients to whom it has been delivered and may not be reproduced, transmitted or communicated to any other person without the prior written permission of DBS Bank.
This publication is not and does not constitute or form part of any offer, recommendation, invitation or solicitation to you to subscribe to or to enter into any transaction as described, nor is it calculated to invite or permit the making of offers to the public to subscribe to or enter into any transaction for cash or other consideration and should not be viewed as such.
The information herein may be incomplete or condensed and it may not include a number of terms and provisions nor does it identify or define all or any of the risks associated to any actual transaction. Any terms, conditions and opinions contained herein may have been obtained from various sources and neither DBS nor any of their respective directors or employees (collectively the "DBS Group") make any warranty, expressed or implied, as to its accuracy or completeness and thus assume no responsibility of it. The information herein may be subject to further revision, verification and updating and DBS Group undertakes no responsibility thereof.
All figures and amounts stated are for illustration purposes only and shall not bind DBS Group. This publication does not have regard to the specific investment objectives, financial situation or particular needs of any specific person. Before entering into any transaction to purchase any product mentioned in this publication, you should take steps to ensure that you understand the transaction and has made an independent assessment of the appropriateness of the transaction in light of your own objectives and circumstances. In particular, you should read all the relevant documentation pertaining to the product and may wish to seek advice from a financial or other professional adviser or make such independent investigations as you consider necessary or appropriate for such purposes. If you choose not to do so, you should consider carefully whether any product mentioned in this publication is suitable for you. DBS Group does not act as an adviser and assumes no fiduciary responsibility or liability for any consequences, financial or otherwise, arising from any arrangement or entrance into any transaction in reliance on the information contained herein. In order to build your own independent analysis of any transaction and its consequences, you should consult your own independent financial, accounting, tax, legal or other competent professional advisors as you deem appropriate to ensure that any assessment you make is suitable for you in light of your own financial, accounting, tax, and legal constraints and objectives without relying in any way on DBS Group or any position which DBS Group might have expressed in this document or orally to you in the discussion.
If this publication has been distributed by electronic transmission, such as e-mail, then such transmission cannot be guaranteed to be secure or error-free as information could be intercepted, corrupted, lost, destroyed, arrive late or incomplete, or contain viruses. The sender therefore does not accept liability for any errors or omissions in the contents of the Information, which may arise as a result of electronic transmission. If verification is required, please request for a hard-copy version.
This publication is not directed to, or intended for distribution to or use by, any person or entity who is a citizen or resident of or located in any locality, state, country or other jurisdiction where such distribution, publication, availability or use would be contrary to law or regulation.

Singapore: This publication is distributed by DBS Bank Ltd (Company Regn. No. 196800306E) ("DBS") which is an Exempt Financial Adviser as defined in the Financial Advisers Act and regulated by the Monetary Authority of Singapore (the "MAS").