Trading has slowed as investors grapple with wild rotations and await the earnings season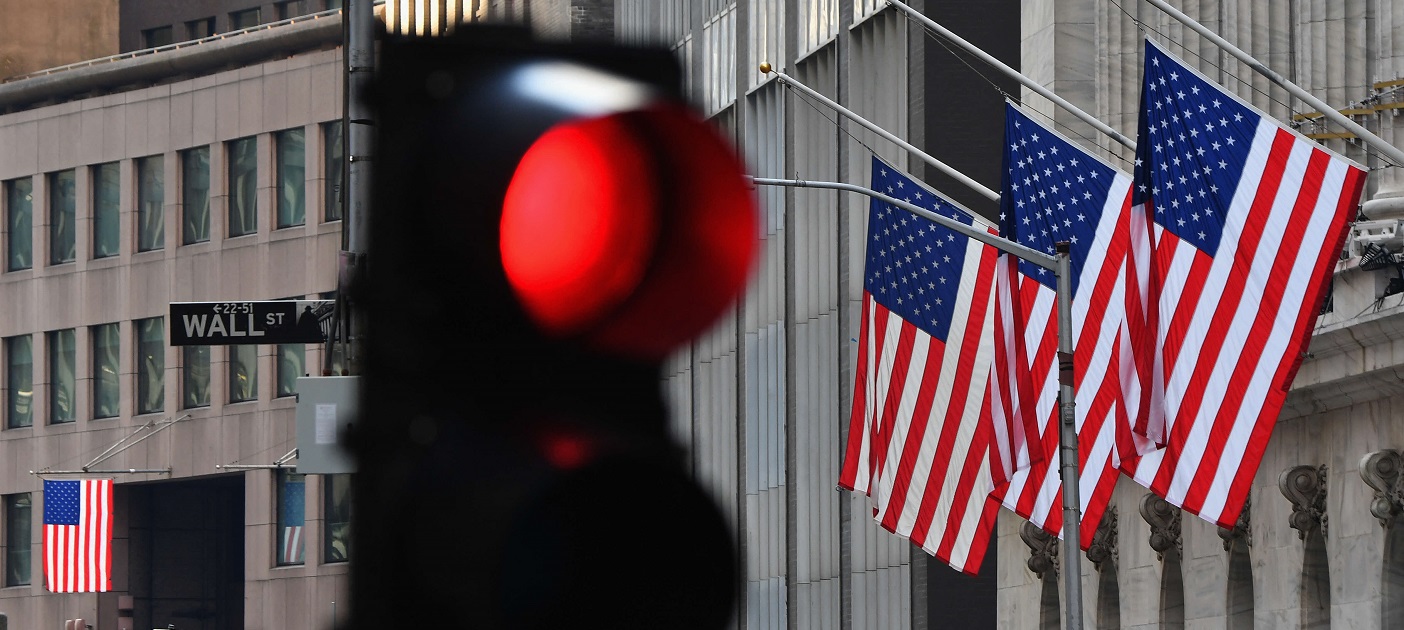 Photo credit: AFP Photo
US
Stocks dropped in the slowest trading day of 2021 after a rally that drove the equity market to all-time highs. Treasuries climbed.
Volume on US exchanges slipped below 10b shares for the first time this year. Tech companies led losses in the S&P 500 Index on Tuesday (6 April), offsetting gains in retailers. The benchmark slipped 0.10% to 4,073.94. The Dow Jones Industrial Average and the Nasdaq Composite Index also retreated, by 0.29% to 33,430.24 and 0.05% to 13,698.38, respectively. Stocks tied to the Archegos Capital Management blow up ended the session higher as investors brushed news that Credit Suisse Group AG unloaded more than USD2b of the shares in the latest block trades stemming from the liquidation of Bill Hwang's fund.
Trading has slowed in recent days as investors grappling with wild rotations awaited the start of the earnings season. Traders bought stocks in record amounts in the first quarter of 2021 as a combination of generous stimulus and bets on an economic recovery drove USD372b into global equity funds, according to some strategists. The data confirm the bullish market sentiment that has pushed shares to fresh highs, with optimism over vaccination efforts outweighing concern that higher bond yields can interfere with the rally.
On the economic front, data showed US job openings rose to a two-year high in February, led by gains in some of the industries hardest hit during the pandemic. The International Monetary Fund upgraded its global growth forecast for the second time in three months, while warning about a divergence between advanced and lesser developed nations. – Bloomberg News.
EUROPE
Europe stocks rose to a record high, more than a year after the pandemic spurred a market collapse, as investors looked past the region's slow pace of vaccinations and focused on prospects for a global economic recovery.
The Stoxx Europe 600 Index gained as much as 1% to 436.47 before ending the session up 0.70% at 435.26, surpassing a peak of 433.9 reached on 19 February last year. Cyclicals such as miners and automakers led the advance, while travel and leisure stocks also rose, lifted by cruise operator Carnival Plc.
With Europe's markets reopening after the Easter break, shares followed Wall Street's Monday (5 April) rally as solid US data added to evidence the recovery is gaining momentum. Rising government bond yields have also boosted the appeal of economically sensitive sectors in 2021, while weighing on frothier parts such as Technology. That is helping Europe's outperformance, as it is heavily exposed to cheap and cyclical shares.
The Stoxx 600's record comes as the S&P 500 and MSCI All-Country World indices already trade at all-time highs. Within Europe, German, and Nordic markets hit the milestone of recouping lockdown losses early on, with the DAX Index rising to a record as early as December.
Benchmarks of Greece and Spain remain well below last year's levels, though France's CAC 40 Index climbed to its highest since June 2007. UK shares, especially domestically focused ones, have started to catch up after Britain struck a Brexit deal and made faster progress on COVID-19 jabs than the continent. The FTSE 250 Index has gained 7.4% this year and is also approaching an all-time high.
Sector wise, while defensives such as Tech and Consumer Staples led Europe's initial rebound from the virus-fuelled rout, cyclical industries have rallied sharply since. Miners, autos, and travel shares have more than doubled since the market low in March 2020, while Value sectors such as energy are starting to catch up. Banks are among the best performers this year. – Bloomberg News.
JAPAN
First mobile phones, then faxes – now childcare is the latest sector to see a shakeup from the policies of Japan's prime minister.
A series of stocks offering childcare and education services have seen significant moves in Tokyo in the past days amid reports that Prime Minister Yoshihide Suga aims to form a new "Children's Agency", a government department that would oversee and strengthen policy for infants and children in a country with one of the lowest fertility rates in the world.
The policy may become a core feature of the ruling Liberal Democratic Party's manifesto for a lower house election that must take place this year. The news has boosted a series of previously obscure small caps, with shares in Youji Corporation, which provides physical education classes for young children, almost doubling since the policy was first proposed by junior lawmakers last week (ended 2 April). Baby Calendar Co Ltd, a newly listed baby care services provider, rose by its limit for two straight days, before plummeting today.
Oversight of nurseries, kindergartens and so-called certified child centres is currently spread across different Japanese ministries. Establishing a Children's Agency "would align with the Suga administration's goal of breaking down administrative silos", analysts said.
Whether Suga will survive in office to see the Children's Agency come to light remains to be seen. Japan's premier continues to walk a tightrope amid broad public dissatisfaction with his handling of the pandemic, and must also survive a party election with his term as party leader set to expire in September. – Bloomberg News.
The Nikkei 225 Index rose 0.15% to 29,740.00 at the open on Wednesday (7 April). It tumbled 1.30% to 29,696.63 on Tuesday.
Note: All views expressed are current as at the stated date of publication

GENERAL DISCLOSURE/DISCLAIMER
This information herein is published by DBS Bank Ltd. ("DBS Bank") and is for information only. This publication is intended for DBS Bank and its subsidiaries or affiliates (collectively "DBS") and clients to whom it has been delivered and may not be reproduced, transmitted or communicated to any other person without the prior written permission of DBS Bank.
This publication is not and does not constitute or form part of any offer, recommendation, invitation or solicitation to you to subscribe to or to enter into any transaction as described, nor is it calculated to invite or permit the making of offers to the public to subscribe to or enter into any transaction for cash or other consideration and should not be viewed as such.
The information herein may be incomplete or condensed and it may not include a number of terms and provisions nor does it identify or define all or any of the risks associated to any actual transaction. Any terms, conditions and opinions contained herein may have been obtained from various sources and neither DBS nor any of their respective directors or employees (collectively the "DBS Group") make any warranty, expressed or implied, as to its accuracy or completeness and thus assume no responsibility of it. The information herein may be subject to further revision, verification and updating and DBS Group undertakes no responsibility thereof.
All figures and amounts stated are for illustration purposes only and shall not bind DBS Group. This publication does not have regard to the specific investment objectives, financial situation or particular needs of any specific person. Before entering into any transaction to purchase any product mentioned in this publication, you should take steps to ensure that you understand the transaction and has made an independent assessment of the appropriateness of the transaction in light of your own objectives and circumstances. In particular, you should read all the relevant documentation pertaining to the product and may wish to seek advice from a financial or other professional adviser or make such independent investigations as you consider necessary or appropriate for such purposes. If you choose not to do so, you should consider carefully whether any product mentioned in this publication is suitable for you. DBS Group does not act as an adviser and assumes no fiduciary responsibility or liability for any consequences, financial or otherwise, arising from any arrangement or entrance into any transaction in reliance on the information contained herein. In order to build your own independent analysis of any transaction and its consequences, you should consult your own independent financial, accounting, tax, legal or other competent professional advisors as you deem appropriate to ensure that any assessment you make is suitable for you in light of your own financial, accounting, tax, and legal constraints and objectives without relying in any way on DBS Group or any position which DBS Group might have expressed in this document or orally to you in the discussion.
If this publication has been distributed by electronic transmission, such as e-mail, then such transmission cannot be guaranteed to be secure or error-free as information could be intercepted, corrupted, lost, destroyed, arrive late or incomplete, or contain viruses. The sender therefore does not accept liability for any errors or omissions in the contents of the Information, which may arise as a result of electronic transmission. If verification is required, please request for a hard-copy version.
This publication is not directed to, or intended for distribution to or use by, any person or entity who is a citizen or resident of or located in any locality, state, country or other jurisdiction where such distribution, publication, availability or use would be contrary to law or regulation.

Singapore: This publication is distributed by DBS Bank Ltd (Company Regn. No. 196800306E) ("DBS") which is an Exempt Financial Adviser as defined in the Financial Advisers Act and regulated by the Monetary Authority of Singapore (the "MAS").