Gains in tech shares help offset late slide in financials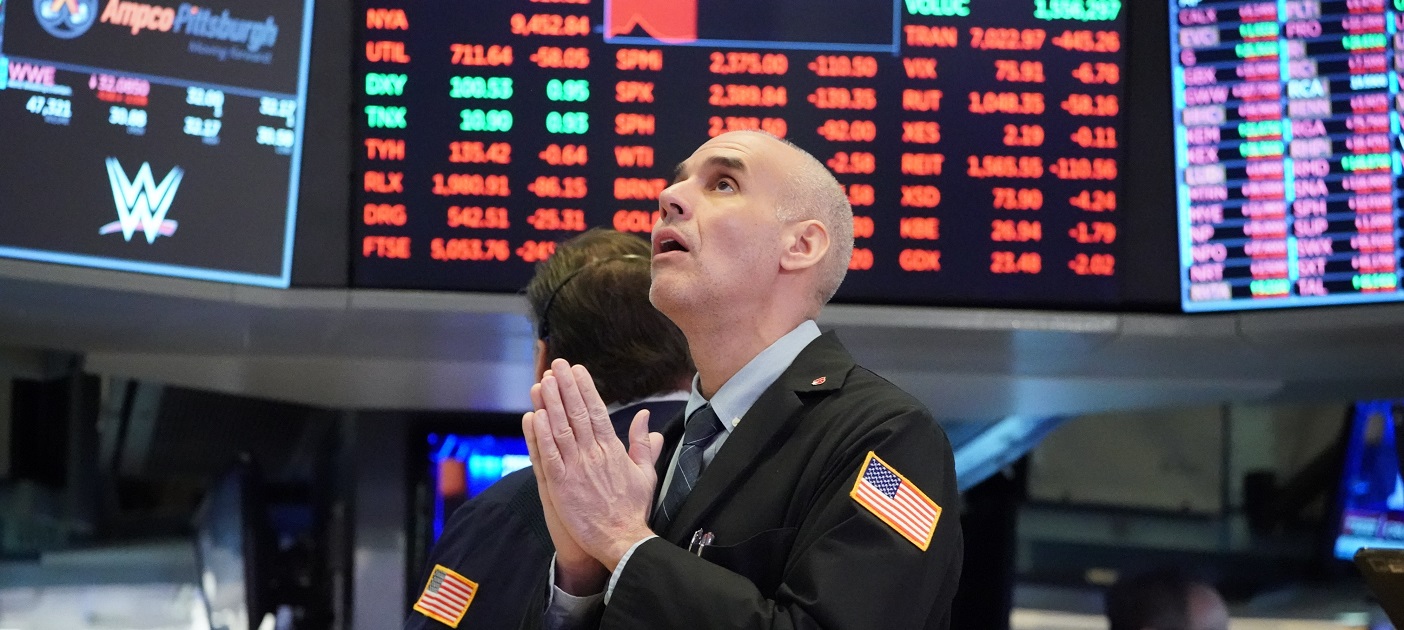 Photo credit: AFP Photo
US
US stocks closed higher as gains in technology shares helped offset a late slide in financials. Crude oil pushed higher, while the dollar was little changed.
The S&P 500 Index rose for a third consecutive trading session, led by communication services, real estate and consumer discretionary shares. JPMorgan Chase & Co Ltd, Citigroup Inc, and Bank of America Corporation pushed financials into the red.
Investors are awaiting the Federal Reserve's policy meeting Wednesday (16 September) to gauge the outlook for markets following a slide of about 2% in global stocks this month. The Fed is expected to maintain its dovish stance after earlier saying it will shift to a more relaxed approach on inflation. Central bank largesse is shoring up sentiment in the face of risks from the pandemic, the US presidential election and the possibility of a no-deal Brexit. – Bloomberg News.
The S&P 500 Index closed 0.52% higher at 3,401.20 on Tuesday (15 September). The Dow Jones Industrial Average remained little changed, and the Nasdaq Composite Index gained 1.21% to 11,190.32.
EUROPE
Europe stocks rose for a third day as positive corporate updates boosted retailers and miners rose on data showing an acceleration in China's economic recovery.
The Stoxx Europe 600 Index closed 0.66% higher in London at 370.96 on Tuesday (15 September), adding to its longest winning streak in a month. Retailers rallied after Hennes & Mauritz AB returned to profit and Ocado Group Plc reported a surge in sales. Miners advanced after Chinese data showed a rebound in consumption as virus restrictions eased, and a bigger-than-expected expansion in industrial production.
Investors this week are awaiting key rate decisions due from the Federal Reserve and the Bank of England. For the Stoxx 600, which has been stuck in a 20-point range since June, the 200-day moving average remains the ceiling to watch. The benchmark crossed above it in intraday trading today (15 September).
Investors are "rotating" rather than "chasing" stocks following the rebound since March, according to a fund manager survey. A net 51% of respondents said a bull market has started, versus just 25% in May.
Among notable movers, Fiat Chrysler Automobiles NV climbed 9% after agreeing to shrink a dividend tied to its merger with PSA Group by about USD3.1b. The reduction will be partially offset by the company's investors getting a stake in French supplier Faurecia SE, whose shares tumbled 6.6%. – Bloomberg News.
JAPAN
Japan Inc should rejoice at the prospect of a new premier: It can only get better from here.
Yoshihide Suga, the top aide to Prime Minister Shinzo Abe, has been elected leader of the ruling Liberal Democratic Party in a landslide, paving his way to the country's top post. Parliament's vote Wednesday (16 September) will make it official.
For industrial Japan, Suga's victory comes as a nascent, post-COVID 19 recovery is afoot. Recent survey data pointed to an upturn for manufacturers. Certain sectors like machinery and transport equipment are doing far better than others. Industrial production in July rose from a month earlier. Meanwhile, machine tool orders have been flat instead of sharply down.
Some companies' outlooks are looking increasingly optimistic, too, with bigger order books. Industrial robot exports to China from Japan, for example, rose 63.1% from a year earlier, according to market analysts.
Suga's track record is promising. Earlier this year, as the risk of having supply chains in China became apparent, he came out in support of diversifying. At the time, the government announced a package worth USD2.2b to incentivize corporations to move operations out of China. Meanwhile, the future premier is looking to push consolidation of small and medium businesses, where survival was becoming harder as bankruptcies rise. Suga's past experiences show he favours reform, having been involved in Japan's postal privatisation.
Japan Inc's industrial giants can also expect a hand if needed. Last week, Nissan Motor Co Ltd, which has struggled financially for the past two years under its failing corporate strategy and the Carlos Ghosn scandal, bagged a JPY180b loan (USD1.4b), of which JPY130b was guaranteed by the government, the largest such deal ever. Nissan is headquartered in Yokohama, where Suga was a member of local government. Meanwhile, in a regular press conference at the height of the pandemic, Suga said that Tokyo would provide wide-ranging support for the auto industry.
Still, the positive momentum seems to be working in Suga's favour. Just consider the commitment to hosting the pandemic-delayed Olympics next year. In a Reuters interview, he said the nation would do "whatever it takes" to make sure the global sporting event, originally planned for this summer, will happen in 2021. As in previous years, the games had pushed construction activity and filled up order books. Hopes of inbound tourism boosting consumption had buoyed sentiment. – Bloomberg News.
The Nikkei 225 Index opened remained little changed on Wednesday (16 September). It fell 0.44% to 23,454.89 the previous session.
Note: All views expressed are current as at the stated date of publication

GENERAL DISCLOSURE/DISCLAIMER
This information herein is published by DBS Bank Ltd. ("DBS Bank") and is for information only. This publication is intended for DBS Bank and its subsidiaries or affiliates (collectively "DBS") and clients to whom it has been delivered and may not be reproduced, transmitted or communicated to any other person without the prior written permission of DBS Bank.
This publication is not and does not constitute or form part of any offer, recommendation, invitation or solicitation to you to subscribe to or to enter into any transaction as described, nor is it calculated to invite or permit the making of offers to the public to subscribe to or enter into any transaction for cash or other consideration and should not be viewed as such.
The information herein may be incomplete or condensed and it may not include a number of terms and provisions nor does it identify or define all or any of the risks associated to any actual transaction. Any terms, conditions and opinions contained herein may have been obtained from various sources and neither DBS nor any of their respective directors or employees (collectively the "DBS Group") make any warranty, expressed or implied, as to its accuracy or completeness and thus assume no responsibility of it. The information herein may be subject to further revision, verification and updating and DBS Group undertakes no responsibility thereof.
All figures and amounts stated are for illustration purposes only and shall not bind DBS Group. This publication does not have regard to the specific investment objectives, financial situation or particular needs of any specific person. Before entering into any transaction to purchase any product mentioned in this publication, you should take steps to ensure that you understand the transaction and has made an independent assessment of the appropriateness of the transaction in light of your own objectives and circumstances. In particular, you should read all the relevant documentation pertaining to the product and may wish to seek advice from a financial or other professional adviser or make such independent investigations as you consider necessary or appropriate for such purposes. If you choose not to do so, you should consider carefully whether any product mentioned in this publication is suitable for you. DBS Group does not act as an adviser and assumes no fiduciary responsibility or liability for any consequences, financial or otherwise, arising from any arrangement or entrance into any transaction in reliance on the information contained herein. In order to build your own independent analysis of any transaction and its consequences, you should consult your own independent financial, accounting, tax, legal or other competent professional advisors as you deem appropriate to ensure that any assessment you make is suitable for you in light of your own financial, accounting, tax, and legal constraints and objectives without relying in any way on DBS Group or any position which DBS Group might have expressed in this document or orally to you in the discussion.
If this publication has been distributed by electronic transmission, such as e-mail, then such transmission cannot be guaranteed to be secure or error-free as information could be intercepted, corrupted, lost, destroyed, arrive late or incomplete, or contain viruses. The sender therefore does not accept liability for any errors or omissions in the contents of the Information, which may arise as a result of electronic transmission. If verification is required, please request for a hard-copy version.
This publication is not directed to, or intended for distribution to or use by, any person or entity who is a citizen or resident of or located in any locality, state, country or other jurisdiction where such distribution, publication, availability or use would be contrary to law or regulation.

Singapore: This publication is distributed by DBS Bank Ltd (Company Regn. No. 196800306E) ("DBS") which is an Exempt Financial Adviser as defined in the Financial Advisers Act and regulated by the Monetary Authority of Singapore (the "MAS").