Investors should take the opportunity while stocks last
Yield curve inversions have been a good predictor of a turn in policy cycle

Following inversion, on average the hiking cycle ends after 7.6 months, rates drift up by 55 bps

Balance sheet reduction may end earlier than expected given rapid decline in bank reserve balances

The case for fixed income remains strong, especially with Investment Grade markets

Their yields of c.4.9% and relatively low default rates present a window of opportunity
Photo credit: iStock
Knowing when to pick your battles. Another meeting, another 75 bps hike. With outsized rate hikes having become almost the norm for investors' expectations in 2022, the phrase "Don't fight the Fed" — once used to suggest the endurance of a bull market under easy monetary policy — now serves as a barrier to risk-taking as the tide of liquidity goes out. The trick, in essence, is not just knowing how to align one's investment appetite with central bank policy, but the harder task of anticipating when to act. While there are no crystal balls for market forecasting, we highlight a possible framework to anticipate the potential reversal from hawkish policy — seeing as tightening monetary policy had largely been responsible for the tumultuous performance of most financial assets in 2022.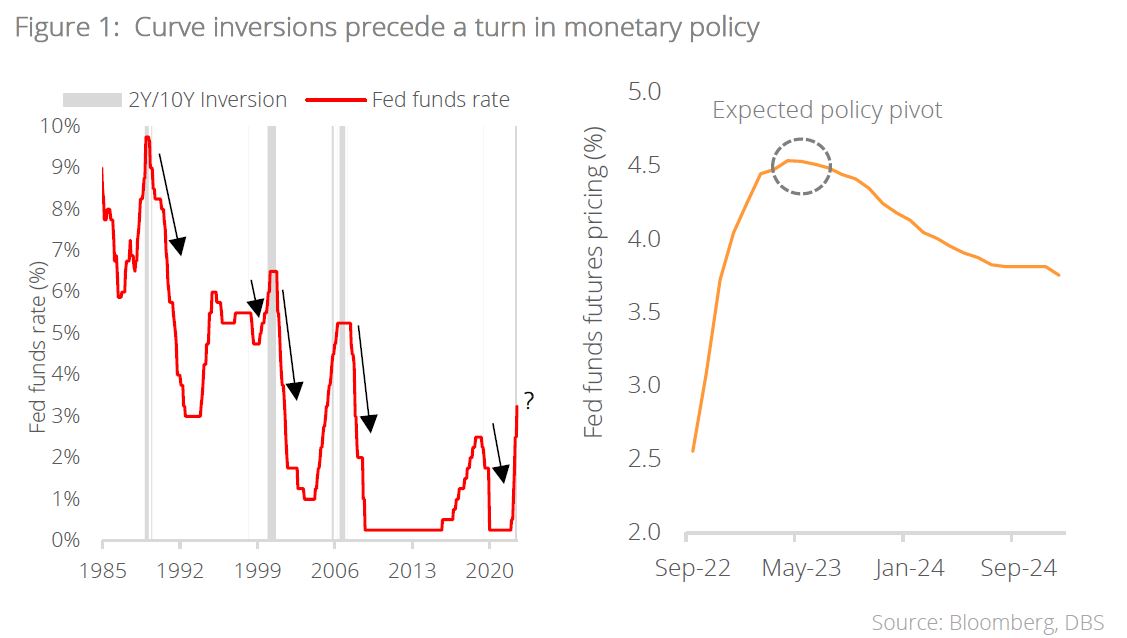 The yield curve as a leading indicator. Looking at data over 40 years, the inversion of the US 2Y/10Y yield curve has been an effective leading indicator for a turn in the interest rate policy cycle — preceding five policy turns since the mid-1980s. This happens because a diminishing economic outlook is often first reflected in the yields of longer-term bonds, before the policy rate is subsequently cut to reflect the emerging reality of a growth slowdown. As it stands, the Fed funds futures curve is already reflecting this expectation with rate cuts priced in beyond March 2023.
A matter of time. A closer examination reveals that following curve inversion, on average (i) the hiking cycle ends after 7.6 months, and (ii) rates only drift up by another 55 bps before the policy shifts. An emerging crisis/slowdown can then result in rates moving significantly lower — averaging a decline of 4% in our period of analysis. This implies that income-seekers can begin to pick points of entry into fixed income when the yield curve flattens because risk-reward starts to turn favourable.
Given that (i) more than two months have elapsed since curve inversion in this 2022 hiking cycle, and (ii) yields have still drifted 150 bps higher since, the opportunity for investors to obtain higher yields before the end of hawkish policy may not be far away now.
What about Quantitative Tightening (QT)? While most commentaries focus on the asset side of QT, what matters for systemic stability under the Fed is the level of bank reserve balances under the liabilities side of the equation. The Fed maintains a preference to stay with a regime of ample reserves; while the Fed's Senior Officer survey conducted in May suggests that respondents are comfortable with reserve levels similar or higher than that at end-2019 — which by our estimates point to c.USD2-2.5t as a comfortable estimate.
As scheduled, the pace of QT had doubled in September to USD95b/month (USD60b/month in US Treasuries and USD35b/month in MBS). With bank reserve balances hovering just north of USD3.1t, a rapid reduction in reserves could see terminal levels attained by March 2023 — implying that QT could end sooner than expected. Even under a more conservative estimate — with the Fed's reverse repo facility (RRP) declining proportionately to bank reserves — QT could end by October 2023. While these estimates can vary, all signs point to this tightening cycle ending much quicker than the previous one spanning 2015-2019.
Investors should capture yields while they last. Fears of higher rates may have paralysed investors from participating in credit markets, but if history is any guide, this opportunity may be more fleeting than most expect. We believe the case for fixed income remains strong — especially with Investment Grade markets — given their yields of c.4.9% and relatively low default rates over the business cycle. Investors should take the opportunity while stocks last.


Download the PDF to read the report.
Note: All views expressed are current as at the stated date of publication
DISCLAIMERS AND IMPORTANT NOTES
This information herein is published by DBS Bank Ltd. ("DBS Bank") and is for information only. This publication is intended for DBS Bank and its subsidiaries or affiliates (collectively "DBS") and clients to whom it has been delivered and may not be reproduced, transmitted or communicated to any other person without the prior written permission of DBS Bank.
This publication is not and does not constitute or form part of any offer, recommendation, invitation or solicitation to you to subscribe to or to enter into any transaction as described, nor is it calculated to invite or permit the making of offers to the public to subscribe to or enter into any transaction for cash or other consideration and should not be viewed as such.
The information herein may be incomplete or condensed and it may not include a number of terms and provisions nor does it identify or define all or any of the risks associated to any actual transaction. Any terms, conditions and opinions contained herein may have been obtained from various sources and neither DBS nor any of their respective directors or employees (collectively the "DBS Group") make any warranty, expressed or implied, as to its accuracy or completeness and thus assume no responsibility of it. The information herein may be subject to further revision, verification and updating and DBS Group undertakes no responsibility thereof.
All figures and amounts stated are for illustration purposes only and shall not bind DBS Group. This publication does not have regard to the specific investment objectives, financial situation or particular needs of any specific person. Before entering into any transaction to purchase any product mentioned in this publication, you should take steps to ensure that you understand the transaction and has made an independent assessment of the appropriateness of the transaction in light of your own objectives and circumstances. In particular, you should read all the relevant documentation pertaining to the product and may wish to seek advice from a financial or other professional adviser or make such independent investigations as you consider necessary or appropriate for such purposes. If you choose not to do so, you should consider carefully whether any product mentioned in this publication is suitable for you. DBS Group does not act as an adviser and assumes no fiduciary responsibility or liability for any consequences, financial or otherwise, arising from any arrangement or entrance into any transaction in reliance on the information contained herein. In order to build your own independent analysis of any transaction and its consequences, you should consult your own independent financial, accounting, tax, legal or other competent professional advisors as you deem appropriate to ensure that any assessment you make is suitable for you in light of your own financial, accounting, tax, and legal constraints and objectives without relying in any way on DBS Group or any position which DBS Group might have expressed in this document or orally to you in the discussion.
Any information relating to past performance, or any future forecast based on past performance or other assumptions, is not necessarily a reliable indicator of future results.
If this publication has been distributed by electronic transmission, such as e-mail, then such transmission cannot be guaranteed to be secure or error-free as information could be intercepted, corrupted, lost, destroyed, arrive late or incomplete, or contain viruses. The sender therefore does not accept liability for any errors or omissions in the contents of the Information, which may arise as a result of electronic transmission. If verification is required, please request for a hard-copy version.
This publication is not directed to, or intended for distribution to or use by, any person or entity who is a citizen or resident of or located in any locality, state, country or other jurisdiction where such distribution, publication, availability or use would be contrary to law or regulation.
If you have received this communication by email, please do not distribute or copy this email. If you believe that you have received this e-mail in error, please inform the sender or contact us immediately. DBS Group reserves the right to monitor and record electronic and telephone communications made by or to its personnel for regulatory or operational purposes. The security, accuracy and timeliness of electronic communications cannot be assured.
Singapore: This publication is distributed by DBS Bank Ltd (Company Regn. No. 196800306E) ("DBS") which is an Exempt Financial Adviser as defined in the Financial Advisers Act and regulated by the Monetary Authority of Singapore (the "MAS").