The Fed is serious about hiking. What does it mean for SGD rates?
The Fed is finally serious about hiking

Short-term SGD will rise materially this year

Watch for MAS tightening as well
Photo credit: AFP Photo
What does a more aggressive Fed mean?
Market participants are finally convinced that the Fed intends to / and will be able to withdraw exceedingly loose monetary policy. There were two rounds of adjustments 2021 but those are still insufficient to reflect Fed tightening. Another wave of adjustment kicked off at the start of this year. We have also revised our outlook,
seeing three Fed hikes in 2022 and another three in 2023.
This would take the Fed funds rate upper bound to 175bps, back to the pre-pandemic level.
What does this mean for SGD rates?In absolute terms, this means that short-term SGD rates will rise earlier and end higher
over our forecast horizon out to 2023. Under normal conditions, a meaningful rise in SORA, SIBOR and SOR tends to take place only when the Fed starts to hike rates in earnest, an event we think would take place in March.
The passthrough, however, is less clear cut
and can be viewed through several lenses.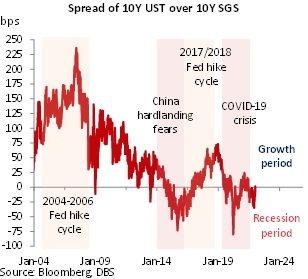 First, economic conditions matter.
Rate hikes under recovery conditions imply less passthrough unto SGD rates. This can be seen in the 2004/06 as well as the 2017/2018 hike cycles. Through periods of economic expansions (which tends to coincide with USD weakness), the Monetary Authority of Singapore (MAS) tends to maintain a appreciatory SGDNEER stance to curb inflationary pressures. Keeping interest rates parity dynamics in mind, SGD rates tend to be lower than USD rates through these periods. Singapore (and the world's) economic recovery from the pandemic crisis is uncomplete. Last year, we bet on SGD rates outperformance relative to USD rates (from a receive perspective). This played out from stretched levels, but never quite got to levels which we thought would be more reflective of better economic conditions. With the pandemic entering the third, there is a decent chance that tourism could finally stage a more meaningful recovery, allowing the MAS to tighten again, perhaps as early as April. All else equal, this should put downward pressures on SGD rates relative to USD rates. Put another way,
SGD rates are unlikely to rise by the same magnitude as USD rates in the coming hike cycle.If the Fed persists in hiking through tough economic conditions (such as in 2015/2016)
, SGD rates tend to display higher beta, rising much more than their USD counterparts. However, we do not see this happening this round.
Second, the state of where SGD rates are relative to USD rates are when the hike cycle begins matters.
SGD rates, due to the nature of the MAS's use of SGDNEER for monetary policy, can be viewed as USD rates with a premium or discount. So effectively, the drivers are USD rates, FX dynamics and relative liquidity dynamics which are captured in the radar chart below. Current SGD rates (especially those out to the 5Y tenor) look elevated compared to USD rates Most of this is due to perceived tighter SGD liquidity compared to USD liquidity. FX stresses have actually eased compared to three months ago.
The upshot is SGD rates are already at a premium, which offers some buffer in against Fed hikes.
Strategy
We are doubling down on our view of SGD rates outperformance versus USD rates.
This is something that we have highlighted (see
here
). Back then, we thought that SGD rates look too high compared to USD rates and that the risks are skewed towards earlier and more tightening from the Fed. This is currently playing out.
With Fed hikes brought forward, it should be even easier (and earlier) for USD rates to climb above SGD rates. It could well happen after 1-2 Fed hikes. While this trade has played out, we think pay SOFR versus receive SORA in the longer tenors (5Y to 10Y) still look compelling. For example, the SGD premium in the 10Y tenor could go from a premium of 15bps to a discount if the global economy holds up as we expect.
For Singapore, there are two issues
to watch. If the
Omicron wave
picks up in the coming weeks, there could be opportunities to express this idea at better levels, especially if this wave places some FX stress. Secondly,
Singapore's 4Q GDP proved to be strong (see here). This has increased the odds of MAS tightening again
in April. All else equal, this should also lead to SGD rates outperformance vis-à-vis USD rates over the medium term.
To read the full report, click here to
Download the PDF
.
Subscribe
here
to receive our economics & macro strategy materials.
To unsubscribe, please click
here
.
GENERAL DISCLOSURE/ DISCLAIMER (For Macroeconomics, Currencies, Interest Rates)
The information herein is published by DBS Bank Ltd and/or DBS Bank (Hong Kong) Limited (each and/or collectively, the "Company"). This report is intended for "Accredited Investors" and "Institutional Investors" (defined under the Financial Advisers Act and Securities and Futures Act of Singapore, and their subsidiary legislation), as well as "Professional Investors" (defined under the Securities and Futures Ordinance of Hong Kong) only. It is based on information obtained from sources believed to be reliable, but the Company does not make any representation or warranty, express or implied, as to its accuracy, completeness, timeliness or correctness for any particular purpose. Opinions expressed are subject to change without notice. This research is prepared for general circulation. Any recommendation contained herein does not have regard to the specific investment objectives, financial situation and the particular needs of any specific addressee. The information herein is published for the information of addressees only and is not to be taken in substitution for the exercise of judgement by addressees, who should obtain separate legal or financial advice. The Company, or any of its related companies or any individuals connected with the group accepts no liability for any direct, special, indirect, consequential, incidental damages or any other loss or damages of any kind arising from any use of the information herein (including any error, omission or misstatement herein, negligent or otherwise) or further communication thereof, even if the Company or any other person has been advised of the possibility thereof. The information herein is not to be construed as an offer or a solicitation of an offer to buy or sell any securities, futures, options or other financial instruments or to provide any investment advice or services. The Company and its associates, their directors, officers and/or employees may have positions or other interests in, and may effect transactions in securities mentioned herein and may also perform or seek to perform broking, investment banking and other banking or financial services for these companies. The information herein is not directed to, or intended for distribution to or use by, any person or entity that is a citizen or resident of or located in any locality, state, country, or other jurisdiction (including but not limited to citizens or residents of the United States of America) where such distribution, publication, availability or use would be contrary to law or regulation. The information is not an offer to sell or the solicitation of an offer to buy any security in any jurisdiction (including but not limited to the United States of America) where such an offer or solicitation would be contrary to law or regulation.

This report is distributed in Singapore by DBS Bank Ltd (Company Regn. No. 196800306E) which is Exempt Financial Advisers as defined in the Financial Advisers Act and regulated by the Monetary Authority of Singapore. DBS Bank Ltd may distribute reports produced by its respective foreign entities, affiliates or other foreign research houses pursuant to an arrangement under Regulation 32C of the Financial Advisers Regulations. Singapore recipients should contact DBS Bank Ltd at 65-6878-8888 for matters arising from, or in connection with the report.

DBS Bank Ltd., 12 Marina Boulevard, Marina Bay Financial Centre Tower 3, Singapore 018982. Tel: 65-6878-8888. Company Registration No. 196800306E.

DBS Bank Ltd., Hong Kong Branch, a company incorporated in Singapore with limited liability. 18th Floor, The Center, 99 Queen's Road Central, Central, Hong Kong SAR.

DBS Bank (Hong Kong) Limited, a company incorporated in Hong Kong with limited liability. 13th Floor One Island East, 18 Westlands Road, Quarry Bay, Hong Kong SAR

Virtual currencies are highly speculative digital "virtual commodities", and are not currencies. It is not a financial product approved by the Taiwan Financial Supervisory Commission, and the safeguards of the existing investor protection regime does not apply. The prices of virtual currencies may fluctuate greatly, and the investment risk is high. Before engaging in such transactions, the investor should carefully assess the risks, and seek its own independent advice.