The ground is being laid for key institutions to support national priorities.
India's recent Budget announced the formation of two entities …

…An ARC/AMC for banks aka Bad bank and DFI to boost infra financing

Indonesia has established a sovereign wealth fund (SWF)

Global sovereign bodies have expressed interest as anchor investors, most recently UAE

Timely implementation along intended objectives lift medium-term growth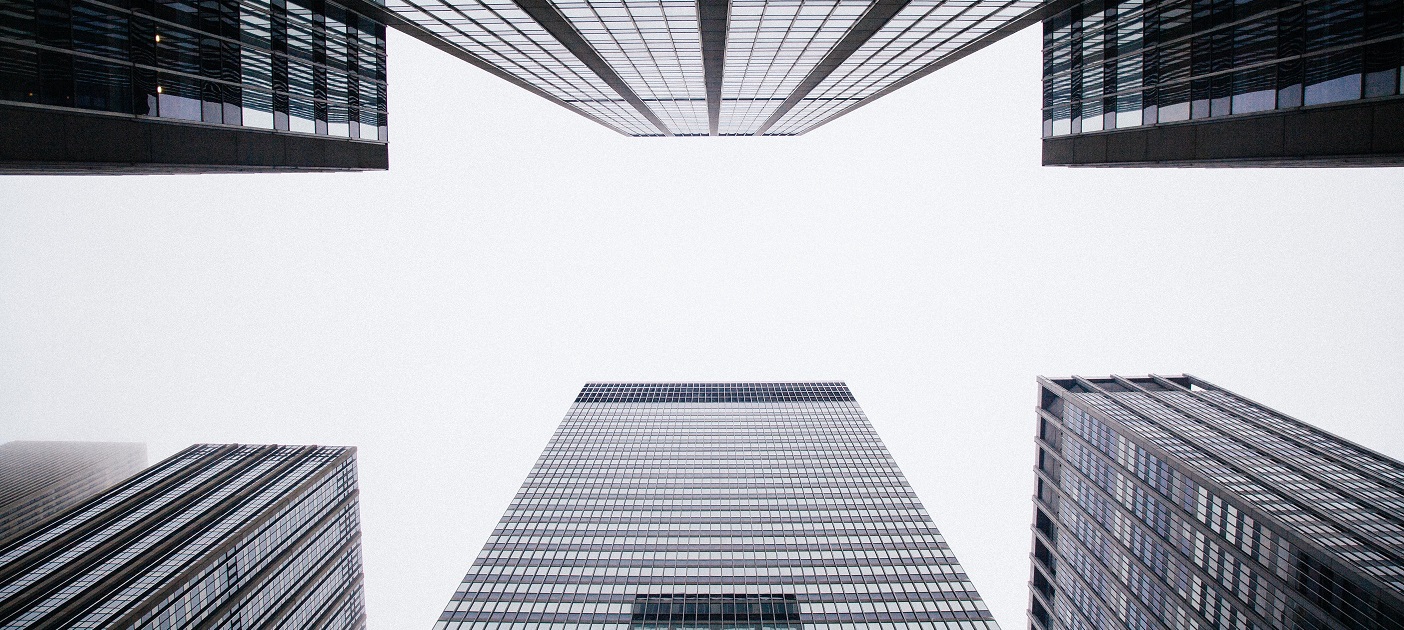 Photo credit: Unsplash
Notwithstanding the pandemic, India and Indonesia have laid the ground for the formation of institutions to support key national priorities.
India
The recent FY22 Budget announced plans to form two new entities - Asset Reconstruction Company-Asset Management (ARC-AMC) for banks i.e. a defector Bad bank and Development Finance Company (DFI) to finance infrastructure.
•
ARC-AMC for banks:
This mechanism proposes to resolve the stressed assets of India's banking sector, wherein the ARC aggregates the debt and AMC will be the resolution manager. Encouragingly, banks' gross and non-performing assets (NPA) ratios are off highs, declining to 7.5% (~INR8.2trn) and 2.1% respectively in Sep20. The slippage ratio, defined as new accretion to NPAs in the quarter as a ratio to the standard advances at the beginning of the quarter, also contracted sharply. The pandemic, however, might throw a spanner in the works, just as the interim stay on banks' asset classification is lifted and temporary relief due to the pandemic ceases. Market estimates that the bad assets might have risen by INR1.0-2trn as of March 2021, depending on the extent to which accounts qualify for the recast window.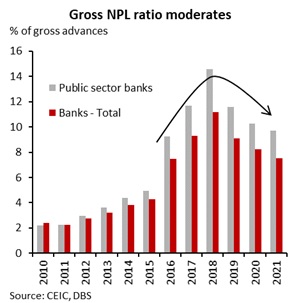 Viewed as a defacto Bad bank, modalities of the proposed entity are yet to be finalised. Official comments and press reports suggest the new entity will be capitalised by public sector banks/ financial institutions, without the government's participation (or financing support). On the operational end, banks will transfer assets to the ARCs at net book value i.e. value of the assets minus provisions. On aggerate basis, the provision coverage ratio of domestic banks improved to 72.4% by Sep20 vs 66.2% six months prior. The asset will then be taken over by the AMC, which will seek to resolve the asset. Against this transfer, 85% will be via securitised receipts, which will be parked in the banks' balance sheets, and rest through monies, resulting in an overall cash neutral transaction for banks.
This approach is not without challenges. The extent of government's participation remains unclear, especially on whether the security receipts and transfers issued to raise capital will have their guarantee, considering their majority stake in public sector banks. Second question being raised is whether the ARC/AMC mechanism will be accompanied by the recapitalisation support for banks, in a bid to boost risk capital. Next, whether bank's management, which is transferring assets, might come under legal and compliance scrutiny in the future on the present transactions.
These are balanced off by the purported benefits: a) Other countries have successfully addressed the NPL/ bad debt problems, for instance selected ASEAN countries like Malaysia, Thailand etc. in wake of the Asian Financial Crisis, which lends confidence in India's efforts; b) a skilled and professional management team will help draw in various kinds of strategic investors, stressed asset funds, Alternative Investment Funds, amongst others; c) Helps free up capital for the banks, especially on assets which are less than 100% provisioned; d) recovered funds can be channelled towards additional credit/ funding. In all, we consider the ARC-AMC route to be a step in the right direction, with details on the structure expected to take shape in FY22.
•
Development Finance Institutions (DFI):
A new entity called National Bank for Financing Infrastructure and Development (NBFID) will take shape this year, with paid-up capital of INR200bn ($2.7bn) started with INR50bn in the first year. This will be fully owned by the government for a start, with the share to be brought down to 26% over time. The DFI targets to lend INR5trn ($66bn) over the next three years.
The structure of the institution is still to be finalised, with indications that decision-making will be centered with a 13 member board, which will be responsible for key decisions, including a call on whether the new entity would merge with the existing IIFCL Ltd. (if confirmed will take over debts of the institution), according to press reports. In a bid to keep borrowing costs low, the DFI might get access to the RBI's short-term funding facilities, helped also by the government's guarantee to bonds, debentures and loans, which might prop credit ratings as well as being considered as quasi-government issuance.
Investors subscribing to the long-term bonds issued by the DFI are likely to be exempted from tax for c10years. Most recently, the National Infra Investment Fund (NIIF) was set up in 2015, attracting inflows from long-term pension and sovereign funds. Success of past DFIs has, however, been mixed. Since the 90s liberalisation, a cessation of special funding windows pushed these institutions to costlier market borrowings as well as face higher competition from banks, resulting in an overall increase in funding costs. This led few entities to convert themselves to universal banks after finding it a challenge to raise long-duration funding for infra use.
Benefiting from the past experience, in-built government guarantee, favourable borrowing costs, tax exemptions for investors, and some leeway on NPA norms including a longer exemption period from being tagged as 'restructuring' and professionally run board and specialists, are factors that could make the functioning of the new DFI more feasible and efficient.
This DFI complements the government's National Infra Pipeline (NIP) which pegs total outlays at INR111trn between FY2019-25, dominated by the energy sector (24%), followed by roads (18%) and urban infra (17%) and rest a mix of social infra, industrial infra, railways etc. The central government and states have an equal share of ~39-40% of the spending and rest from the private sector.
Indonesia
• Sovereign Wealth Fund: As part of the Omnibus Law passed in 4Q20, Indonesia created an investment vehicle through the formation of a Sovereign Wealth Fund named as the Indonesia Investment Authority (INA) or Lembaga Pengelola Investasi (LPI). Differing from other national SWFs which are set up to either manage foreign exchange reserves/ balance of payment surpluses or commodity-driven revenues, the INA aims to draw in offshore investors to finance domestic investments, particularly into infrastructure.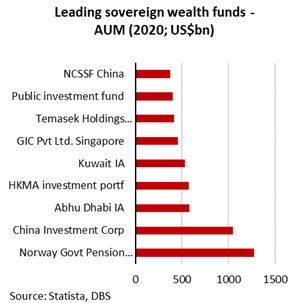 Authorised capital will be a mix of cash injection as well as state assets, government receivables and shares of state-owned companies (SOE) or limited companies, amounting to IDR70-75trn (US$ 5bn). The medium-term funding target has been set at US$100bn. The United Arab Emirates (UAE) became the first anchor investor in the INA, with plans to inject up to US$10bn. Indonesian authorities have also reportedly received soft commitments from global investors including Japan's JBIC, US' IDFC, Canada Pension Plan Investment Board, with the authorities targeting a mix of sovereign funds and private equity firms. The management team includes a former senior bank official named as the CEO, with the board members a mix of financial industry stalwarts as well as senior officials from state-owned companies.
Investment focus will be on infrastructure (starting with toll roads and transportation segments) in the first two years, which will thereafter expand to technology, health care and renewable energy thereafter. This also coincides with the rising budgetary allocations towards infrastructure, nearly doubling from IDR256trn in 2015 to IDR417.4trn in 2021 (see chart). Both greenfield and brownfield projects are expected to be considered, which will require adequate economic and political capital to bring to fruition and raise the necessary return-on-capital to draw more funding interests.
Clarity is being sought on how these proposed investments will be channelled is awaited, which might be extended to both the private sector as well as SOEs – for instance by acquiring their existing projects or contribute capital to lower the pressure on SOEs to raise debt for new projects, according to Fitch Ratings. The government had earlier pegged plans to route more than IDR5,957trn (US$425bn at current exchange rate) by 2024-25, with 40% of the funding through the government finances, 25% through SOEs and rest by the private sector. Considering the notable financing need, the scope of INA's participation is likely to be stepped up over the next 4-5years. Concurrently, the larger ecosystem for these projects i.e. speedy approvals, access to financing, permit availability, streamlining access to key factors of production (land and labour) and clarity on contractual/ legal frameworks etc. will allow for timely completion and avoid cost-overruns.
To read the full report, click here to
Download the PDF
.
Subscribe
here
to receive our economics & macro strategy materials.
To unsubscribe, please click
here
.
GENERAL DISCLOSURE/ DISCLAIMER (For Macroeconomics, Currencies, Interest Rates)
The information herein is published by DBS Bank Ltd and/or DBS Bank (Hong Kong) Limited (each and/or collectively, the "Company"). This report is intended for "Accredited Investors" and "Institutional Investors" (defined under the Financial Advisers Act and Securities and Futures Act of Singapore, and their subsidiary legislation), as well as "Professional Investors" (defined under the Securities and Futures Ordinance of Hong Kong) only. It is based on information obtained from sources believed to be reliable, but the Company does not make any representation or warranty, express or implied, as to its accuracy, completeness, timeliness or correctness for any particular purpose. Opinions expressed are subject to change without notice. This research is prepared for general circulation. Any recommendation contained herein does not have regard to the specific investment objectives, financial situation and the particular needs of any specific addressee. The information herein is published for the information of addressees only and is not to be taken in substitution for the exercise of judgement by addressees, who should obtain separate legal or financial advice. The Company, or any of its related companies or any individuals connected with the group accepts no liability for any direct, special, indirect, consequential, incidental damages or any other loss or damages of any kind arising from any use of the information herein (including any error, omission or misstatement herein, negligent or otherwise) or further communication thereof, even if the Company or any other person has been advised of the possibility thereof. The information herein is not to be construed as an offer or a solicitation of an offer to buy or sell any securities, futures, options or other financial instruments or to provide any investment advice or services. The Company and its associates, their directors, officers and/or employees may have positions or other interests in, and may effect transactions in securities mentioned herein and may also perform or seek to perform broking, investment banking and other banking or financial services for these companies. The information herein is not directed to, or intended for distribution to or use by, any person or entity that is a citizen or resident of or located in any locality, state, country, or other jurisdiction (including but not limited to citizens or residents of the United States of America) where such distribution, publication, availability or use would be contrary to law or regulation. The information is not an offer to sell or the solicitation of an offer to buy any security in any jurisdiction (including but not limited to the United States of America) where such an offer or solicitation would be contrary to law or regulation.

This report is distributed in Singapore by DBS Bank Ltd (Company Regn. No. 196800306E) which is Exempt Financial Advisers as defined in the Financial Advisers Act and regulated by the Monetary Authority of Singapore. DBS Bank Ltd may distribute reports produced by its respective foreign entities, affiliates or other foreign research houses pursuant to an arrangement under Regulation 32C of the Financial Advisers Regulations. Singapore recipients should contact DBS Bank Ltd at 65-6878-8888 for matters arising from, or in connection with the report.

DBS Bank Ltd., 12 Marina Boulevard, Marina Bay Financial Centre Tower 3, Singapore 018982. Tel: 65-6878-8888. Company Registration No. 196800306E.

DBS Bank Ltd., Hong Kong Branch, a company incorporated in Singapore with limited liability. 18th Floor, The Center, 99 Queen's Road Central, Central, Hong Kong SAR.

DBS Bank (Hong Kong) Limited, a company incorporated in Hong Kong with limited liability. 13th Floor One Island East, 18 Westlands Road, Quarry Bay, Hong Kong SAR

Virtual currencies are highly speculative digital "virtual commodities", and are not currencies. It is not a financial product approved by the Taiwan Financial Supervisory Commission, and the safeguards of the existing investor protection regime does not apply. The prices of virtual currencies may fluctuate greatly, and the investment risk is high. Before engaging in such transactions, the investor should carefully assess the risks, and seek its own independent advice.