Thanks to favourable base effects, the first half of this year will present headline-pleasing real GDP growth numbers in Asia. But such figures will hide highly heterogenous economic outcomes.
Our Nowcasting model shows China with genuine economic momentum in 1H21

India is on course to rebound in 2Q21, but its outlook is cloudy with the worsening pandemic picture

Indonesia is struggling to find normalcy, as pandemic management remains challenging

Singapore has some tailwind at last, with retail sales and property markets appearing buoyant

In all cases, strong electronics demand and rising commodity prices are helping the outlook
Photo credit: AFP Photo
Commentary: A peek into 2Q in Asia
Thanks to favourable base effects, the first half of this year will present headline-pleasing GDP growth numbers, but they will hide highly heterogenous economic outcomes. Our in-house GDP Nowcasting models have a fairly confident take on the 1Q21 outturns already; they are also providing early predictions for 2Q. Below we take stock of the Nowcasting estimates and consider their implications for China, India, Indonesia, and Singapore.

China
The only economy in our sample that will end 1Q21 ahead of the level of real GDP two years ago is China, which is on track to report 8-10% growth for all of 2021. China's economic momentum is decidedly upward, revealing far more than base-effect driven outcomes. Industrial production, retail sales, and trade have been particularly strong, while fixed asset investment and bank loans growth have been relatively underwhelming. Even as base effects fade and growth numbers come down to earth, China is on course to grow by 8-10% this year, with our models pointing to an outcome at the top of that range.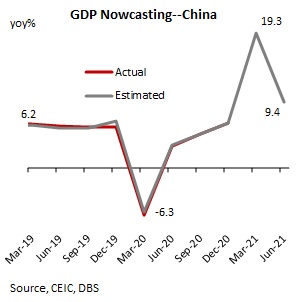 India
India should be leaving the worst of the crisis behind, but its outlook turned cloudy due to the ongoing resurgence in the pandemic. We continue to believe that the economy will be able to shrug off sporadic lockdowns and mobility disruptions as the year progresses. Given that its base effect from lockdown will not fully show up in the data till 2Q, there won't be any China-style blockbuster print in 1Q (Our Nowcast model has growth at 0.4% for Jan-March). A big jump in GDP growth print in 2Q21 will still leave the level of real GDP lower than it was two years ago.




With production, freight traffic, and retail sales coming back to life, and policies remaining accommodative, even partial success in pandemic management should help growth prospects in the near term. Lacklustre trade performance is not helpful, but a series of structural policies enacted in recent months may enhance India's export footprint in the medium term.

Our annual growth forecasts (9%+ in 2021 and 5%+ in 2022) mask the fact that India is on track to have a disappointing string of economic outcomes. The pandemic is a key factor, but it must also be recognised that India came into the crisis on a particularly weak footing (2019 growth was just 4%). As per our estimates, India's real per capita income growth would average no more than 2% during the half decade spanning 2018-22, far short of the aspirations of its population or policy makers. The pandemic's scar will be deep, unfortunately.

Indonesia
Like India, Indonesia's attempts to leave 2020 behind is being complicated by the difficulties posed by the pandemic. Travel and tourism remain highly disrupted, and the daily infection rates were only marginally better in March than in February. Economic recovery, therefore, remains patchy despite a pick-up in exports (helped by rising commodity demand) and business sentiments. While GDP growth is unlikely to be commanding the headlines with 2-4% print in 1H21, the outlook could brighten considerably if vaccination picks up, and the external travel/tourism sector starts seeing some semblance of life.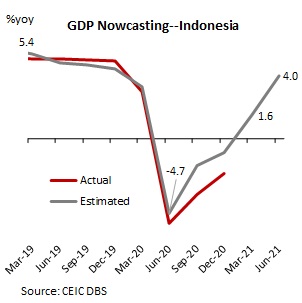 Singapore
Singapore appears to be catching some tailwind. Vaccination has picked up, with a quarter of the population receiving at least one dose by the end of March. Travel bubbles with a few select economies are being formed, domestic retail sales have turned buoyant, property market is strong, and exports are picking up. It won't be until next year before the lost GDP of 2020 is revisited, but the 2Q21 growth outturn will likely command headlines and mark a point of leaving the worst behind, in our view.




To read the full report, click here to Download the PDF.



To unsubscribe, please click
here
.
GENERAL DISCLOSURE/ DISCLAIMER (For Macroeconomics, Currencies, Interest Rates)
The information herein is published by DBS Bank Ltd and/or DBS Bank (Hong Kong) Limited (each and/or collectively, the "Company"). This report is intended for "Accredited Investors" and "Institutional Investors" (defined under the Financial Advisers Act and Securities and Futures Act of Singapore, and their subsidiary legislation), as well as "Professional Investors" (defined under the Securities and Futures Ordinance of Hong Kong) only. It is based on information obtained from sources believed to be reliable, but the Company does not make any representation or warranty, express or implied, as to its accuracy, completeness, timeliness or correctness for any particular purpose. Opinions expressed are subject to change without notice. This research is prepared for general circulation. Any recommendation contained herein does not have regard to the specific investment objectives, financial situation and the particular needs of any specific addressee. The information herein is published for the information of addressees only and is not to be taken in substitution for the exercise of judgement by addressees, who should obtain separate legal or financial advice. The Company, or any of its related companies or any individuals connected with the group accepts no liability for any direct, special, indirect, consequential, incidental damages or any other loss or damages of any kind arising from any use of the information herein (including any error, omission or misstatement herein, negligent or otherwise) or further communication thereof, even if the Company or any other person has been advised of the possibility thereof. The information herein is not to be construed as an offer or a solicitation of an offer to buy or sell any securities, futures, options or other financial instruments or to provide any investment advice or services. The Company and its associates, their directors, officers and/or employees may have positions or other interests in, and may effect transactions in securities mentioned herein and may also perform or seek to perform broking, investment banking and other banking or financial services for these companies. The information herein is not directed to, or intended for distribution to or use by, any person or entity that is a citizen or resident of or located in any locality, state, country, or other jurisdiction (including but not limited to citizens or residents of the United States of America) where such distribution, publication, availability or use would be contrary to law or regulation. The information is not an offer to sell or the solicitation of an offer to buy any security in any jurisdiction (including but not limited to the United States of America) where such an offer or solicitation would be contrary to law or regulation.

This report is distributed in Singapore by DBS Bank Ltd (Company Regn. No. 196800306E) which is Exempt Financial Advisers as defined in the Financial Advisers Act and regulated by the Monetary Authority of Singapore. DBS Bank Ltd may distribute reports produced by its respective foreign entities, affiliates or other foreign research houses pursuant to an arrangement under Regulation 32C of the Financial Advisers Regulations. Singapore recipients should contact DBS Bank Ltd at 65-6878-8888 for matters arising from, or in connection with the report.

DBS Bank Ltd., 12 Marina Boulevard, Marina Bay Financial Centre Tower 3, Singapore 018982. Tel: 65-6878-8888. Company Registration No. 196800306E.

DBS Bank Ltd., Hong Kong Branch, a company incorporated in Singapore with limited liability. 18th Floor, The Center, 99 Queen's Road Central, Central, Hong Kong SAR.

DBS Bank (Hong Kong) Limited, a company incorporated in Hong Kong with limited liability. 13th Floor One Island East, 18 Westlands Road, Quarry Bay, Hong Kong SAR

Virtual currencies are highly speculative digital "virtual commodities", and are not currencies. It is not a financial product approved by the Taiwan Financial Supervisory Commission, and the safeguards of the existing investor protection regime does not apply. The prices of virtual currencies may fluctuate greatly, and the investment risk is high. Before engaging in such transactions, the investor should carefully assess the risks, and seek its own independent advice.