India and Indonesia central banks are likely to maintain rates unchanged this year, but not shed their accommodative bias.
The RBI monetary policy committee left rates on hold

… shifting from a time-based to state-based guidance

A formal Gsec purchase mechanism has been introduced

Recent developments reinforce our expectations that bank Indonesia

…. will maintain the policy rate at 3.5% through 2021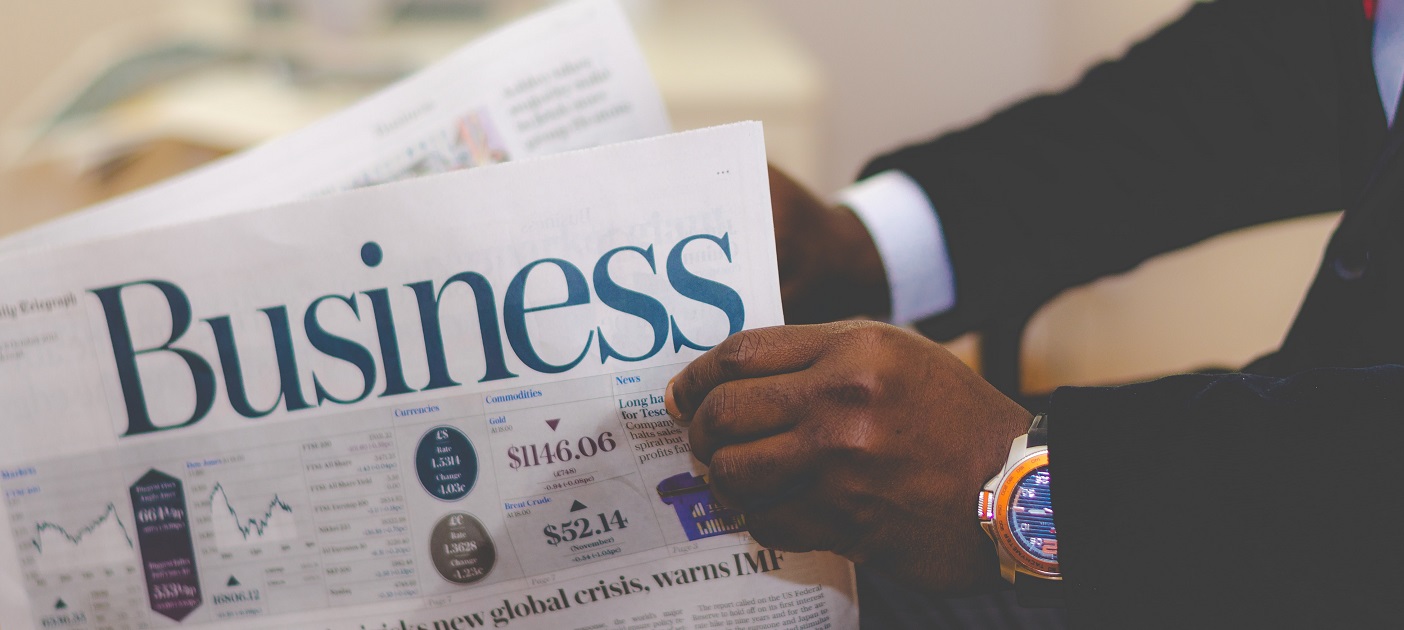 Photo credit: Unsplash
India
In a unanimous decision, the RBI monetary policy committee left rates on hold on Wednesday, with the repo rate at 4% and reverse repo rate at 3.35%. In contrast to the previously held time-based guidance, members shifted to a state-based stance i.e. "continue with the accommodative stance as long as necessary to sustain growth on a durable basis and continue to mitigate the impact of COVID-19 on the economy", considering the evolving second Covid wave and uncertainty over its economic fallout.
A key announcement was the introduction of a formal GSec (government securities) purchase mechanism, which will act as a defacto calendar for bond purchases into FY22, as a counterbalance for the heavy issuance pipeline. Under the secondary market G-sec acquisition programme or G-SAP 1.0, bonds worth INR1trn ($13.5bn) will be bought in Apr-Jun21, starting with INR250bn auction on April 15. Besides dispensing with the ad-hoc nature in routine open market operations, the G-SAP arrangement which will engage the central bank's balance sheet, as well as run alongside regular operations under the LAF, longer-term repo/reverse repo auctions, forex operations and open market operations including special OMOs. We recall that the RBI had earlier indicated that it would conduct INR3trn worth OMOs in FY22, which markets had hoped that it would be frontloaded to match the higher 1HFY22 issuance, with the intention to flatten the yield curve as well as compress the term premia. The timing of purchases might hinge on fiscal/ inflation health as well as global influences such as the US treasury yields, and oil price direction, amongst others.
Economic assessment: The central bank was cautiously optimistic on the FY22 growth prospects, with the second Covid wave seen as a near-term risk, but the impact is expected to be mitigated by higher public investments, especially capex, rural demand, strong farm output and urban demand benefiting from a timely vaccination rollout. Growth forecasts were maintained, while FY23 was added. Inflation trajectory was raised slightly, factoring in higher commodity prices, monsoon progress, rigidity in domestic fuel taxes and higher input prices due to higher commodity and logistics costs. The table below provides an overview of the forecasts. The April 2021 Monetary Policy Report also carried revisions in oil assumptions (second table).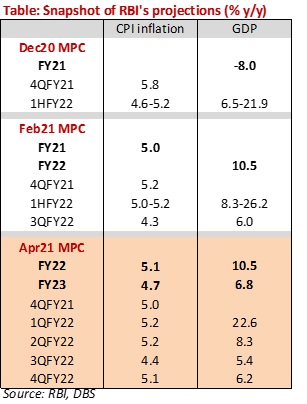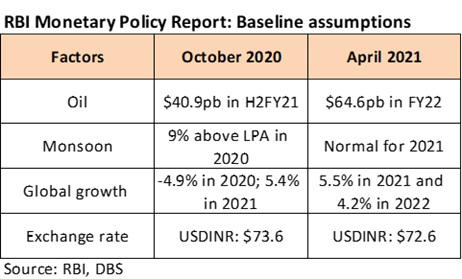 Policy outlook: A near-term risk to growth is the run-away increase in daily Covid count, which topped a record 100k cases this week, necessitating state-specific restrictions for April. Mobility indicators are beginning to display strain, especially in states that are amongst the worst hit, along with a slip in the March PMI-manufacturing. Shades of optimism are, nonetheless, visible in higher government spend, GST collections, railway freight, power demand etc. Assuming the goods sector fares better than discretionary services (~12% of GDP), we maintain our growth forecast of 10.5% for FY22, with in-built cushion for slower sequential growth in 1QFY22 (2Q21). Impact on the informal labour particularly migrant labour, will also be under watch, amidst temporary business closures.
We expect the RBI to keep the repo rate on hold for rest of FY22. A change from the current accommodative stance will hinge on the longevity of the second Covid wave and the extent of economic impact, both of which are clouded in considerable uncertainty. We don't expect any change in stance or liquidity normalisation measures to be undertaken until 1HFY22 (fiscal year April 2021 to March 2022).
As for market implications, INR 10 GSec yield corrected by ~10bps from day's high, buoyed by the G-SAP 1.0 announcement. In recent days, short-end rates had also eased as policy normalisation was being delayed in midst of a second wave of COVID cases. Towards liquidity management, the RBI plans to move up the curve in its variable rate reverse repo (VRRR) auctions, assuring that this move was a part of their overall liquidity operations and should not be perceived as a move to tighten policy. Banking system liquidity remains in comfortable surplus, which apart from only a gradual pickup in credit growth is also buttressed by strong dollar flows which have been mopped by the central bank.
An eye will be on global market volatility as the central bank seeks to manoeuvre a challenging balance beam, capping bond yields, staying pro-growth, and keeping liquidity flush yet keep inflation under control. Most of the policy tightening pressures are emanating from adjustments in global markets, with rate hike bets as captured by implied rates seen as being premature. Meanwhile, the central bank might draw relief as the rupee caught up with the regional FX weakness, upon the passage of equity-related flows which had temporarily shielded the currency from broad dollar strength.
Indonesia
Since the mid-March hold, developments reinforce our expectations that Bank Indonesia will maintain the policy rate at 3.5% through 2021.
Domestic and global developments will shape the policy path.
Locally, impact of the pandemic on growth prospects continues to be monitored. Encouraging, the daily Covid count has halved since the early-February's peak. This has helped keep the aggregate bed occupancy rate at sub-60%, closer to manageable levels. In a bid to keep the spread under control, micro movement restrictions will remain in place in 20 provinces until April 19. Authorities have outlined a new regulation to prohibit inter-provincial travel for 3-weeks before and after Eid Al-Fitr barring transportation for essential services. If implemented efficiently, these will help to contain the spread, just as the local vaccination program is being ramped up and will be opened up for private sector participation. About 12.6mn doses being administered to date, covering most frontline and healthcare workers, while the second phase covers public servants and elderly.
March quarter high-frequency numbers suggest domestic demand outlook was likely clouded in 1Q21, even as 2Q21 will get a hand from a more favourable base effect comparison. Fiscal policy will thereby play an important role in stimulating growth. Extending the 2020 coordinated approach, the BI will not only maintain an accommodative policy stance but also ensure a non-disruptive borrowing program in 2021.
On policy, even as the benchmark rate will be steady, transmission will be prioritised. Even as the 125bps reduction in the 7-day rate since start of the 2020, the prime lending rate has only fallen 78bps, widening the spread from 580bps to 630bps. On the bond markets front, since last year, BI has injected liquidity through quantitative easing to the banking industry to the tune of IDR777trn (5% of GDP), which includes IDR726.6trn last year and IDR50.3trn until mid-Mar21, according to the recent policy statement. With lukewarm foreign investor appetite extending into this year, the share of the central bank's holdings has increased to about a quarter of the outstanding debt, surpassing that of the foreign investors. The government has trimmed its 2Q bond issuance plans to IDR230trn (conventional and Islamic-compliant T-bills and bonds) vs IDR414trn sovereign securities in 1Q.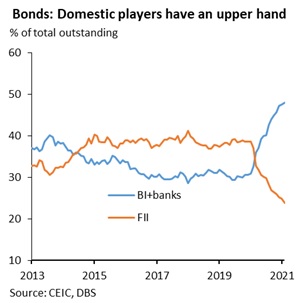 On the global front, recent increase in market anxiety and the theme of US exceptionalism has driven US rates and the US dollar higher, raising market volatility and keeping the rupiah on a weaker footing (-2% 2021-to-date). This has also brought forward policy normalisation risks in the region.
Bank Indonesia is unlikely to be in a hurry to normalise rates in midst of a tentative growth outlook and uncertain infection curve. Broader macro conditions lend the central bank to balance three priorities – flows, rates, and currency stability, with the latter likely to dominate this pack. Bank Indonesia is likely to maintain a steady hand on the wheel.

To read the full report, click here to Download the PDF.

Subscribe here to receive our economics & macro strategy materials.
To unsubscribe, please click here.


GENERAL DISCLOSURE/ DISCLAIMER (For Macroeconomics, Currencies, Interest Rates)
The information herein is published by DBS Bank Ltd and/or DBS Bank (Hong Kong) Limited (each and/or collectively, the "Company"). This report is intended for "Accredited Investors" and "Institutional Investors" (defined under the Financial Advisers Act and Securities and Futures Act of Singapore, and their subsidiary legislation), as well as "Professional Investors" (defined under the Securities and Futures Ordinance of Hong Kong) only. It is based on information obtained from sources believed to be reliable, but the Company does not make any representation or warranty, express or implied, as to its accuracy, completeness, timeliness or correctness for any particular purpose. Opinions expressed are subject to change without notice. This research is prepared for general circulation. Any recommendation contained herein does not have regard to the specific investment objectives, financial situation and the particular needs of any specific addressee. The information herein is published for the information of addressees only and is not to be taken in substitution for the exercise of judgement by addressees, who should obtain separate legal or financial advice. The Company, or any of its related companies or any individuals connected with the group accepts no liability for any direct, special, indirect, consequential, incidental damages or any other loss or damages of any kind arising from any use of the information herein (including any error, omission or misstatement herein, negligent or otherwise) or further communication thereof, even if the Company or any other person has been advised of the possibility thereof. The information herein is not to be construed as an offer or a solicitation of an offer to buy or sell any securities, futures, options or other financial instruments or to provide any investment advice or services. The Company and its associates, their directors, officers and/or employees may have positions or other interests in, and may effect transactions in securities mentioned herein and may also perform or seek to perform broking, investment banking and other banking or financial services for these companies. The information herein is not directed to, or intended for distribution to or use by, any person or entity that is a citizen or resident of or located in any locality, state, country, or other jurisdiction (including but not limited to citizens or residents of the United States of America) where such distribution, publication, availability or use would be contrary to law or regulation. The information is not an offer to sell or the solicitation of an offer to buy any security in any jurisdiction (including but not limited to the United States of America) where such an offer or solicitation would be contrary to law or regulation.

This report is distributed in Singapore by DBS Bank Ltd (Company Regn. No. 196800306E) which is Exempt Financial Advisers as defined in the Financial Advisers Act and regulated by the Monetary Authority of Singapore. DBS Bank Ltd may distribute reports produced by its respective foreign entities, affiliates or other foreign research houses pursuant to an arrangement under Regulation 32C of the Financial Advisers Regulations. Singapore recipients should contact DBS Bank Ltd at 65-6878-8888 for matters arising from, or in connection with the report.

DBS Bank Ltd., 12 Marina Boulevard, Marina Bay Financial Centre Tower 3, Singapore 018982. Tel: 65-6878-8888. Company Registration No. 196800306E.

DBS Bank Ltd., Hong Kong Branch, a company incorporated in Singapore with limited liability. 18th Floor, The Center, 99 Queen's Road Central, Central, Hong Kong SAR.

DBS Bank (Hong Kong) Limited, a company incorporated in Hong Kong with limited liability. 13th Floor One Island East, 18 Westlands Road, Quarry Bay, Hong Kong SAR

Virtual currencies are highly speculative digital "virtual commodities", and are not currencies. It is not a financial product approved by the Taiwan Financial Supervisory Commission, and the safeguards of the existing investor protection regime does not apply. The prices of virtual currencies may fluctuate greatly, and the investment risk is high. Before engaging in such transactions, the investor should carefully assess the risks, and seek its own independent advice.