India's second Covid wave has seen daily cases surge to unprecedented levels, overtaking Brazil as the second worst-hit country, with the most cumulative cases, behind the US.
India's daily new cases are now 170% above the September 2020 peak

…. facing a more infectious variant

Case fatality rate is low but daily mortality numbers and positivity rate is rising

Stringency of states' localised restrictions is rising, but stopping short of a nationwide lockdown

We draw out a base case and a risk scenario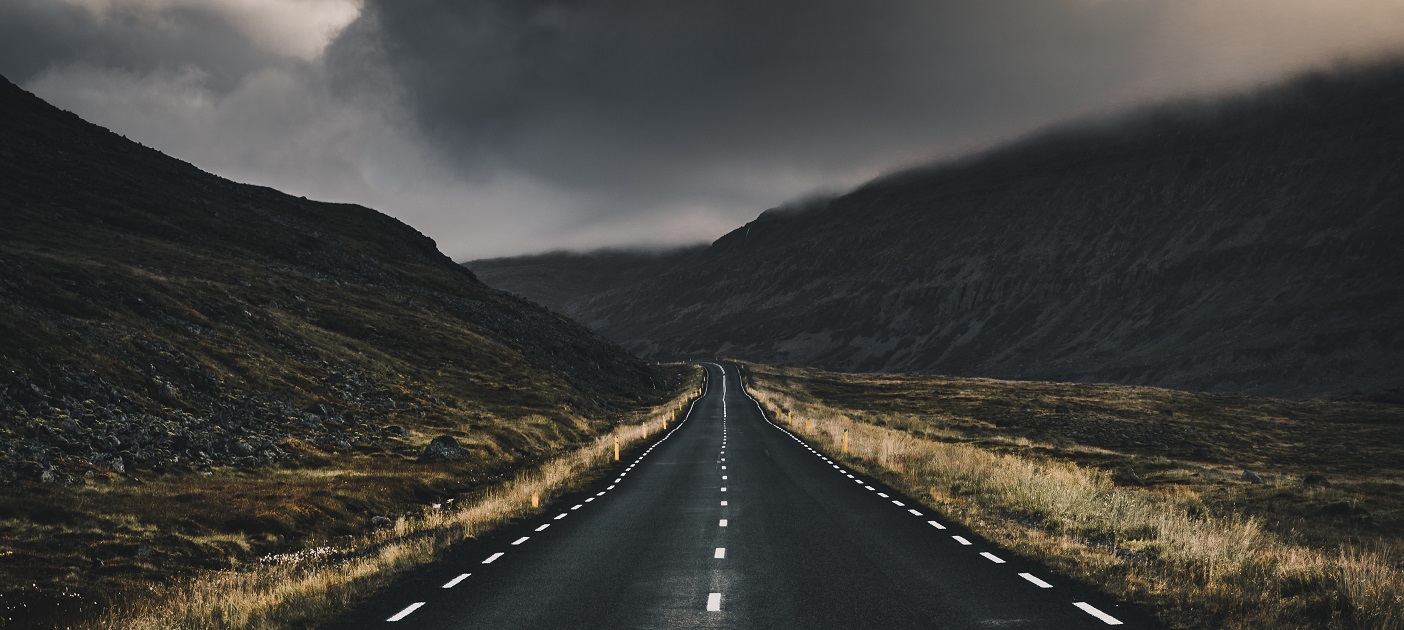 Photo credit: Unsplash
Second wave gathers steam
India's second Covid wave has seen daily cases surge to unprecedented levels, with the country overtaking Brazil as the second worst-hit country, with the most cumulative cases, behind the US.
• India's daily new cases are now 170% above the September 2020 peak, with 1.7mn cases added to the total tally of 15mn in the past week.
• While testing has been ramped up, the number of active cases has inched past, suggesting further increase is necessary. Pace of pickup will be gradual as the wider spread of the second wave has plied considerable pressure on the existing testing facilities. A more transmissible double mutation variant (B.1.617) is suspected to be fuelling the rise in the R0 or reproductive rate. The test positivity rate i.e. percentage of tested people turning out to be positive for Covid-19 infection recorded was nearly 20% on an aggregate level as of mid-April. Five states with the highest total positivity rate by daily numbers for tests and cases added – Delhi (30%), Chhattisgarh (29%), Maharashtra (25%), and Madhya Pradesh (23%), according to the local press.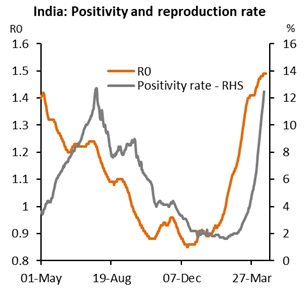 • From being highly concentrated in Maharashtra at the start of the second outbreak, cases outside the state are rising at a hastened pace (see chart). District-wise data has also broadened out, suggesting the spread is also active in the hinterlands.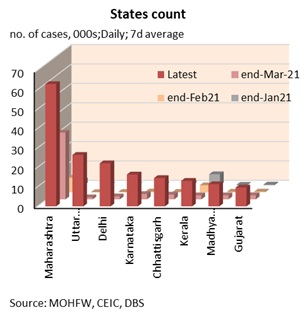 Top ten districts accrue for 25% of the total cases, concentrated in Maharashtra (5), one each in Karnataka, Tamil Nadu, West Bengal and Uttar Pradesh. Local municipal data from Maharashtra shows that the prevalence of cases is higher in high rise and other buildings (90%) while slums account for a smaller extent of the increase, as cited by the local press. The Indian Council of Medical Research's (ICMR) report back in February had noted that 21% of the respondents had antibodies via infections, with this count likely to have increased considerably by March-April considering the wider infection spread.
• Case fatality rate is low but daily mortality numbers have risen past the first wave as seen in the next chart.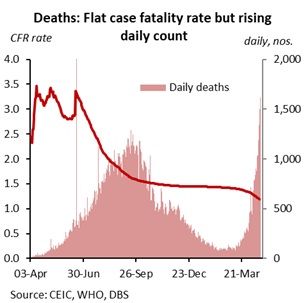 •
Response has been swift, but less intense.
Ten states account for 80% of the total daily caseload in the second wave. In contrast to the 2020 experience of a centralised and nationwide lockdown, this time around the responses are more decentralised, with the states taking a bigger role in imposing local restrictions and hence varied to a greater extent. The economically crucial state of Maharashtra has tightened movement restrictions during the weekdays, in addition to weekend lockdowns and night curfews. There is speculation that a fortnight long lockdown might be considered. Other states have joined the milieu (Delhi, Rajasthan, Punjab, Karnataka, Bihar etc.) with varying degrees of local restrictions, including occupancy restrictions for social gatherings, closure of educational institutions, weekend lockdowns and night curfews. Delhi has imposed a complete lockdown until next week to ease burden on the domestic medical infrastructure and supplies.
The Oxford stringency index captures the recent restrictions as shown in the next chart, with the index rising to nearly 70.0 by mid-April, but still below 100 which was the levels during the complete shutdown same time last year. Nonetheless, in light of the evolving situation with restrictions, we expect the stringency index to rise in the coming weeks. States that have started with weekend lockdowns and night curfews might be compelled to consider stricter rules, in light of anecdotal news of medical infrastructure (hospital beds, oxygen availability), and testing centres facing significant strain.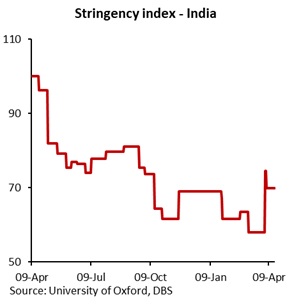 Vaccination to be ramped up
India was amongst the first in the region to start the vaccination rollout and is accelerating inoculation in light of the second wave. As of mid-April, total 130mn have been vaccinated, making up 10% of the total population. Of the total, 18mn have received both doses. Extension of vaccine eligibility to adults above the age of 18 years as well as onset of the second wave is likely to raise daily vaccination rate from the current pace of ~2.5-3mn. If this is raised to ~4mn per day, about half of the population can be inoculated by end-year.
Two vaccine supplies – Covishield i.e. Oxford-Astrazeneca vaccine manufactured by Serum Institute of India and Covaxin by Bharat Biotech – have been tapped to date. An increase in production capacity in Covishield (current rate of ~60mn until July is set to rise 100mn/ month thereafter in 2H) and from ~8-10mn of Covaxin is in the pipeline. Russia's Sputnik has already received the emergency approval and supplies are expected to come in May, alongside stepped up domestic production of this vaccine. Other suppliers who might be keen are SII's Novavax, Johnson & Johnson, Zydus Cadila's ZyCoV-D, Moderna, Pfizer etc
To further augment supply, current vaccine manufacturers will reportedly receive part funding from the government. The procurement process will be liberalised from next month, under which states, private hospitals and industrial firms will be able to procure doses directly from the manufacturers. The latter will supply 50% of their doses to the central government for the free rollout for healthcare and frontline workers, whilst rest will be priced and made accessible for private health centres and the open market (not retail). Pricing details are awaited, but the authorities expect strong interest from offshore vaccine makers.
Taking stock of activity
•
DBS mobility gauge
which is a consolidated tracker using Google and Apple mobility data shows that the second wave is beginning to hurt. From near normal in January-February 2021, sub-indices except residences – have turned south into March and April. We map the mobility gauge and the Oxford stringency index, which track each other closely. Discretionary mobility gauges (for retail and recreation) for the more affected states have also turned down in recent weeks and are likely to correct further as states impose fresh restrictions.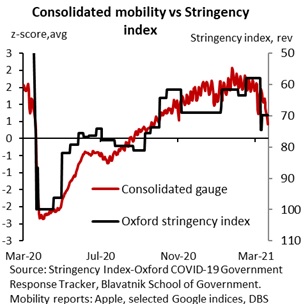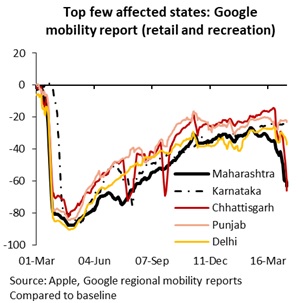 •
Ultra-frequency data are mixed:
Ultra-frequency (daily/ weekly) data which includes, road congestion, power, railway freight, GST e-way bills, and labour data etc. point to a mixed trend. Road congestion has, not surprisingly, eased off sharply in Mumbai as restrictions were tightened, with Delhi's also slipping in the past week (see chart). GST e-way bill collections held up until March but has softened in the last fortnight. Power demand is faring better, especially, and peak power demand. Adding on, the CMIE urban unemployment rate has ticked up to 8.7% in mid-Apr from 7.2% in Mar, while the labour participation rate is steady, which masks the difficult labour market conditions even before the second wave hit. We continue to monitor these databytes, given the uncertainty that cloud the path of the second wave of Covid and by extension, its economic impact.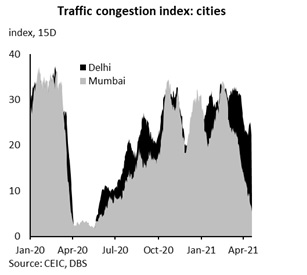 •
Heatmap of monthly data:
Key monthly indicators that we track had slipped into a sideways gait in early 2021, even before the second wave of the pandemic, likely due to the passage of 2H20 pent-up and festive demand. While most monthly activity indicators will be released with a lag, the few available data point towards a loss in momentum at the margin, except externally focused sectors i.e. exports.
We are also mindful that March's year-on-year data will benefit from a low base, which will extend into Apr-Jun. Sequential momentum will be more telling.
Mitigating factors for a severe downturn
While taking stock of the economic impact, there are also few mitigating factors that differ the current cycle vs last year.
First and the biggest mitigating factor
is the availability and rollout of a defence mechanism by way of the vaccination, as we discussed in the previous section.
Secondly
, as evident, the response from states/ local authorities has been swift as the pandemic has shifted from an 'unknown unknown' to 'known unknown', particularly as the positivity rate is fast rising in this round. Formal and a more connected part of the economy has also been able to slip into restrictions, while factories operate at a lower capacity.
Thirdly
, policy bias is accommodative, and liquidity conditions are flush, even as forbearance offered to the banking system has been partly rolled back.
Next
, as evident last year, a build-up in savings and consumption during the phase of restrictions helps buoy demand as normalcy is restored, resulting in a quicker turnaround.
Lastly
, IMD's forecast for normal south-west monsoon is encouraging, implying that for a third consecutive year monsoon will be close to or above rainfall, boding well for kharif output. Spatial and geographical distribution will also have an important bearing on the production of key crops. The farm sector has been a key offset for the economy in midst of the pandemic and is likely to lift agricultural GVA this year as well provided the rural areas remain less affected from the second wave vs the first. Whilst positive for production, good monsoon might not immediately quell price pressures, especially as edible oils, commodity price increases and manufacturing pricing power are behind the recent spurt.
Economic implications
The pandemic-related developments are fluid at this juncture and likewise considerable uncertainty bands around the economic projections. We draw out a) base case and b) a risk scenario to the growth outlook.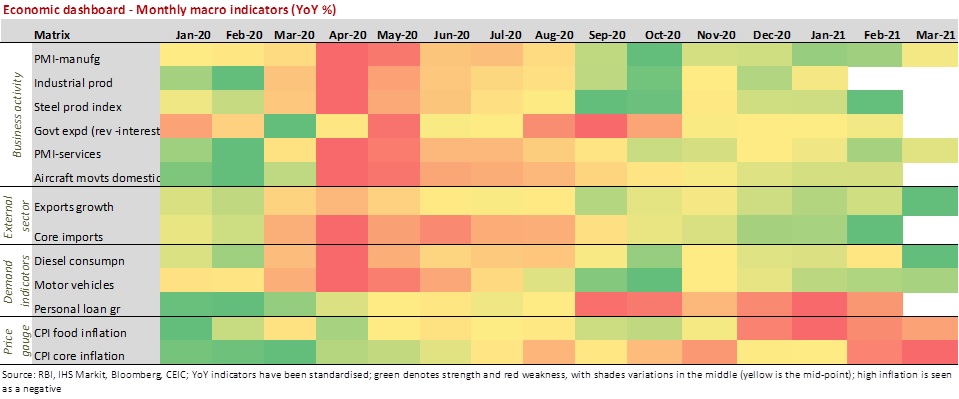 Base case:
States continue to impose localised restrictions, starting off with night curfews and weekend lockdowns. Measures are amongst the most stringent in the most affected (a third of the daily cases) and economically crucial (~14.5% of GDP) state of Maharashtra. A complete lockdown might be in the offing this week. Delhi has opted for a six-day complete lockdown to ease pressure on the medical infrastructure and hospitalisation rates.
As it stands, the year-on-year real GDP in 1Q21 (4QFY21) is likely to slip into negative.
To recall, the Statistics agency had forecasted Mar21 real GDP at -1.1% due to distortions from the frontloading of past food subsidies (leaving FY21 annual GVA> real GDP by definition). The Mar21 Q GVA measure was pegged at 2.5% y/y but is likely to expand by sub-1% according to our inhouse GDP Nowcast model.
We maintain our FY22 real GDP (Apr21 to Mar22) growth forecast at 10.5%
, with an inbuilt cushion for a softer sequential print in the June 2021 quarter. In light of the second wave, market expectations are being adjusted down in recent weeks, shifting closer to ours. Base effects will be the most favourable in 1QFY22 (2Q21) which will provide a fillip to the y/y numbers to 20-25% (vs -24% y/y in Apr-Jun20) before tapering off in 2HFY22, outlining more of
'W'-shaped recovery path.
Under our base case, we assume that akin to 2020, if the caseload peaks and begins to taper into July-August, accompanied by accelerated vaccination process, the economy will be re-opened gradually. Pent up demand, restart of services and boost from higher farm output will provide a fillip to overall growth, also benefiting from base effects. As we had highlighted in
India & Indonesia: Monetary policy – steady hand on the wheel
, the central bank is likely to push back liquidity normalisation plans to late 2021 or 2HFY22, subject to the path of the pandemic curve.
Risk case:
While held as the last resort for now, a steeper rise in the daily caseload might necessitate more stringent restrictions or at worse a temporary lockdown to break the virulent strain and lower pressure on the medical infrastructure, but with higher economic costs. In such a scenario, and assuming that three-fourths of the economy is on a standstill, our GDP forecast faces a 1.5% downside risk. Additionally, the reoccurrence of the Covid strain risks exacerbating the K-shaped recovery that was already underway, with a longer-lasting scarring in the labour markets, resulting in a longer/ deeper hit to jobs and incomes to the lower strata households and further fuel the shift of activity from the informal sector to larger listed firms.
Policy support will also be needed, with fiscal policy to be refocused on sustenance support and more directed measures for the most-affected sectors i.e. contact-intensive services etc. Global volatility and domestic sticky inflation complicate the domestic monetary policy path, but the RBI MPC is likely to keep rates unchanged to maintain favourable rate differentials but undertake macro-prudential and liquidity measures to underscore their dovish bias.
To read the full report, click here to
Download the PDF
.
Subscribe
here
to receive our economics & macro strategy materials.
To unsubscribe, please click
here
.
GENERAL DISCLOSURE/ DISCLAIMER (For Macroeconomics, Currencies, Interest Rates)
The information herein is published by DBS Bank Ltd and/or DBS Bank (Hong Kong) Limited (each and/or collectively, the "Company"). This report is intended for "Accredited Investors" and "Institutional Investors" (defined under the Financial Advisers Act and Securities and Futures Act of Singapore, and their subsidiary legislation), as well as "Professional Investors" (defined under the Securities and Futures Ordinance of Hong Kong) only. It is based on information obtained from sources believed to be reliable, but the Company does not make any representation or warranty, express or implied, as to its accuracy, completeness, timeliness or correctness for any particular purpose. Opinions expressed are subject to change without notice. This research is prepared for general circulation. Any recommendation contained herein does not have regard to the specific investment objectives, financial situation and the particular needs of any specific addressee. The information herein is published for the information of addressees only and is not to be taken in substitution for the exercise of judgement by addressees, who should obtain separate legal or financial advice. The Company, or any of its related companies or any individuals connected with the group accepts no liability for any direct, special, indirect, consequential, incidental damages or any other loss or damages of any kind arising from any use of the information herein (including any error, omission or misstatement herein, negligent or otherwise) or further communication thereof, even if the Company or any other person has been advised of the possibility thereof. The information herein is not to be construed as an offer or a solicitation of an offer to buy or sell any securities, futures, options or other financial instruments or to provide any investment advice or services. The Company and its associates, their directors, officers and/or employees may have positions or other interests in, and may effect transactions in securities mentioned herein and may also perform or seek to perform broking, investment banking and other banking or financial services for these companies. The information herein is not directed to, or intended for distribution to or use by, any person or entity that is a citizen or resident of or located in any locality, state, country, or other jurisdiction (including but not limited to citizens or residents of the United States of America) where such distribution, publication, availability or use would be contrary to law or regulation. The information is not an offer to sell or the solicitation of an offer to buy any security in any jurisdiction (including but not limited to the United States of America) where such an offer or solicitation would be contrary to law or regulation.

This report is distributed in Singapore by DBS Bank Ltd (Company Regn. No. 196800306E) which is Exempt Financial Advisers as defined in the Financial Advisers Act and regulated by the Monetary Authority of Singapore. DBS Bank Ltd may distribute reports produced by its respective foreign entities, affiliates or other foreign research houses pursuant to an arrangement under Regulation 32C of the Financial Advisers Regulations. Singapore recipients should contact DBS Bank Ltd at 65-6878-8888 for matters arising from, or in connection with the report.

DBS Bank Ltd., 12 Marina Boulevard, Marina Bay Financial Centre Tower 3, Singapore 018982. Tel: 65-6878-8888. Company Registration No. 196800306E.

DBS Bank Ltd., Hong Kong Branch, a company incorporated in Singapore with limited liability. 18th Floor, The Center, 99 Queen's Road Central, Central, Hong Kong SAR.

DBS Bank (Hong Kong) Limited, a company incorporated in Hong Kong with limited liability. 13th Floor One Island East, 18 Westlands Road, Quarry Bay, Hong Kong SAR

Virtual currencies are highly speculative digital "virtual commodities", and are not currencies. It is not a financial product approved by the Taiwan Financial Supervisory Commission, and the safeguards of the existing investor protection regime does not apply. The prices of virtual currencies may fluctuate greatly, and the investment risk is high. Before engaging in such transactions, the investor should carefully assess the risks, and seek its own independent advice.