Thailand is facing a sharp resurgence in Covid cases. April accounted for half of the total caseload.
Thailand is facing a sharp resurgence in Covid cases. April accounted for half of the total caseload

A slower vaccine rollout and delayed recovery in tourism impedes a swift recovery

More policy support is forthcoming

Implications for forecasts: We temper our 2021 GDP growth expectations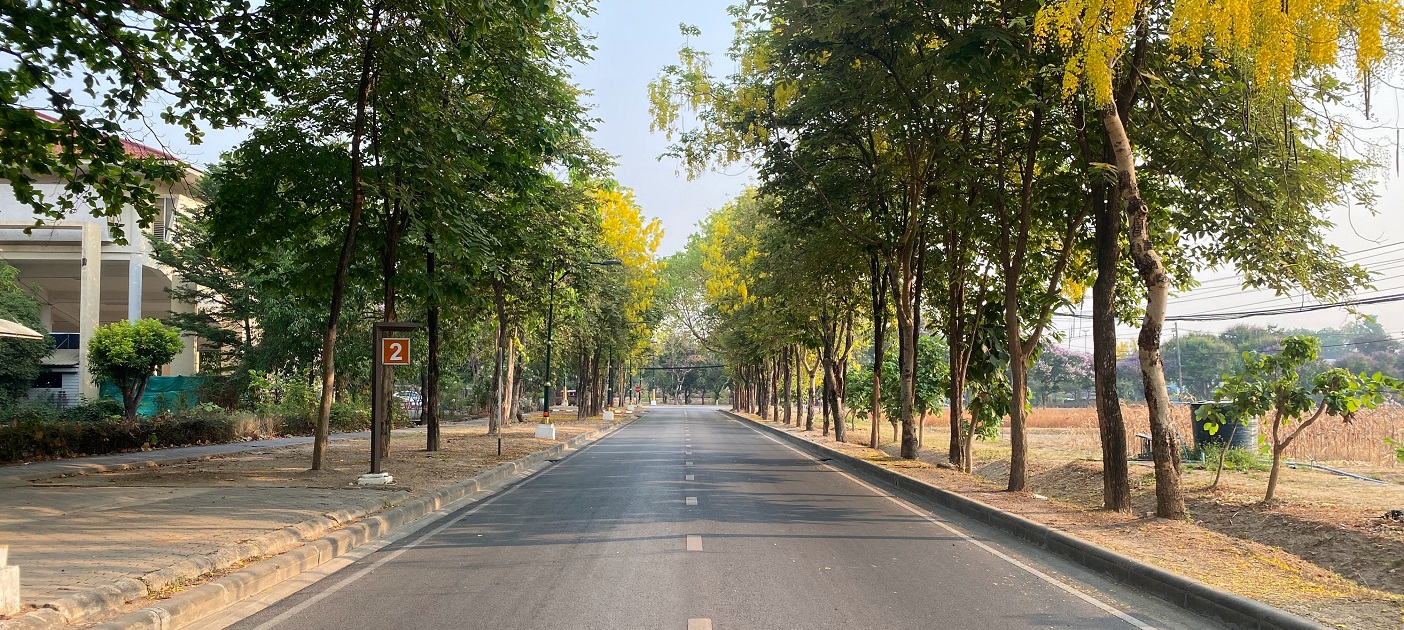 Photo credit: Unsplash
Swept up by a fresh Covid wave

Thailand had fared better than most ASEAN neighbours in 2020 in gaining an early upper hand on the pandemic and maintained a smaller total case count. The country also met success in containing the second wave in late 2020-early 2021, but the latest Covid wave, which started in April has been quicker and broader in scope compared to the previous outbreaks.

As highlighted by the chart below, the daily case count has surpassed the previous peak, with key clusters comprising of contact-intensive industries including restaurants, nightlife entertainment venues etc. April has accounted for half of the total caseload, along with a tripling in fatalities.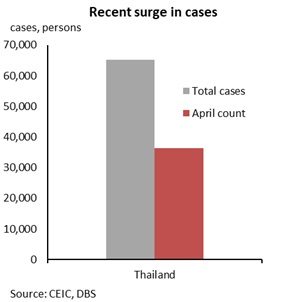 To counter the spread, the government has deployed localised, and area-based restrictions. While less punitive, we expect this round of measures to last longer than previously given the higher intensity of the wave, fears over mutations of the virus as well as a risk that the domestic medical infrastructure might come under pressure if the case count does not subside soon, therefore necessitating a relook at the economic assumptions. Impact on mobility has been notable – discretionary and non-discretionary, hurting consumer sentiments more materially, with some spillover into private consumption demand beyond 1Q21.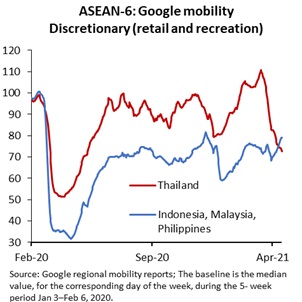 Weaker support from crucial catalysts

Two potential sources of support - vaccination rollout and turnaround in the economically crucial tourism sector, are likely to be under a cloud for longer than previously envisaged, owing to the recent Covid wave. Even as fiscal support and exports can offset part of the impact, we see reason in recalibrating our growth expectations.

• Vaccination – a slowing moving variable: The rollout has been gradual having administered less than 2mn doses and covered <1% of the population by mid-May. Current supplies are dominated by Astrazeneca (in the total ~65mn supply) and to a smaller measure China's Sinovac, with the government targeting 10mn more from these suppliers. A material increase in supplies is only likely in 2H 2021, which includes efforts to widen the alternative basket to Pfizer, Sputnik V and Johnson & Johnson for additional supplies for the national rollout. Private companies have been advised to procure from other manufacturers, including Moderna and Sinopharm. Given the weaker near-term supply pipeline, the risk of missing the targeted population by end-year, is high.

• Slower vaccination and largely closed international borders have hampered a quick turnaround in Thailand's economically crucial tourism sector (which along with allied sectors makes up 20% of GDP).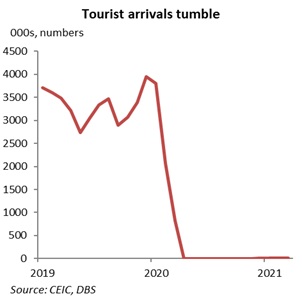 Restrictions on visitors have been reintroduced, including an extension in the mandatory quarantine period for all arrivals who have received entry permits, in light of the recent outbreak. The government forecasts 2mn tourist arrivals this year from 5mn earlier (vs 39mn in 2019) and receipts of US$9.6bn (vs US$60bn in 2019) face downside risks, as 2020 drew less than 7mn arrivals, majority of which was before March 2020. The pilot scheme to allow vaccinated tourists access to Phuket, which accounted for a quarter of the total arrivals in 2019, from July and ten other provinces (Bangkok, Koh Samui etc.) from October remains in place, banking on inoculation of at least 70% of the residents by then. These plans face potential hurdles due to a staggered vaccine supply pipeline, wary travellers, and largely still-closed borders in midst of multiple waves affecting different countries.

Tempering growth expectations

Fiscal support and external sector can pick part of the slack but will be unable to completely offset the potential output loss owing to the recent wave of the pandemic. The government had issued a special law to borrow THB1trn in April 2020, with ~92% of the borrowings already completed (facility will remain in place till Sep21).

Fresh measures are still under consideration, with the first phase likely to be pegged at THB85.5bn consisting of a) THB67bn cash handouts, b) THB18.5bn cash handouts under the social security system, c) THB16.4bn for welfare card holders etc. The next phase of measures worth THB138bn is likely to be doled out in July as this Covid phase ebbs, taking the cumulative support, by the government and private sector, to THB400bn. There is likely some concern amongst the official circles over breaching the public debt ceiling of 60% of GDP, which is likely to be approached this year. Debt sustainability worries are likely at bay given Thailand's positive track record and prevailing low borrowing costs. Concurrently, 1Q export growth returned to black at 5% y/y but was surpassed by higher import growth, leaving the trade balance with a smaller surplus. Shipments in auto, agro, electronics, chemicals and chemical products are few segments that have fared well, with y/y growth also buoyed by base effects.

Amongst the other growth drivers, consumption is likely to stay lacklustre, primarily for non-durables (while durables fare better), also hobbled by drought conditions, and services, alongside soft retail sales.




Investment growth trends are mixed, with public sector likely in the lead whilst private sector participation lags. Combining a below-target inoculation drive combined with delayed revival in the tourism sector, we temper our 2021 growth forecast to 2.1% y/y compared to 2.9% earlier, whilst dialling up 2022 to 3.5%.

The Finance Ministry trimmed its 2021 forecast to 2.3% from 2.8% last month. The BOT highlighted risks to its 3% forecast earlier this month, outlining 1-2% range as a likely scenario. The bank extended its cautious tone on the economy's outlook, including a likely delay in border reopening as cases spike locally as well as in multiple pockets globally, whilst the vaccination rollout hits speed bumps. Policy guidance is unlikely to deviate from recent rate reviews, highlighting the available room to act, but preference to hold back ammunition for the time being.

Thai Baht is under a cloud, depreciating 3.5% against the dollar year-to-date, worst performer compared to Asia ex Japan currencies, on the back of portfolio outflows from the equity markets, whilst bonds hold up better. The currency's underperformance is, however, unlikely to be a bother for the policymakers, as the unit largely reflects this year's subdued growth prospects as well as is beneficial on the grounds of trade competitiveness.

To read the full report, click here to Download the PDF.
Subscribe
here
to receive our economics & macro strategy materials.
To unsubscribe, please click
here
.
GENERAL DISCLOSURE/ DISCLAIMER (For Macroeconomics, Currencies, Interest Rates)
The information herein is published by DBS Bank Ltd and/or DBS Bank (Hong Kong) Limited (each and/or collectively, the "Company"). This report is intended for "Accredited Investors" and "Institutional Investors" (defined under the Financial Advisers Act and Securities and Futures Act of Singapore, and their subsidiary legislation), as well as "Professional Investors" (defined under the Securities and Futures Ordinance of Hong Kong) only. It is based on information obtained from sources believed to be reliable, but the Company does not make any representation or warranty, express or implied, as to its accuracy, completeness, timeliness or correctness for any particular purpose. Opinions expressed are subject to change without notice. This research is prepared for general circulation. Any recommendation contained herein does not have regard to the specific investment objectives, financial situation and the particular needs of any specific addressee. The information herein is published for the information of addressees only and is not to be taken in substitution for the exercise of judgement by addressees, who should obtain separate legal or financial advice. The Company, or any of its related companies or any individuals connected with the group accepts no liability for any direct, special, indirect, consequential, incidental damages or any other loss or damages of any kind arising from any use of the information herein (including any error, omission or misstatement herein, negligent or otherwise) or further communication thereof, even if the Company or any other person has been advised of the possibility thereof. The information herein is not to be construed as an offer or a solicitation of an offer to buy or sell any securities, futures, options or other financial instruments or to provide any investment advice or services. The Company and its associates, their directors, officers and/or employees may have positions or other interests in, and may effect transactions in securities mentioned herein and may also perform or seek to perform broking, investment banking and other banking or financial services for these companies. The information herein is not directed to, or intended for distribution to or use by, any person or entity that is a citizen or resident of or located in any locality, state, country, or other jurisdiction (including but not limited to citizens or residents of the United States of America) where such distribution, publication, availability or use would be contrary to law or regulation. The information is not an offer to sell or the solicitation of an offer to buy any security in any jurisdiction (including but not limited to the United States of America) where such an offer or solicitation would be contrary to law or regulation.

This report is distributed in Singapore by DBS Bank Ltd (Company Regn. No. 196800306E) which is Exempt Financial Advisers as defined in the Financial Advisers Act and regulated by the Monetary Authority of Singapore. DBS Bank Ltd may distribute reports produced by its respective foreign entities, affiliates or other foreign research houses pursuant to an arrangement under Regulation 32C of the Financial Advisers Regulations. Singapore recipients should contact DBS Bank Ltd at 65-6878-8888 for matters arising from, or in connection with the report.

DBS Bank Ltd., 12 Marina Boulevard, Marina Bay Financial Centre Tower 3, Singapore 018982. Tel: 65-6878-8888. Company Registration No. 196800306E.

DBS Bank Ltd., Hong Kong Branch, a company incorporated in Singapore with limited liability. 18th Floor, The Center, 99 Queen's Road Central, Central, Hong Kong SAR.

DBS Bank (Hong Kong) Limited, a company incorporated in Hong Kong with limited liability. 13th Floor One Island East, 18 Westlands Road, Quarry Bay, Hong Kong SAR

Virtual currencies are highly speculative digital "virtual commodities", and are not currencies. It is not a financial product approved by the Taiwan Financial Supervisory Commission, and the safeguards of the existing investor protection regime does not apply. The prices of virtual currencies may fluctuate greatly, and the investment risk is high. Before engaging in such transactions, the investor should carefully assess the risks, and seek its own independent advice.