A post-election update on the policy outlook under the incoming Marcos administration.
We expect a degree of policy continuity under the incoming Marcos government

The appointments of experienced and technocratic economic team members are a positive development

Policymakers will seek a durable growth recovery amid rising inflation and high public debt

The government to aim for medium-term fiscal consolidation; watch for revenue enhancing proposals

BSP back-to-back policy rate hikes are forthcoming to quell rising inflation expectations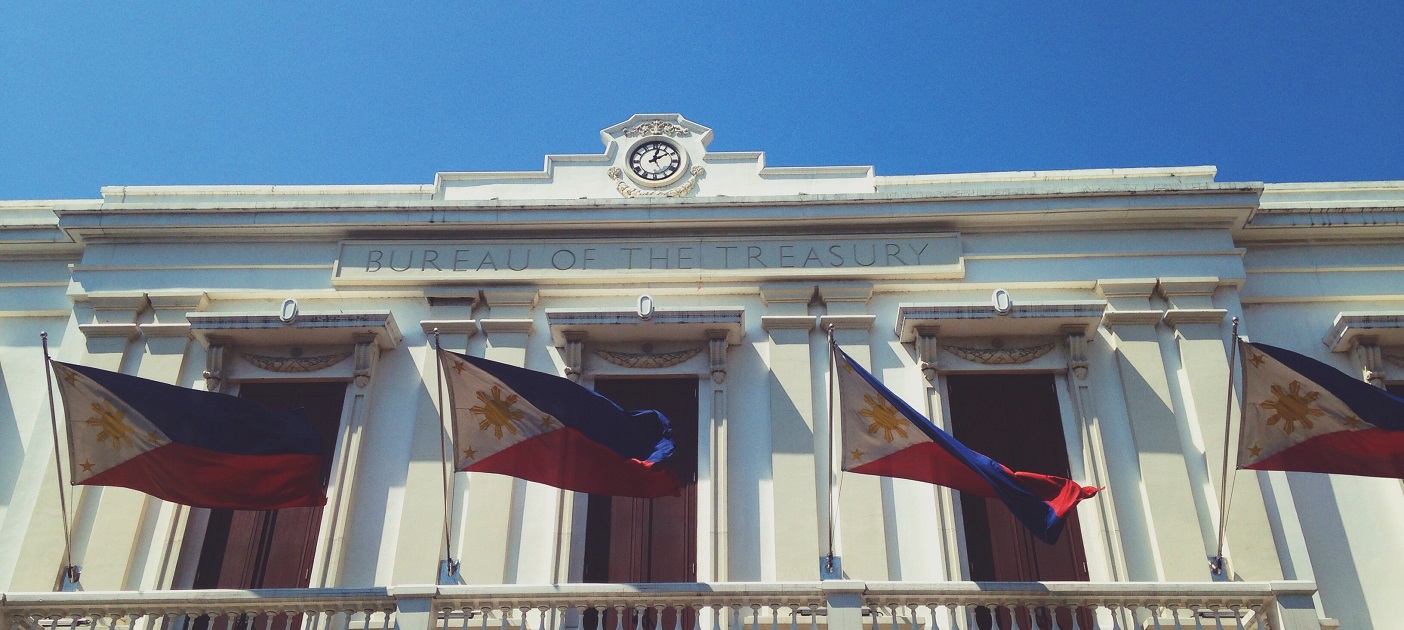 Photo credit: AFP Photo
Below is a summary; for the detailed and full report, please download the PDF
New government, policy continuity likely
Philippines' president-elect Ferdinand Marcos Jr (Bongbong) and vice-president-elect Sara Duterte will take office on June 30 in a six-year term, following their electoral victories in May. The new leadership will inherit an economy that is already recovering from the pandemic, but at a time when inflation is accelerating while the fiscal deficit and public debt are much higher compared to before the COVID-19 crisis.

Marcos has signalled that his administration's first priority is the economy, and we expect some degree of policy continuity following the outgoing Duterte government. For example, Marcos is set to sustain Duterte's flagship 'Build, Build,Build' infrastructure program, especially as Philippines' infrastructure lags major ASEAN peers. On external relations, Marcos is likely to continue to pursue favourable ties with China, like Duterte, but also not neglect the US. Marcos's appointments of experienced and technocratic candidates, who have worked in previous government administrations, into his economic team should provide steady and prudent hands to the economy over the coming years.
Fiscal policy: aiming for consolidation
Philippines' fiscal agenda will come under Finance secretary designate and outgoing Bangko Sentral Ng Pilipinas (BSP) Governor Diokno, who has extensive previous experience in budgetary affairs. The incoming administration aims to lower the Philippines' fiscal deficit to around 3% of GDP by the end of Marcos's term in 2028 from a high of 8.6% in 2021. Keenly aware of the wide fiscal deficit and the jump in public debt following the pandemic crisis, the ~3% long-term goal would represent a return to below 2019's deficit of 3.4% of GDP.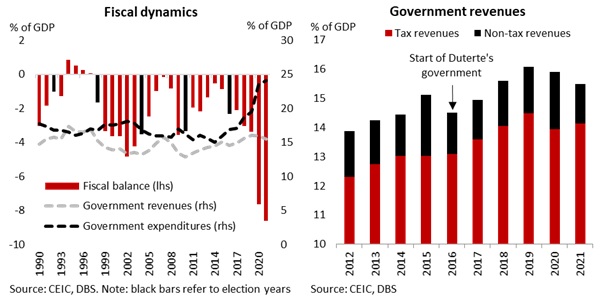 The new government will craft a first of its kind six-year medium-term fiscal plan, which covers a longer period than the usual three-year projections provided by the Development Budget Coordination Committee (DBCC). Comments in early June by Diokno signalled no plans to reduce government spending to address the high budget deficit. The government instead aims to focus on raising taxes and generating revenues, while growing the economy at more than 6-7% per annum over the coming years to narrow the fiscal deficit. It remains to be seen what revenue measures the new administration will propose that would fund various post-pandemic expenditures in areas such as infrastructure, climate adaptation, healthcare, education, etc.
Monetary policy: more hikes ahead

The BSP kicked off its monetary policy tightening cycle during its May meeting, and we expect further hikes under the new central bank leadership. We think back-to-back policy rate increase of 25bps is likely in June, with a decent possibility of a follow-up hike in August.
We see some certainty in the future path of BSP's rate hikes, with incoming Governor Medalla sounding a similar hawkish tone as outgoing Governor Diokno. Medalla will serve out the rest of Diokno's term that ends in July 2023. Medalla in a Bloomberg interview in early June said that 'It's almost a sure thing to everyone that we will raise in June,' and 'There is a '90% chance there's another one in August.' He said that increases beyond August will be data dependent. On June 17, Bloomberg reported that the BSP will likely proceed with a plan to increase its interest rate by 25bps on June 23, as mentioned by Medalla.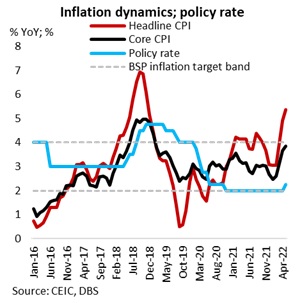 We reckon that further policy normalisation is likely, barring a significant economic slowdown, as policymakers are geared towards combatting above-target inflation. An economy that is recovering from the pandemic amid looser virus restrictions means that extreme pandemic-era accommodation is no longer needed. The BSP will be keen to temper rising inflation expectations to keep in line with its price stability mandate, and avoid falling behind the curve. In its May meeting, the BSP was already seeing spreading second-round effects, such as minimum wage hikes, from upside price pressures that have been driven by elevated global commodity prices, especially crude oil, driven by the Russia-Ukraine conflict.
Headline inflation soared to a three-year high of 5.4% YoY in May, surpassing the BSP 2-4% target band for the second straight month, and is likely to remain high for some more months. The benchmark reverse repurchase rate stood at 4% prior to the pandemic crisis. This suggests much room to normalise and tighten policy at a faster pace than the previously communicated gradual guidance if needed.
To read the full report, click here to

Download the PDF.

Subscribe
here
to receive our economics & macro strategy materials.
To unsubscribe, please click
here
.
Disclaimers and Important Notices
GENERAL DISCLOSURE/ DISCLAIMER (For Macroeconomics, Currencies, Interest Rates)

The information herein is published by DBS Bank Ltd and/or DBS Bank (Hong Kong) Limited (each and/or collectively, the "Company"). This report is intended for "Accredited Investors" and "Institutional Investors" (defined under the Financial Advisers Act and Securities and Futures Act of Singapore, and their subsidiary legislation), as well as "Professional Investors" (defined under the Securities and Futures Ordinance of Hong Kong) only. It is based on information obtained from sources believed to be reliable, but the Company does not make any representation or warranty, express or implied, as to its accuracy, completeness, timeliness or correctness for any particular purpose. Opinions expressed are subject to change without notice. This research is prepared for general circulation. Any recommendation contained herein does not have regard to the specific investment objectives, financial situation and the particular needs of any specific addressee. The information herein is published for the information of addressees only and is not to be taken in substitution for the exercise of judgement by addressees, who should obtain separate legal or financial advice. The Company, or any of its related companies or any individuals connected with the group accepts no liability for any direct, special, indirect, consequential, incidental damages or any other loss or damages of any kind arising from any use of the information herein (including any error, omission or misstatement herein, negligent or otherwise) or further communication thereof, even if the Company or any other person has been advised of the possibility thereof. The information herein is not to be construed as an offer or a solicitation of an offer to buy or sell any securities, futures, options or other financial instruments or to provide any investment advice or services. The Company and its associates, their directors, officers and/or employees may have positions or other interests in, and may effect transactions in securities mentioned herein and may also perform or seek to perform broking, investment banking and other banking or financial services for these companies. The information herein is not directed to, or intended for distribution to or use by, any person or entity that is a citizen or resident of or located in any locality, state, country, or other jurisdiction (including but not limited to citizens or residents of the United States of America) where such distribution, publication, availability or use would be contrary to law or regulation. The information is not an offer to sell or the solicitation of an offer to buy any security in any jurisdiction (including but not limited to the United States of America) where such an offer or solicitation would be contrary to law or regulation.

This report is distributed in Singapore by DBS Bank Ltd (Company Regn. No. 196800306E) which is Exempt Financial Advisers as defined in the Financial Advisers Act and regulated by the Monetary Authority of Singapore. DBS Bank Ltd may distribute reports produced by its respective foreign entities, affiliates or other foreign research houses pursuant to an arrangement under Regulation 32C of the Financial Advisers Regulations. Singapore recipients should contact DBS Bank Ltd at 65-6878-8888 for matters arising from, or in connection with the report.

This report has been prepared by a personnel of DBS Bank Ltd who is not licensed by the Hong Kong Securities and Futures Commission to carry on the regulated activity of advising on securities in Hong Kong pursuant to the Securities and Futures Ordinance (Chapter 571 of the Laws of Hong Kong). This report is being distributed in Hong Kong by DBS Bank Ltd, DBS Bank (Hong Kong) Limited and DBS Vickers (Hong Kong) Limited.

DBS Bank Ltd., 12 Marina Boulevard, Marina Bay Financial Centre Tower 3, Singapore 018982. Tel: 65-6878-8888. Company Registration No. 196800306E.

DBS Bank Ltd., Hong Kong Branch, a company incorporated in Singapore with limited liability. 18th Floor, The Center, 99 Queen's Road Central, Central, Hong Kong SAR.

DBS Bank (Hong Kong) Limited, a company incorporated in Hong Kong with limited liability. 11th Floor, The Center, 99 Queen's Road Central, Central, Hong Kong SAR.

Virtual currencies are highly speculative digital "virtual commodities", and are not currencies. It is not a financial product approved by the Taiwan Financial Supervisory Commission, and the safeguards of the existing investor protection regime does not apply. The prices of virtual currencies may fluctuate greatly, and the investment risk is high. Before engaging in such transactions, the investor should carefully assess the risks, and seek its own independent advice.