Beyond inflation dynamics, safeguarding financial sector health is a priority.
A pause is likely at next week's RBI policy panel decision

Monetary policy committee rejig, and inflation mandate review is under watch

Beyond inflation, safeguarding financial sector health is a priority in wake of the pandemic

We highlight six key takeaways from the RBI's latest Financial Stability Report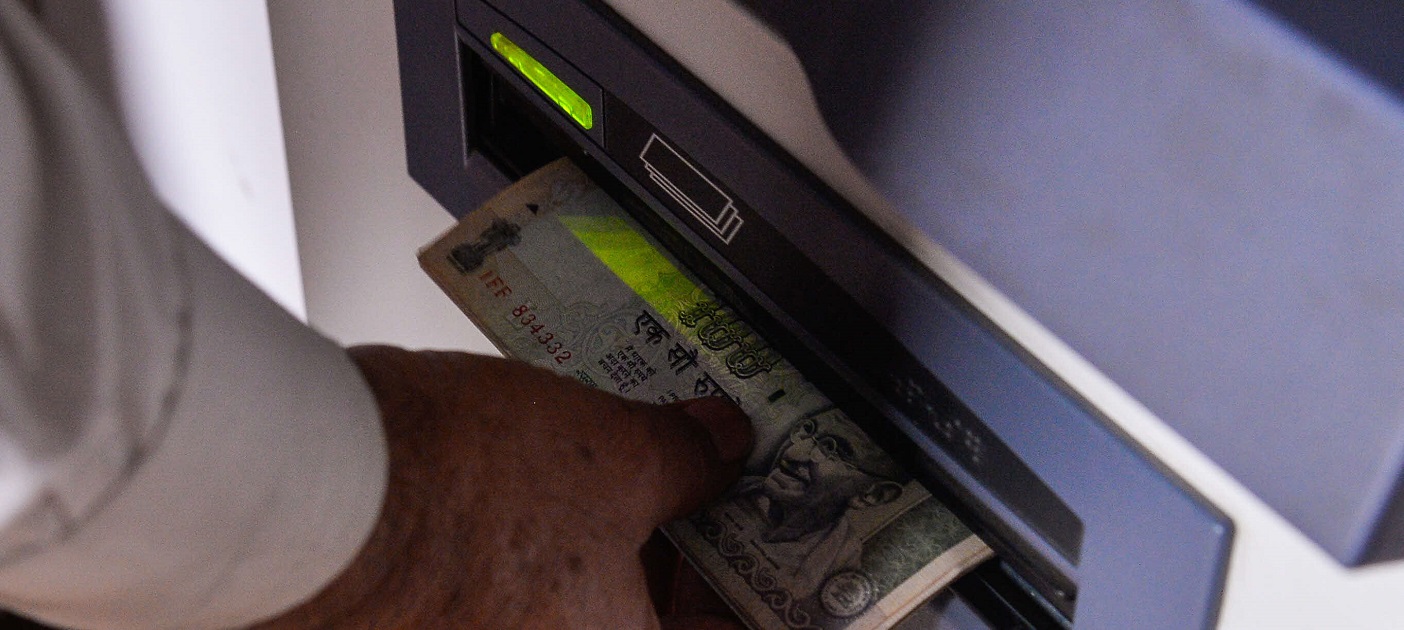 Photo credit: AFP Photo
Close call on rates

The Reserve Bank of India monetary policy committee meets next week to decide on rates. It will be a close call, but we see slightly higher odds for a pause (see
India: Pandemic to take a deeper economic bite
).
Apart from the above-target inflation prints in 2Q20, staple vegetables (including tomato, potato, onion etc.) have risen across multiple states due to monsoon-driven supply disruption and high transport/fuel costs in July. Even as disinflationary forces owing to weak consumption dominate, differentiated pace of reopen between consumption and production centres, firmer input prices, bunched up pass-through of fuel prices and supply-side forces (monsoon induced disruption etc.) are stoking intermittent price pressures. Inflation is likely to stay sticky at the 5.5-6% range vs 4% mid-point target over the next two-three months as few states re-tighten movement restrictions in response to rising infection cases. We expect the headline to ease towards 4% in 4Q20.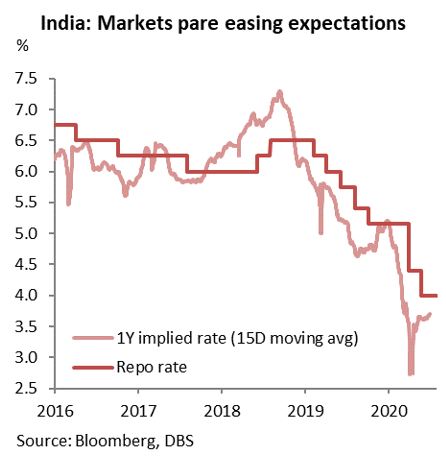 For policy, the rate-cutting cycle might slip into a temporary pause in August
. The RBI policy committee will be in a tough spot due to overarching weakness in growth, nonetheless a pause on rates is also backed by cumulative 115bps cut since January, above-target inflation, high-frequency indicators improving at the margin, and concerns over inflationary expectations. As supply-issues iron out given opening up of inter-state movement and growth-driven disinflationary forces assert themselves, rate cuts become a matter of 'when' not 'if. We expect 50bps of cuts in 2H20 as downside risks to growth continue to mount. Marginal utility of successive rate easing is, however, falling, given the undercurrent risk aversion in the domestic financial sector and weak credit growth.
Monetary policy committee rejig, and inflation mandate review is also under watch
. The four-year term of the monetary policy committee members is set to end in September 2020. The central bank had sought the extension of the three external members to March 2021 for continuity and stability in decision making against a challenging economic backdrop. The relevant law mentions that the members are not eligible for reappointment and hence the composition of the panel is likely to change, regardless of the timing of the rejig. While a decision is awaited in this regard, concurrently, the flexible inflation-targeting framework will also come up for review early next year, after the target of maintaining inflation within 2-6% band for a period of five years was established in 2016. Consultations with the government will occur in the interim. Despite the anticipation that core inflation might make for a better price gauge, we don't anticipate any change from the current practise of headline CPI inflation as the main anchor for monetary policy.
Financial sector health, the other key priority
Beyond inflation dynamics, safeguarding financial sector health is a priority. With the pandemic infection curve yet to stabilise and uncertainty dominating the growth outlook, financial sector stress is set to mount in the coming months.
In this context, we highlight six key takeaways from the central bank's latest Financial Stability Report.
First, pre-COVID-19 update on bank asset quality conditions
: The gross and net non-performing asset i.e. GNPA and NNPA ratios of all commercial banks declined to 8.5% and 3.0% in March 2020 vs 9.3% and 3.7% respectively. This marked a continuation in the improvement in trend since March 2019. Amongst the broad sectors, industrial sector GNPA ratio moderated, while agriculture, retail and services crept up. Under the industrial sector, construction and gems & jewellery faced an increase in the stressed asset ratio even prior to the pandemic, but accounts under infrastructure (a third of credit extended to the industrial sector), basic metals and electricity had improved. Large borrowers still dominate the gross NPA portfolio (78% of total), however, their share continues to moderate in the past two years, suggesting that the share of smaller borrowers has risen at the margin.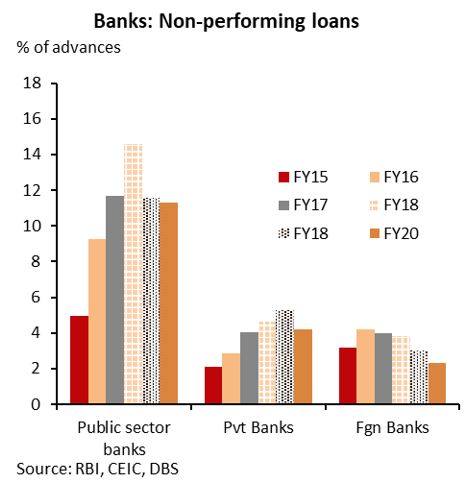 Underscoring broader caution amongst lenders
, the ratings distribution of standard loan portfolio of all banks has seen a skew towards AA and above rated borrowers, rising from 39% of the book in Mar18, to 47.46% as of Mar20, according to data from the RBI, CRILC and Prime database. Accordingly, sub-investment and unrated accounts have fallen from 32% to 26.5% in the same period. On the other hand, ratings distribution of performing but vulnerable accounts (SMA1/2) explains why there is a 'flight to safety' as share of unrated and sub-investment grade has jumped to 46% of the total in Mar20 vs 31% two years back. Stress in the other two categories – investment grade (till at least A) and AA and above has gradually moderated during this period.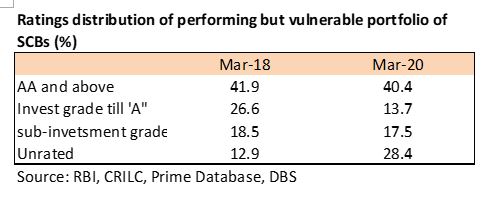 Second, moratorium for term loans
remains in force till August 31, 2020 to provide relief to borrowers from interest payments during this period, owing to the negative impact from COVID-19. Official data shows that as of April 2020, about 50% of total loans are under moratorium, with a bigger 68% with public sector banks, 31% with private sector banks and 49% with non-bank financial institutions (NBFC). Breakdown as % of customers shows that over 80% of small finance banks' customers have sought a deferral, followed by 66% in PSUs. A decision on the extension (or not) of the moratorium is awaited, with certain quarters calling for a more directed relief measure rather than an umbrella extension.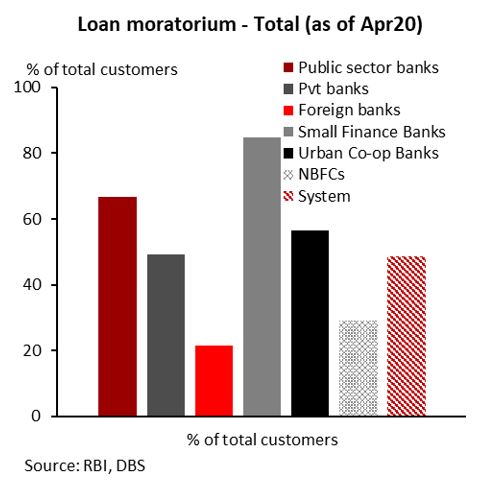 Third, providing a first official view on the impact of the pandemic on the financial sector
, the Financial Stability Report assesses the impact of shocks on banks' balance sheet under a baseline and three stress scenarios – highlighted in the next chart.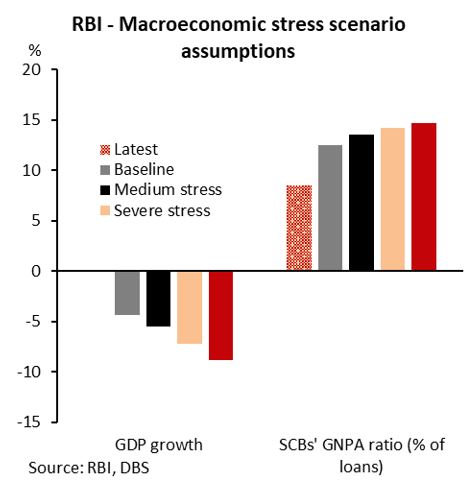 To overcome the influence of the regulatory moratorium and delayed asset classification in March 2020, projections were built on data from June 2011 to December 2019. Baseline assumes a contraction of 4.4% GDP growth this year, under which the GNPA ratio is expected to jump by 4 percentage points to 12.5%. Under the worst-case assumption of -8.9% decline in output, the GNPA ratio might jump more markedly to -14.7%. Subsequently, the system level CRAR is projected to drop from 14.6% in Mar20 to 13.3% in March 2021 under baseline and 11.8% under the very severe stress scenario.
Fourth, banks' wholesale credit growth
for banks decelerated to a greater extent than retail loans in the past four quarters. This comes despite a stalling in the private sector deleveraging process in 2HFY20 according to the central bank's survey. They note that leverage ratios (measured by the debt to asset ratio) increased due to higher borrowings, with these funds channelled towards creating financial assets (fund subsidiary etc. or financial investments) rather than capex formation. A combination of sub-par demand as well as weak supply i.e. heightened risk aversion by banks is likely to keep credit growth in low single digits this year.
A leverage and profitability survey by the central bank of a sample of 3,760 listed non-financial firms showed that non-PSU companies deleveraged substantively relative to public sector companies. This coincided with a challenging business environment as reflected in the flat operating profit to sales ratios.
Fifth, on the asset side, improvement in the
non-bank finance companies
GNPA reversed into the Mar20, rising to 6.4%. Besides the organic deterioration in borrowers' credit worthiness, the RBI also flagged that a shift to IndAS accounting might impinge on balance sheet risks, especially asset quality and provisioning, alongside smaller participation by mutual funds due to redemption pressures and confidence.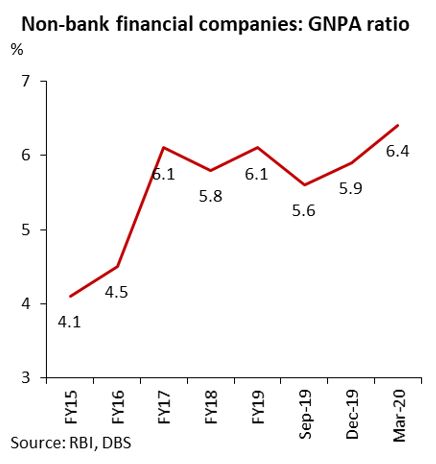 Present CRAR levels remain adequate, however, stress test studies pointed to a likely decline from 19.6% in March 2020 to 15.2% (3 standard deviation), which might see about a fifth of NBFCs unable to comply with the minimum regulatory capital requirements of 15%. On the liabilities end, reliance on banks (29%) and market borrowings rose, cumulatively making up >70% of the mix. This made up for the ~9% drop in the share of long-term market debt i.e. NCDs to 40.8% by end-2019.
Sixth, an update on the corporate resolution exercise
under the Insolvency and Bankruptcy Board of India (IBBI) was also made available. Close to 3800 cases were subject to the Corporate Insolvency Resolution Process (CIRP) in the past three and half years. Of these more than half of the cases are still ongoing, concentrated in manufacturing (food, beverages, textiles, leather, basic metals etc.), real estate, and construction sectors. As the chart highlights, a third of the ongoing cases are past the 270 days mark.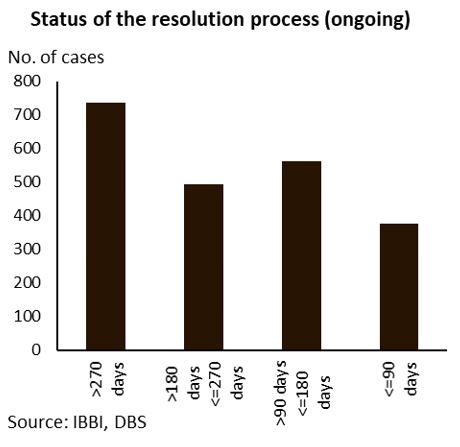 Sectoral breakdown is highlighted in the next chart.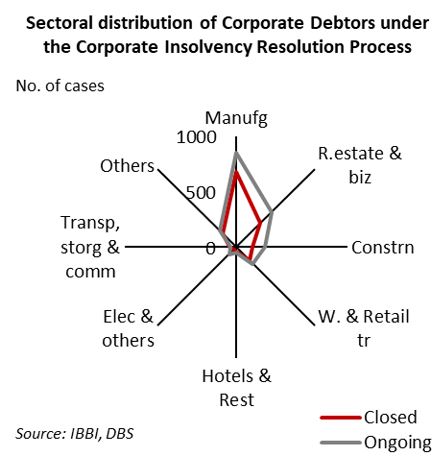 Implications

The central bank's report provides an overview on the extent of stress that the authorities expect the domestic financial sector to face, not only due to the COVID-19 fallout but also legacy deleveraging pressures. End of the moratorium in late-August is expected to provide real clarity on asset quality burden due to the pandemic, with stress assumptions signalling an increase of 4.0 to 6.0% increase in the GNPA ratio. In a crux there are three options on hand: a) moratorium lapses; b) moratorium is not extended but one-time restructuring is approved; c) moratorium is extended till end-2020. There has been no official guidance on whether the regulatory forbearance on these options, but each will carry side-effects for the banking community – ranging from an anticipated increase in bad loans to moral hazard risks. Nonetheless, the central bank has been unequivocal in seeking banks and NBFCs to raise capital to cushion capital buffers. Multiple financial institutions are in midst of raising capital through domestic and offshore borrowings, in the past two months.
To read the full report, click here to
Download the PDF
.
Subscribe
here
to receive our economics & macro strategy materials.
To unsubscribe, please click
here
.
Disclaimers and Important Notices
The information herein is published by DBS Bank Ltd and PT Bank DBS Indonesia (collectively, the "DBS Group"). It is based on information obtained from sources believed to be reliable, but the Group does not make any representation or warranty, express or implied, as to its accuracy, completeness, timeliness or correctness for any particular purpose. Opinions expressed are subject to change without notice. Any recommendation contained herein does not have regard to the specific investment objectives, financial situation & the particular needs of any specific addressee. The information herein is published for the information of addressees only & is not to be taken in substitution for the exercise of judgement by addressees, who should obtain separate legal or financial advice. The Group, or any of its related companies or any individuals connected with the group accepts no liability for any direct, special, indirect, consequential, incidental damages or any other loss or damages of any kind arising from any use of the information herein (including any error, omission or misstatement herein, negligent or otherwise) or further communication thereof, even if the Group or any other person has been advised of the possibility thereof. The information herein is not to be construed as an offer or a solicitation of an offer to buy or sell any securities, futures, options or other financial instruments or to provide any investment advice or services. The Group & its associates, their directors, officers and/or employees may have positions or other interests in, & may effect transactions in securities mentioned herein & may also perform or seek to perform broking, investment banking & other banking or finan­cial services for these companies. The information herein is not intended for distribution to, or use by, any person or entity in any jurisdiction or country where such distribution or use would be contrary to law or regulation. Sources for all charts & tables are CEIC & Bloomberg unless otherwise specified.
DBS Bank Ltd., 12 Marina Blvd, Marina Bay Financial Center Tower 3, Singapore 018982. Tel: 65-6878-8888. Company Registration No. 196800306E. DBS Bank Ltd., Hong Kong Branch, a company incorporated in Singapore with limited liability. 18th Floor, The Center, 99 Queen's Road Central, Central, Hong Kong.
PT Bank DBS Indonesia, DBS Bank Tower, 33rd floor, Ciputra World 1, Jalan Prof. Dr. Satrio Kav 3-5, Jakarta, 12940, Indonesia. Tel: 62-21-2988-4000. Company Registration No. 09.03.1.64.96422