Strengthening jobs and housing market, gains in consumption and investment demand, and sustained public sector support characterise the ongoing the US recovery. We consider the data and implications.
Real GDP is on track to grow by nearly 7% this year

Inflation pressures have picked up, both from the supply and demand side

We expect average core PCE inflation of nearly 3% this year and around 2.5% next

Still these outcomes won't make the Fed the Fed particularly hawkish

Economics normalisation will bring back focus on debt management

Photo credit: AFP Photo
Commentary: US economy at mid-year
Strong fiscal and monetary stimuli and rapid vaccination have put the US economy on course to mark a vigorous rebound from last year's pandemic induced contraction. Consumer and business confidence markers are up, as are manufacturing and sales. Jobs are a plenty, wages are picking up, housing market is at record highs, and additional fiscal support in the form of various infrastructure and social spending programmes is in the pipeline. Having stumbled with pandemic management last year, the US is leading industrial economies out of the temporary but deep slump of 2020.
A closely followed aspect of the rebound is the labour market. As per recent data, notable job gains have occurred in leisure and hospitality, in public and private education, and in health care and social assistance, with the unemployment rate down to 5.8% and wages growing at a healthy clip.
Still, there are over 9 million jobless people without jobs, and the labour force participation rate, at 61.6%, is 3.1 percentage points below the pre-pandemic level. Lingering issues related to discouraged workers and skills mismatch are causing an odd mix of plenty of vacancies and plenty of jobless people.
Low interest rates, ample liquidity, changes in housing preferences owing to the lockdown experience, and growing optimism about the outlook have brought borrowers and lenders together to buoy the real estate market nationwide. Housing inventories are at record lows, pushing up prices sharply. Demand for home renovation and construction has picked up too, causing a rise in the price of home building and renovation materials.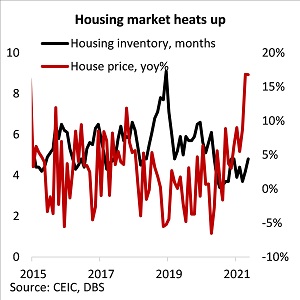 Deficit spending amounting to 27% of GDP between 2020 and 2021 has helped demand to sustain, helping production and retail sales. From autos to electronics, Americans are shopping with gusto, and producers are busy meeting the demand, often running into supply side bottlenecks. Chip shortages have slowed auto production, which in turn has caused record demand and price for pre-owned vehicles.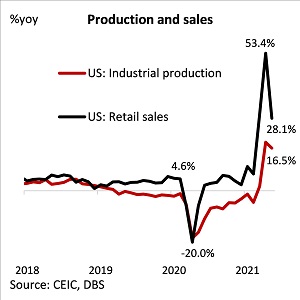 Cyclical rebound in housing and retail, and policy driven structural push toward green technology and improved infrastructure are creating sizeable momentum for investment. While some of the recent figures are flattered by favourable base effects, surveys of business owners and the pipeline of policy action suggest that capital spending is going to be strong for years to come. Our US investment forecast is only modestly optimistic, and yet that is sufficient to create space for close to 7% GDP growth this year, complemented by consumption and public spending.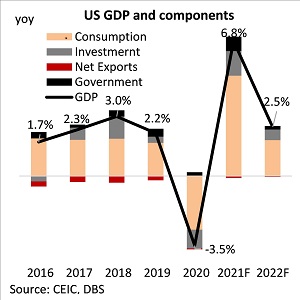 With a variety of idiosyncratic factors (chip shortage, livestock shortage, drought, busy shipping lanes) coming to the surface at the same time, especially when global demand is on an uptrend, inflation has picked up, unsurprisingly. This is beyond just base effects; there is substantive price pressure in a variety of activities, which may be heightened further as wages pick up. In recent years, higher input prices meant lower margin for producers, who were hampered by competition. With common shocks galore, this time may well be different.
Rebound versus recovery
For all the talk of inflation and overheating, by the time next year ends, both price and output levels would still be below trend. The Federal Reserve's average inflation targeting objective (2% over the medium term) would remain elusive even after sharply above trend inflation this year and next, as per our estimates.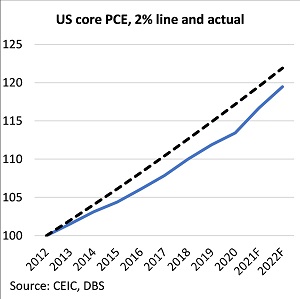 Similarly, whether it is employment or GDP, despite enjoying an ongoing vigorous rebound, trend reversion is at least a couple of years away.
This is where the key point of contention between the markets and policy makers lies. As the economy heads toward trend, the expectation would be that some of the extraordinary support measures deployed during last year's crisis would be removed gradually, especially those entailing asset purchases and income support for households. But policy makers are fearful of premature tightening, with the goal of letting the economy run hot to maximise labour market gains. Similar considerations are involved with the Fed's "driving while looking at the rear-view mirror" approach to inflation targeting, which would rely less on forecasts and more on the recent track record.
Granted, the magnitude of the policy stimuli has been in record territory, which could cause difficulties in managing a well-controlled exit from ultra-easy policies. There is more than 100% of GDP worth of public debt which needs to be serviced and refinanced at low rates; there is also demand for higher wages and public support schemes through the legislative route. To meet these demands while maintaining a credible price and debt management strategy would be exceptionally challenging in the coming years, in our view.
Taimur Baig
To read the full report, click here to
Download the PDF
.
Subscribe
here
to receive our economics & macro strategy materials.
To unsubscribe, please click
here
.
GENERAL DISCLOSURE/ DISCLAIMER (For Macroeconomics, Currencies, Interest Rates)
The information herein is published by DBS Bank Ltd and/or DBS Bank (Hong Kong) Limited (each and/or collectively, the "Company"). This report is intended for "Accredited Investors" and "Institutional Investors" (defined under the Financial Advisers Act and Securities and Futures Act of Singapore, and their subsidiary legislation), as well as "Professional Investors" (defined under the Securities and Futures Ordinance of Hong Kong) only. It is based on information obtained from sources believed to be reliable, but the Company does not make any representation or warranty, express or implied, as to its accuracy, completeness, timeliness or correctness for any particular purpose. Opinions expressed are subject to change without notice. This research is prepared for general circulation. Any recommendation contained herein does not have regard to the specific investment objectives, financial situation and the particular needs of any specific addressee. The information herein is published for the information of addressees only and is not to be taken in substitution for the exercise of judgement by addressees, who should obtain separate legal or financial advice. The Company, or any of its related companies or any individuals connected with the group accepts no liability for any direct, special, indirect, consequential, incidental damages or any other loss or damages of any kind arising from any use of the information herein (including any error, omission or misstatement herein, negligent or otherwise) or further communication thereof, even if the Company or any other person has been advised of the possibility thereof. The information herein is not to be construed as an offer or a solicitation of an offer to buy or sell any securities, futures, options or other financial instruments or to provide any investment advice or services. The Company and its associates, their directors, officers and/or employees may have positions or other interests in, and may effect transactions in securities mentioned herein and may also perform or seek to perform broking, investment banking and other banking or financial services for these companies. The information herein is not directed to, or intended for distribution to or use by, any person or entity that is a citizen or resident of or located in any locality, state, country, or other jurisdiction (including but not limited to citizens or residents of the United States of America) where such distribution, publication, availability or use would be contrary to law or regulation. The information is not an offer to sell or the solicitation of an offer to buy any security in any jurisdiction (including but not limited to the United States of America) where such an offer or solicitation would be contrary to law or regulation.

This report is distributed in Singapore by DBS Bank Ltd (Company Regn. No. 196800306E) which is Exempt Financial Advisers as defined in the Financial Advisers Act and regulated by the Monetary Authority of Singapore. DBS Bank Ltd may distribute reports produced by its respective foreign entities, affiliates or other foreign research houses pursuant to an arrangement under Regulation 32C of the Financial Advisers Regulations. Singapore recipients should contact DBS Bank Ltd at 65-6878-8888 for matters arising from, or in connection with the report.

DBS Bank Ltd., 12 Marina Boulevard, Marina Bay Financial Centre Tower 3, Singapore 018982. Tel: 65-6878-8888. Company Registration No. 196800306E.

DBS Bank Ltd., Hong Kong Branch, a company incorporated in Singapore with limited liability. 18th Floor, The Center, 99 Queen's Road Central, Central, Hong Kong SAR.

DBS Bank (Hong Kong) Limited, a company incorporated in Hong Kong with limited liability. 13th Floor One Island East, 18 Westlands Road, Quarry Bay, Hong Kong SAR

Virtual currencies are highly speculative digital "virtual commodities", and are not currencies. It is not a financial product approved by the Taiwan Financial Supervisory Commission, and the safeguards of the existing investor protection regime does not apply. The prices of virtual currencies may fluctuate greatly, and the investment risk is high. Before engaging in such transactions, the investor should carefully assess the risks, and seek its own independent advice.