Indonesia is facing a sharp rise in Covid cases, pressurising public health facilities.
Indonesia is facing a sharp rise in Covid cases, pressurising public health facilities

Stricter movement restrictions have been imposed to break transmission

Impact is beginning to show in high frequency data

Vaccination rate needs a leg up to achieve a critical mass

Govt has cut growth forecasts; we flag downside risks to our already sub-consensus estimate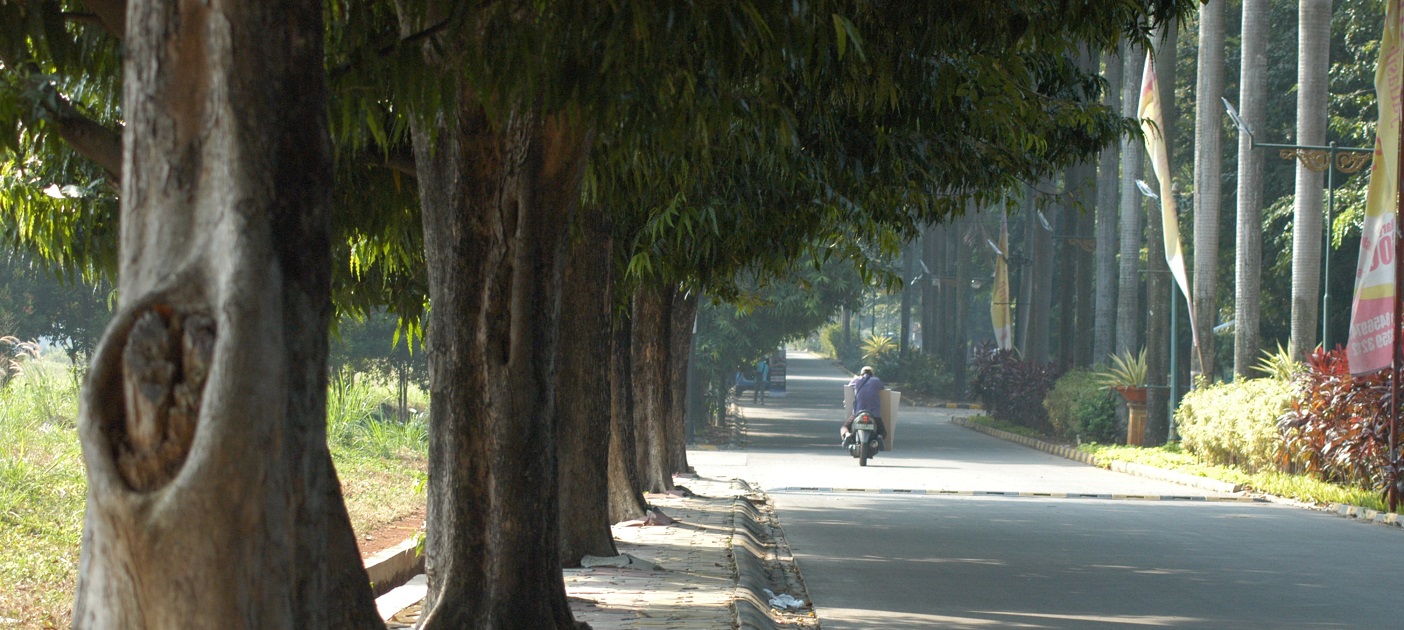 Photo credit: Unsplash
Pandemic – bracing for impact

Indonesia is facing a strong resurgence in Covid cases, with the daily count at a fresh high of over 34,000 cases, more than double the previous peak in early-Feb21. Total cases have risen past 2.3mn, adding ~200k in the past week.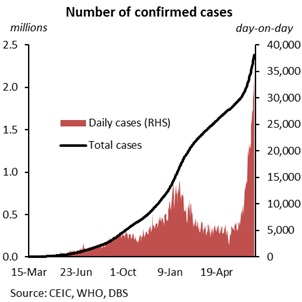 Jakarta accounted for a third of the national count; the most populous Java island made up two-thirds. The fatality rate (as a % of total) is low, but the pace of daily deaths has doubled vs the early 2021 wave. The more transmissible variant, Delta, is believed to be responsible for the re-steepening in the pandemic curve.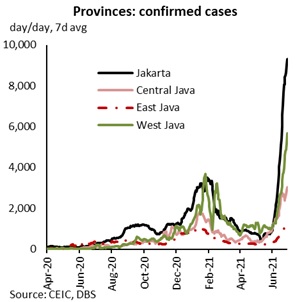 The sharp increase in the caseload is pressurising existing public health facilities, with the bed occupancy rate (BOR) for isolation patients in hospitals across the Java island in the 80-96% range, well in excess of the World Health Organisation's threshold of 60%. The BOR varies across provinces, with Banten facing the highest rate, followed by DKI Jakarta (92.3%), Southeast Sulawesi (92%), West Java (89.6%) etc., according to the
local media
.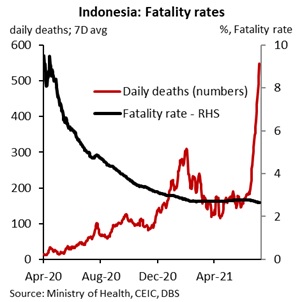 The government dialled up localised restrictions earlier this month, with emergency public activity restrictions (PPKM Darurat) imposed on the Java island and Bali for a start until Jul 20, which has since been expanded to the entire country. Regions have been classified into four zones, guided by intensity of the Covid transmission. These stringent restrictions are likely to extend into August until the daily case count peaks and begins to correct down.
Stricter guidelines include closure of malls, dining in was ceased, schools as well as public facilities have been shut. Movements will be dictated by whether occupations fall under the non-essential, essential, or critical sectors, with the latter allowed to work from office (energy, health, logistics, utilities etc.). Essential services will continue with 50% capacity whilst non-essential will shift to full work from home.
Prevailing testing ratios remain lower than most ASEAN counterparts, which is necessary to capture the true picture of the community spread at this juncture, to enable the track, trace, and isolate framework.
Economic bite begins to show
Tightened localised restrictions are beginning to take an economic bite, with Google discretionary and non-discretionary mobility indicators easing mildly from June's highs (see chart). With a broadening in the PPKM Darurat rules, these are likely to slide further, with
officials
signalling that while historically a 30% fall was sufficient to reduce cases, but the onset of the more transmissible variant might require ~50% fall in mobility to effectively break the transmission chain.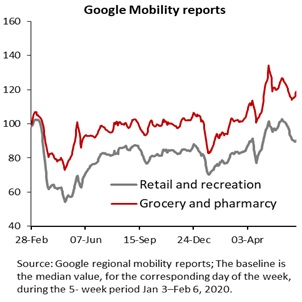 Monthly indicators will be released with a lag, with the slump in June PMI-manufacturing pointing to worry over the order pipeline, demand visibility as well as higher input prices. The data heatmap above provides an overview on the momentum in recent months. Consumption as well as investment interests are likely to come under a cloud under the new restrictions, particularly impacting the vulnerable informal sector, weighing on savings, employment, and income levels.
Growth trajectory faces risks
The government's 2021 growth projection was lowered to 3.7-4.5% vs 4.5-5.3% previously, with public sector spending and exports seen as key thrusts whilst consumption remains under weather due to the pandemic waves.
A multi-country study by the OECD (March report) earlier this year shows that containment measures and fall in mobility are impacting growth to a smaller extent than the early stages of the pandemic last year, as businesses and residents have increasingly learned to adapt to restrictions and quasi-lockdowns. While this is likely to prevent economic activity from contracting sharply in midst of the ongoing movement restrictions, duration and severity of the pandemic curve will also factor into the extent of economic impact, which will be most evident in the 3Q sequential growth, where a deeper contraction is on the cards.
Bloomberg consensus expectation for Indonesia's growth has been moderating, catching down with our conservative 2021 GDP growth forecast at 4% (30-50bps downside risks are emerging). Recovery hiccups and tepid inflation implies policy normalisation plans will remain on ice this year. On the fiscal end, even as the government seeks to maintain an expansionary bias, we don't expect the -5.7% of GDP deficit target to be missed. Instead, rationalisation in existing spending heads are likely, for instance IDR26.2trn from the state spending and IDR6trn of regional transfers is said to be channelled into Covid support measures. Between Jan-Jun21, the fiscal deficit is well under control, totaling 1.7% of GDP. 2022 deficit is also likely to hover at the higher end of the indicative 4.5-4.85% of GDP.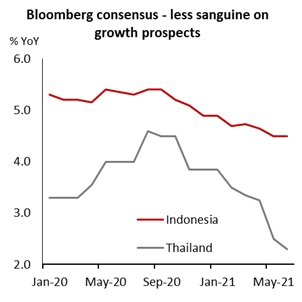 Counting on vaccine rollout
Encouragingly, the daily rollout of vaccines has jumped by 3x in the final week of June vs late-May and continues to average 700k into July. This improvement partly reflects the benefit from a shift in the procurement/ dispensation strategy, for instance allowing residents to now approach any clinic to receive vaccines regardless of domicile address etc. Onset of the fresh wave is likely to expedite demand, whilst supply continues to be ramped up. To reach a critical mass, the government intends to cover 181.5mn people by March 2022.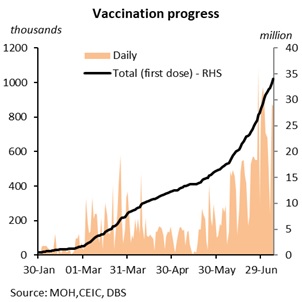 As of July 7, about 50mn have received doses, of which 34mn have received one and 14mn are fully vaccinated (5% of the population). With respect to the procurement pipeline, the government has placed firm orders for 330mn doses (104mn have been received by Jun21, a mix of bulk, overfill and ready-to-use versions), with an additional option for 334mn and potential supplies of 664mn, constituting of China's Sinovac, Novovac, supplies under Covax facility and Astrazeneca. Apart from the public sector rollout, the private sector initiative 'Gotong Royong' is also underway, with allocation of 20mn doses. When the latest wave ebbs, authorities will be cautious and guarded in reopening until vaccination achieves critical mass, which is necessary to build resilience against further outbreaks as well as return to a durable recovery path.
To read the full report, click here to
Download the PDF
.
Subscribe
here
to receive our economics & macro strategy materials.
To unsubscribe, please click
here
.
GENERAL DISCLOSURE/ DISCLAIMER (For Macroeconomics, Currencies, Interest Rates)
The information herein is published by DBS Bank Ltd and/or DBS Bank (Hong Kong) Limited (each and/or collectively, the "Company"). This report is intended for "Accredited Investors" and "Institutional Investors" (defined under the Financial Advisers Act and Securities and Futures Act of Singapore, and their subsidiary legislation), as well as "Professional Investors" (defined under the Securities and Futures Ordinance of Hong Kong) only. It is based on information obtained from sources believed to be reliable, but the Company does not make any representation or warranty, express or implied, as to its accuracy, completeness, timeliness or correctness for any particular purpose. Opinions expressed are subject to change without notice. This research is prepared for general circulation. Any recommendation contained herein does not have regard to the specific investment objectives, financial situation and the particular needs of any specific addressee. The information herein is published for the information of addressees only and is not to be taken in substitution for the exercise of judgement by addressees, who should obtain separate legal or financial advice. The Company, or any of its related companies or any individuals connected with the group accepts no liability for any direct, special, indirect, consequential, incidental damages or any other loss or damages of any kind arising from any use of the information herein (including any error, omission or misstatement herein, negligent or otherwise) or further communication thereof, even if the Company or any other person has been advised of the possibility thereof. The information herein is not to be construed as an offer or a solicitation of an offer to buy or sell any securities, futures, options or other financial instruments or to provide any investment advice or services. The Company and its associates, their directors, officers and/or employees may have positions or other interests in, and may effect transactions in securities mentioned herein and may also perform or seek to perform broking, investment banking and other banking or financial services for these companies. The information herein is not directed to, or intended for distribution to or use by, any person or entity that is a citizen or resident of or located in any locality, state, country, or other jurisdiction (including but not limited to citizens or residents of the United States of America) where such distribution, publication, availability or use would be contrary to law or regulation. The information is not an offer to sell or the solicitation of an offer to buy any security in any jurisdiction (including but not limited to the United States of America) where such an offer or solicitation would be contrary to law or regulation.

This report is distributed in Singapore by DBS Bank Ltd (Company Regn. No. 196800306E) which is Exempt Financial Advisers as defined in the Financial Advisers Act and regulated by the Monetary Authority of Singapore. DBS Bank Ltd may distribute reports produced by its respective foreign entities, affiliates or other foreign research houses pursuant to an arrangement under Regulation 32C of the Financial Advisers Regulations. Singapore recipients should contact DBS Bank Ltd at 65-6878-8888 for matters arising from, or in connection with the report.

DBS Bank Ltd., 12 Marina Boulevard, Marina Bay Financial Centre Tower 3, Singapore 018982. Tel: 65-6878-8888. Company Registration No. 196800306E.

DBS Bank Ltd., Hong Kong Branch, a company incorporated in Singapore with limited liability. 18th Floor, The Center, 99 Queen's Road Central, Central, Hong Kong SAR.

DBS Bank (Hong Kong) Limited, a company incorporated in Hong Kong with limited liability. 13th Floor One Island East, 18 Westlands Road, Quarry Bay, Hong Kong SAR

Virtual currencies are highly speculative digital "virtual commodities", and are not currencies. It is not a financial product approved by the Taiwan Financial Supervisory Commission, and the safeguards of the existing investor protection regime does not apply. The prices of virtual currencies may fluctuate greatly, and the investment risk is high. Before engaging in such transactions, the investor should carefully assess the risks, and seek its own independent advice.