With numerous product and application launches, capital raising events, and regulatory actions, the digital assets space remains a frenzy of activities.
At the public sector level, global regulators have tightened their grip on the crypto market

China is pushing for wider usage of the e-CNY through tests and trials

The intersection of climate change and digital finance is gaining prominence

Tradable carbon tokens on the blockchain have moved from concept to reality

Crypto price movements have become less correlated with broader asset classes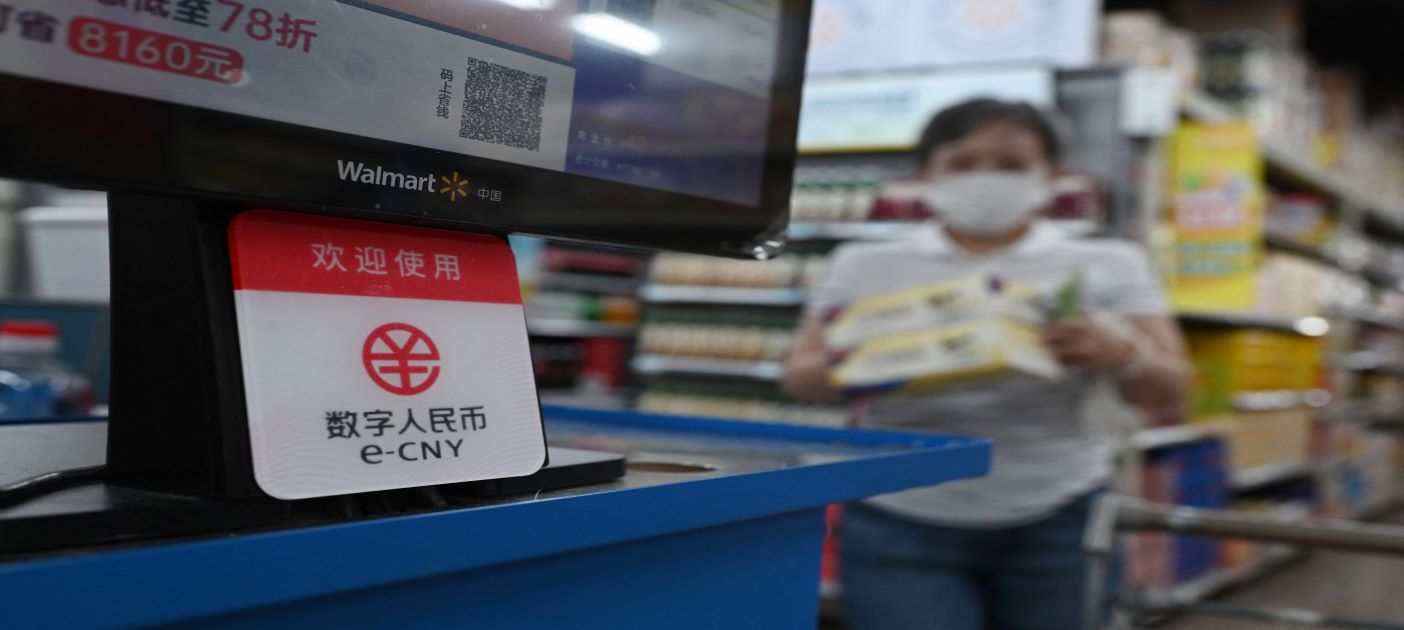 Photo credit: AFP Photo
Frenzy of activities
The digital assets space remains characterised by a frenzy of activity, with numerous product and application launches, capital raising events, and regulatory actions. CBDCs continue to gain traction, with pilots, experiments, and new initiatives galore. In its annual report published in June, the Bank for International Settlements (BIS) recognizes the following advantages of CBDCs:
• With respect to settlement finality, liquidity and integrity, CBDCs are an advanced representation of money for the digital economy
• They can serve the public interest through innovative solutions to payments and settlements
• CBDCs and open platforms can create a virtuous circle of competition, efficiency, and lower costs
• CBDCs built on digital identification could improve cross-border payments and limit currency substitution risks
• Multi-CBDC arrangements could overcome the hurdles of sharing digital IDs across borders
In addition to delving deeper into central bank digital currencies, public sector oversight on digital assets in general and private digital currencies in particular has been ramped up. Issues related to transaction transparency, money laundering, tax evasion, ransomware, privacy, and security have brought greater scrutiny over the asset class.
Despite enhanced regulatory scrutiny, private sector activity on the crypto-space remains intense, with ETFs and funds launched, as well as DeFi use cases developed.
There has been a plethora of public and private sector initiatives to bring climate change related solutions to the digital space. Later in this report, we look at tradable carbon tokens on the blockchain.
Crypto market update
Global regulators tightened their grip on the crypto industry over the past quarter,
amid growing concerns about price speculations, illegal transactions, and the negative environmental impact. China's three industry bodies – China Internet Finance Association, China Banking Association, and China Payment and Clearing Association – issued a joint statement in May, to ban financial and payment companies from providing services involving cryptocurrencies. Furthermore, the local Chinese authorities enforced bans on crypto mining in several regions, including Inner Mongolia, Sichuan, Yunnan, Xinjiang and Qinghai.
Meanwhile, the Basel Committee on Banking Supervision proposed new treatment of banks' crypto asset exposures in June. The BCBS proposed to split crypto assets into two broad categories: 1) assets eligible for treatment under the existing Basel Framework with modifications, such as certain tokenized traditional assets and stablecoins, 2) assets subject to a new conservative prudential treatment, such as Bitcoin. A high risk weight of 1,250% will be assigned to Bitcoin, according to the proposal.
Bitcoin experienced poor performance in 2Q.
The price of Bitcoin fell sharply by 41%, from USD58,960 in end-March to USD34,585 in end-June. The 30-day volatility of BTC's daily returns increased by about 50% during the same period. Nonetheless, price remained almost 20% higher than the level seen at the end of last year. Volatility remained lower than the peak level in early-2020.
The correlation between Bitcoin and macro assets weakened in 2Q.
The 30-day correlation of Bitcoin and S&P500's daily returns fell to -0.07 in end-June from 0.25 in end-March. The 30-day correlation between Bitcoin and gold fell more notably to -0.29 from 0.12. Industry-specific factors, such as regulation tightening, Elon Musk's bearish tweets, and overleveraging in the derivatives market, should be the major reasons explaining BTC's poor performance over the quarter. The negative correlation with gold also suggests that the digital gold narrative of Bitcoin has faltered.
Bitcoin's hashrate fell sharply, in the aftermath of China's crackdown on crypto mining.
The 30-day average of BTC hashrate dropped to 120mn in end-June, 25% down from the 160mn in end-March. This highlights the high degree of Bitcoin mining concentrated in China (65%). In response to China's crackdown, miners are reportedly to relocate to other countries with relatively friendly regulations and cheap energy costs, such as the US, Kazakhstan, and Russia. How long and how smooth this relocation process is going to be remains to be seen.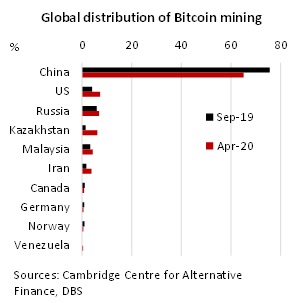 The structure of crypto market shifted towards altcoins in 2Q.
While Bitcoin remained as the largest cryptocurrency by market cap, the share of altcoins rose to more than 50%. Ethereum, in particular, rose to account for nearly 20% of the total crypto market. The gap between the market cap of Bitcoin and Ethereum narrowed to 2.5 times from 4.5 times a quarter ago. Meanwhile, Tether, Binance Coin, Cardano and XRP also consolidated their position as the top ten cryptocurrencies.
Ethereum was a clear outperformer in 2Q.
The price of Ethereum rose 15%, from 1,940 in end-March to 2,238 in end-June. The year-to-date return was massive, at about 200%. The strong performance of Ethereum should be attributed to the growing value of tokens and services on its blockchain network, which is the underlying technology of most DeFi applications. While the return of ETH outperformed that of BTC, its volatility also stayed persistently higher than BTC's. This implies that the ETH market is relatively immature and the migration of ETH's technology to the PoS mechanism still involves uncertainty.
Climate change and digital assets
Can natured be tokenised? The idea has been around for a while, to upload detailed information on nature (e.g. forest cover around the world) that can then reveal how much any area of ecological significance in the world absorbs CO2 and retains biodiversity. Using environmental data such as satellite imagery, global carbon models can be built, laying the foundation for a token marketplace, generating profits through carbon compensations. The key idea is to verify and lock the information of protected forests in quantified sequestered carbon. Such information, in the form of a digital token, can be traded, compensated for a CO2 footprint, or contribute to climate goals.
An example such tokens is
Universal Carbon, or UPCO2.
Created by the Universal Protocol Alliance and voluntary carbon credit managers, UPCO2 related transactions are validated, secured, and certified by the UP Alliance, which includes leading blockchain companies.
Another example
XELS,
which provides both businesses and individuals access to a blockchain-based carbon offset platform, initially focused on tokenised voluntary carbon offset credits. These credits are increasingly attractive to companies that want to show consumers they're serious about reducing their carbon footprint. Cognizant of the concerns about the energy intensive nature of cryptocurrencies, XELS will migrate to a proprietary, low-energy blockchain later this year.
In Singapore,
Climate Impact X (CIX)
is a joint venture from DBS Group, Standard Chartered bank, Temasek, SGX, that aims to form an ecosystem to address carbon trading. The carbon exchange will facilitate the sale of large-scale high-quality carbon credits through standardised contracts. This would enable the pooling of a high volume of credits across multiple projects that meet quality requirements and provides the market with greater price transparency. Additionally, a marketplace will enable the purchase of high-quality carbon credits directly from specific projects. This would be suitable for SMEs, as it provides a curated selection of natural climate solutions that can address their specific sustainability challenges. Every listing on the marketplace will be supported by transparent impact, risk and pricing data.
Bond markets and the digital space
Many aspects of the equities, commodities, and currency markets are digitalised, but the fixed income distribution business remains a laggard. Issuing a bond is still subject to costly issuance fees, lengthy processes, and opaque transactions. Digital bond issuances aim to remedy this. They work on an electronic platform, connecting various parties involved in bond issuance; this allows for a fully digital, end-to-end solution. Processes such as issuance flows and coupon payments, and linking up issuers with investors, are done through automated means, making the overall process faster, cheaper, and more transparent.
Private sector solutions in the digital bond markets have surged over the past year. SGX completed its first digital bond issuance in September 2020, for Olam International. The platform is operated by Marketnode, a joint venture between SGX and Temasek. The platform has caught momentum, with over SGD2bn in bond issuances in the first seven months since inception, the largest volume of digital bonds issued on an exchange-operated network in Asia.
The appeal of such platforms is considerable. Interoperability between traditional and digital bonds lowers the risks of adoption for issuers and investors. By shortening settlement time, liquidity risk is lowered for banks. Recording the transactions on a decentralised ledger allows for safe, transparent, and compliant exchange of information in the digital bonds market.
DBS bank's recently launched digital and automated fixed income execution (FIX) platform, aims to encourage more frequent issuances by lowering the cost and friction of issuing short-term papers. Issuers can directly connect with investors on the FIX Marketplace without the involvement of a bank, as well as directly issue their own bonds. They can also enter their bond details - such as tenure, currency and preferred rates - into a template that will be automatically digitised into a term sheet made available to private banks or directly with investors. This substantially reduces the involvement of bankers and lawyers for certain deals, driving down overall fees.
Over time, issuers will be able to place self-led digital bonds on FIX, which can be listed and traded on the members-only DBS Digital Exchange. This provides corporates an alternative investor base.
Central Bank Digital Currencies
e-CNY
China continues pushing for wider usage of the e-CNY through tests and trials. To date, a total of six cities — Beijing, Shanghai, Shenzhen, Suzhou, Chengdu and Changsha — have conducted 11 rounds of lottery-style giveaways. Shanghai's latest giveaway has notably expanded the reach by increasing the number of the lottery winners from 200,000 to 350,000 residents.
As of June, about 21mn personal wallets and 3.4mn corporate wallets had been opened. RMB34.5bn was processed across 70.75mn transactions. This gives an average transaction value of RMB488. To test the robustness and practicality of the e-CNY, Beijing subway has launched a pilot program enabling passengers to access 24 subway lines and four suburban railway stations using the digital yuan. Meanwhile, the digital yuan was recently trialled at a senior care facility in Chengdu.
Bank of China and Industrial and Commercial Bank of China unveiled the prototype of automated teller machines for foreigners to try out the e-CNY. Like an ordinary ATM, it allows users to exchange foreign currencies for digital yuan. The machine automatically produces a CBDC hardware wallet in the form of a physical e-CNY card based on the exchange rates. It is accepted at all kinds of venues including supermarkets, shopping malls, vending machines and for public transportation. Advancing from a lottery system to an extended ATM distribution in such a short period of time indicates the level of confidence in the integration of China's financial and technological ecosystems.
Such a rapid implementation of digital currency wouldn't have been possible without a strong level of cooperation between the governments and private enterprises. Across the board, China's major tech companies have actively participated in the buildout of the e-CNY ecosystem. Gaming and social networking giant Tencent becomes one of the "digital yuan operators" and takes part in the design, R&D and operational work of the electronic money. Video streaming platform Bilibili and on-demand services provider Meituan are now accepting digital yuan for user purchases. Internet giant JD.com pays employees in five cities with e-CNY.
Cross-border trials are also underway. China has joined forces with the United Arab Emirates to create a global payment network based on CBDCs. Current members include the BIS Innovation Hub, the Hong Kong Monetary Authority, and the Bank of Thailand. Specifically, the HKMA has begun its collaboration with the PBOC on the second phase of technical testing, including the feasibility of broadening and deepening the use of e-CNY for cross-boundary payments. The next trial will explore the possibility of topping up the e-CNY digital wallet using the city's own payment system. HKMA's e-HKD initiative (see the e-HKD section) may also assist the cross-border testing of e-CNY. In particular, HKMA could work with PBOC to test the cross-border exchange of wholesale e-HKD and e-CNY through a payment-versus-payment settlement mechanism between banks.
The PBOC published a white paper for the e-CNY on 17 July. It reiterates previous messages but also clarifies some issues. The paper differentiates the e-CNY from other digital payment tools as being legal tender, not requiring a bank account and supporting offline payments. One key objective of the digital yuan is to promote fair competition and interoperability between different forms of digital cash, without mentioning dominant mobile payment platforms. As far as privacy is concerned, it states that the digital yuan provides 'managed anonymity' — "The e-CNY system collects less transaction information than traditional electronic payment and does not provide information to third parties or other government agencies unless stipulated otherwise in laws and regulations."
Hong Kong-China-Thailand-UAE Wholesale CBDCs
HKMA finished the last round of joint wholesale CBDC projects research with the Bank of Thailand – Project Inthanon-LionRock earlier this year. The project is now renamed as m-CBDC Bridge, with the Bank of International Settlement (BIS), People's Bank of China (PBoC), the Central Bank of the United Arab Emirates joining the club. It aims at exploring the use of CBDC to improve the efficiencies, cost-saving and transparency in cross-border transactions. The central banks targeted to develop an instant cross-border payment versus payment (PvP) in multiple currencies among multiple jurisdictions. Building on the findings of Project Inthanon-LionRock, the m-CBDC Bridge is designed as a corridor network platform. This will provide connectivity to market participants (from central banks, commercial banks, exchanges, to corporates) and interfaces with respective domestic network.
e-HKD
Earlier in June, the HKMA Chief Executive Eddie Yue announced that the de facto central bank will conduct a feasibility study of issuing e-HKD over the next 12 months. This will include users' privacy, security and anti-money-laundering concerns. Just as other CBDC in-design, the e-HKD is the digital version of the legal tender. Therefore, the e-HKD will not have any implications on the Hong Kong currency's US dollar peg. Yet, the HKMA has not decided whether the three banks note issuing banks – HSBC, Standard Chartered and Bank of China will be allowed to issue the e-HKD, or the HKMA will issue e-Hong Kong dollars itself.
In our view, Hong Kong has already transformed into a cashless society. Thanks to the successful use case of Octopus card and credit cards promotions, Hong Kong's ratio of M0 to M2, a widely-used metric to measure cash intensity, is among the lowest in the world. Amid the growth of mobile payment app including Wechat Pay, Alipay, Payme (by HSBC), and Octopus, Hong Kong is now moving forward to mobile payment. Mobile wallet penetration jumped from 65% in 2017 to 91% in 2020. Moving forward, the development of e-HKD will elevate the trend of mobile payment in Hong Kong.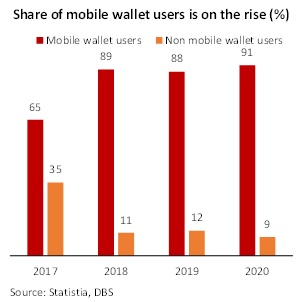 Indeed, the development of e-HKD is not surprising as China has been speeding up the configuration of e-CNY. Alongside the speedy development of Greater Bay Area, cross-border capital flow will be strengthened (see "
Understanding China: GBA integration gathers pace
"). The two CBDCs will certainly be the heart of the development. Currently, Hong Kong's RMB deposits reached RMB821bn, 2nd record high since March 2016. According to SWIFT, Hong Kong constantly handled around 75% of the world's offshore RMB transactions in the past two years. In fact, the HKMA has already worked with the PBoC in supporting the technical testing of e-CNY in Hong Kong, as well as assisting Hong Kong residents to create e-CNY wallet in Shenzhen. On investment sphere, there will be stronger synergy with the upcoming GBA Wealth Connect and Southbound Bond Connect (see "
China: Surging flows in and out of China
").
To read the full report, click here to
Download the PDF
.
Subscribe
here
to receive our economics & macro strategy materials.
To unsubscribe, please click
here
.
GENERAL DISCLOSURE/ DISCLAIMER (For Macroeconomics, Currencies, Interest Rates)
The information herein is published by DBS Bank Ltd and/or DBS Bank (Hong Kong) Limited (each and/or collectively, the "Company"). This report is intended for "Accredited Investors" and "Institutional Investors" (defined under the Financial Advisers Act and Securities and Futures Act of Singapore, and their subsidiary legislation), as well as "Professional Investors" (defined under the Securities and Futures Ordinance of Hong Kong) only. It is based on information obtained from sources believed to be reliable, but the Company does not make any representation or warranty, express or implied, as to its accuracy, completeness, timeliness or correctness for any particular purpose. Opinions expressed are subject to change without notice. This research is prepared for general circulation. Any recommendation contained herein does not have regard to the specific investment objectives, financial situation and the particular needs of any specific addressee. The information herein is published for the information of addressees only and is not to be taken in substitution for the exercise of judgement by addressees, who should obtain separate legal or financial advice. The Company, or any of its related companies or any individuals connected with the group accepts no liability for any direct, special, indirect, consequential, incidental damages or any other loss or damages of any kind arising from any use of the information herein (including any error, omission or misstatement herein, negligent or otherwise) or further communication thereof, even if the Company or any other person has been advised of the possibility thereof. The information herein is not to be construed as an offer or a solicitation of an offer to buy or sell any securities, futures, options or other financial instruments or to provide any investment advice or services. The Company and its associates, their directors, officers and/or employees may have positions or other interests in, and may effect transactions in securities mentioned herein and may also perform or seek to perform broking, investment banking and other banking or financial services for these companies. The information herein is not directed to, or intended for distribution to or use by, any person or entity that is a citizen or resident of or located in any locality, state, country, or other jurisdiction (including but not limited to citizens or residents of the United States of America) where such distribution, publication, availability or use would be contrary to law or regulation. The information is not an offer to sell or the solicitation of an offer to buy any security in any jurisdiction (including but not limited to the United States of America) where such an offer or solicitation would be contrary to law or regulation.

This report is distributed in Singapore by DBS Bank Ltd (Company Regn. No. 196800306E) which is Exempt Financial Advisers as defined in the Financial Advisers Act and regulated by the Monetary Authority of Singapore. DBS Bank Ltd may distribute reports produced by its respective foreign entities, affiliates or other foreign research houses pursuant to an arrangement under Regulation 32C of the Financial Advisers Regulations. Singapore recipients should contact DBS Bank Ltd at 65-6878-8888 for matters arising from, or in connection with the report.

DBS Bank Ltd., 12 Marina Boulevard, Marina Bay Financial Centre Tower 3, Singapore 018982. Tel: 65-6878-8888. Company Registration No. 196800306E.

DBS Bank Ltd., Hong Kong Branch, a company incorporated in Singapore with limited liability. 18th Floor, The Center, 99 Queen's Road Central, Central, Hong Kong SAR.

DBS Bank (Hong Kong) Limited, a company incorporated in Hong Kong with limited liability. 13th Floor One Island East, 18 Westlands Road, Quarry Bay, Hong Kong SAR

Virtual currencies are highly speculative digital "virtual commodities", and are not currencies. It is not a financial product approved by the Taiwan Financial Supervisory Commission, and the safeguards of the existing investor protection regime does not apply. The prices of virtual currencies may fluctuate greatly, and the investment risk is high. Before engaging in such transactions, the investor should carefully assess the risks, and seek its own independent advice.