Notwithstanding reopening gains, some of this optimism has to be tempered by rising COVID cases. The ECB's strategy review suggest that short rates will be kept lower for longer.
Reopening gains have kept Eurozone indicators buoyant

Rising COVID-19 cases will put vaccination defences to test

The ECB will be wary against premature normalisation

Steeper EUR curve ahead as frontend stays anchored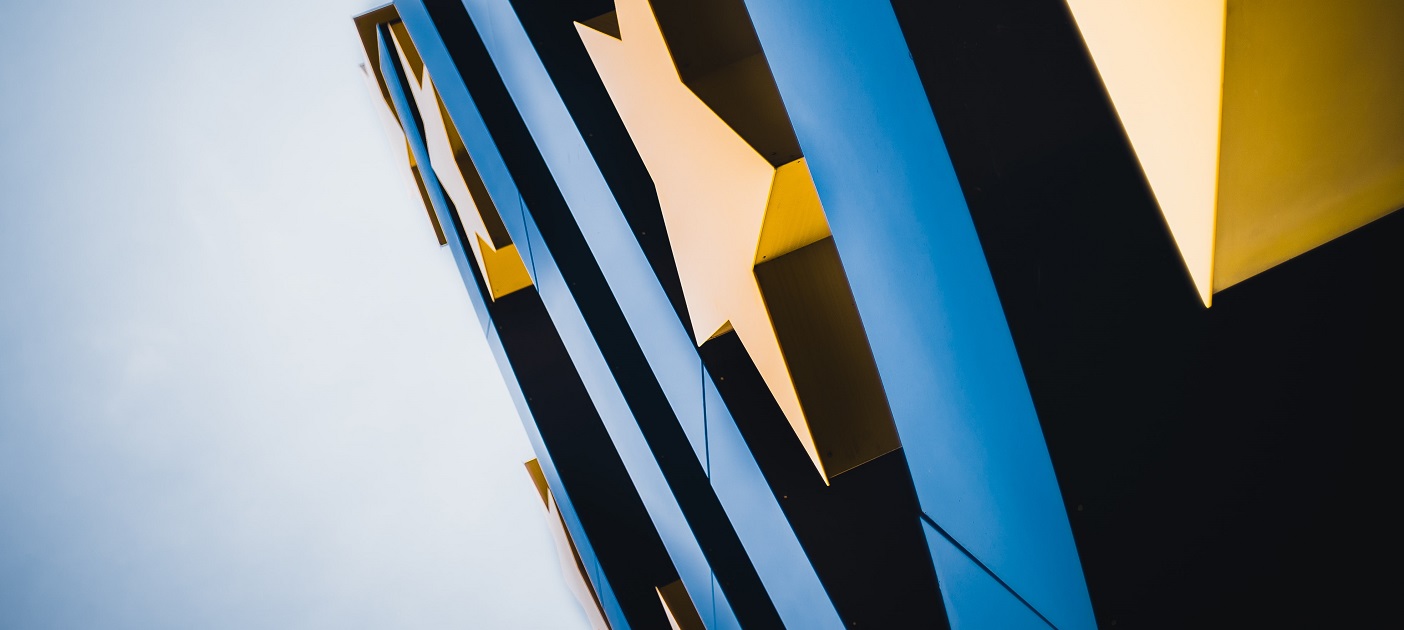 Photo credit: Unsplash
Data looks up, Delta wave under watch
Incoming soft and hard data indicators point to an improving outlook for the Eurozone economy in 2H21. Reflecting gains from the reopening process in May-Jun, the European Commission's economic sentiment jumped to a two-decade high in June, led by the services, industrial sector, and employment sentiments. Consumer confidence also picked up strongly into June on anticipation of improved growth prospects, before moderating a notch in July as consumers turned cautious in midst of rising cases.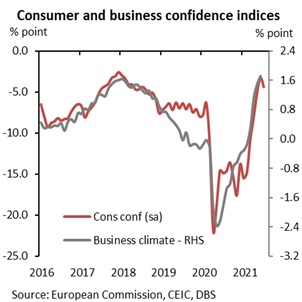 Retail sales are holding up in black, with consumption also likely to get a leg-up from forced savings in midst of restrictions. While the aggregate savings rate will moderate vs 2020, it is unlikely to return to 2019 levels owing to the uncertain pandemic situation. Investment interests look favourable with the investment index bouncing up into mid-21. These could get a further fillip by the upcoming outlays under the Next Generation EU initiative and improvement in the housing market. Capacity utilisation rates have risen sharply, with industrial production growth benefiting from base effects even as sequential momentum is being disrupted by supply chain constraints in certain key industries. Trade performance has fared well on aggregate basis from robust global growth, with the trade surplus up 14% y/y in the first five months of the year.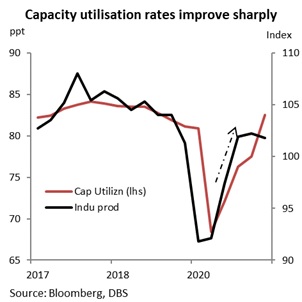 Fiscal policy is likely to remain expansionary this year, as support measures are bound to be extended as well as higher projected deficits tabled by most member countries at their April update. Lastly for the crucial tourism sector, the EU Digital Covid certificate has been rolled out across most European member nations, possession of which, in principle, is intended to exempt holders from testing or quarantine when crossing borders. As its recognition extends to all the members and the UK, it will be a boost to hassle free travel.
Notwithstanding the optimism, we continue to monitor the pandemic curve closely. Tourism sector might be first casualty apart from contact intensive sectors if Covid cases rise sharply, with early stirrings visible in intra-regional restrictions between few regions in midst of the peak summer travel season.
Covid cases are rising in parts of the region, including the core-4 countries, even as the count is lower than previous waves. A concurrent rise in the R0 i.e. reproduction rate underscores the prevalence of the more transmissible Delta variant. With the region progressing well on the vaccination rollout, the rising Covid count will put defences at check, with hospitalisation rates and usage of medical capacity under watch. With a substantial number, particularly vulnerable groups, still unvaccinated, as well as discussions on waning effectiveness, the pandemic's path will dictate the scale of pickup in 2H activity. Factoring in these expectations, whilst keeping an eye on the rising Covid curve, we maintain our conservative growth forecast at 4% for 2021.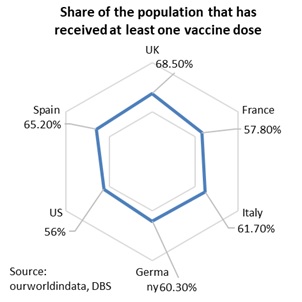 Strategy review is unlikely to alter ECB's dovish bias
In its first strategy review since 2003 and delayed by a year due to the pandemic, the ECB
a) confirmed that the set of ECB interest rates remains the primary monetary policy instrument;
b) other instruments, such as forward guidance, asset purchases and longer-term refinancing operations remain part of the toolkit;
c) inflation target was set at 2% in the medium-term vs previous "below but close to 2%". This target will be symmetric i.e. they are committing to respond for both negative and positive deviations, which will be seen as equally undesirable;
d) climate change considerations will be incorporated into the policy framework.
The strategy review has not materially altered the ECB's policy stance, as remarks that policymakers would accept "a transitory period in which inflation is moderately above target" suggesting that the ongoing buoyancy in inflation prints is not reason enough for the central bank to turn cautious on inflation, and that frontloading of the asset purchase program i.e. PEPP remains on course, after EUR1.25trn purchases by July.
A decision on when to end the EUR 1.85trn PEPP program (which runs till Mar22) might be undertaken in 4Q21 instead of this quarter in midst of a renewed increase in Covid cases. There is also a likelihood that even if part of the 'crisis response' via the PEPP ceases, bond purchases might continue under the existing regular Asset Purchase Program.
Going forward, hawkish members in the Council are likely to stay side-lined, with the dominant bias to be pro-growth. There is a likelihood that inflation projections are revised up in the next quarterly update from the June's forecast of 1.9% for 2021 and 1.5% in 2022, with the increase put on supply-side forces rather than viewed as being demand-led, thereby affirming their preference for a loose monetary policy. Hinging on the how the pandemic shapes up in 2H21, the upwardly revised growth outlook might need to be tempered.
Implications on EUR rates
There should be minimal implications of the change in ECB strategy on EUR rates. Policy setting is still dependant on the outlook (which places considerable weight on the CPI projections), which for now suggests that inflation pressures will come under control. However, the dovish message could be muddied if the inflation forecasts get lifted in September, which could signal that taper is imminent. Beyond the short term, the addition of owner-occupied housing in the price index (timeframe unspecified) could also have implications on policy setting especially if asset prices outstrip consumer prices.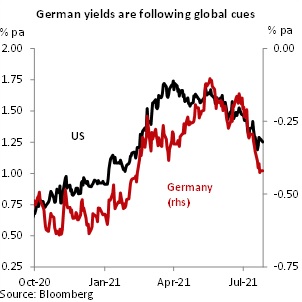 We think that the ECB is set to slow its accelerated PEPP pace in the coming months. However, the transition from the current EUR 100bn per month buying (EUR 80bn PEPP and EUR 20bn under APP) into just EUR 20bn when PEPP ends next March could be too abrupt. There should a lot more discussion on how best to withdraw very loose monetary policy especially if Europe (with its high vaccination rate) is able to contain the Delta strain without much disruption to the economy. We think that there would be greater flexibility to allow the APP to proceed at a pace of EUR 30/40bn per month in order not to have too large of a divergence with expected Fed taper towards the end of 2021/early 2022.
Lastly, longer-term German yields have been largely driven by global factors,
retracing a large chunk of their rise since the start of the year. In our view, this is the embedding in of COVID-19 growth premium as the Delta strain spreads across the globe. We expect 10Y German yields to drift towards zero when the world crests the current COVID-19 wave, allowing market participants to refocus on vaccinations, reopening and recovery.
To read the full report, click here to
Download the PDF
.
Subscribe
here
to receive our economics & macro strategy materials.
To unsubscribe, please click
here
.
GENERAL DISCLOSURE/ DISCLAIMER (For Macroeconomics, Currencies, Interest Rates)
The information herein is published by DBS Bank Ltd and/or DBS Bank (Hong Kong) Limited (each and/or collectively, the "Company"). This report is intended for "Accredited Investors" and "Institutional Investors" (defined under the Financial Advisers Act and Securities and Futures Act of Singapore, and their subsidiary legislation), as well as "Professional Investors" (defined under the Securities and Futures Ordinance of Hong Kong) only. It is based on information obtained from sources believed to be reliable, but the Company does not make any representation or warranty, express or implied, as to its accuracy, completeness, timeliness or correctness for any particular purpose. Opinions expressed are subject to change without notice. This research is prepared for general circulation. Any recommendation contained herein does not have regard to the specific investment objectives, financial situation and the particular needs of any specific addressee. The information herein is published for the information of addressees only and is not to be taken in substitution for the exercise of judgement by addressees, who should obtain separate legal or financial advice. The Company, or any of its related companies or any individuals connected with the group accepts no liability for any direct, special, indirect, consequential, incidental damages or any other loss or damages of any kind arising from any use of the information herein (including any error, omission or misstatement herein, negligent or otherwise) or further communication thereof, even if the Company or any other person has been advised of the possibility thereof. The information herein is not to be construed as an offer or a solicitation of an offer to buy or sell any securities, futures, options or other financial instruments or to provide any investment advice or services. The Company and its associates, their directors, officers and/or employees may have positions or other interests in, and may effect transactions in securities mentioned herein and may also perform or seek to perform broking, investment banking and other banking or financial services for these companies. The information herein is not directed to, or intended for distribution to or use by, any person or entity that is a citizen or resident of or located in any locality, state, country, or other jurisdiction (including but not limited to citizens or residents of the United States of America) where such distribution, publication, availability or use would be contrary to law or regulation. The information is not an offer to sell or the solicitation of an offer to buy any security in any jurisdiction (including but not limited to the United States of America) where such an offer or solicitation would be contrary to law or regulation.

This report is distributed in Singapore by DBS Bank Ltd (Company Regn. No. 196800306E) which is Exempt Financial Advisers as defined in the Financial Advisers Act and regulated by the Monetary Authority of Singapore. DBS Bank Ltd may distribute reports produced by its respective foreign entities, affiliates or other foreign research houses pursuant to an arrangement under Regulation 32C of the Financial Advisers Regulations. Singapore recipients should contact DBS Bank Ltd at 65-6878-8888 for matters arising from, or in connection with the report.

DBS Bank Ltd., 12 Marina Boulevard, Marina Bay Financial Centre Tower 3, Singapore 018982. Tel: 65-6878-8888. Company Registration No. 196800306E.

DBS Bank Ltd., Hong Kong Branch, a company incorporated in Singapore with limited liability. 18th Floor, The Center, 99 Queen's Road Central, Central, Hong Kong SAR.

DBS Bank (Hong Kong) Limited, a company incorporated in Hong Kong with limited liability. 13th Floor One Island East, 18 Westlands Road, Quarry Bay, Hong Kong SAR

Virtual currencies are highly speculative digital "virtual commodities", and are not currencies. It is not a financial product approved by the Taiwan Financial Supervisory Commission, and the safeguards of the existing investor protection regime does not apply. The prices of virtual currencies may fluctuate greatly, and the investment risk is high. Before engaging in such transactions, the investor should carefully assess the risks, and seek its own independent advice.