Philippines' current account returned to a deficit on rising goods imports, and will likely act as a headwind to the PHP. We explore balance of payment dynamics and FX implications.
Philippines' current account is back to a deficit on rising goods imports, as the economy recovers

The financial account is beholden to portfolio flows, even though stable FDI has been forthcoming

Reserve adequacy metrics however remain ample, providing buffer to lean against weakness

Implication for investors: PHP to trade above 50 per USD into 2022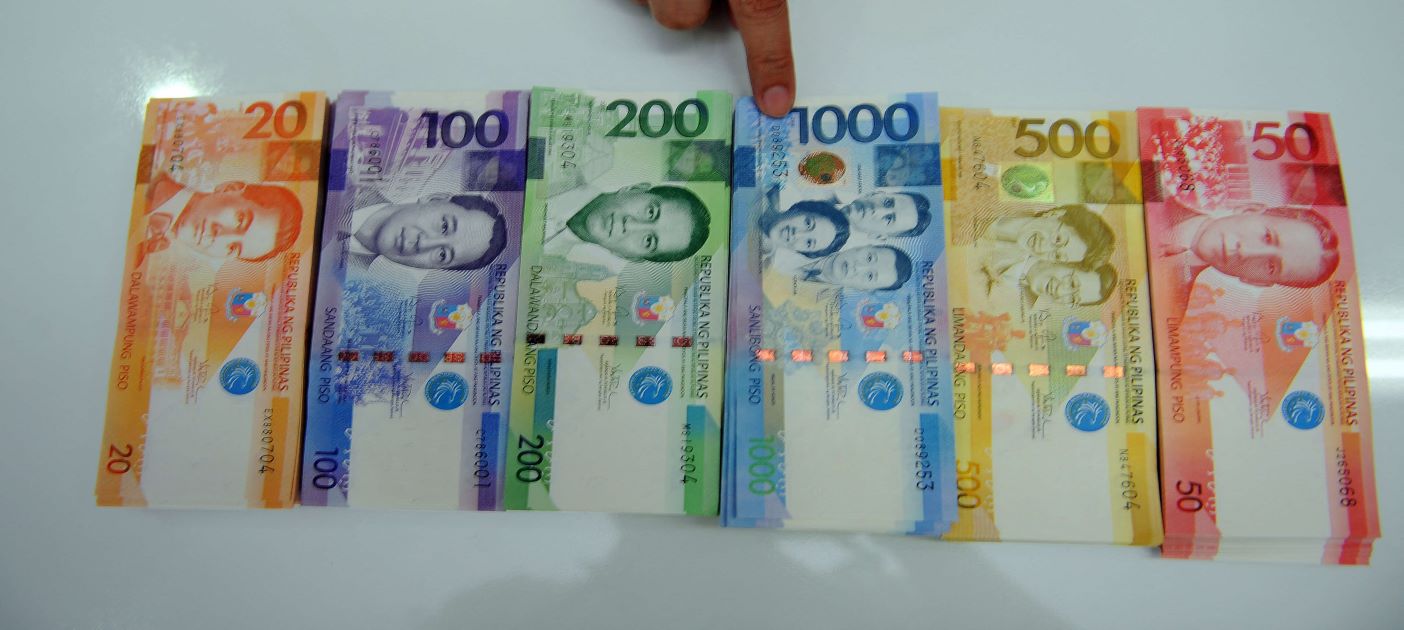 Photo credit: AFP Photo
The Philippines' current account (CA) balance has experienced a sharp shift over the past two years.
Following years of consistent CA deficits between 2016 to 2019 (averaging 1.1% of GDP), the CA swung into a sizeable surplus of 3.1% of GDP in 2020 – the largest since 2014. As of 1H21, the CA flipped back into a deficit of 0.7% of GDP. We expect the deficit to remain wide into 2022, as the economy recovers from the pandemic-induced recession.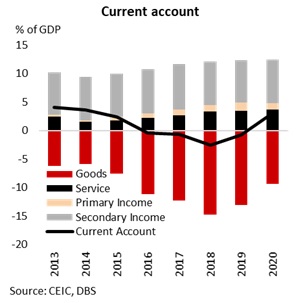 The CA deficit will act as a headwind to the Philippine peso.
The country's increased need for external financing will run up against USD strength from the Fed looking to taper asset purchases in late 2021 or early 2022. The third COVID wave and low vaccination rate led the government to lower this year's official growth forecast to 4-5% from 6-7% in August, and to pencil in a wide budget deficit of 9.3% of GDP. In July, Fitch downgraded the country's "BBB" sovereign debt rating outlook to negative from stable.
Current account mainly driven by goods trade
We find that fluctuations in the Philippines' current account (CA) have been largely driven by the ebb and flow of the goods trade deficit. The other balances (services trade, primary and secondary income) meanwhile experience only minor swings relative to goods trade.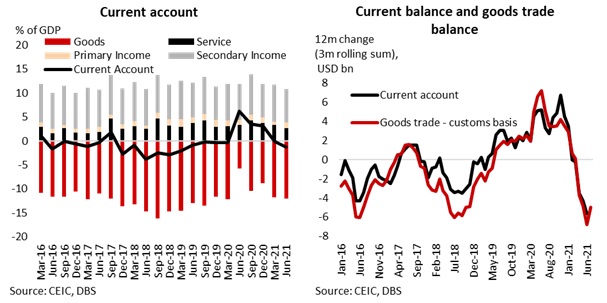 The 12-month change of the CA (on a 3-month rolling sum basis) is very highly correlated with goods trade balance. The CA deficit has widened significantly over the course of 2021, in line with the decline in the goods trade deficit. The 12-month change in the goods trade deficit (on a 3-month rolling sum basis) reached levels last seen during the low in mid-2018, close to USD6.7bn as of June 2021. The CA dropped by USD5.6bn in the same period.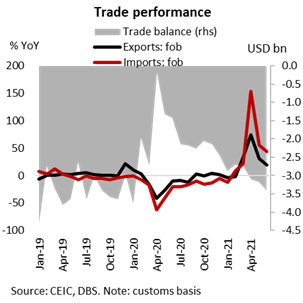 The wider goods trade deficit has been due to a stronger recovery in imports relative to exports. Imports have improved alongside the rebound in investment activity, helped by the revival of import intensive infrastructure works from the 'Build, Build, Build' programme. IMF's regression analysis showed that over the long-term, rising growth and investment-to-GDP ratio have been related with declining current account balances, driven by import increases (
IMF; Philippines: Selected Issues
). Among the import categories, we see that 'raw materials & intermediate goods' saw the biggest recovery so far in 2021. As of July 2021, they stood at much higher levels compared to pre-COVID-19. Other categories also recovered, while 'capital goods' have some room to catch up before returning to pre-pandemic levels.
Regarding export growth, the Philippines has not only underperformed imports, but has lagged other ASEAN economies. The Philippines has benefitted lesser from the upswing in the global electronics cycle and external demand, compared to other ASEAN peers, partly due to its lower trade openness.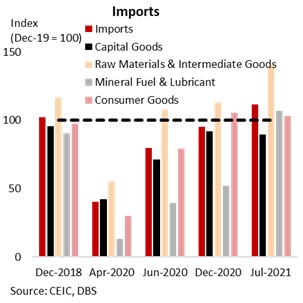 Secondary income surplus on a steady path
Secondary income – mostly foreign worker remittances – is the largest surplus CA component.
It continues to provide strong support to Philippines' external fundamentals.
It averaged 7.7% of GDP over 2016 to 2019, and remained steady at 7.6% of GDP in 2020, despite the pandemic. High frequency cash remittance indicators showed remittances for 1H21 recovering to 1.9% above 1H19 levels. On a 3-month moving average basis, remittances grew at the fastest pace since early 2017. Remittances in 1H21 were supported by the US and Singapore – the two largest sources and economies that have experienced faster economic normalisation globally.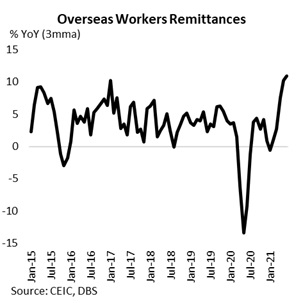 Financial account facing huge swings
The Philippines' financial account (FA) appears to be experiencing significant swings, resulting mainly from portfolio investment developments.
It appears likely that the Philippines would remain beholden to volatile portfolio flows, as the US Fed turns more hawkish over the coming months.
The FA recorded a sharp deficit of 4.6% of GDP in 1Q21, from a large surplus of 6.9% of GDP in 4Q20, before swinging back to positive territory of 3% of GDP in 2Q21. Combining with the CA and 'errors and omissions', the overall balance of payments (BOP) recorded a deficit of around 1% of GDP in 1H21. This marked the first BOP deficit since 2018.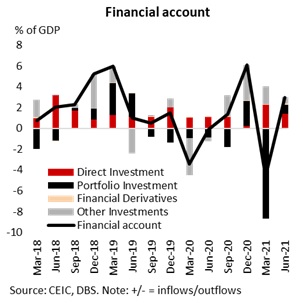 Looking at the quarterly FA breakdown, portfolio investments saw sharp net outflows in 1Q, and bounced back into the black in 2Q. In 1Q, portfolio outflows amounted to close to 9% of GDP, driven by debt outflows by both resident and non-resident. The portfolio outflows came at a time when 10-year real bond yields were negative, having fallen from a peak of 4% in mid-2019.
Portfolio investments however reversed in 2Q21, experiencing modest net inflows of 0.8% of GDP. They primarily benefitted from inflows from non-resident investments into the national government's Samurai and Euro-denominated bond issuances during the quarter.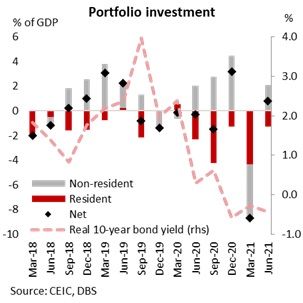 Notwithstanding portfolio investment volatility, the Philippines' FA remained consistently supported by stable net direct investment inflows since 2016.
Net direct investment inflows averaged 1.6% of GDP from 2016 until 1H21. Foreign direct investments should continue to be sustained amid government efforts to improve the investment climate. One important reform is the passage of the Amendments to the Foreign Investment Act. Some highlights from the measure include creating the Investment Promotion Council to address foreign investors' concerns and developing the Investment Priorities Plan (
CNN Philippines
).
Ample reserve adequacy
We believe that the Philippines' reserves are in a position of strength. They provide sizeable buffer for authorities to lean against depreciation, should the currency face weakening pressures over the coming months.
Amid Philippine peso strength in 2020 driven by improving external dynamics, the central bank accumulated foreign reserves at the fastest pace in many years.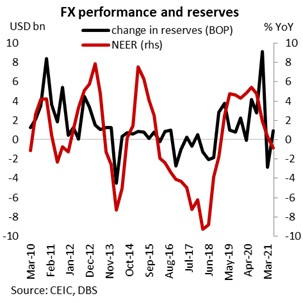 Total foreign reserves rose to ~USD106bn (27.7% of GDP) as of mid-June 2021, from ~USD88bn (23.3% of GDP) in end-2019, prior to the pandemic.
Our calculations also show that the Philippines' reserves are ample
based on traditional reserve adequacy metrics and the IMF's ARA framework. Reserves are more than sufficient even though they are slightly weaker compared to 2013, when currencies were faced with the taper tantrum. The Philippines' import cover stands at 12.8x, similar to the figure in 2013. Reserves-to-short-term external debt improved to 530% from around 408% in 2013. Lastly, its IMF ARA indicator is around 230%, well above the IMF's recommendation of 100% to 150%, even though it weakened slightly from approximately 257% in 2013.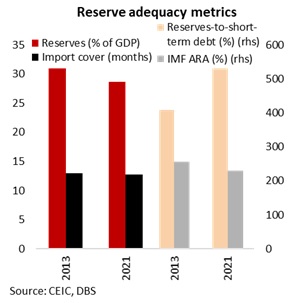 Philippine peso outlook
The fortunes of the PHP reversed sharply in the past three to four months.
Between 7 June and 20 September, the PHP moved from being the best (0.8% ytd gain) to becoming the second worst performing currency (4.4% loss) in Southeast Asia. PHP peaked at 47.7 per USD level on 7 June, its strongest level since September 2016. Since late 2020, PHP struggled to extend its appreciation below 48 from a widening trade deficit, which overtook overseas foreign worker remittances again in January.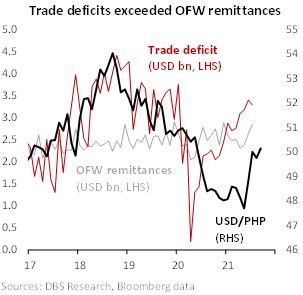 From here, PHP depreciated 6.5% to 50.8 on 20 July and returned three quarters of its pandemic appreciation. Since then, the PHP has consolidated between 49.6 and 50.6 in August-September.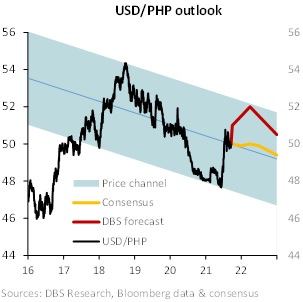 We expect the PHP to stay above 50 per USD into 2022.
Externally, the USD strengthened globally after the Fed shifted to a hawkish tilt at its FOMC meeting in June. After the Jackson Hole Symposium in August, the Fed signalled its intention to taper asset purchases in late 2021 or early 2022. Until we get more clarity on the timing, the greenback should remain strong into 1Q22.
Like its Southeast Asian peers, the PHP was undermined by a surge of COVID infections with a low vaccination rate. The Department of Health reckoned that the third COVID-19 wave that started in July might peak in October. As of 19 September, the National Task Force Against COVID-19 reported that only 37.4% of the population received at least one dose of the vaccine, well below the government's 70% inoculation target for 2021.
Given the drag on growth from widespread and prolonged lockdowns to combat the pandemic, the Development Budget Coordination Committee (DBCC) lowered, in August, its 2021 GDP growth forecast to 4-5% from 6-7%.
The Department of Finance (DOF) estimated that the budget deficit would widen to a record 9.3% of GDP this year. The Duterte administration meanwhile proposed a record national budget of PHP5.024trn for 2022, 11.5% higher than the 2021 allotment, with a budget deficit of 7.5% of GDP. The authorities said that the budget gap would return to its pre-pandemic levels only in 2024 or 2025 under their fiscal consolidation plan. The budget deficit for 2021 was wider than the 8.8% projected by Fitch when it downgraded the outlook for the country's "BBB" sovereign debt rating to negative from stable in July.
The central bank (BSP) downgraded its balance of payments outlook on 17 September. The projected current account surplus for 2021 is now expected to be a third of that seen in 2020. More importantly, the current account and the financial account are no longer expected to report surpluses but deficits in 2022.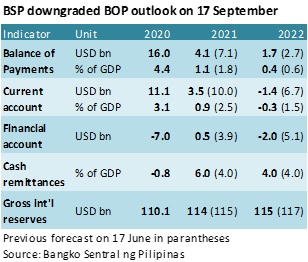 Fortunately, this will be cushioned by cash remittances. On the other hand, foreign reserves will not get another boost like the USD2.8bn allocation of IMF Special Drawing Rights in August. On balance, USD/PHP can be expected to trade higher to 52 by 1Q22, before easing back on stronger growth prospects for 2022.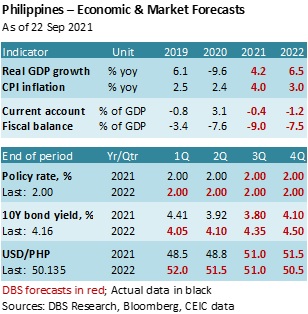 To read the full report, click here to
Download the PDF
.
Subscribe
here
to receive our economics & macro strategy materials.
To unsubscribe, please click
here
.
GENERAL DISCLOSURE/ DISCLAIMER (For Macroeconomics, Currencies, Interest Rates)
The information herein is published by DBS Bank Ltd and/or DBS Bank (Hong Kong) Limited (each and/or collectively, the "Company"). This report is intended for "Accredited Investors" and "Institutional Investors" (defined under the Financial Advisers Act and Securities and Futures Act of Singapore, and their subsidiary legislation), as well as "Professional Investors" (defined under the Securities and Futures Ordinance of Hong Kong) only. It is based on information obtained from sources believed to be reliable, but the Company does not make any representation or warranty, express or implied, as to its accuracy, completeness, timeliness or correctness for any particular purpose. Opinions expressed are subject to change without notice. This research is prepared for general circulation. Any recommendation contained herein does not have regard to the specific investment objectives, financial situation and the particular needs of any specific addressee. The information herein is published for the information of addressees only and is not to be taken in substitution for the exercise of judgement by addressees, who should obtain separate legal or financial advice. The Company, or any of its related companies or any individuals connected with the group accepts no liability for any direct, special, indirect, consequential, incidental damages or any other loss or damages of any kind arising from any use of the information herein (including any error, omission or misstatement herein, negligent or otherwise) or further communication thereof, even if the Company or any other person has been advised of the possibility thereof. The information herein is not to be construed as an offer or a solicitation of an offer to buy or sell any securities, futures, options or other financial instruments or to provide any investment advice or services. The Company and its associates, their directors, officers and/or employees may have positions or other interests in, and may effect transactions in securities mentioned herein and may also perform or seek to perform broking, investment banking and other banking or financial services for these companies. The information herein is not directed to, or intended for distribution to or use by, any person or entity that is a citizen or resident of or located in any locality, state, country, or other jurisdiction (including but not limited to citizens or residents of the United States of America) where such distribution, publication, availability or use would be contrary to law or regulation. The information is not an offer to sell or the solicitation of an offer to buy any security in any jurisdiction (including but not limited to the United States of America) where such an offer or solicitation would be contrary to law or regulation.

This report is distributed in Singapore by DBS Bank Ltd (Company Regn. No. 196800306E) which is Exempt Financial Advisers as defined in the Financial Advisers Act and regulated by the Monetary Authority of Singapore. DBS Bank Ltd may distribute reports produced by its respective foreign entities, affiliates or other foreign research houses pursuant to an arrangement under Regulation 32C of the Financial Advisers Regulations. Singapore recipients should contact DBS Bank Ltd at 65-6878-8888 for matters arising from, or in connection with the report.

DBS Bank Ltd., 12 Marina Boulevard, Marina Bay Financial Centre Tower 3, Singapore 018982. Tel: 65-6878-8888. Company Registration No. 196800306E.

DBS Bank Ltd., Hong Kong Branch, a company incorporated in Singapore with limited liability. 18th Floor, The Center, 99 Queen's Road Central, Central, Hong Kong SAR.

DBS Bank (Hong Kong) Limited, a company incorporated in Hong Kong with limited liability. 13th Floor One Island East, 18 Westlands Road, Quarry Bay, Hong Kong SAR

Virtual currencies are highly speculative digital "virtual commodities", and are not currencies. It is not a financial product approved by the Taiwan Financial Supervisory Commission, and the safeguards of the existing investor protection regime does not apply. The prices of virtual currencies may fluctuate greatly, and the investment risk is high. Before engaging in such transactions, the investor should carefully assess the risks, and seek its own independent advice.