After a bumpy 3Q, Indonesia is set to end 2021 on a firmer note.
3Q21 GDP growth slowed on Covid curbs

Domestic demand and investments pulled back, even as net exports contributed to growth

Commodity driven export gains will strengthen this year's current account balance

Fiscal and monetary policy levers are likely to stay accommodative with on the US Fed
Photo credit: Unsplash
3Q GDP softens
The Indonesian economy slowed in the third quarter to 3.5% YoY (DBSf: 3.4%), reflecting the impact of a strong increase in Covid cases, which had necessitated strict curbs (PPKM), hurting mobility, and consumption. Base effects are also turning less favourable. This compares to the strong 7.1% pick up in Q2, with the momentum also easing on sequential basis.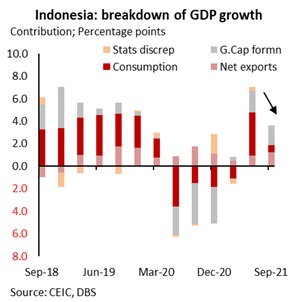 The breakdown reveals a broad-based pullback, including drawdown in inventories. Under consumption, private demand rose 1% YoY, alongside 0.7% rise in government consumption, no thanks to relatively strict movement restrictions. Notwithstanding a wider deficit target and increase in allocations towards the recovery plan, fiscal disbursements have been increasing at a modest pace on YTD basis.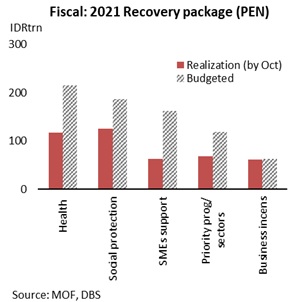 Gross fixed capital formation also eased to 3.7% YoY vs 7.5% in 2Q, on slower rise in buildings and structures, machine & equipment, and vehicles. Trade performance was encouraging with exports quickening to 29.2% YoY on the back of strong commodity-driven shipments, reflected in the stronger non-oil & gas balance. In terms of contribution, net exports added to growth despite a concurrent increase in exports and imports, as shipments (nominal basis) continued to improve.
On the sectoral end,
mining and quarrying activity sustained its pace, but manufacturing activity was partly hampered by restrictions on non-essential services and capacity constraints at production facilities. The performance of services was mixed, with real estate, health faring well but rest, especially contact intensive sectors feeling the heat from the challenging pandemic situation and resultant curbs.
Outlook:
The Covid caseload has since receded and vaccination has been ramped up, allowing for restrictions to be unwound, particularly in economically crucial areas. High frequency indicators since late-3Q and 4Q, point to a pickup in, for instance mobility, sentiments, PMIs, motorcycle sales etc., even if below pre-pandemic levels. Efforts are also underway to revive tourism, for domestic and international travelers. Supportive steps have been initiated, for instance, scrapping the requirement for a pre departure PCR test for fully vaccinated domestic travelers to visit Bali, in a bid to promote tourism.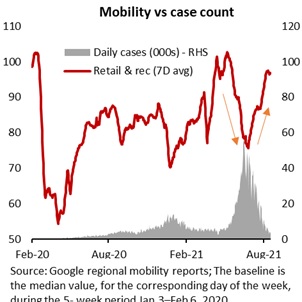 Assuming 4Q growth returns above the 4% mark, we maintain our 2021 full-year forecast at 3.5% YoY and expect a further pickup next year. With the fiscal policy likely to focus on consolidation, kickstarting upcoming revenue/ tax reforms next year, the private sector will need to be on the driver's seat. Monetary conditions are likely to continue to help sustain this year and 2022's momentum, assuming the pandemic situation remains in check and more than two-thirds of the population is inoculated by mid-next year. Frontloading of the US Fed's rate hikes to 2022, might however, necessitate the BI to revisit its policy path especially if domestic inflation also grinds higher after an extended period of benign readings.
As highlighted in
Macro Insights Weekly: Pandemic and income in Asia
, the pandemic has resulted left lasting imprints on medium-term performance. We set 2010's real per capita (IDR) GDP to 100, and track them through end, with the last two data points taken from the October IMF World Economic Outlook projections. Incomes witnessed a sharp setback last year in midst of Covid, which has since stopped falling as economies lower movement curbs and economic activities resume, helped by an expedited vaccine rollout and ample policy support. The medium-term scarring will, nonetheless, result in a drawn-out return to trend growth.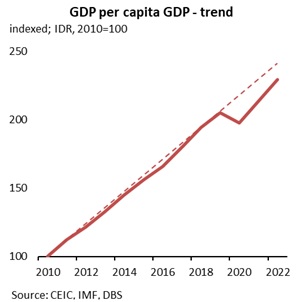 Assessing key macro indicators
Covid situation improves
Indonesia has witnessed a substantial improvement in the pandemic situation, with the daily caseload decelerating to under 1k i.e., back to mid-2020 lows, from a record high of 50k in July. This is accompanied by a drop in the positivity rate, resulting in lower bed occupancy rates, for instance ~13% for intensive care units in Jakarta, well below the WHO's threshold. The authorities are nonetheless wary of a resurgence, drawing upon countries' experience in the region as well as globally. Besides stressing on the need to follow health protocols, preventive measures like extension of lower level of PPKM curbs etc. continues. Encouragingly, the vaccination rate continues to improve, with nearly 120mn residents (45% of the population) having already received their first dose, whilst 75mn have received both. Our estimate suggests that if the latest daily rollout continues (15D average), about 62% of the population will have received at least one dose by December. This coupled with natural immunity and sufficient antibodies, being exposed to the virus in the past, has allowed to moderate infection numbers and fatality rates.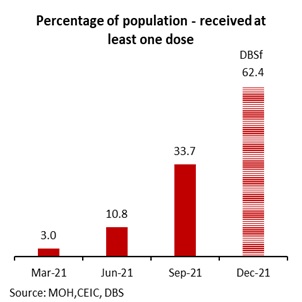 Trade strength bodes well for current account dynamics
Goods trade numbers have continued to be benefit significantly on the back of the sharp run up in commodities, which account for ~40% of exports. Apart from palm oil, rubber and mining products, the global supply crunch in coal supplies have also boosted Indonesia's shipments in value and volume basis. This strong surplus in commodities have helped to partly offset the negative impact from high oil prices (the economy is a net oil producer). The doubling in 3Q trade surplus to US$13bn vs 2Q's US$6.3bn, and expectations of this strength to spill over into 4Q lends us to revisit our current account forecasts. With the service sector shortfall also expected to narrow, we now expect 2021 current account to post 0.1% of GDP trade surplus (vs -0.4% in 2020) boding well for external macro stability and currency performance.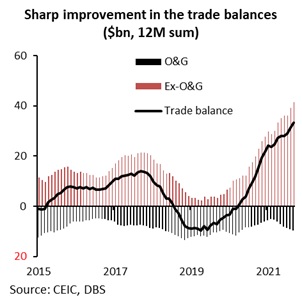 Watching inflation path
We noted in
India/Indonesia: Oil shock and inflation
that Indonesia's administrative buffers i.e., though only a partial passthrough of higher oil prices, fixed electricity tariffs (for smaller households) and fixed procurement agreements have limited the extent the rally in global commodity prices percolate to domestic prices, thereby keeping overall inflation benign at an average of 1.5% yoy this year. Next year's trajectory will be a function of subsidy reforms (if any), implementation of tax reforms including the increase in the VAT rate, narrowing in the output gap, and likely increase in excise duties, amongst others. Considering these upside risks, we revise up the forecast to 3% from 2.5% earlier, still within the 2%-4% BI target.
To read the full report, click here to
Download the PDF
.
Subscribe
here
to receive our economics & macro strategy materials.
To unsubscribe, please click
here
.
GENERAL DISCLOSURE/ DISCLAIMER (For Macroeconomics, Currencies, Interest Rates)
The information herein is published by DBS Bank Ltd and/or DBS Bank (Hong Kong) Limited (each and/or collectively, the "Company"). This report is intended for "Accredited Investors" and "Institutional Investors" (defined under the Financial Advisers Act and Securities and Futures Act of Singapore, and their subsidiary legislation), as well as "Professional Investors" (defined under the Securities and Futures Ordinance of Hong Kong) only. It is based on information obtained from sources believed to be reliable, but the Company does not make any representation or warranty, express or implied, as to its accuracy, completeness, timeliness or correctness for any particular purpose. Opinions expressed are subject to change without notice. This research is prepared for general circulation. Any recommendation contained herein does not have regard to the specific investment objectives, financial situation and the particular needs of any specific addressee. The information herein is published for the information of addressees only and is not to be taken in substitution for the exercise of judgement by addressees, who should obtain separate legal or financial advice. The Company, or any of its related companies or any individuals connected with the group accepts no liability for any direct, special, indirect, consequential, incidental damages or any other loss or damages of any kind arising from any use of the information herein (including any error, omission or misstatement herein, negligent or otherwise) or further communication thereof, even if the Company or any other person has been advised of the possibility thereof. The information herein is not to be construed as an offer or a solicitation of an offer to buy or sell any securities, futures, options or other financial instruments or to provide any investment advice or services. The Company and its associates, their directors, officers and/or employees may have positions or other interests in, and may effect transactions in securities mentioned herein and may also perform or seek to perform broking, investment banking and other banking or financial services for these companies. The information herein is not directed to, or intended for distribution to or use by, any person or entity that is a citizen or resident of or located in any locality, state, country, or other jurisdiction (including but not limited to citizens or residents of the United States of America) where such distribution, publication, availability or use would be contrary to law or regulation. The information is not an offer to sell or the solicitation of an offer to buy any security in any jurisdiction (including but not limited to the United States of America) where such an offer or solicitation would be contrary to law or regulation.

This report is distributed in Singapore by DBS Bank Ltd (Company Regn. No. 196800306E) which is Exempt Financial Advisers as defined in the Financial Advisers Act and regulated by the Monetary Authority of Singapore. DBS Bank Ltd may distribute reports produced by its respective foreign entities, affiliates or other foreign research houses pursuant to an arrangement under Regulation 32C of the Financial Advisers Regulations. Singapore recipients should contact DBS Bank Ltd at 65-6878-8888 for matters arising from, or in connection with the report.

DBS Bank Ltd., 12 Marina Boulevard, Marina Bay Financial Centre Tower 3, Singapore 018982. Tel: 65-6878-8888. Company Registration No. 196800306E.

DBS Bank Ltd., Hong Kong Branch, a company incorporated in Singapore with limited liability. 18th Floor, The Center, 99 Queen's Road Central, Central, Hong Kong SAR.

DBS Bank (Hong Kong) Limited, a company incorporated in Hong Kong with limited liability. 13th Floor One Island East, 18 Westlands Road, Quarry Bay, Hong Kong SAR

Virtual currencies are highly speculative digital "virtual commodities", and are not currencies. It is not a financial product approved by the Taiwan Financial Supervisory Commission, and the safeguards of the existing investor protection regime does not apply. The prices of virtual currencies may fluctuate greatly, and the investment risk is high. Before engaging in such transactions, the investor should carefully assess the risks, and seek its own independent advice.