The Philippine economy will recover moderately in 2022, helped by private consumption, infrastructure investment and stimulative policies. However, scarring risks are considerable.
The Philippine economy is on path to moderate recovery

Domestic demand, notably private consumption, will be supported by improving virus dynamics

"Build, Build, Build" programme's final push should lift investment activity

Monetary and fiscal policies will remain expansionary, amid considerable scarring risks

Implication for our forecasts: Maintain 2022 GDP forecasts of 6.5%; lift 2021 projection to 5.0%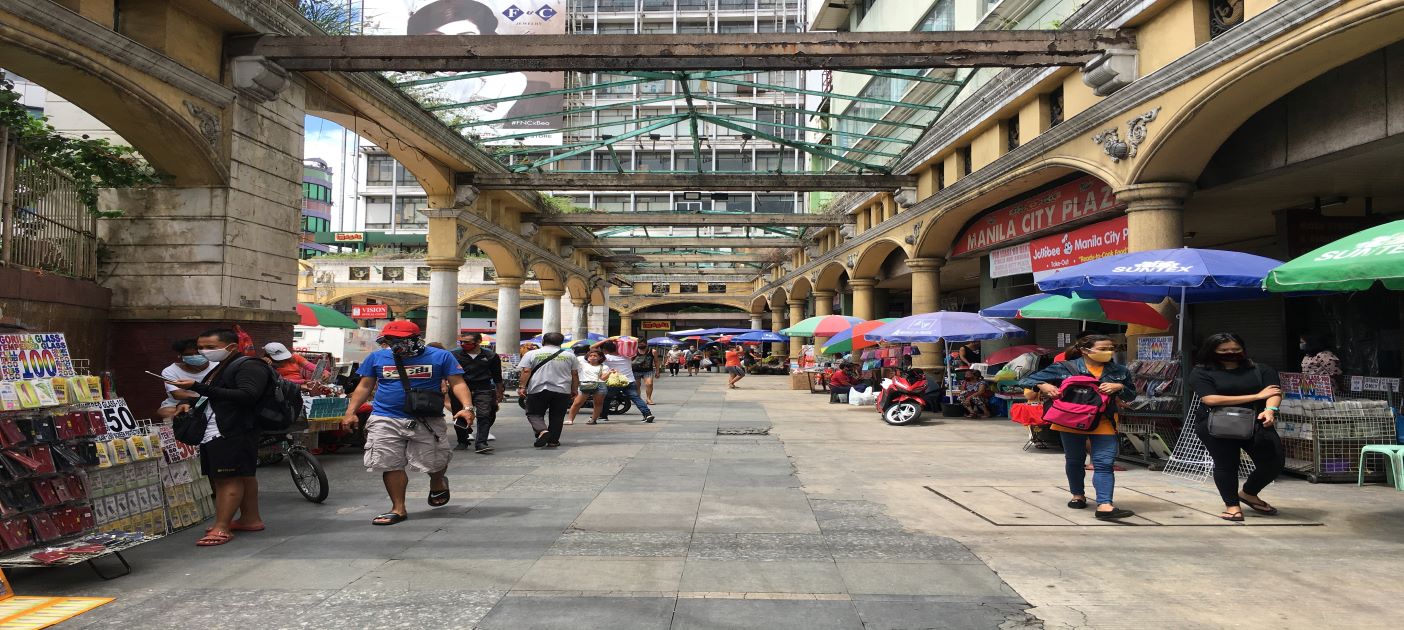 Photo credit: Unsplash
This is a summary of the report, please download the PDF for the full report
The Philippine economy is recovering gradually after enduring a bumpy 2021 and 2020, and will make further progress in 2022, in our view.
Factors supporting a moderate recovery include improved virus dynamics such as controlled infection rates, continued vaccine rollout, and rising natural immunity among those who have been previously infected. These would put the archipelago closer to a sustained relaxation of virus restrictions and an eventual move towards an endemic environment over the coming quarters, which should be supportive of domestic demand.
We are maintaining our forecast for real GDP growth to register at 6.5% in 2022, versus an upwardly revised rate of 5.0% for 2021
(from 4.2% after the upside surprise in 3Q21 and revisions in 2Q21).
However, having endured the greatest economic hit from the pandemic in ASEAN, scarring is likely to be considerable and could hinder the recovery's momentum and medium-term growth potential. Based on our projected growth trajectory, real GDP would return to 2019 levels in 2H22.
We therefore expect economic policies to remain supportive for some time and be unwound gradually.
Coming back from knocked off recovery path
The Philippine economy returned to its recovery path in 3Q21 after 2Q's setback. In our view, 3Q performance was resilient, despite the worst COVID-19 outbreak that drove a re-imposition of stringent lockdowns in August, especially in the economically important National Capital Region (NCR). Real GDP expanded by 3.8% QoQ seasonally adjusted in 3Q, compared with the contraction of 1.4% in 2Q. Plummeting virus caseloads since mid-September have already enabled a gradual rollback of still-tight virus restrictions, which in our view, should support economic activity in 4Q21 and into 2022.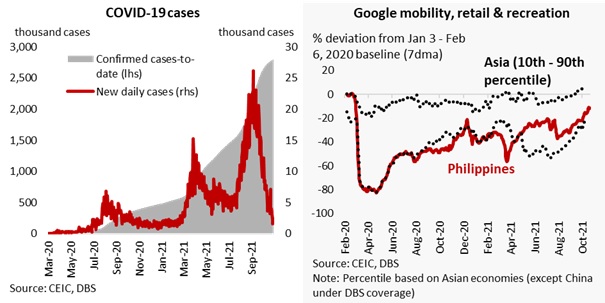 Vaccination race
At a time when mobility is improving, vaccinations however have yet to reach a critical mass due to earlier supply constraints. This leaves the population and economy still vulnerable to the virus and sporadic tightening of restrictions. The number of doses administered is the lowest among ASEAN peers at 58% of the population, with approximately 30% of the population being fully vaccinated as of early November. The pace of inoculation has however improved compared to mid-2021, and we think the current tempo suggests some form of 'herd immunity' by mid-2022.
Household recovery but potential scars
We expect the cyclical recovery in private consumption to pick up, with a faster improvement in 2H2022. Private consumption should be supported by further improvements in mobility and economic reopening, coupled with better labour market conditions, with vaccinations reaching a critical mass. That said, the significant lag in private consumption recovery so far (remaining ~18% below pre-pandemic levels) reflects the significant hit the COVID-19 crisis has had on livelihoods.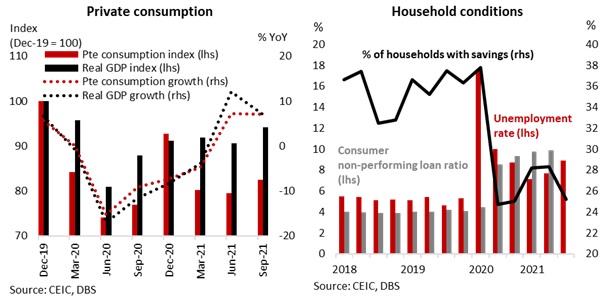 Final push on 'Build, Build, Build' investment
Investment activity has rebounded in 2021, following the severe retreat in 2020, but remained below pre-pandemic levels. We expect investment activity to improve into 2022, with the Duterte administration cementing the President's "Build, Build, Build" programme legacy before stepping down after the May 2022 elections. In a final push, infrastructure development has been identified as a priority in Budget 2022 with an allocation of 5.3% of GDP in 2022 (quite similar to Budget 2021).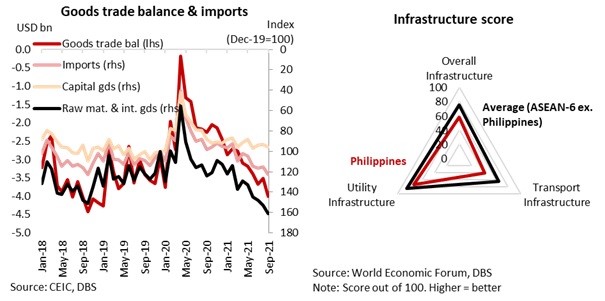 The investment recovery can be seen in imports rising faster than exports (in nominal terms) over the course of 2021, mainly driven by a sharp rebound in raw materials and intermediate goods imports. The goods trade deficit has therefore increased to its widest level since early-2019 (see
'Philippines: Fluctuating current account, weaker PHP, September 22, 2021'
for currency implications). Over the medium-term, Philippines' infrastructure has much room to catch up to other ASEAN peers. Whether the infrastructure boom would be sustained over the coming years however would depend on the agenda of the incoming administration, which we will be monitoring.
Easy economic policies here to stay
We expect economic policies to remain easy and stimulative in 2022 to support the nascent recovery.
Normalisation is likely still some time away given still elevated economic uncertainty. The Philippines is likely to lag ASEAN peers in unwinding policy accommodation.
Regarding monetary policy, we think that the Bangko Sentral ng Pilipinas (BSP) is likely to maintain its policy rate at a record low of 2.0% for most of 2022, in line with the central bank's forward guidance that premature tightening would be more harmful to the economy than moving late. On fiscal policy, it is likely to stay expansionary. The national government's deficit is programmed to be significantly wider than pre-pandemic levels for several years, based on the authorities' figures (average of 6.4% of GDP from 2022-24 versus 2.9% from 2017-19). The wider deficit and higher debt levels are driven by higher expenditures relative to GDP, with revenues staying largely stable.
To read the full report, click here to
Download the PDF
.
Subscribe
here
to receive our economics & macro strategy materials.
To unsubscribe, please click
here
.
GENERAL DISCLOSURE/ DISCLAIMER (For Macroeconomics, Currencies, Interest Rates)
The information herein is published by DBS Bank Ltd and/or DBS Bank (Hong Kong) Limited (each and/or collectively, the "Company"). This report is intended for "Accredited Investors" and "Institutional Investors" (defined under the Financial Advisers Act and Securities and Futures Act of Singapore, and their subsidiary legislation), as well as "Professional Investors" (defined under the Securities and Futures Ordinance of Hong Kong) only. It is based on information obtained from sources believed to be reliable, but the Company does not make any representation or warranty, express or implied, as to its accuracy, completeness, timeliness or correctness for any particular purpose. Opinions expressed are subject to change without notice. This research is prepared for general circulation. Any recommendation contained herein does not have regard to the specific investment objectives, financial situation and the particular needs of any specific addressee. The information herein is published for the information of addressees only and is not to be taken in substitution for the exercise of judgement by addressees, who should obtain separate legal or financial advice. The Company, or any of its related companies or any individuals connected with the group accepts no liability for any direct, special, indirect, consequential, incidental damages or any other loss or damages of any kind arising from any use of the information herein (including any error, omission or misstatement herein, negligent or otherwise) or further communication thereof, even if the Company or any other person has been advised of the possibility thereof. The information herein is not to be construed as an offer or a solicitation of an offer to buy or sell any securities, futures, options or other financial instruments or to provide any investment advice or services. The Company and its associates, their directors, officers and/or employees may have positions or other interests in, and may effect transactions in securities mentioned herein and may also perform or seek to perform broking, investment banking and other banking or financial services for these companies. The information herein is not directed to, or intended for distribution to or use by, any person or entity that is a citizen or resident of or located in any locality, state, country, or other jurisdiction (including but not limited to citizens or residents of the United States of America) where such distribution, publication, availability or use would be contrary to law or regulation. The information is not an offer to sell or the solicitation of an offer to buy any security in any jurisdiction (including but not limited to the United States of America) where such an offer or solicitation would be contrary to law or regulation.

This report is distributed in Singapore by DBS Bank Ltd (Company Regn. No. 196800306E) which is Exempt Financial Advisers as defined in the Financial Advisers Act and regulated by the Monetary Authority of Singapore. DBS Bank Ltd may distribute reports produced by its respective foreign entities, affiliates or other foreign research houses pursuant to an arrangement under Regulation 32C of the Financial Advisers Regulations. Singapore recipients should contact DBS Bank Ltd at 65-6878-8888 for matters arising from, or in connection with the report.

DBS Bank Ltd., 12 Marina Boulevard, Marina Bay Financial Centre Tower 3, Singapore 018982. Tel: 65-6878-8888. Company Registration No. 196800306E.

DBS Bank Ltd., Hong Kong Branch, a company incorporated in Singapore with limited liability. 18th Floor, The Center, 99 Queen's Road Central, Central, Hong Kong SAR.

DBS Bank (Hong Kong) Limited, a company incorporated in Hong Kong with limited liability. 13th Floor One Island East, 18 Westlands Road, Quarry Bay, Hong Kong SAR

Virtual currencies are highly speculative digital "virtual commodities", and are not currencies. It is not a financial product approved by the Taiwan Financial Supervisory Commission, and the safeguards of the existing investor protection regime does not apply. The prices of virtual currencies may fluctuate greatly, and the investment risk is high. Before engaging in such transactions, the investor should carefully assess the risks, and seek its own independent advice.