JPY interventions cannot turn external forces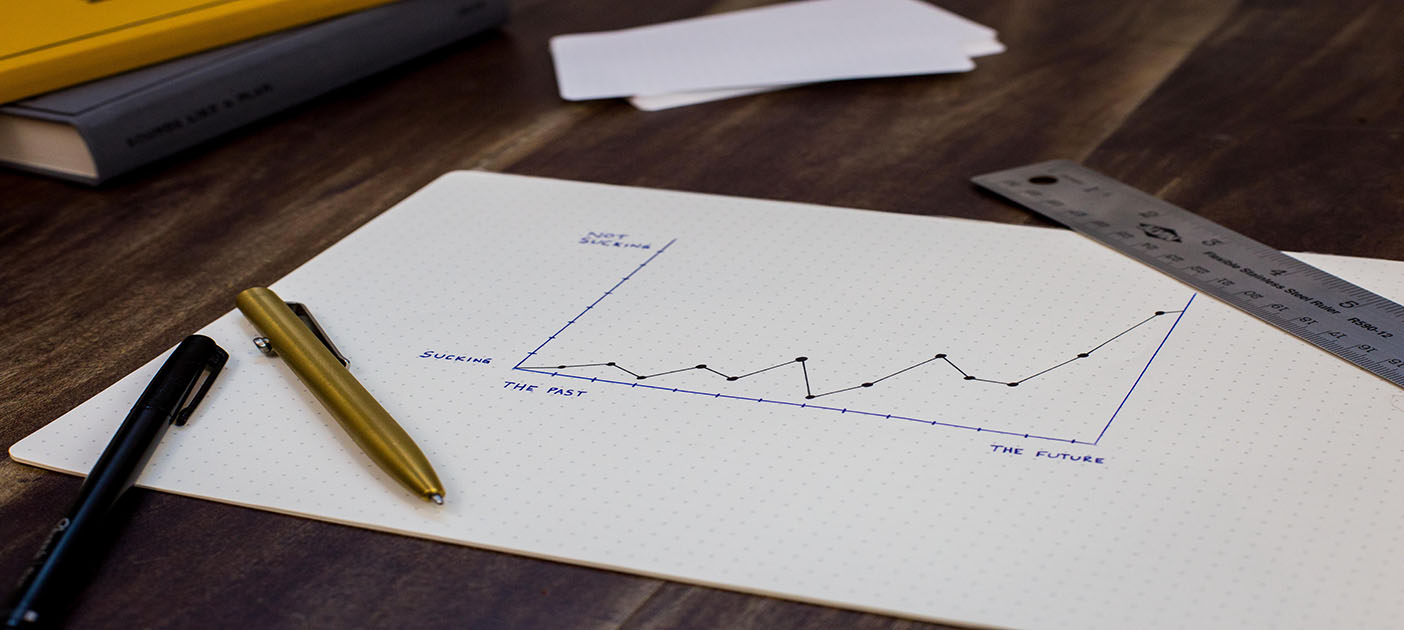 Photo credit: Unsplash Photo
The market is vigilant of potential interventions by Japan to stabilize the JPY exchange rate. Nikkei reported that the Bank of Japan conducted rate checks on the offer price for the JPY. Vice Minister for International Affairs at the Ministry of Finance Masato Kanda warned that "all options remained on the table" to address the "unruly and excessive FX moves harming the economy."

Japan last intervened to support the JPY in December 1997, April 1998, and June 1998. The JPY had plummeted with East Asian currencies during the Asian Financial Crisis. Japan's CPI inflation fell below its US counterpart; core inflation (excluding food) turned negative that year. The greenback was a haven from America's Strong USD policy. Investors fled from emerging markets into US equities.

The first intervention in December 1997 did not prevent USD/JPY from pushing higher towards 135 in January 1998, the first capitulation of the Asian financial crisis. The 122 low in February 1998 on the relief rally in the region was brief. In April 1998, USD/JPY rose to 135.47 again before falling to 127.38. However, the second capitulation of the Asian crisis boosted USD/JPY to 146.78 in June before its fall to 133.69.

Meanwhile, Japan's inflation plunged and fell below its US counterpart in 2Q98. Asia endured a third round of selling pressures until Malaysia pegged the MYR on 1 September. USD/JPY peaked at 147.66 in August before the collapse of the hedge fund, Long-Term Capital Management (LTCM), triggered an unwinding of short JPY positions. The Fed responded with three rate cuts in September-November to stabilize global financial markets; USD/JPY extended its fall from 130 to 115.

The above experiences in 1998 suggested that interventions alone could hurt speculators in the short term but the medium-term requires changes in the external forces driving the JPY's weakness, factors beyond the control of Japan's officials. In today's case, that will be the Fed's determination to control inflation with higher rates, a challenge made more difficult by other central banks joining in with jumbo rate hikes. Unless an event risk pops up and threatens stability in global financial markets, the Fed is in no mood to reverse its recent pushback against markets pricing in rate cuts next year. As things stand, markets are wary that the Fed may send the USD higher by signalling a higher terminal rate above 4% next year at the FOMC meeting on 21 September.

Quote of the day
"The worse a situation becomes, the less it takes to turn it around, the bigger the upside."
George Soros

15 September in history
In 1992, George Soros' Quantum started selling large amounts of GBP which crashed out of the ERM the following day.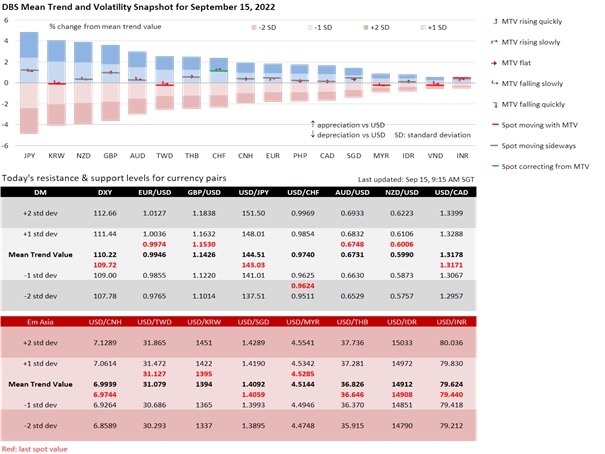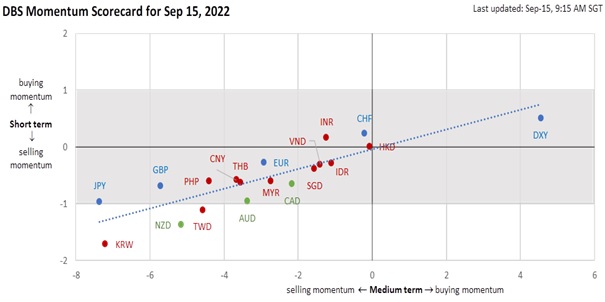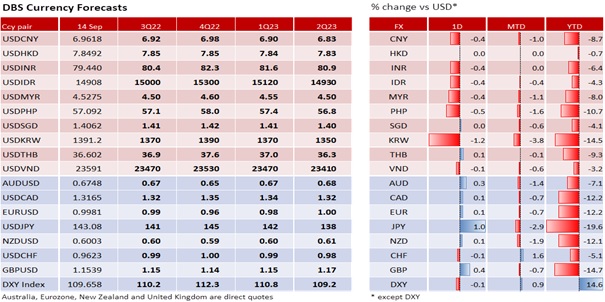 Subscribe here to receive our economics & macro strategy materials.
To unsubscribe, please click here.
Disclaimers and Important Notices
GENERAL DISCLOSURE/ DISCLAIMER (For Macroeconomics, Currencies, Interest Rates)

The information herein is published by DBS Bank Ltd and/or DBS Bank (Hong Kong) Limited (each and/or collectively, the "Company"). This report is intended for "Accredited Investors" and "Institutional Investors" (defined under the Financial Advisers Act and Securities and Futures Act of Singapore, and their subsidiary legislation), as well as "Professional Investors" (defined under the Securities and Futures Ordinance of Hong Kong) only. It is based on information obtained from sources believed to be reliable, but the Company does not make any representation or warranty, express or implied, as to its accuracy, completeness, timeliness or correctness for any particular purpose. Opinions expressed are subject to change without notice. This research is prepared for general circulation. Any recommendation contained herein does not have regard to the specific investment objectives, financial situation and the particular needs of any specific addressee. The information herein is published for the information of addressees only and is not to be taken in substitution for the exercise of judgement by addressees, who should obtain separate legal or financial advice. The Company, or any of its related companies or any individuals connected with the group accepts no liability for any direct, special, indirect, consequential, incidental damages or any other loss or damages of any kind arising from any use of the information herein (including any error, omission or misstatement herein, negligent or otherwise) or further communication thereof, even if the Company or any other person has been advised of the possibility thereof. The information herein is not to be construed as an offer or a solicitation of an offer to buy or sell any securities, futures, options or other financial instruments or to provide any investment advice or services. The Company and its associates, their directors, officers and/or employees may have positions or other interests in, and may effect transactions in securities mentioned herein and may also perform or seek to perform broking, investment banking and other banking or financial services for these companies. The information herein is not directed to, or intended for distribution to or use by, any person or entity that is a citizen or resident of or located in any locality, state, country, or other jurisdiction (including but not limited to citizens or residents of the United States of America) where such distribution, publication, availability or use would be contrary to law or regulation. The information is not an offer to sell or the solicitation of an offer to buy any security in any jurisdiction (including but not limited to the United States of America) where such an offer or solicitation would be contrary to law or regulation.

This report is distributed in Singapore by DBS Bank Ltd (Company Regn. No. 196800306E) which is Exempt Financial Advisers as defined in the Financial Advisers Act and regulated by the Monetary Authority of Singapore. DBS Bank Ltd may distribute reports produced by its respective foreign entities, affiliates or other foreign research houses pursuant to an arrangement under Regulation 32C of the Financial Advisers Regulations. Singapore recipients should contact DBS Bank Ltd at 65-6878-8888 for matters arising from, or in connection with the report.

This report has been prepared by a personnel of DBS Bank Ltd who is not licensed by the Hong Kong Securities and Futures Commission to carry on the regulated activity of advising on securities in Hong Kong pursuant to the Securities and Futures Ordinance (Chapter 571 of the Laws of Hong Kong). This report is being distributed in Hong Kong by DBS Bank Ltd, DBS Bank (Hong Kong) Limited and DBS Vickers (Hong Kong) Limited.

DBS Bank Ltd., 12 Marina Boulevard, Marina Bay Financial Centre Tower 3, Singapore 018982. Tel: 65-6878-8888. Company Registration No. 196800306E.

DBS Bank Ltd., Hong Kong Branch, a company incorporated in Singapore with limited liability. 18th Floor, The Center, 99 Queen's Road Central, Central, Hong Kong SAR.

DBS Bank (Hong Kong) Limited, a company incorporated in Hong Kong with limited liability. 11th Floor, The Center, 99 Queen's Road Central, Central, Hong Kong SAR.

Virtual currencies are highly speculative digital "virtual commodities", and are not currencies. It is not a financial product approved by the Taiwan Financial Supervisory Commission, and the safeguards of the existing investor protection regime does not apply. The prices of virtual currencies may fluctuate greatly, and the investment risk is high. Before engaging in such transactions, the investor should carefully assess the risks, and seek its own independent advice.