GBP vulnerable to higher yields, KRW to weaker stocks.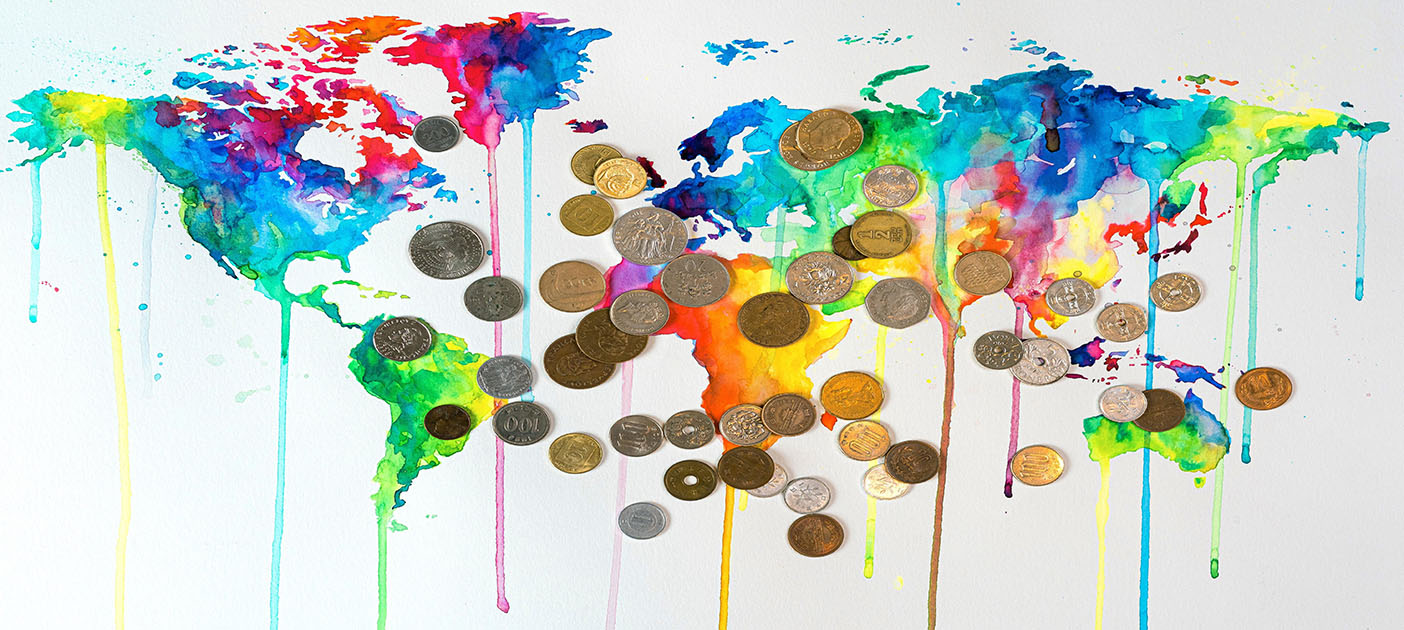 Photo credit: Unsplash Photo
GBP depreciated 0.8% to 1.0968, below 1.10 for the first time since 28 September. Bank of England Governor Andrew Bailey ruled out extending emergency bond purchases beyond 14 October because it would contradict the need for monetary policy to control inflation. The pensions industry had called on the central bank to keep the programme open until Chancellor Kwasi Kwarteng unveils his debt-cutting plans on 31 October. To stabilize the gilt market, the BOE doubled daily gilt purchases to GBP10bn on Monday and pledged on Tuesday to buy up to GBP5bn of indexed linked per day. Although the new measures prevented the 10Y Gilt yield from rising above 28 September's high of 4.59%, it did not prevent the 30Y yield from rising towards the 4.988% high on 27 September. The IMF criticized the mini-budget again, estimating it would keep UK inflation high by an average of 9% over the next two years. After downgrading UK's debt outlook to negative from stable last week, Fitch sees a deeper UK recession of -1% in 2023 on its prediction for the BOE bank rate to rise from 2.25% to 4.25% by December and possibly 5% by mid-2023.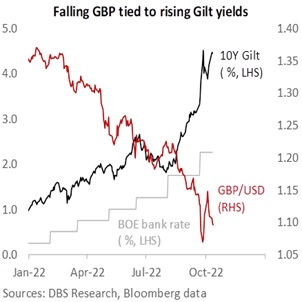 KRW depreciated 1.6% to 1436 per USD, near the year's weakest level of 1442 on 3 October. A weaker global outlook brought the Nasdaq Composite Index 1.1% lower to 10426, its worst level since July 2020. This year, KOSPI has fallen 26.4% YTD alongside the 33.8% plunge in the Nasdaq. The IMF sees South Korea's growth dropping to 2% in 2023 from 2.6% this year, weaker than the global growth slowdown to 2.7% from 3.2%. Last week, South Korea reported a current account deficit of USD3.05bn in August for the first time since April 2020. In the first nine months, falling export growth led to a record trade deficit of USD28.9bn, sharply reversing the USD29.3 surplus for 2021. Today, our economist sees the Bank of Korea hiking 50 bps to 3% and the governor providing new forward guidance for rates to peak at 3.5%. However, the BOK hike will pale against the fourth 75 bps Fed hike to 4% on 2 November.




Quote of the day
"You may delay, but time will not."
Benjamin Franklin

12 October in history
US President Theodore Roosevelt officially renamed the Executive Mansion to the White House in 1901.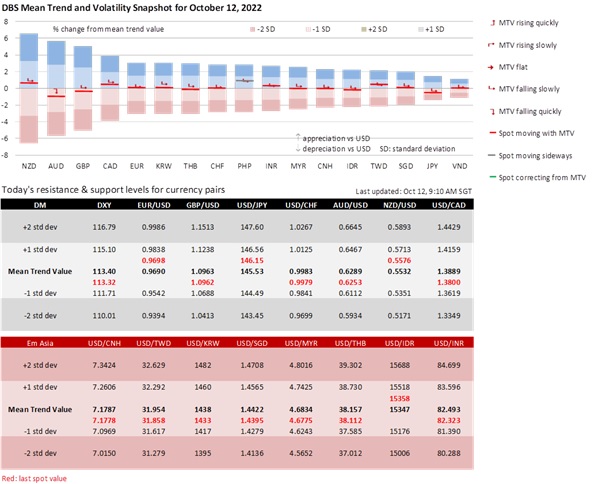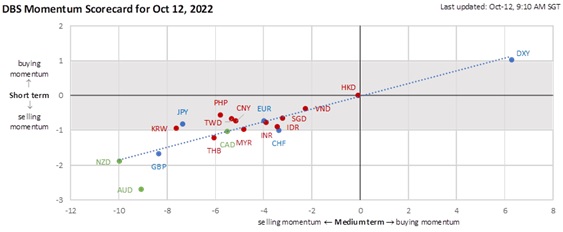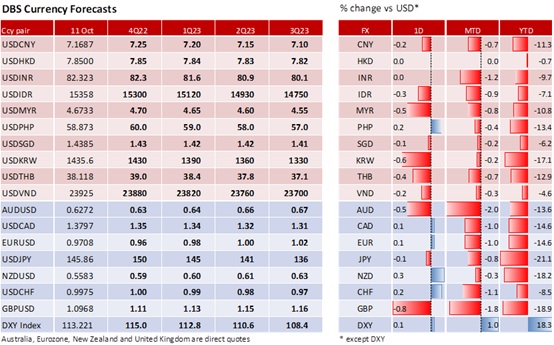 Subscribe here to receive our economics & macro strategy materials.
To unsubscribe, please click here.
Disclaimers and Important Notices
GENERAL DISCLOSURE/ DISCLAIMER (For Macroeconomics, Currencies, Interest Rates)

The information herein is published by DBS Bank Ltd and/or DBS Bank (Hong Kong) Limited (each and/or collectively, the "Company"). This report is intended for "Accredited Investors" and "Institutional Investors" (defined under the Financial Advisers Act and Securities and Futures Act of Singapore, and their subsidiary legislation), as well as "Professional Investors" (defined under the Securities and Futures Ordinance of Hong Kong) only. It is based on information obtained from sources believed to be reliable, but the Company does not make any representation or warranty, express or implied, as to its accuracy, completeness, timeliness or correctness for any particular purpose. Opinions expressed are subject to change without notice. This research is prepared for general circulation. Any recommendation contained herein does not have regard to the specific investment objectives, financial situation and the particular needs of any specific addressee. The information herein is published for the information of addressees only and is not to be taken in substitution for the exercise of judgement by addressees, who should obtain separate legal or financial advice. The Company, or any of its related companies or any individuals connected with the group accepts no liability for any direct, special, indirect, consequential, incidental damages or any other loss or damages of any kind arising from any use of the information herein (including any error, omission or misstatement herein, negligent or otherwise) or further communication thereof, even if the Company or any other person has been advised of the possibility thereof. The information herein is not to be construed as an offer or a solicitation of an offer to buy or sell any securities, futures, options or other financial instruments or to provide any investment advice or services. The Company and its associates, their directors, officers and/or employees may have positions or other interests in, and may effect transactions in securities mentioned herein and may also perform or seek to perform broking, investment banking and other banking or financial services for these companies. The information herein is not directed to, or intended for distribution to or use by, any person or entity that is a citizen or resident of or located in any locality, state, country, or other jurisdiction (including but not limited to citizens or residents of the United States of America) where such distribution, publication, availability or use would be contrary to law or regulation. The information is not an offer to sell or the solicitation of an offer to buy any security in any jurisdiction (including but not limited to the United States of America) where such an offer or solicitation would be contrary to law or regulation.

This report is distributed in Singapore by DBS Bank Ltd (Company Regn. No. 196800306E) which is Exempt Financial Advisers as defined in the Financial Advisers Act and regulated by the Monetary Authority of Singapore. DBS Bank Ltd may distribute reports produced by its respective foreign entities, affiliates or other foreign research houses pursuant to an arrangement under Regulation 32C of the Financial Advisers Regulations. Singapore recipients should contact DBS Bank Ltd at 65-6878-8888 for matters arising from, or in connection with the report.

This report has been prepared by a personnel of DBS Bank Ltd who is not licensed by the Hong Kong Securities and Futures Commission to carry on the regulated activity of advising on securities in Hong Kong pursuant to the Securities and Futures Ordinance (Chapter 571 of the Laws of Hong Kong). This report is being distributed in Hong Kong by DBS Bank Ltd, DBS Bank (Hong Kong) Limited and DBS Vickers (Hong Kong) Limited.

DBS Bank Ltd., 12 Marina Boulevard, Marina Bay Financial Centre Tower 3, Singapore 018982. Tel: 65-6878-8888. Company Registration No. 196800306E.

DBS Bank Ltd., Hong Kong Branch, a company incorporated in Singapore with limited liability. 18th Floor, The Center, 99 Queen's Road Central, Central, Hong Kong SAR.

DBS Bank (Hong Kong) Limited, a company incorporated in Hong Kong with limited liability. 11th Floor, The Center, 99 Queen's Road Central, Central, Hong Kong SAR.

Virtual currencies are highly speculative digital "virtual commodities", and are not currencies. It is not a financial product approved by the Taiwan Financial Supervisory Commission, and the safeguards of the existing investor protection regime does not apply. The prices of virtual currencies may fluctuate greatly, and the investment risk is high. Before engaging in such transactions, the investor should carefully assess the risks, and seek its own independent advice.