Economic woes and escalating street protests have turned sentiment negative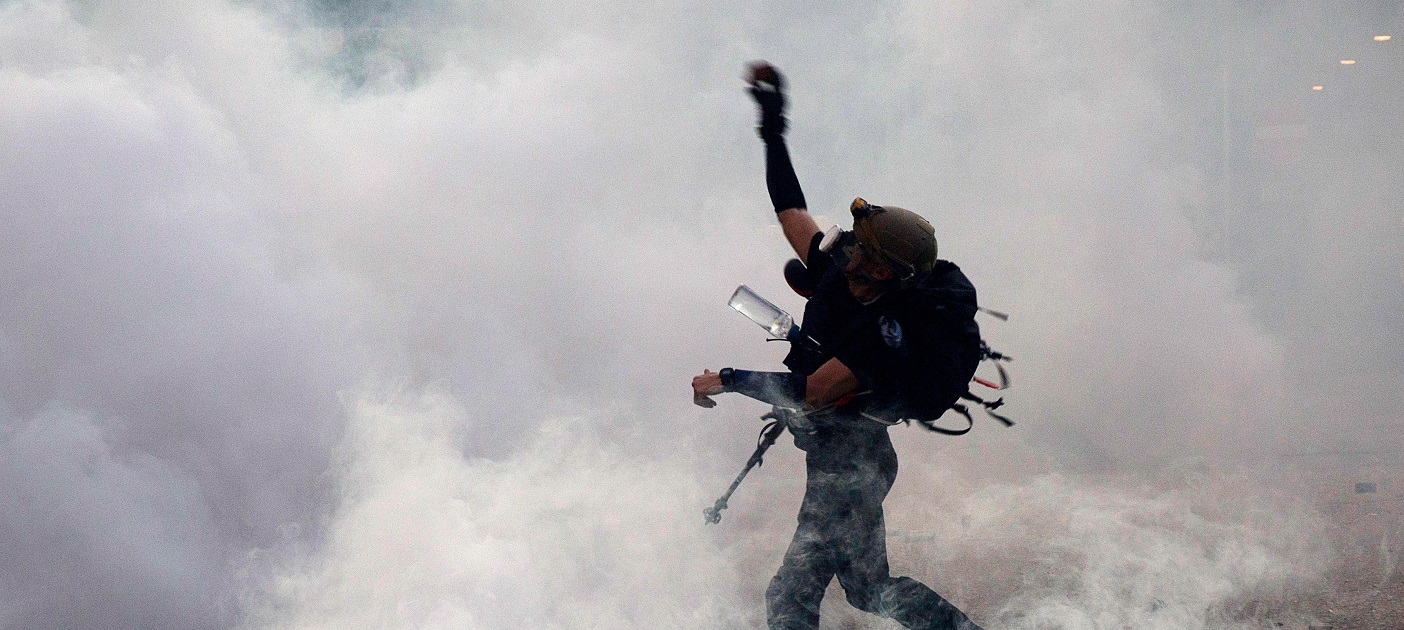 Photo credit: AFP Photo
CHINA & HONG KONG
Hong Kong equities are rapidly turning into a losing bet as economic woes and escalating street protests hammer sentiment.
The MSCI Hong Kong Index closed down 3.2% on Monday (5 August) in a ninth day of declines, matching the longest streak since the 1997 handover. Landlords, retail stocks, and casinos once again bore the brunt of the selling as protesters sought to shut down the city with a general strike. The sinking Chinese currency is not helping either, with its plunge past seven per dollar escalating concerns about the US-China trade war.
Hong Kong business confidence, already strained by the trade war, faces fresh challenges as the street clashes damp spending and deter tourists. The economy contracted more than expected last quarter from the previous three months, with retail sales plunging 6.7% in June from a year earlier, while an IHS Markit purchasing managers' index fell to the lowest since 2009.
The Hong Kong dollar, which is linked to the greenback, weakened as much as 0.11% to 7.8354 Monday, its lowest since mid-June.
The imposition of new tariffs on Chinese goods by US President Donald Trump will likely only worsen the outlook for the former British colony. Even before that move, embattled Chief Executive Carrie Lam said she saw "no room for optimism" for the city's economy this year as the trade war weighed on growth. Lam spoke to the press Monday for the first time in about two weeks, warning of a "very dangerous situation" as protesters moved to shut down the financial hub with a general strike and commute disruptions.
MTR Corporation, which has the best risk-adjusted return of any Hang Seng Index member this year, tumbled 3.4% Monday. Shares of the rail operator have lost around 13% since an 18 July record, as the anti-government protests shut underground stations and disrupted train services. Wynn Macau Ltd dropped 5.8%, while hotel operator Shangri-La Asia Ltd fell 5.2% to its lowest price since February 2017. – Bloomberg News.
The Hang Seng Index tumbled 2.85% to 26,151.32 and the Shanghai Composite Index declined 1.62% to 2,821.50.
REST OF ASIA
Investors may find safety in Philippine equities as trade tensions ravage most regional markets, analysts said, citing the positive outlook for economic and earnings growth.
Forecasts for economic growth exceeding 6% over the next two years, positive year-to-date earnings revisions, and room to ease borrowing costs can support the nation's stocks in the second half of this year, even as the Philippine Stock Exchange Index pulls back from last month's bull market territory, according to analysts.
A report today may show inflation in July was the slowest pace in two years, while one on Thursday (8 August) may show an acceleration in quarterly economic growth. The central bank is expected to cut borrowing costs by a quarter percentage point at its 8 August policy meeting.
Foreign investors have poured USD494m into Philippine equities this year through 2 August, after pulling out more than USD1b in 2018, the most in three years, according to data compiled by Bloomberg.
To be sure, China on Monday allowed the yuan to tumble to its weakest level in a decade against the US dollar in an escalation of the trade war. Tensions are likely to continue to roil financial markets and weigh on global economic growth, according to analysts. The Philippine Stock Exchange Index tumbled 3% Monday (5 August), the most since January 2016.
Financial firms also remain positive on Philippine stocks on expectations that rate cuts and government spending will boost earnings growth in the second half of this year. – Bloomberg News.
South Korea's Kospi Index fell 1.63% to 1,915.34 early-Tuesday (6 August) morning. It lost 2.56% to 1,946.98 the previous session.
Shares in Sydney slipped on Monday morning with the S&P/ASX 200 Index losing 2.64% to 6,464.70 at the open. The index slid 1.90% to 6,640.30 in the previous session.
The Taiwan Stock Exchange Weighted Index weakened 1.19% to 10,423.41.
Note: All views expressed are current as at the stated date of publication

GENERAL DISCLOSURE/DISCLAIMER
This information herein is published by DBS Bank Ltd. ("DBS Bank") and is for information only. This publication is intended for DBS Bank and its subsidiaries or affiliates (collectively "DBS") and clients to whom it has been delivered and may not be reproduced, transmitted or communicated to any other person without the prior written permission of DBS Bank.
This publication is not and does not constitute or form part of any offer, recommendation, invitation or solicitation to you to subscribe to or to enter into any transaction as described, nor is it calculated to invite or permit the making of offers to the public to subscribe to or enter into any transaction for cash or other consideration and should not be viewed as such.
The information herein may be incomplete or condensed and it may not include a number of terms and provisions nor does it identify or define all or any of the risks associated to any actual transaction. Any terms, conditions and opinions contained herein may have been obtained from various sources and neither DBS nor any of their respective directors or employees (collectively the "DBS Group") make any warranty, expressed or implied, as to its accuracy or completeness and thus assume no responsibility of it. The information herein may be subject to further revision, verification and updating and DBS Group undertakes no responsibility thereof.
All figures and amounts stated are for illustration purposes only and shall not bind DBS Group. This publication does not have regard to the specific investment objectives, financial situation or particular needs of any specific person. Before entering into any transaction to purchase any product mentioned in this publication, you should take steps to ensure that you understand the transaction and has made an independent assessment of the appropriateness of the transaction in light of your own objectives and circumstances. In particular, you should read all the relevant documentation pertaining to the product and may wish to seek advice from a financial or other professional adviser or make such independent investigations as you consider necessary or appropriate for such purposes. If you choose not to do so, you should consider carefully whether any product mentioned in this publication is suitable for you. DBS Group does not act as an adviser and assumes no fiduciary responsibility or liability for any consequences, financial or otherwise, arising from any arrangement or entrance into any transaction in reliance on the information contained herein. In order to build your own independent analysis of any transaction and its consequences, you should consult your own independent financial, accounting, tax, legal or other competent professional advisors as you deem appropriate to ensure that any assessment you make is suitable for you in light of your own financial, accounting, tax, and legal constraints and objectives without relying in any way on DBS Group or any position which DBS Group might have expressed in this document or orally to you in the discussion.
If this publication has been distributed by electronic transmission, such as e-mail, then such transmission cannot be guaranteed to be secure or error-free as information could be intercepted, corrupted, lost, destroyed, arrive late or incomplete, or contain viruses. The sender therefore does not accept liability for any errors or omissions in the contents of the Information, which may arise as a result of electronic transmission. If verification is required, please request for a hard-copy version.
This publication is not directed to, or intended for distribution to or use by, any person or entity who is a citizen or resident of or located in any locality, state, country or other jurisdiction where such distribution, publication, availability or use would be contrary to law or regulation.

Singapore: This publication is distributed by DBS Bank Ltd (Company Regn. No. 196800306E) ("DBS") which is an Exempt Financial Adviser as defined in the Financial Advisers Act and regulated by the Monetary Authority of Singapore (the "MAS").