It is an attempt to bolster an economy struggling and a campaign to curb financial risks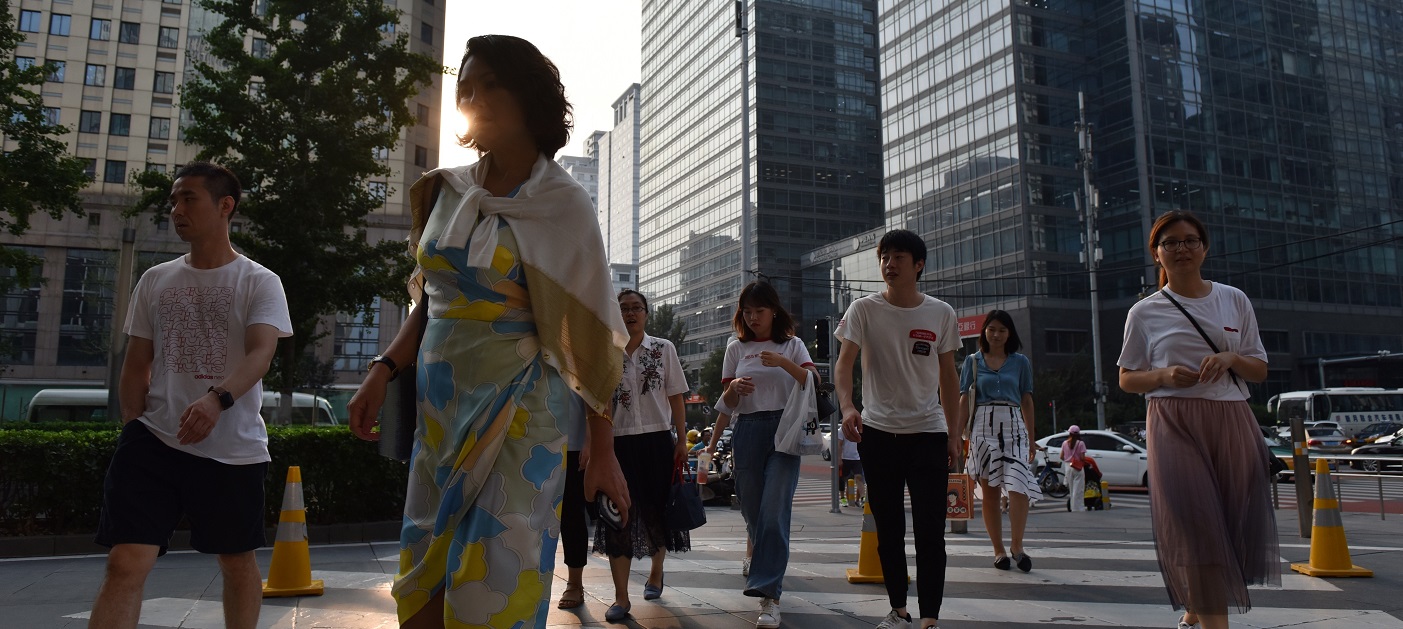 Photo credit: AFP Photo
CHINA & HONG KONG SAR
China's high-profile campaign to funnel more credit to private companies has stalled according to a number of private surveys and reports, adding to concerns over the nation's decelerating growth.
The credit confidence of small and medium-sized enterprises (SMEs) began to tumble in April and is now below its level in October, when President Xi Jinping proclaimed his "unwavering support" for private companies, according to a survey.
Xi championed the effort to funnel credit to more efficient private companies in an attempt to bolster an economy struggling amid the trade war with the US and a campaign to curb financial risks, especially in the USD9t shadow banking system. Its lack of traction is a setback for policymakers striving to rev up new growth engines, with borrowing costs stubbornly high even after the government set a goal of lowering them by one-percentage-point this year.
The campaign to channel more lending to private companies started well and the Standard Chartered SME Confidence sub-index for credit reached a 16-month high in March. But since then, attempts to funnel more credit to the private sector have collided with banks' reluctance to lend to higher risk private companies amid a decelerating economy that is headed for its slowest growth in almost 30 years.
SMEs' borrowing costs have also risen since the second quarter, according to the same survey. That is likely because the big five state-owned banks met their lending targets in the first half of the year, leaving smaller banks with higher funding costs to take up the slack, according to an economist. – Bloomberg News.
The Hang Seng Index fell 0.84% to 26,048.72 on Thursday (22 August) while the Shanghai Composite Index gained 0.11% to 2,883.44.
REST OF ASIA
South Korea said it would withdraw from an intelligence-sharing agreement with Japan, extending their feud over trade measures and historical grievances into security cooperation and raising alarm in the US, their shared ally.
South Korea notified Japan of plans to withdraw from the three-year-old framework for exchanging classified military information, Deputy National Security Director Kim You-geun said Thursday (22 August) in Seoul. The move came despite the urging of US officials including US President Donald Trump for the two allies to work together amid shared security challenges from China and North Korea.
Kim cited Japan's recent decision to remove South Korea from a list of trusted export countries, saying it "brought about a significant change to the environment of defence cooperation".
The decision shows the growing stakes for the unprecedented feud between Japanese Prime Minister Shinzo Abe and South Korean President Moon Jae-in, escalating from diplomatic sniping to trade measures that could threaten global supply chains. While the impact of withdrawing from the intelligence pact was not clear, it underscored the hurdles that Washington faces in getting the countries to work together on regional security initiatives. – Bloomberg News.
Australia's S&P/ASX 200 Index gained 0.22% to 6,516.30 at the open on Friday (23 August). It gained 0.29% to 6,501.81 on Thursday.
South Korea's Kospi Index slipped 0.20% to 1,947.15 early-Friday morning. It fell 0.69% to 1,951.01 the previous session.
The Taiwan Stock Exchange Weighted Index gained 0.04% to 10,529.78.
Note: All views expressed are current as at the stated date of publication

GENERAL DISCLOSURE/DISCLAIMER
This information herein is published by DBS Bank Ltd. ("DBS Bank") and is for information only. This publication is intended for DBS Bank and its subsidiaries or affiliates (collectively "DBS") and clients to whom it has been delivered and may not be reproduced, transmitted or communicated to any other person without the prior written permission of DBS Bank.
This publication is not and does not constitute or form part of any offer, recommendation, invitation or solicitation to you to subscribe to or to enter into any transaction as described, nor is it calculated to invite or permit the making of offers to the public to subscribe to or enter into any transaction for cash or other consideration and should not be viewed as such.
The information herein may be incomplete or condensed and it may not include a number of terms and provisions nor does it identify or define all or any of the risks associated to any actual transaction. Any terms, conditions and opinions contained herein may have been obtained from various sources and neither DBS nor any of their respective directors or employees (collectively the "DBS Group") make any warranty, expressed or implied, as to its accuracy or completeness and thus assume no responsibility of it. The information herein may be subject to further revision, verification and updating and DBS Group undertakes no responsibility thereof.
All figures and amounts stated are for illustration purposes only and shall not bind DBS Group. This publication does not have regard to the specific investment objectives, financial situation or particular needs of any specific person. Before entering into any transaction to purchase any product mentioned in this publication, you should take steps to ensure that you understand the transaction and has made an independent assessment of the appropriateness of the transaction in light of your own objectives and circumstances. In particular, you should read all the relevant documentation pertaining to the product and may wish to seek advice from a financial or other professional adviser or make such independent investigations as you consider necessary or appropriate for such purposes. If you choose not to do so, you should consider carefully whether any product mentioned in this publication is suitable for you. DBS Group does not act as an adviser and assumes no fiduciary responsibility or liability for any consequences, financial or otherwise, arising from any arrangement or entrance into any transaction in reliance on the information contained herein. In order to build your own independent analysis of any transaction and its consequences, you should consult your own independent financial, accounting, tax, legal or other competent professional advisors as you deem appropriate to ensure that any assessment you make is suitable for you in light of your own financial, accounting, tax, and legal constraints and objectives without relying in any way on DBS Group or any position which DBS Group might have expressed in this document or orally to you in the discussion.
If this publication has been distributed by electronic transmission, such as e-mail, then such transmission cannot be guaranteed to be secure or error-free as information could be intercepted, corrupted, lost, destroyed, arrive late or incomplete, or contain viruses. The sender therefore does not accept liability for any errors or omissions in the contents of the Information, which may arise as a result of electronic transmission. If verification is required, please request for a hard-copy version.
This publication is not directed to, or intended for distribution to or use by, any person or entity who is a citizen or resident of or located in any locality, state, country or other jurisdiction where such distribution, publication, availability or use would be contrary to law or regulation.

Singapore: This publication is distributed by DBS Bank Ltd (Company Regn. No. 196800306E) ("DBS") which is an Exempt Financial Adviser as defined in the Financial Advisers Act and regulated by the Monetary Authority of Singapore (the "MAS").