The pressure on foreign pensioners is an example of the baht's sharp appreciation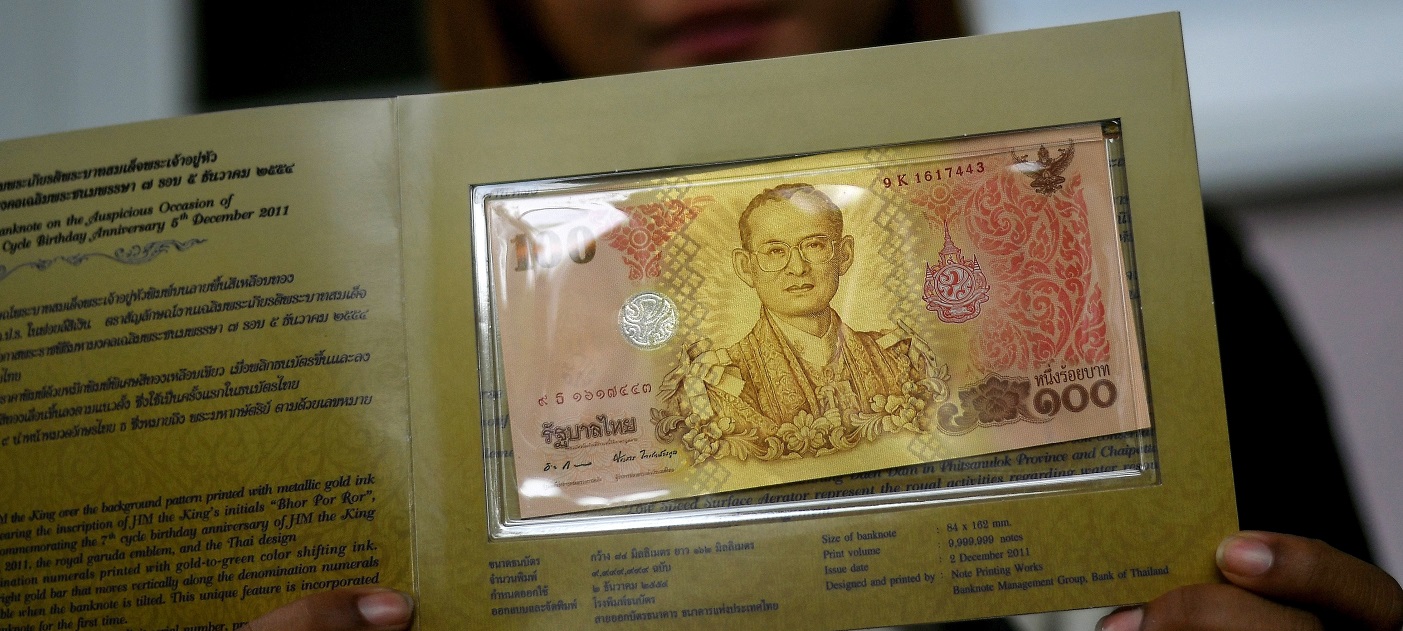 Photo credit: AFP Photo
Market news selected by the DBS Chief Investment Office



Brian Maxey moved to Thailand from the UK expecting his sterling pension to afford him an easy retirement. Instead, he is finding it harder to meet his visa's financial stipulations because of the strong baht.
The pressure on foreign pensioners is just one example of how the baht's sharp appreciation is rippling through Thailand. The currency is the world's top performer against the dollar over five years, hurting export competitiveness and putting the economy on course for the weakest growth since 2014.
The Thai government issued almost 80,000 retirement visas last year, a climb of 30% from 2014. To qualify, foreigners must show a deposit of THB800,000 (USD26,176) in a Thai bank or have a monthly income of THB65,000. Another route is to have income and deposits totalling THB800,000 combined.
Britons accounted for the largest number of retirement visas in 2018, Immigration Bureau data shows. They were followed by Americans, Germans, Chinese, and Swiss pensioners seeking affordable, sun-dappled golden years.
Once best known for crashing and sparking the 1997 Asian Financial Crisis, the baht is today seen as a haven by global investors. A trade surplus and annual foreign tourism receipts exceeding USD60b underpin its resilience.
The currency has appreciated more than 6% against the dollar so far in 2019, the best performer in a basket of Asian economies tracked by Bloomberg. Some pensioners are already voting with their feet, according to Niels Colov, who moved from Denmark about 40 years ago and helps to organise a club for expats in Pattaya. At the same time, the cost of living in Thailand remains lower than in developed nations such as the US or in Europe, and officials continue to promote it as a retirement destination.
Baht strength leaves Pattaya retiree Maxey's GBP1,000 (USD1,229) pension far short of the minimum monthly requirement. As a result, he maintains the equivalent of a GBP22,000 deposit to satisfy the bank savings rule when renewing his visa. – Bloomberg News.
The US Dollar Index (DXY) lost 0.16% to 98.864 on Thursday (3 October). The pound climbed 0.24% to USD1.2332, the euro was little changed at USD1.0965, and the Japanese yen strengthened 0.24% to 106.92 per dollar.
Note: All views expressed are current as at the stated date of publication

GENERAL DISCLOSURE/DISCLAIMER
This information herein is published by DBS Bank Ltd. ("DBS Bank") and is for information only. This publication is intended for DBS Bank and its subsidiaries or affiliates (collectively "DBS") and clients to whom it has been delivered and may not be reproduced, transmitted or communicated to any other person without the prior written permission of DBS Bank.
This publication is not and does not constitute or form part of any offer, recommendation, invitation or solicitation to you to subscribe to or to enter into any transaction as described, nor is it calculated to invite or permit the making of offers to the public to subscribe to or enter into any transaction for cash or other consideration and should not be viewed as such.
The information herein may be incomplete or condensed and it may not include a number of terms and provisions nor does it identify or define all or any of the risks associated to any actual transaction. Any terms, conditions and opinions contained herein may have been obtained from various sources and neither DBS nor any of their respective directors or employees (collectively the "DBS Group") make any warranty, expressed or implied, as to its accuracy or completeness and thus assume no responsibility of it. The information herein may be subject to further revision, verification and updating and DBS Group undertakes no responsibility thereof.
All figures and amounts stated are for illustration purposes only and shall not bind DBS Group. This publication does not have regard to the specific investment objectives, financial situation or particular needs of any specific person. Before entering into any transaction to purchase any product mentioned in this publication, you should take steps to ensure that you understand the transaction and has made an independent assessment of the appropriateness of the transaction in light of your own objectives and circumstances. In particular, you should read all the relevant documentation pertaining to the product and may wish to seek advice from a financial or other professional adviser or make such independent investigations as you consider necessary or appropriate for such purposes. If you choose not to do so, you should consider carefully whether any product mentioned in this publication is suitable for you. DBS Group does not act as an adviser and assumes no fiduciary responsibility or liability for any consequences, financial or otherwise, arising from any arrangement or entrance into any transaction in reliance on the information contained herein. In order to build your own independent analysis of any transaction and its consequences, you should consult your own independent financial, accounting, tax, legal or other competent professional advisors as you deem appropriate to ensure that any assessment you make is suitable for you in light of your own financial, accounting, tax, and legal constraints and objectives without relying in any way on DBS Group or any position which DBS Group might have expressed in this document or orally to you in the discussion.
If this publication has been distributed by electronic transmission, such as e-mail, then such transmission cannot be guaranteed to be secure or error-free as information could be intercepted, corrupted, lost, destroyed, arrive late or incomplete, or contain viruses. The sender therefore does not accept liability for any errors or omissions in the contents of the Information, which may arise as a result of electronic transmission. If verification is required, please request for a hard-copy version.
This publication is not directed to, or intended for distribution to or use by, any person or entity who is a citizen or resident of or located in any locality, state, country or other jurisdiction where such distribution, publication, availability or use would be contrary to law or regulation.

Singapore: This publication is distributed by DBS Bank Ltd (Company Regn. No. 196800306E) ("DBS") which is an Exempt Financial Adviser as defined in the Financial Advisers Act and regulated by the Monetary Authority of Singapore (the "MAS").